Will & Flow
Treasury Brisbane's all-day overwater bar serves up a seafood-heavy menu with coffee, spritzes and stellar river views.
Whether for a drink, a bite to eat, a stint at the casino or to spend the night, heading to Treasury Brisbane has always involved heading to two neighbouring George Street spots. Until now, that is — with the inner-city venue branching out to a third location perched over the Brisbane River.
Called Will & Flow, the new bar marks Treasury's first off-site location, although it isn't far from the casino and adjacent hotel. Mosey down to the Queen's Wharf precinct, where the overwater watering hole sits between the QUT Gardens Point CityCat stop and the Goodwill Bridge.
On the menu: coffees during the day, cocktails after work and bites to eat from morning till evening. You can start with a fruit bowl or ham and cheese croissant before 11am — and then snack on chipotle crab buns, roasted king prawns, oyster and mussel-filled platters, scallops with bechamel sauce, and four types of pizza. Yes, seafood is a big feature.
For dessert, there's even a chocolate peanut butter pizza, which comes topped with strawberries and marshmallows. And, as for what you'll be sipping, the drinks lineup also includes smoothies, wines, spritzes, Queensland beers, and other boozy concoctions such as espresso martinis, lime and lemongrass margaritas, and a 'State of Origin negroni'.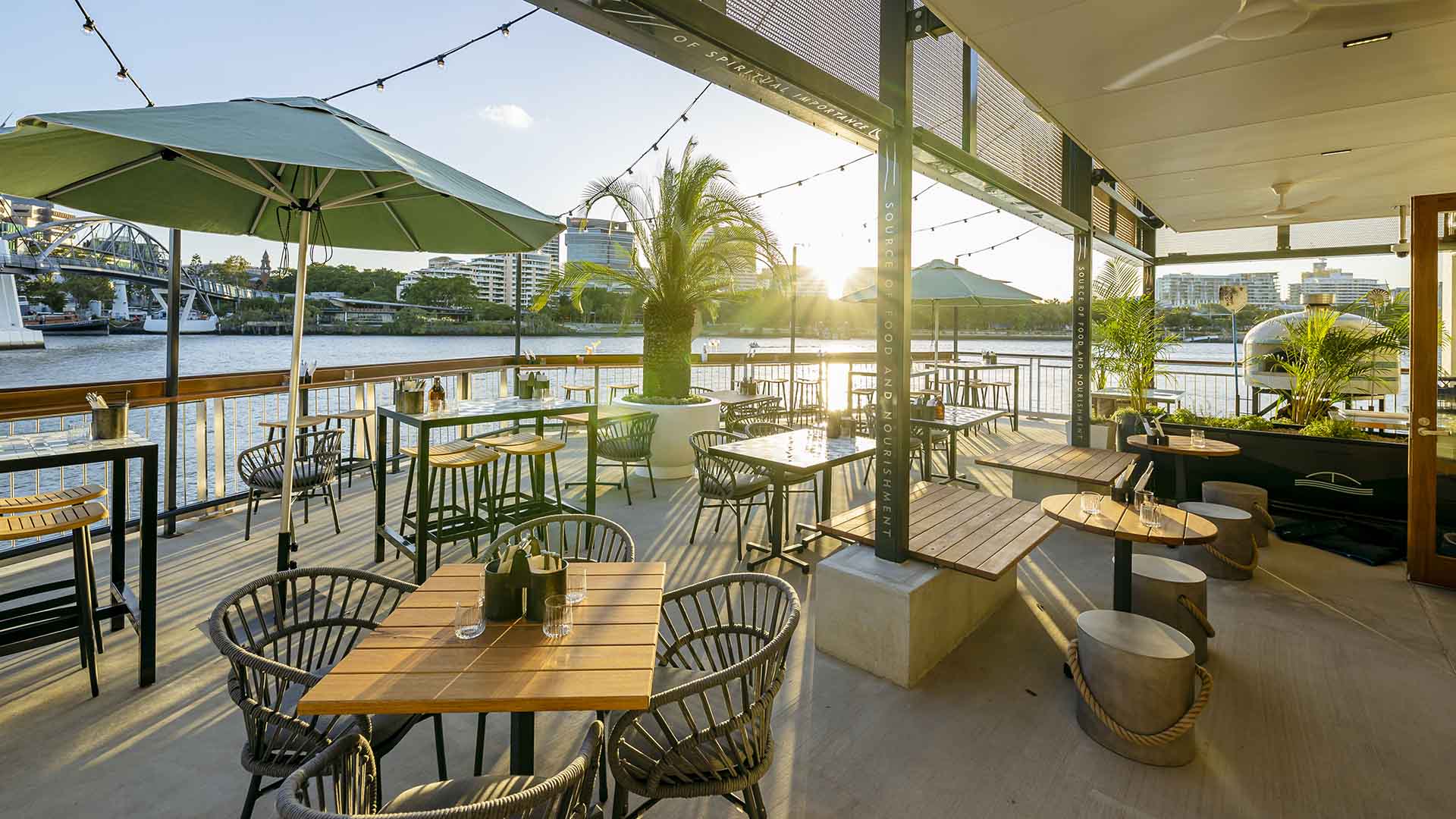 Obviously, you'll be consuming all of the above with scenic views over the river to South Bank. Will & Flow is available for events, too, which'll benefit from the same waterside vantage. Visitors can choose between both indoor and outdoor seating, and the latter is bound to be mighty popular. That said, in line with current social-distancing requirements, visitors won't have too much company to start with, with the bar catering to 130 patrons either seated or standing up cocktail-style.
The overwater bar is the second to open in Brisbane's inner city in the past couple of years, following Mr Percival's over at Howard Smith Wharves — aka the last big new precinct to open its doors.