DESIGN & STYLE
Australians, A Dry and Warmer-Than-Average Winter Is Coming
A hotter-than-usual autumn was forecast, and now it looks like winter will be the same.
Australians, A Dry and Warmer-Than-Average Winter Is Coming
A hotter-than-usual autumn was forecast, and now it looks like winter will be the same.
If you've been dreaming of a frosty cold winter — a reprieve not only from a record-breaking summer, but a hotter-than-usual autumn, too — it's time to recalibrate your expectations. As it does every quarter, the Bureau of Meteorology has released its climate outlook for the June to August period, and the forecast favours two words that Australians are all too used to: warm and dry.
Just like last season, if you call mainland Australia home, there's a very good chance that you'll experience winter temperatures that are a whole lot warmer than the median. Apart from the far north of Queensland, as well as isolated spots in Western Australia and the Northern Territory, the whole country is tipped to endure maximums at least 60 percent higher than normal. For the east and west coasts, that figure goes up to 80 percent.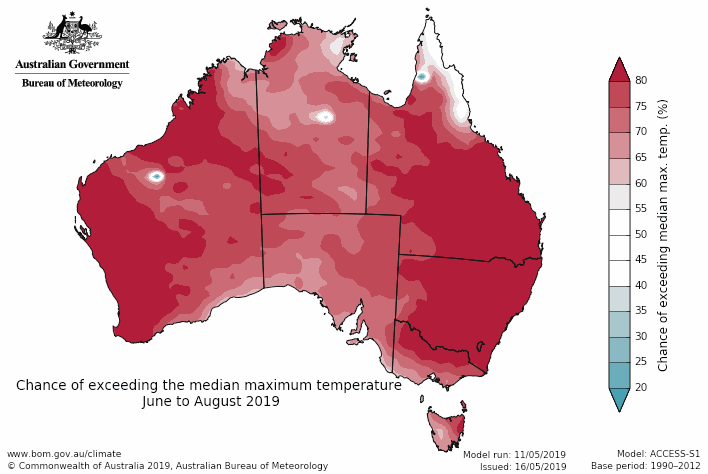 Nights are also likely to be toastier than average, especially for WA, the northern NT, parts of Queensland, eastern New South Wales, and most of Victoria and Tasmania. If you're wondering exactly what's in store, then it's worth keeping the usual daily temps across the period in mind — and remembering that they'll be exceeded. In Sydney, that means the mercury will soar above a 17-degree maximum in June, a 16.4 top in July and a 17.9 max in August, while Melbourne can expect temps above 15.4, 15.7 and 16.3 in the same months. In Brisbane, the standard tops range between 22–23.3, and in Perth it spans 18.4–19.4.
Once again, farmers are in for not-so-great news. The three months are set to be drier than average for much of Queensland, NSW, Victoria, southeast South Australia, northern Tasmania, the NT, and northern and far southwest WA — and, for everywhere else, the chances of either being wetter or drier are roughly equal.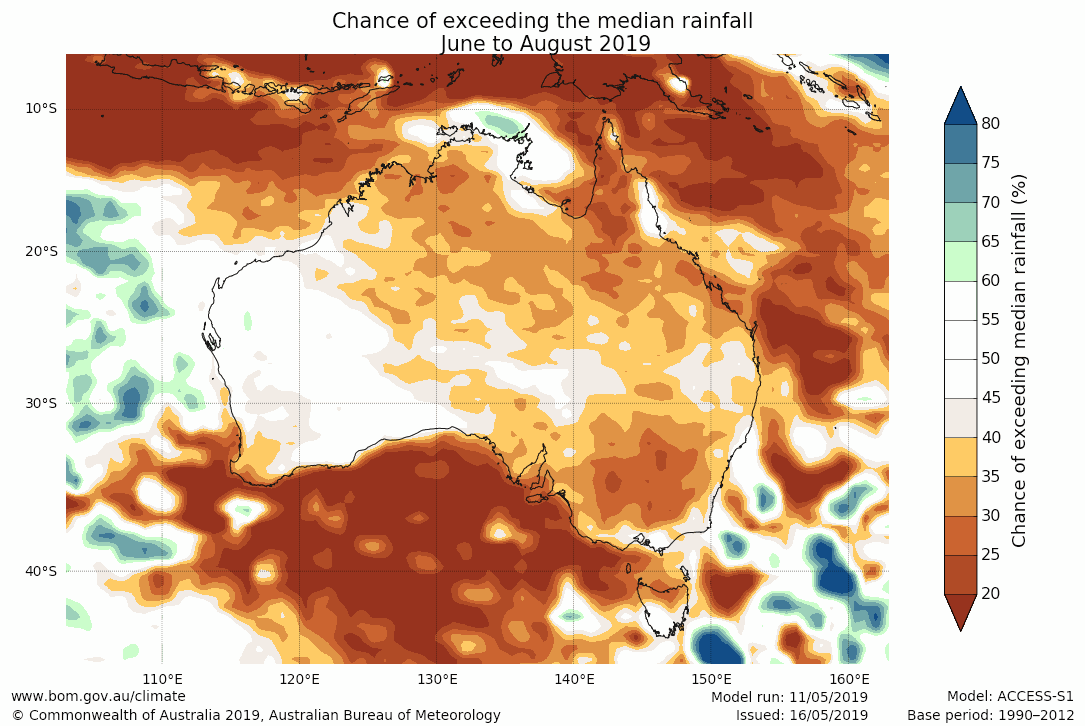 If you're wondering what's behind this forecast, El Niño–like warmth has been having an impact in the central tropical Pacific Ocean, and a drying effect on Australia as a result. That's actually expected to reduce slightly over winter, but the Indian Ocean Dipole (IOD), or Indian Niño, will spark its own dryness. Combined with higher atmospheric pressures, it all makes for a lack of rain and a spike in warmth.
It's becoming a familiar story. Let's not forget that in 2018, overall, Australia copped its third-warmest year ever. If this year's winter is set to favour hotter than usual temps, and less rain than usual as well, things aren't shaping up well for spring and summer.
Published on May 18, 2019 by Sarah Ward