DESIGN & STYLE
Six Great Beach Umbrellas for Your Shady Picnic Set-Up
Protect yourself from those UV rays with these collapsible canopies.
Beach umbrellas aren't new, but they're making a comeback in a big way this spring thanks to the popularity of social-distanced picnics. So, you can enjoy these sun-filled bliss outdoor sessions without worrying about sunburn, we suggest investing in a great shady beach umbrella. It'll be useful now and when summer hits, too. There are enough patterns, prints and fringes to satisfy even your wildest 70s design cravings, as well as clever bamboo and and biodegradable PVC eco designs, laser-prints to create dappled shade where you sit, understated parasols, and many, many, many eye-catching prints. With so much choice, there's really no excuse to be sporting a sunburn this summer.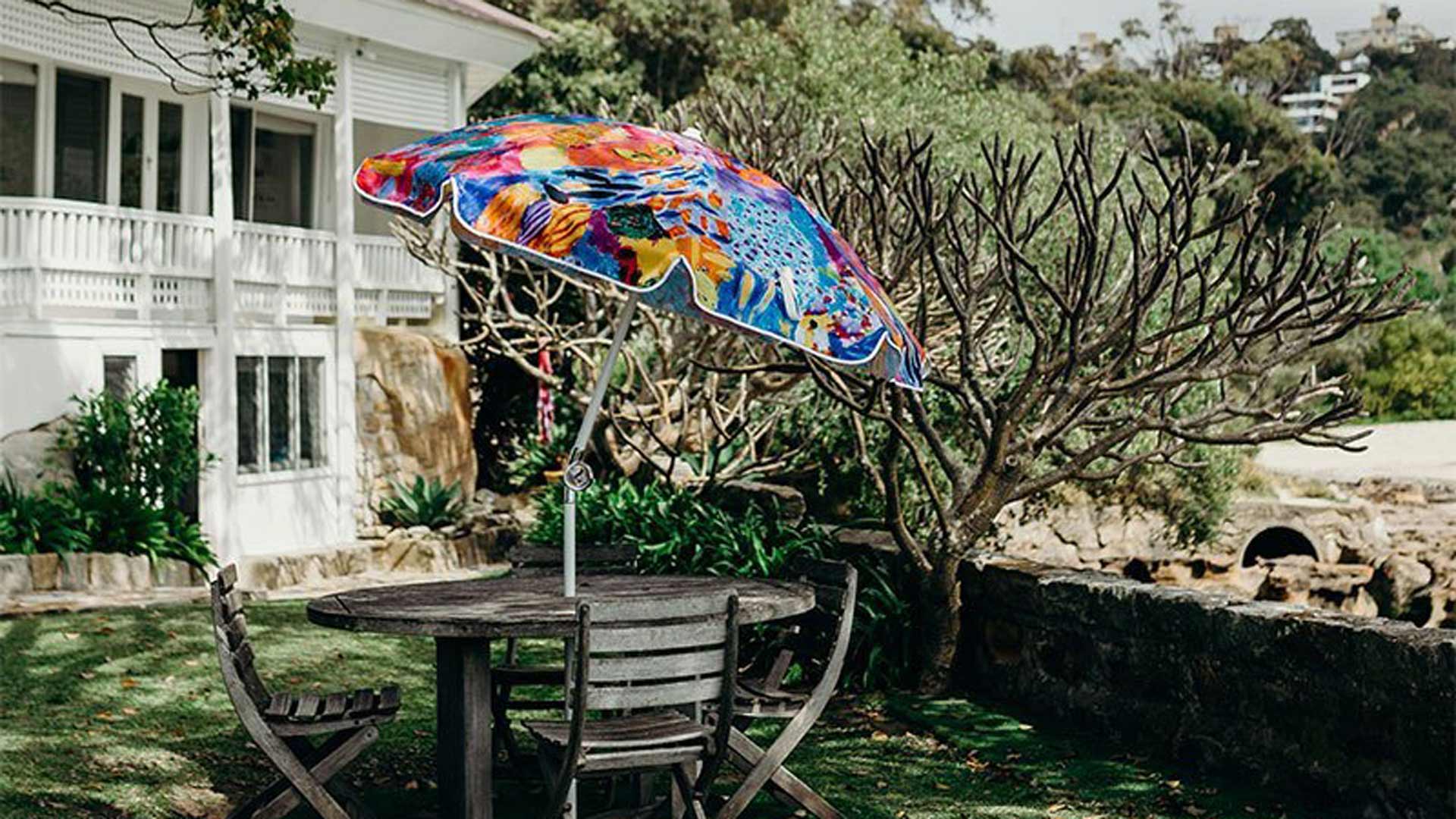 KEN DONE BEACH UMBRELLA, BASIL BANGS
It was a hard choice between the many bangin' prints this company has on offer (check out their other options for extra inspiration). But this print by famed Australian artist Ken Done won our hearts. Inspired by tropical reefs with plenty of pinks, oranges and blues, it's a suitably bold park (and beach) accessory. Started by surfer and industrial designer Mike Durante, Basil Bangs has made it its mission to reimagine the vintage beach umbrellas Aussies love. That means the latest fabrics, pop art prints, and hard-wearing fixtures. Oh, and and matching, red-wine-proof picnic rugs.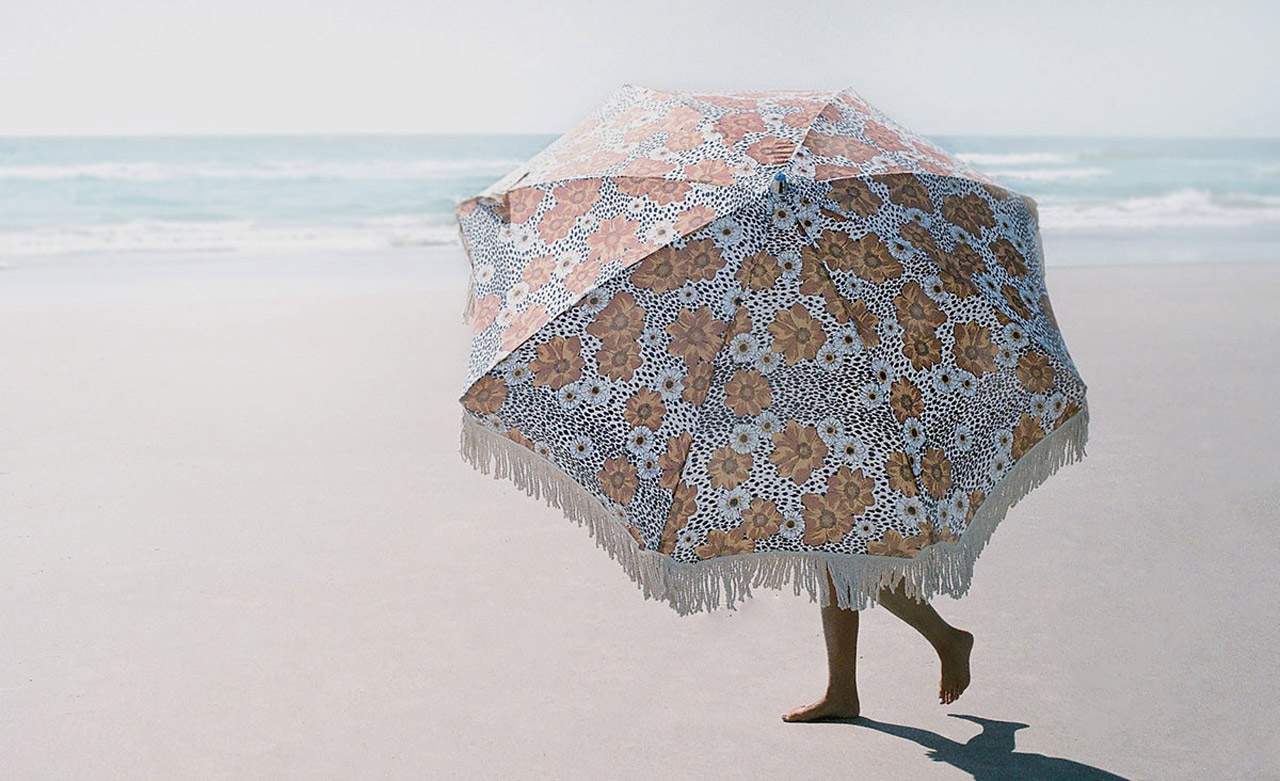 We couldn't choose between the lush designs at Sunday Supply Co. Each comes with cotton tassels, an extendable timber pole and a sturdy, custom-designed aluminium alloy hinge and hardwares. The premium fabric canopies are UPF 50+ and, with a diameter of two metres, will cast shade aplenty. But apart from all that, they look so damn pretty it's hard not to pick up more than one.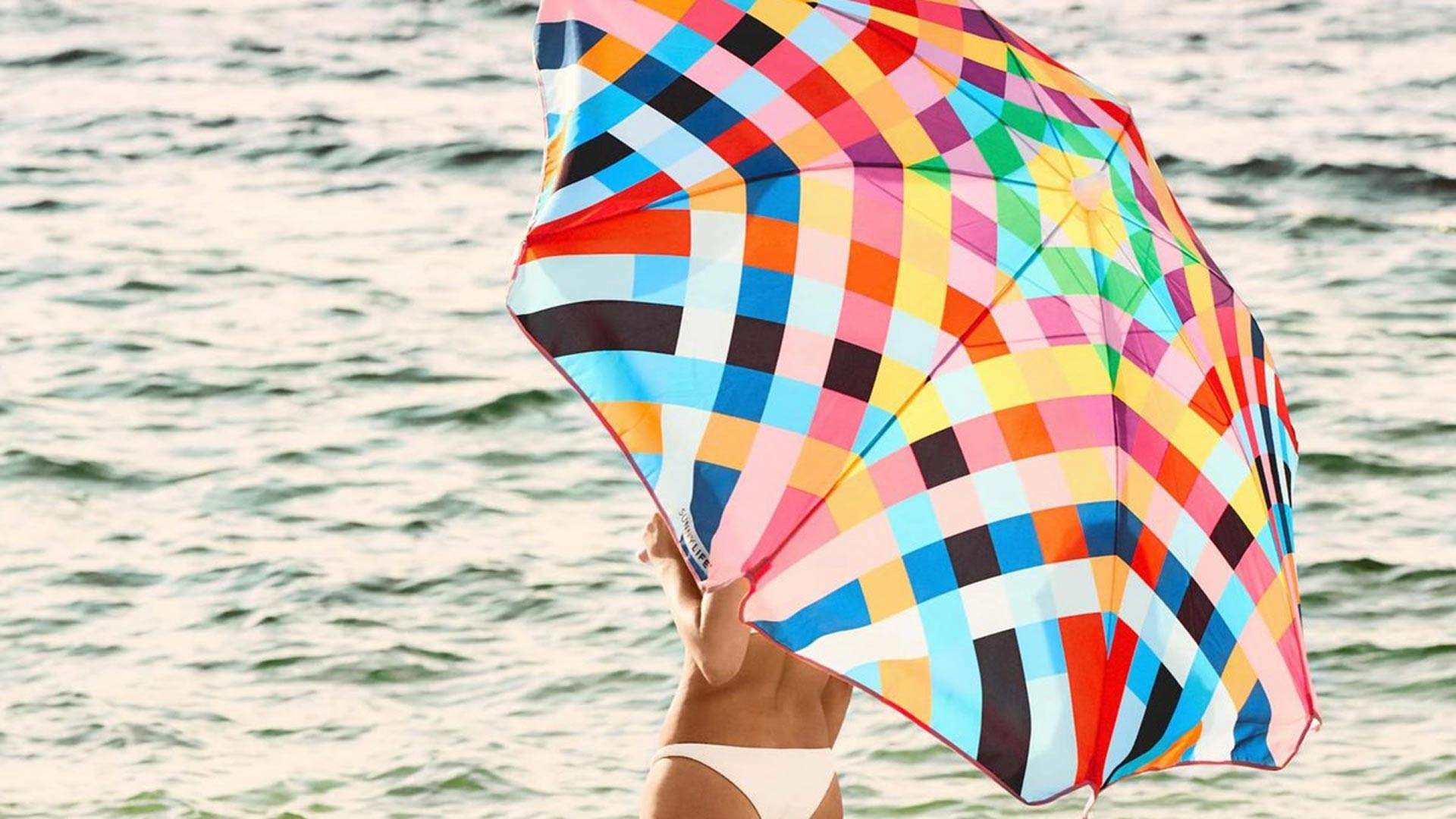 BLOCK PARTY UMBRELLA, SUNNY LIFE
Sunny Life has a whole range of umbrellas splashed with bold, playful prints. But who could resist this vibrant geometric number to shade their summer beach playground? Like many of the modern beach brollies popping out about the place, this one comes with a carry bag and sturdy, adjustable pole. But it's also waterproof, with a UPF 30 sun protection coating and a nifty 360-degree tilt function. Plus, that bold print is mighty hard to miss, even on a crowded beach.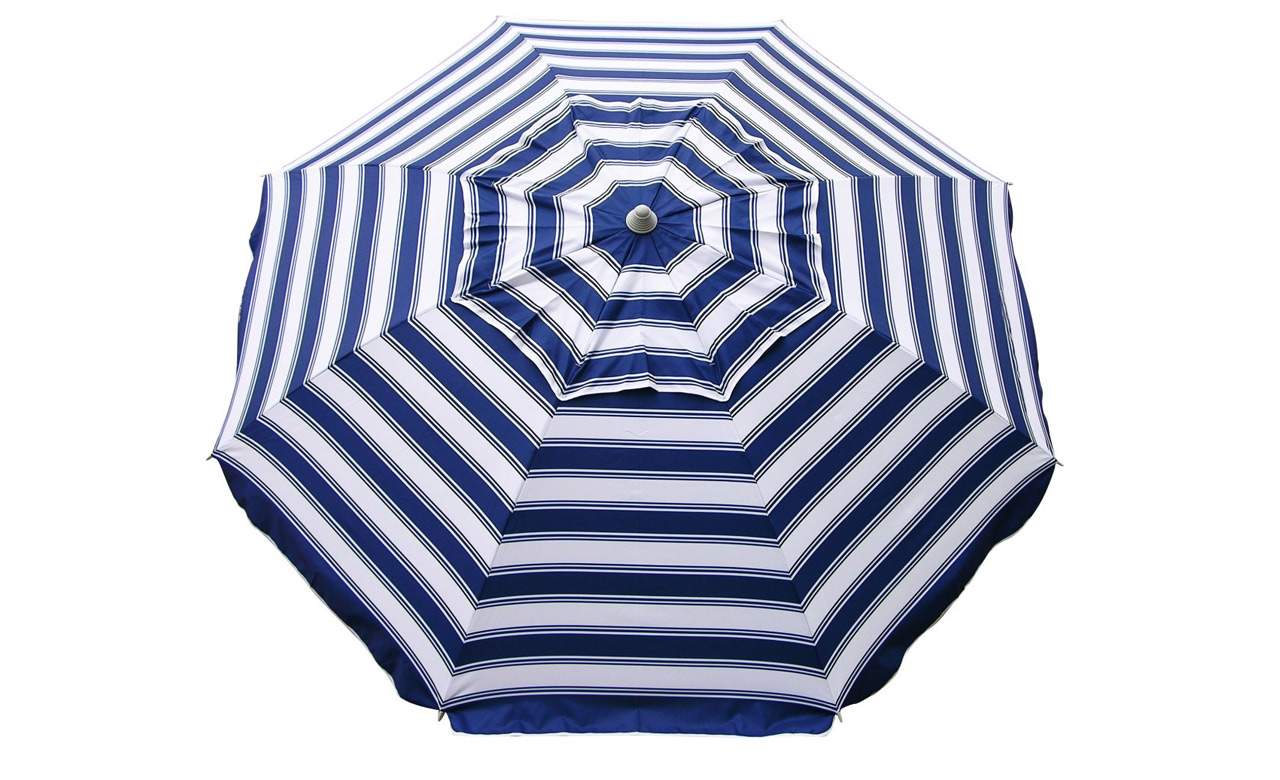 DAYTRIPPER BEACH UMBRELLA, BEACHKIT
Here's one for the practical picnickers and beachgoers. While this classic blue-and-white striped number doesn't have quite the same look-at-me factor as some of its bolder counterparts, it does have some great design features that will make your beach trip a whole lot more comfortable. Like the two-piece vented top, designed to stop any gusty winds from flipping it inside out. The Daytripper's also got an extra wide 210-centimetre canopy for full coverage, and a self-anchoring sand lock that should help avoid any fly-away mishaps.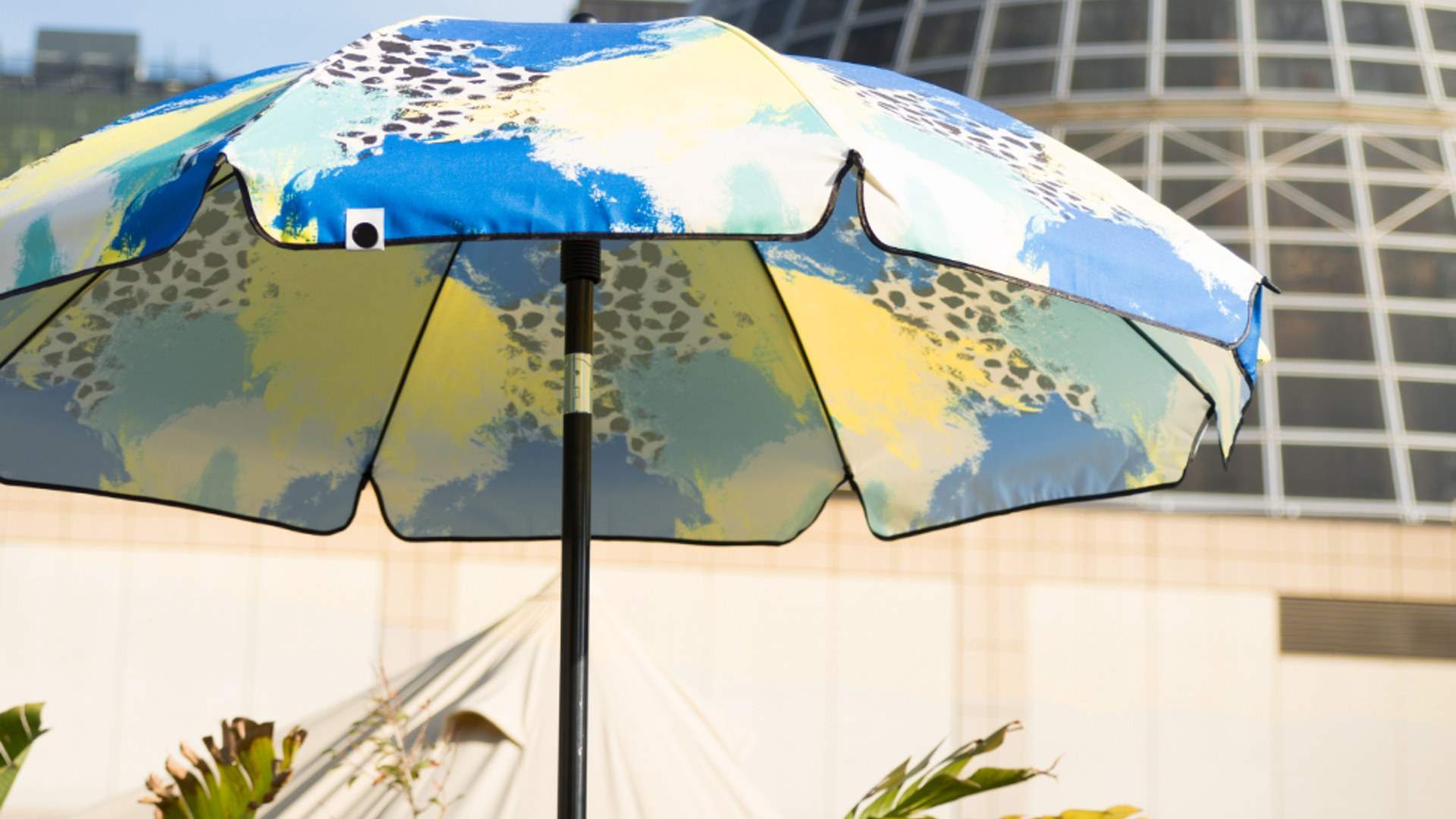 Available in two hand-drawn prints, these sun umbrellas from lifestyle brand Life! are destined to get a solid workout over the coming balmy months. Each comes with a colour-coordinated carry bag for easy transport and a sand anchor to keep things nice and secure down at the beach. The design also features a UPF 50 canopy coating, a rust-resistant pole and a nifty tilt function to help you stay shaded all day long. Right now, you can even nab one on sale for $80.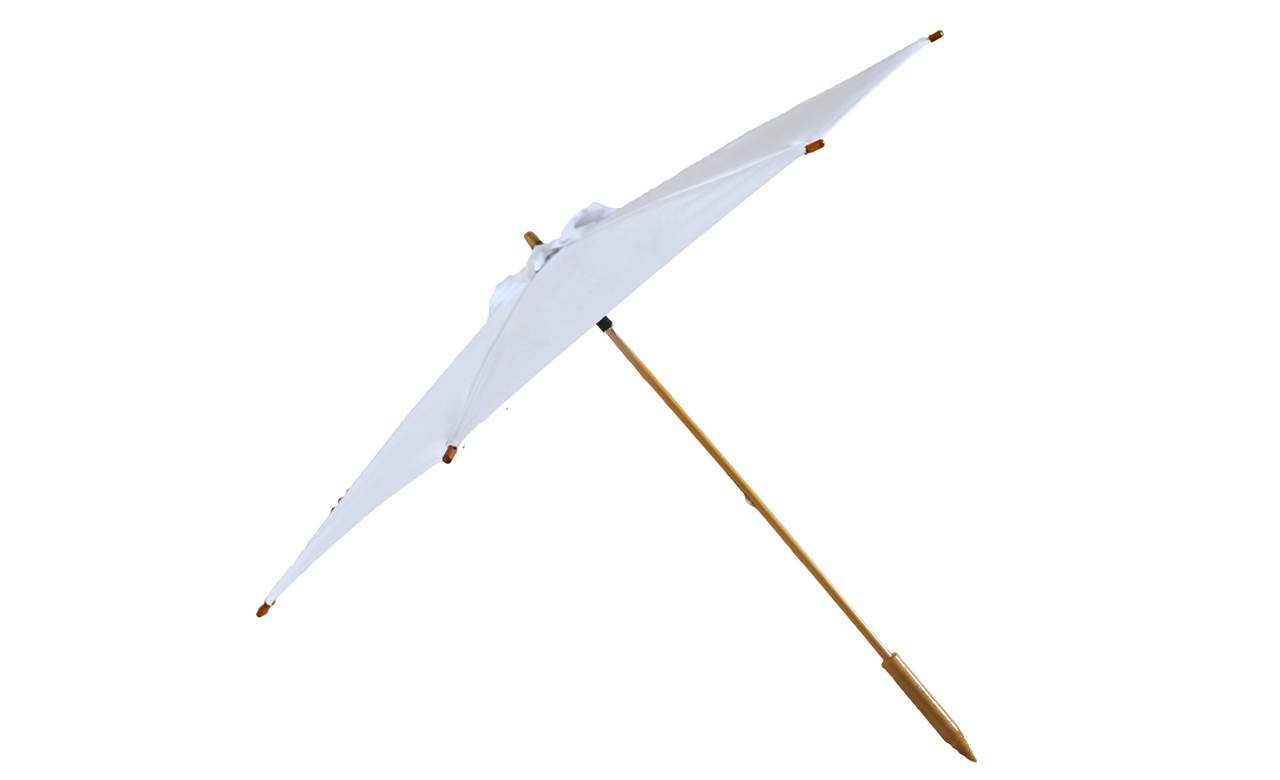 There's something about the sheer simplicity of this umbrella that we really, really like. A cool white hue reminiscent of those Greek island houses we dream about, a summery cotton-blend canopy, a wooden sand-spiral handle and a UPF rating of 50+. With an 80-centimetre diameter and lightweight frame, this one easily doubles as a personal parasol to shade you while you're strolling around. And shipping to most Aussie locations will only cost around $10.
Need more sun shade than this? How about a whole beach tent?
Top image: Sunday Supply Co.
Published on October 15, 2020 by Emma Jukić