Artist Amanda Shadforth Reveals How She Expresses Herself Creatively Through Art and Style
In a new campaign for Danish jewellery house Georg Jensen, the Australian artist says organic forms, natural influences and a penchant for breaking the rules all come into play.
in partnership with

What is personal style? For many of us, it's about the clothes we wear or the accessories we pick — the impression we give of ourselves when heading out the front door each day.
But for many creatives, it's about all that alongside the personal artistic expression they reveal to the world through their work. This concept has been captured by Danish jewellery design house Georg Jensen in its new campaign Art of Style, giving insight into how some of our favourite creative personalities let their style trickle into their artistic process — and vice versa.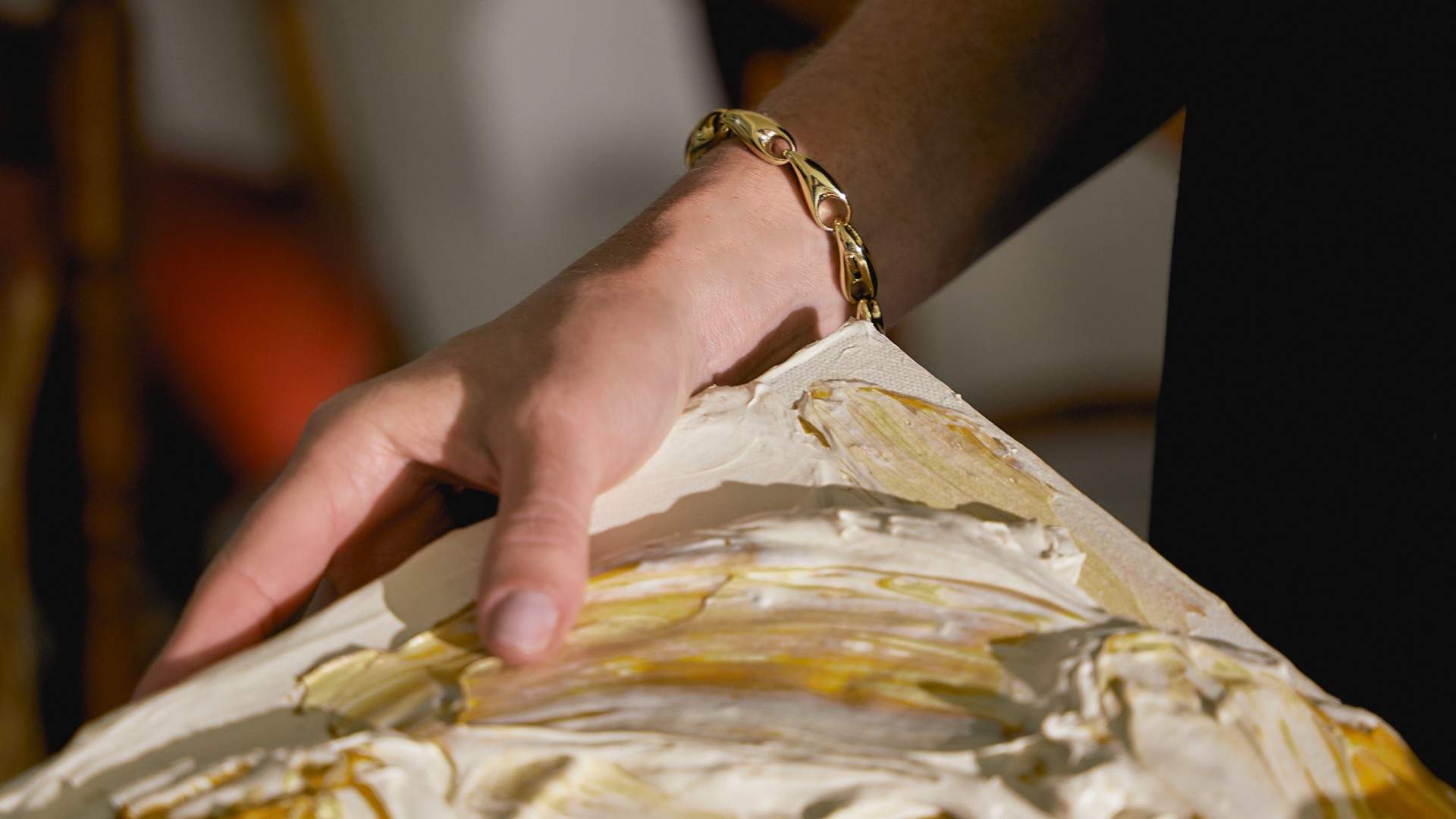 One such featured personality is Australian artist Amanda Shadforth, who revealed in a video for the campaign that she unleashes her creativity both in her art studio and through her chosen jewellery. She even created a bespoke art piece inspired by the retailer's collection. The two go hand-in-hand — similar to Georg Jensen's core design values, Shadorth's style is classic and understated, and her artistic inspiration comes from nature.
In collaboration with Georg Jensen, we've delved deeper into some of the key characteristics of Shadorth's style and handpicked some of our favourite pieces from the Offspring, Mercy, Reflect and Curve collections that work together to reflect it.

EMBRACE THE IMPERFECT
Any fan of Shadforth's work knows she has an eye for organic shapes drawn from nature — her bespoke art piece for Georg Jensen does away with traditional fine art techniques and digital influences. Shadforth says that's one of the main things that draws her to the design house: the perfectly imperfect, organic shapes that feel like they're a natural expression of the human body.
"Some of the pieces actually feel like they could have been part of nature once," says Shadforth.
If you're also a fan of wearing pieces that reflect the calm dynamism of nature, opt for Georg Jensen's Mercy collection. This range, by acclaimed American designer Jacqueline Rabun, uses sterling silver and 18k gold to create unique pieces reflecting the shifting sculptural forms of nature and the human experience.
Our pick:
The Mercy Double Ring in sterling silver. This piece at first gives the appearance of two rings, but on closer inspection reveals itself to be one continuous, flowing shape. The curve of this double ring almost appears like ocean waves or the essence of time, captured on the wearer's fingers.
RRP: $475
Pair it with:
The Mercy Earrings in 18k yellow gold Another Rabun design, these striking earrings are made from one organic flowing shape, twisting through the ear hole and hugging the lobe — almost acting as an extension of the ear. According to the designer, the strands are inspired by the twists and turns of time.
RRP: $1175

DON'T BE AFRAID TO MIX AND MATCH
Shadforth reveales she uses everything from giant stainless steel trowels to tiny delicate brushes to create depth and texture in her artworks — she even makes her own equipment when she needs a particular way of applying paint.
Her affinity for mixing and matching is echoed in her favourite pieces from Georg Jensen's collections, where style 'rules' are made to be broken. If you've previously considered yourself a solely silver or gold girlie, change things up and create a fresh, contemporary look by mixing metals, stacking and layering pieces from different collections — perhaps a mix of delicate understated pieces and striking standouts.  The classic chain designs seen in Rabun's new Reflect collection for Georg Jensen can be paired with her larger statement forms of the egg-shaped Offspring collection, or Regitze Overgaard's bold and sculptural Curve bangles, earrings, pendants and rings.
Our pick:
The Large Offspring Ring in sterling silver: an eye-catching conversation starter in the Offpsiring collection's signature oval shape, this chunky piece lends itself perfectly to stacking with more delicate shapes and offsetting with different metals.
RRP: $345
Pair it with:
The Medium Curve Bangle in 18k yellow gold and sterling silver. The line dividing the gold and silver in this statement bangle contrasts with its soft, organic shape — and proves that any outdated rules you might have about mixing gold and silver can be nixed. Instead, combining different metals creates a look as individual (and striking, of course) as the wearer.
RRP: $7700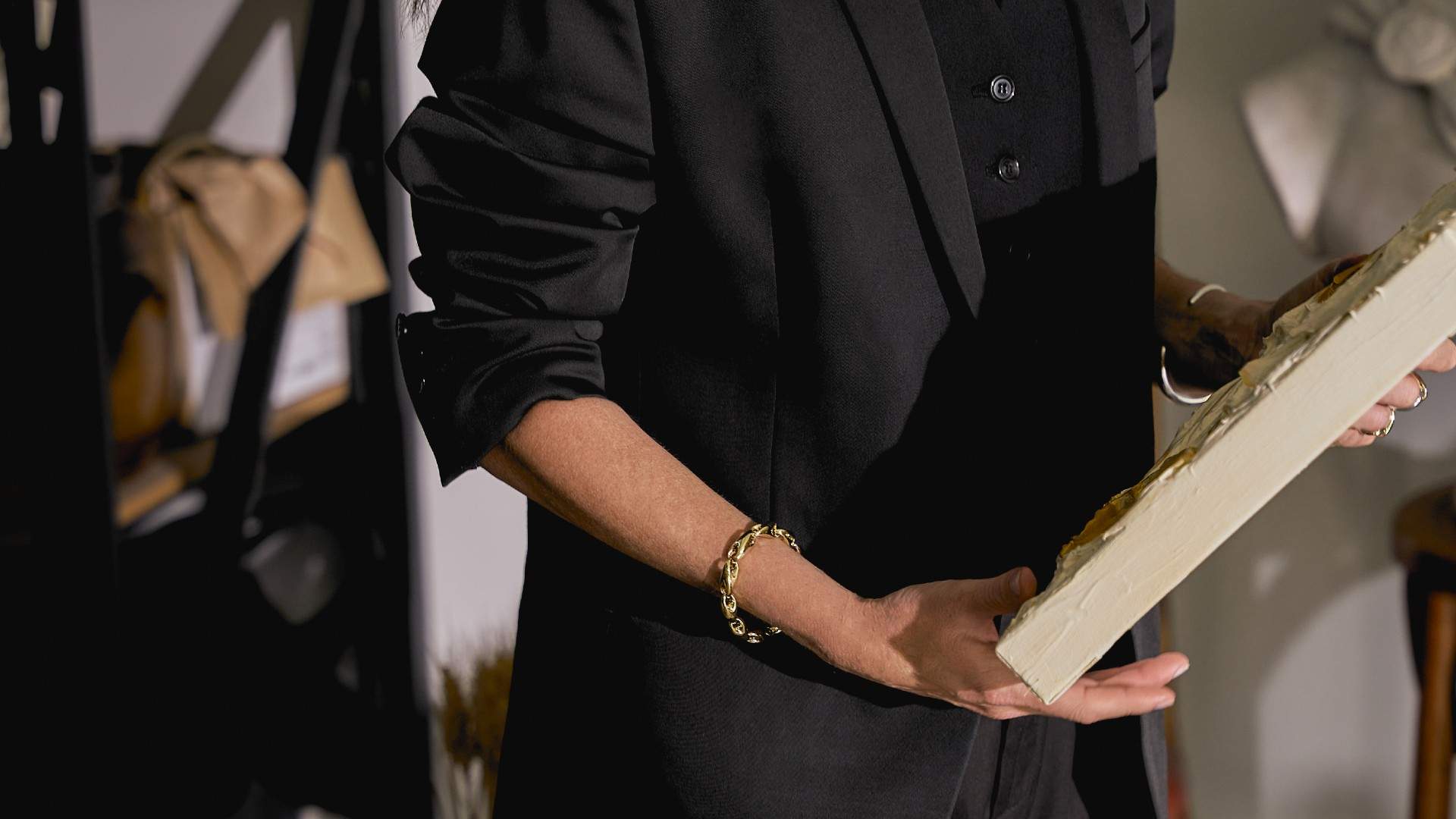 PAIR FEMININE AND MASCULINE STYLES
Again showing that mixing and matching is key, Shadforth describes her style as a paradox between masculine and feminine. She has a "tomboyish" tendency to gravitate towards trousers and blazers, which she pairs with classic, understated pieces. Jewellery is an effective way to achieve such a mix — since the dawn of civilisation, it's been used as a tool by both sexes to embellish and stand out. Achieve it yourself by taking classically unisex shapes like the chains and striking rings from Georg Jensen's Reflect collection and pair them with the feminine shapes celebrated in the Curve collection or the egg-shaped Offspring collection.
Our pick:
The Reflect Ring in sterling silver. Designed by Rabun and formed by two ends of a piece of sterling silver wrapped around each other, this striking unisex ring can be a bold statement piece or used to stack with other forms.
RRP:$375
Pair it with:
The Offspring Bangle in sterling silver. Delicate silver bangles are, of course, always in vogue, but this one adds a modern, feminine twist on a classic shape thanks to its wave-like curve. Combine it with the Reflect Ring for a contemporary mix of thick and thin metals.
RRP:$475
SHE'S SO GOLDEN
There's no doubt that chunky gold jewellery is having a moment — but loyal fans of this glittering shade know that it never really goes out of style. Shadforth opts for gold in both her artistic and fashion expressions — her art piece in collaboration with Georg Jensen uses a thick application of dark ochre, amber and gold tones that give the piece real warmth. And you only have to take a look at some of Shadorth's other stunning works to know it's a theme that carries through much of her oeuvre. If you're keen to give gold a go, opt for timeless pieces in yellow gold that can be easily stacked with other metals and shapes.
Our pick:
The Mercy Earrings in 18k yellow gold with diamonds — because when is that combination ever not fabulous? Inspired by the passage of time, these delicate twisted hoops manage to be both classic and contemporary — and can be passed down through generations.
RRP: $3350
We'd pair them with:
The Large Reflect Bracelet in 18k gold. The classic link bracelet has been given a modern and luxurious makeover with this Rabun-designed gold chain piece. With a bit more 'tude than other chain bracelets tanks to its interlocking links, it definitely doesn't come cheap, but again is timeless enough to be passed down from mother to daughter over many years.
RRP: $14,000
Feeling inspired? You too can express your own art of style through Georg Jensen's Mercy, Reflect, Curve and Offspring collections — the pieces are designed to be layered and stacked together, across collections and combined with different metals. For more information, head to the website.
Concrete Playground Trips
Book unique getaways and adventures dreamed up by our editors