DESIGN & STYLE
How Does the New Apple Watch Work?
Apple Watch's gold version is worth $14,000. But what does it actually do?
Apple's first wearable computer, the Apple Watch, is almost here. After months of furious pub debates, Android-loving naysaying and know-it-all speculation, Apple finally announced the release date for its next 'must-have' device at its 'Spring Forward' event in San Francisco — and the price tag for its sold gold version.
Starting at AU$499 and running all the way up to AU$14,000 for their ultra-hard 18-karat gold version, the shrunken, wearable computer fits into a watch body and runs a modified version of iOS — the system running your iPhone and iPad right now. Available in two sizes (38 and 42mm height) the Apple Watch comes in three different 'collections' including the Apple Watch Sport Collection — with 60 percent stronger anodised aluminium case, though not completely waterproof — and the pretty, pretty AppleWatch Edition made from 18-carat yellow or rose gold, sapphire crystal glass (and costing that cheeky $10K). Not as baller as these watches, but a good first model.
Preorders for the Apple Watch start April 10, available in the US, UK, China, Australia, Canada, France, Germany, Japan, and Hong Kong. The watch will be available from April 24, but if you wander into a Genius bar you'll be able to try one on from the 10th. Analysts are predicting Apple could up to 60 million shipments within a year of its release — perhaps not if Pebble Time has anything to do with it.
So, how does the Apple Watch work?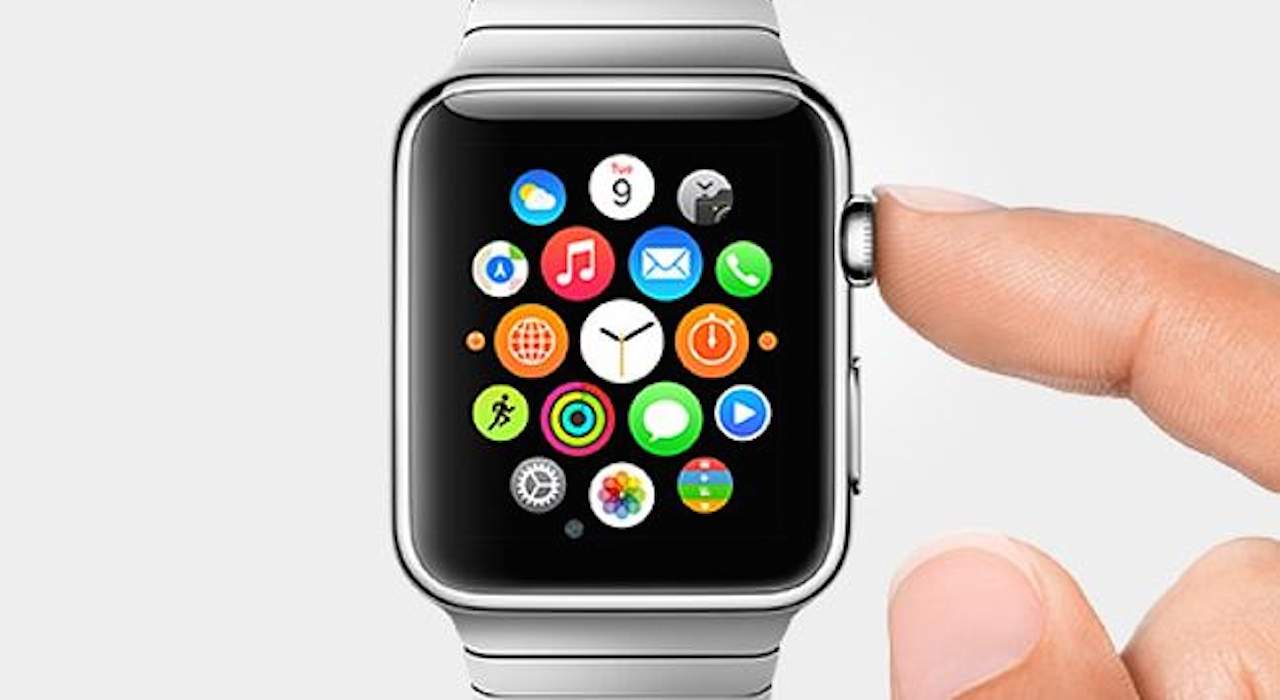 Behold, the 'digital crown' controls all
The primary joystick of the whole device, you can go all James Bond by using the rotating dial on the side of the watch to navigate (something many smartwatches leave out for aesthetics). Even so, the display is also used as a touch screen classic smartthing style. For all you constant screencrackers out there, that face is made from a super hard-as-nails single line sapphire material.
Your watch can tell you to run faster
Using four sapphire lenses on the back of the watch and the mighty, custom-designed S1 chip, the watch can detect your pulse rate (along with an epic amount of other info). Combine this with the accelerometer measuring body movement and the GPS tracking your distance, the watch can figure out how hard you're exercising and suggests fitness goals. What a beneficial jerk.
'Glance' at your most important info
The Glances feature is where you make the watch all about you. Swipe up from the bottom of the screen and your custom-selected screen of notifications pops up. Weather, dirty messages, calendars of events you're avoiding; it's all on your wrist.
You can charge wirelessly
No winding here. To charge up, the Apple Watch fuses MagSafe and inductive charging — you just hold the back of the watch near the charging connector and let the magnets pull everything together. Apparently the battery lasts 'all day', which could be anywhere from a probably 18 hours to 72 hours in Power Reserve mode.
Siri runs the show
Because the Apple Watch is so mini in screen size, Siri comes into play for a significant amount of commands. Yep, you'll feel like a spy. An awesome, awesome spy.
You can send doodles to your mates
Using the newly revealed app Digital Touch, watch wearers can create little animated drawings and send them to other watcheroos. Cute. App developers will be able to create Apple Watch versions, we're thinking Snapchat is particularly made for this.
You need an iPhone for it to work
And there's the catch. The Apple Watch needs an iPhone 5 or 6 nearby in order to function, feeding from the web or GPS info to work. Music, photos and contacts come across, sure, but this makes the device one of Apple's most you-need-that-to-get-this products ever, even the iPad stood on its own little stand.
The Apple Watch will be available for purchase in Australia from April 24, pre-orders open from April 10.
Via Mashable, TIME and PC Advisor.
Published on September 10, 2014 by Shannon Connellan