Wynnum Fringe 2023
Head to Brisbane's bayside for 'Shrek'-inspired burlesque, 'Speed' IRL, ABBA sing-alongs, Daryl Braithwaite, bars and a ferris wheel.
It only took three years for Wynnum Fringe to evolve from a three-day festival to an almost three-week run. Returning in 2023 for the fourth time, the event is sticking with that extended setup. It's easy to see why, not only because the fest keeps drawing crowds to Brisbane's bayside — with 36,000 people heading along in 2022 — but also thanks to the jam-packed lineup it keeps curating. This year's includes Shrek-inspired burlesque, ABBA sing-alongs, Daryl Braithwaite and a ferris wheel for starters, plus Robert Forster taking to the stage, a dog celebration, Will Anderson and Jimeoin doing comedy sets, and pop-up bars as well.
Running from Wednesday, November 15–Sunday, December 3, 2023's lineup of shows and events includes that sultry — and wholly unofficial — take on everyone's favourite animated ogre franchise, plus a corresponding burlesque and drag parody of The Simpsons. Still riffing on beloved pop-culture staples, Wynnum Fringe is staging the latest season of Speed: The Movie, the Play, which brings the 90s action film into IRL in the name of comedy.
Sweden's most-famous music group earn a tribute via free community choir The Wynnum Takes It All — singing, yes, a version of 'The Winner Takes It All'. As for Braithwaite and Forster, they sit alongside Diesel, Sarah McLeod, Marcia Hines and Rhonda Burchmore in what's clearly a stacked list of Australian talent taking to the stage. To hear 'The Horses' echo, you'll want to head to the closing Rock the Bay event, which also features Hines and The Bamboos.
The comedy bill not only includes Anderson and Jimeoin, but Dave Thornton and Geraldine Hickey as well. Laughing is part of seeing Ancient Greece-set comedy GODZ, too, while the Wynnum Fringe Comedy Gala is back for a one-night-only stint of giggling.
After opening ceremony yana marumba (Walk Good) kicks off 2023's festival, attendees can look forward to an adults-only magic show, silent disco walking tours, Chocolate Starfish doing Meatloaf's Bat Out of Hell, Massaoke Oz getting everyone belting out songs and Cheap Fakes playing the Pulp Fiction soundtrack. Or, there's a club devoted to Broadway tunes, a dose of Shakespeare in 60 minutes and a Bluey and Bingo experience — plus What Would Dolly Do?, which is about worshipping Dolly Parton.
For hanging out between shows, the garden hub returns to George Clayton Park, which is where Wynnum Fringe's spiegeltent will sit — and a ferris wheel, food trucks and bars. It's also the site of Puppypalooza, complete with dog-focused markets, dog competitions, dog photography and everyone bringing their pooches along.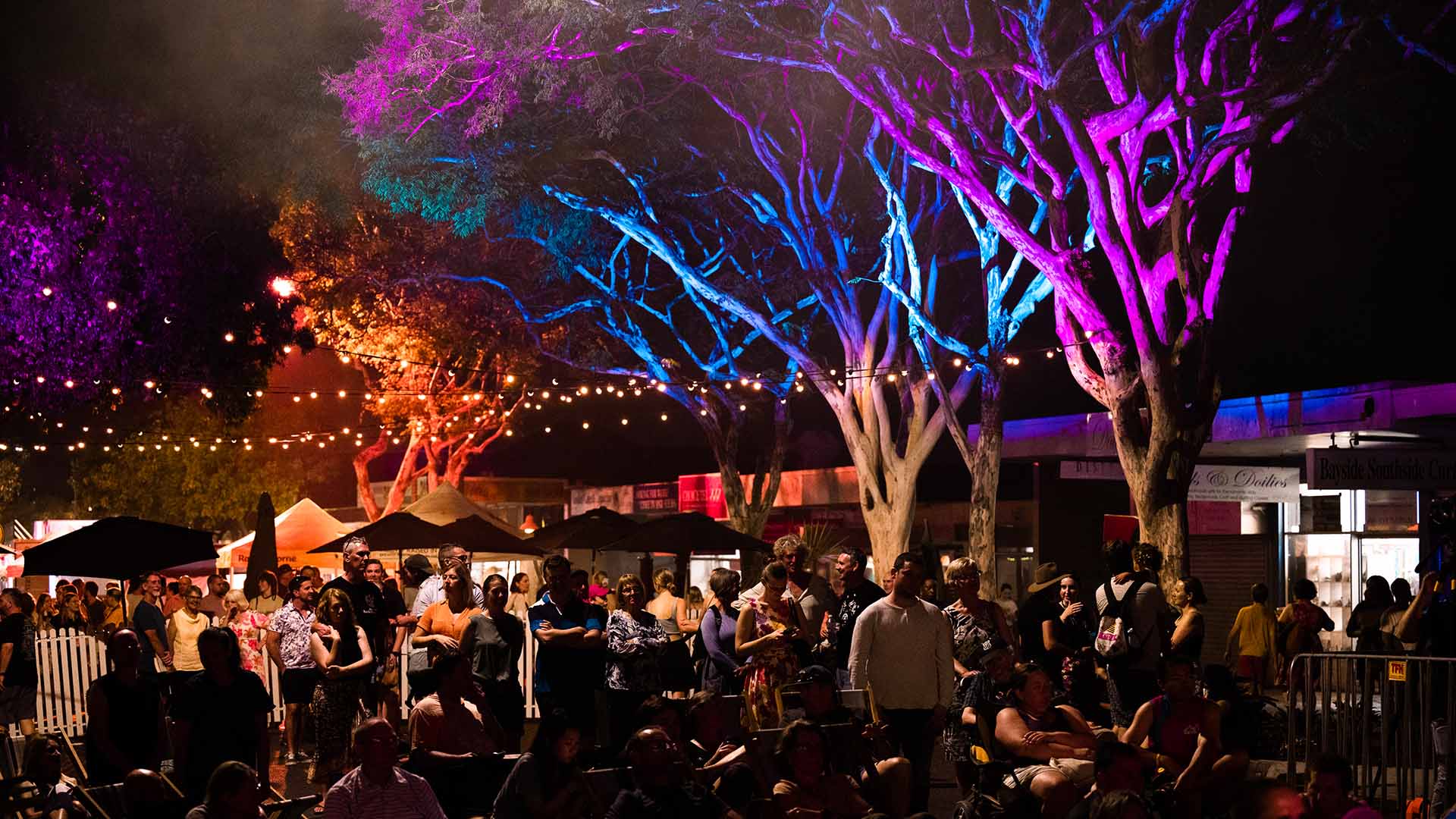 Concrete Playground Trips
Book unique getaways and adventures dreamed up by our editors