Aunty Donna Are Legit Dropping a $30 Bottle of Wine That's Literally Called '$30 Bottle of Wine'
Everyone will know how much you spent on vino thanks to Aunty Donna's new plonk — and yes, you should chug-a-lug it with a little bit of pud.
Aunty Donna fans, we're living in a golden time for the sketch comedy group's jokes making their way from skits to IRL. Obviously, everything is still a drum and always will be. On top of that, though, Mark Samual Bonanno, Broden Kelly and Zachary Ruane are making a sitcom about whipping up morning browns, have dropped an Always Room for Christmas Pud picture book and are releasing a $30 bottle of wine literally called $30 bottle of wine.
If you're already giggling at all of the above, then you know the skits that they all spring from — and, when it comes to the new vino, you're ready to chug-a-lug. First, though, you'd also best be prepared to aerate the wine by pouring it into a decanter, then wait an hour before drinking. Then, you'll need to swirl, sniff, maybe find a cupcake in your glass, spit some wine out to explore the flavours and just generally feel like a fancy rich type.
 

View this post on Instagram

 
Saying that it costs $30 a lot, and respecting it because it costs $30, are also essential. So is singing the Home and Away theme song, apparently. Obviously, you don't have to take Aunty Donna's $30 Bottle of Wine skit as actual instructions, but watching said clip while drinking is definitely recommended.
The $30 bottle of wine — which isn't just any bottle of wine, of course — hails from a collaboration with Built to Spill. The wine label was started by Tai Tate (ex-Porteno, Mary's, P&V) back in 2020 and has built itself up a following since, with this collaboration coming after Tate was introduced to the world of Aunty Donna by tattoo artist called Sanchez. The latter has now done the honours with the bottle's label, in fact, and yes, the words "$30 bottle of wine" feature prominently.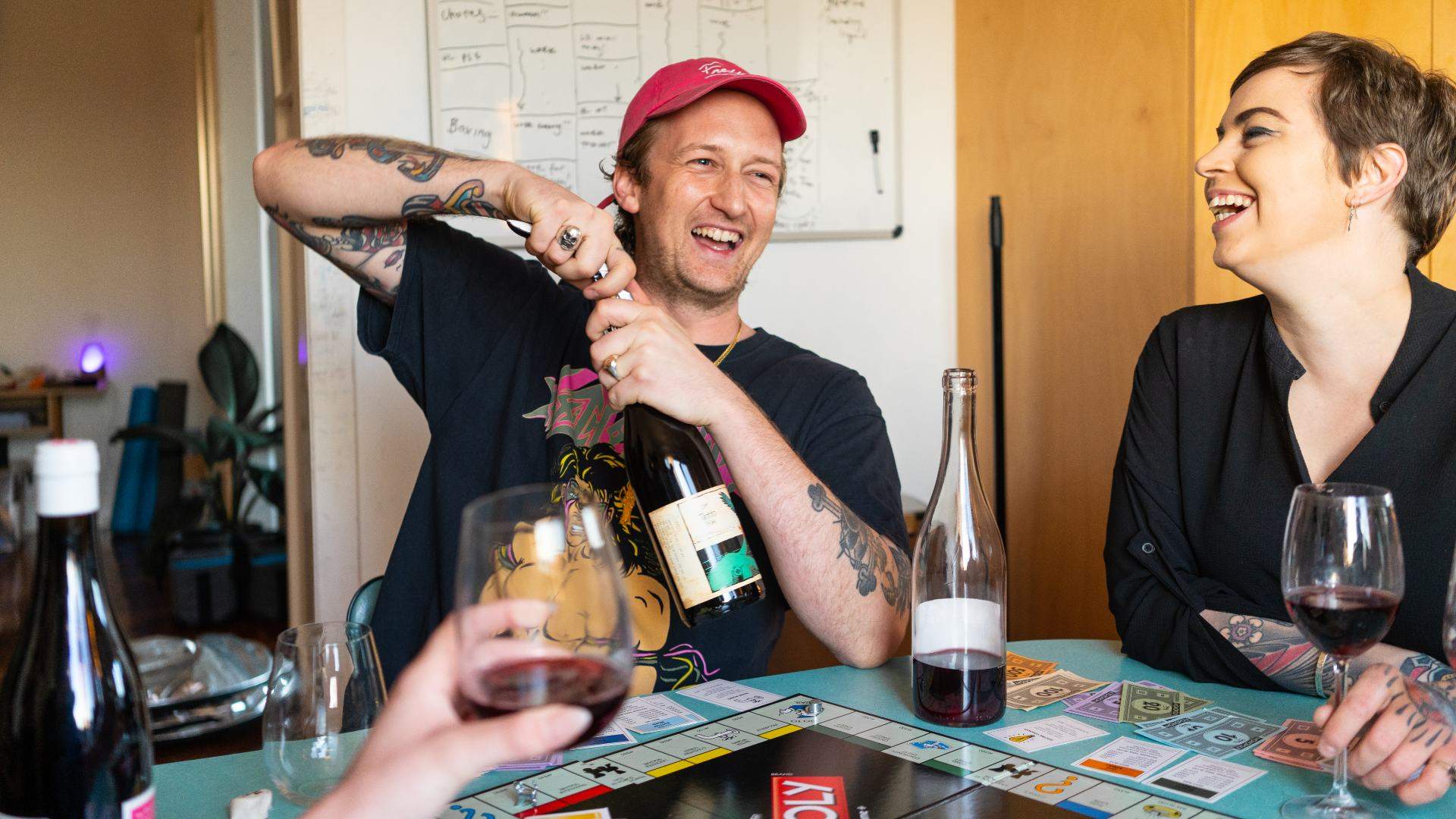 Tate advises that the wine, which retails for $29.95 and ships from Monday, November 28, is probably worth more than $30. A natural shiraz from Macedon by Trutta Wines, it features bright red fruits and cacao, plus notes of cranberry and wild cherry. Go on, give all that a mention as you're sipping — you have to, it's the $30-bottle-of-wine way.
Built to Spill is selling Aunty Donna's $30 bottle of wine solo, and in a bundle with Always Room for Christmas Pud. Ace Christmas present alert, clearly.
All that's left now is to revisit the sketch that started it all, because you can never watch it too many times. Check it out below:
For more information about Aunty Donna's $30 bottle of wine, head to the Built to Spill website. Orders are open now, and bottles ship from Monday, November 28.
Concrete Playground Trips
Book unique getaways and adventures dreamed up by our editors