Automated Brewers, Parilla Grills and Charcoal Smokers: the Go-To Gift Guide for Your Favourite Hands-On Foodie
If you know the next master brewer, a die-hard foodie or a passionate at-home entertainer, we've done the legwork this gifting season.
in partnership with

We all know them, the mad-keen foodie that just loves to be as hands-on as possible. They find joy in hand-kneading flour, eggs and water into a silky smooth pasta dough, crafting craft brews and creating a full (and fantastic) experience around their meal times. If one such person is on your giftee list this festive season, we've done the legwork for you.
And there's no better place to start than with BrewArt. The hops-loving team has made it their mission to make the art (and science) of at-home brewing as fuss-free as possible — meaning the amateur brewer in your life will be pouring stand-out sips every single batch.
In the spirit of the holiday season, together with BrewArt, we've compiled a list of stand-out gifts to get that hands-on foodie in your life.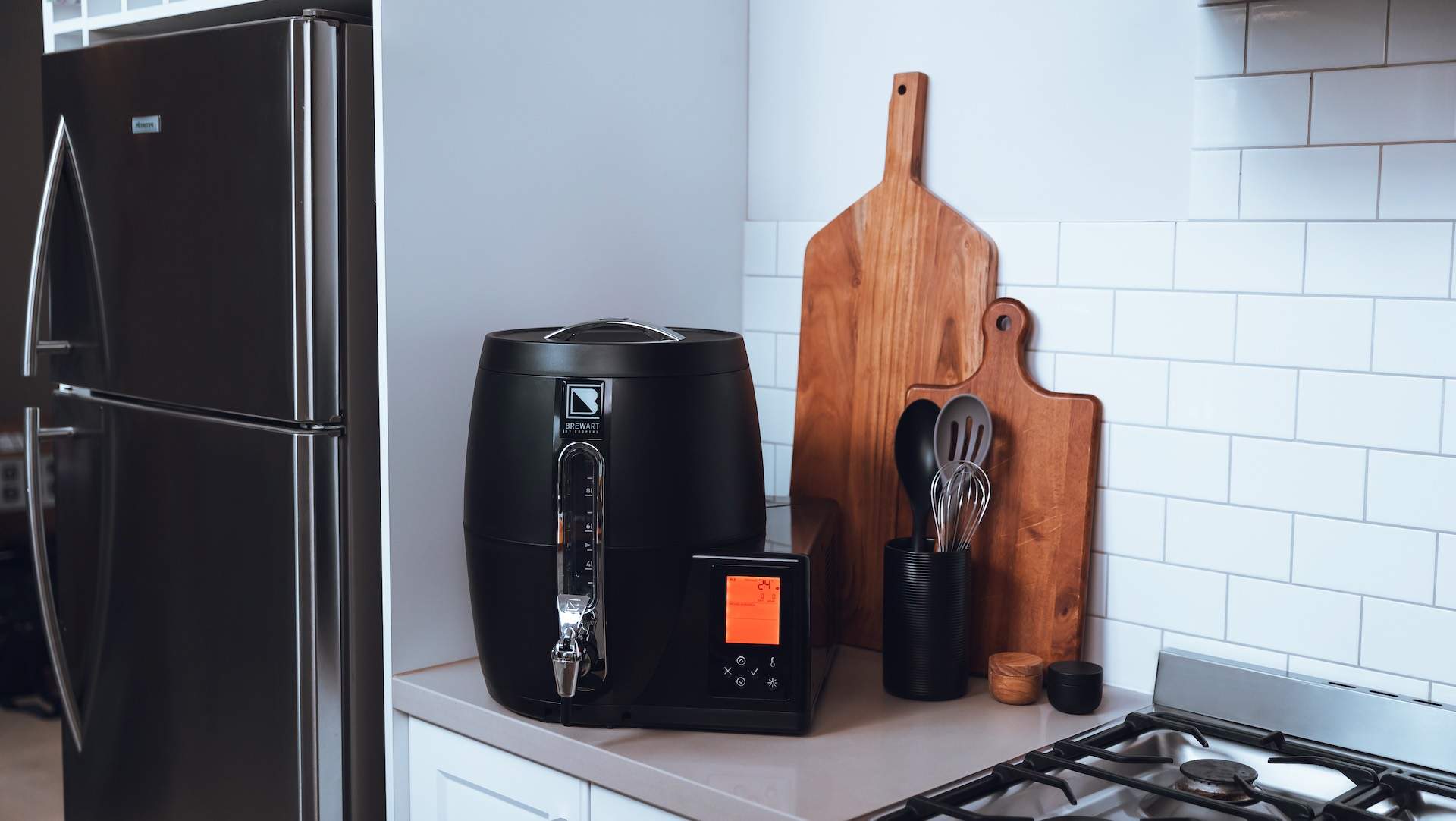 BREWART BeerDroid AND BrewFlo, From $799
What better to gift your foodie than a world first? BrewArt's BeerDroid — the first fully automated personal brewer — is single handedly turning amateur frothies into pub-quality pours, every time. And the BrewArt app means they'll be overseeing their brew from wherever they are. So if you know the next master brewer or are simply looking for the ideal gift for a DIY foodie (who is partial to an arvo at the pub), consider your gift chosen.
Go all out and pick up the BrewFlo, too. In-house (read: at home), they'll have up to 10 ice-cold litres of IPA, XPA, pale ale or kolsch on its way to a glass with a pub-perfect frothy head — every time. With no need for CO2 (another world first) and a handy LCD screen control — it's thirst-quenchingly good.
PIG & PILGRIM PARILLA, $3150
Whether you're gifting a carnivore or someone that simply loves cooking with smoky flavours and hot coals, a parilla from Pig & Pilgrim is an exceptional choice to pop under the tree. Pictured above is The Sideburn, the "grand dame" of the Sydney-based biz's range of South American-style charcoal barbecues.
Featuring a brasero in addition to a grill, this big bit of machinery is designed for longer cooks — with the easy option of creating more coals as you're roasting away. From experimenting with the amount of heat and smoke used to grill shrimps on the barbie, setting up chicken yeeros over red-hot coals and impressing morning guests with an al fresco shakshuka, the die-hard foodie in your life will be all set for the new year. Plus, there are options that pack less of a financial punch, including The Farrow —the small, portable grill that's ideal for any happy camper in your life.

NOT WASTED JUICE CLUB MEMBERSHIP, From $99
Alongside good food, you must have good sips — and when it comes to natty wines, the good folks at Not Wasted are the people to turn to. Not only do they sling out bottles from both Aussie and international producers, they dive deep into the best (and most eco-friendly) viticulture practices and then share it with the world. If you've got an oenophile in your life that you'd love to gift a drop to, or you know a foodie that's looking to level up their wine knowledge, sign them on up to Not Wasted's Juice Club.
With four size options — three bottles or six, for newbies or wine snobs — and the flexibility to pick the frequency of deliveries, your favourite foodie will receive a curated collection of vinos. A rare gem, a red that's ripe for the chilling or maybe something funky, they'll be pouring stand-out drops all year long.

GOZNEY ROCCBOX, $799
There's something about a homemade pizza that absolutely hits. Whether it's the overarching process — from kneading the dough to having complete creative control over the toppings — or the winning combo of cheese and carbs straight from the oven, it's a universally adored experience. And taking it up a notch is the red-hot Roccbox from Gozney. Turning the heat up to 500°C, this tabletop pizza oven is cute, portable and a cinch to use. We're sure your lucky recipient will be inviting you over for a slice in no time — a delicious return on your investment.
FAT TUESDAYS CHOPPING BOARD, $110
Although prepping food comes nowhere near the enjoyment factor of chowing down, having fun and functional tools is a must. Enter Fat Tuesdays, the creators of constantly sold-out, hand-made chopping boards artfully made from 100% post-consumer recycled plastic (that's both sourced and repurposed in Sydney).
The range comes in four delightfully named colourways: birthday cake, guacamole, sherbet and raspberry jam, and we hear there are more on the way. If you've got your eyes on one of these beauties — for yourself or a friend — the last release of the year hits the shop early December, be quick.

PASTA-MAKING CLASS, Varies
A pasta class — taught by the pros — is as much a gift for your loved one as it is for you. Teach them to make fresh homemade pasta and you'll likely get to reap the rewards yourself (letting them do all the hard work of cooking — just like they like). Fussili, orecchiette, mafaldine, good old classic gnocchi — there are more pastas in the world than can be truly mastered in one lifetime, so even if they're an old hand, there'll be new tricks for them to learn. Grab them a gift card to one of the following spots and they'll be kneading flour, eggs and water in no time. Sydneysiders, Pasta Emilia (pictured above) is your best bet, Brisbanites can (and should) head to Fortitude Valley's Angelo's Pasta Classes, and Melburnians can make a beeline straight for La Cucina di Sandra.

STYLE-HEAVY SERVING ACCESSORIES, Varies
As your foodie fave will surely attest, plating up is as important (if not, nearly as important) as the food on said plate. So, any of the style-heavy objects that Maison Balzac, the Aussie experts in artful glassware and more, produces are a winning pressie. Maybe a set of gin and tonic glasses with a delicate citrus hit via a little glass slice of lime, some sea-blue glass plates or a celebratory set of tumblers (that, just quietly, would hold a frothy pour of beer quite nicely).

VINTEC WINE FRIDGE, $899
If we're talking tech for foodies, a Vintec is nearing on essential. A temperature-controlled room to store your 35-bottle collection? Lush. Although they're not technically fridges, they basically are. Temperature and humidity are regulated, plus the bottles (and their precious drops) will be protected from both UV and vibrations — all the variables that can spoil your wine are controlled. It doesn't hurt that they look a bit alright, too. Hardcore wine lovers will already have one of these on their wish list.
Got a foodie in your life? A beer lover? Ensure you're their fave with the help of BrewArt's frothy expertise and tech. Head to the website to get your order in, stat.
Introducing Concrete Playground Trips
Book unique getaways and adventures dreamed up by our editors