FOOD & DRINK
Coles' Fancy New Ascot Store Has a Mochi Ice Cream Bar and a Pick-and-Mix Pet Treat Station
The Racecourse Road supermarket also boasts self-serve barista coffee, cakes from Jocelyn's Provisions and frozen pet food ice cream.
Next time you do your grocery shopping, you could cut do your bit for the environment, treat your four-legged friend and pick up some mochi ice cream — all at Coles. The supermarket chain has just launched a revamped store on Racecourse Road in Ascot, and it comes with quite a few upgrades. Also included: self-serve barista coffee, an orange juice-squeezing station and cakes from Jocelyn's Provisions.
It certainly hasn't been a normal year or so months for supermarkets, with toilet paper battles and limits on everyday items hitting the front page more than once. But now the pandemic palaver has settled down somewhat, Coles hopes to make your everyday grocery shop (dare we say) exciting with the launch of its fancy new Brisbane store — which is part of the company's mission to both level-up the supermarket experience and reduce waste.
The supermarket — which is part of the Coles Local brand — joins Chatswood in Sydney and Moonee Ponds in Melbourne in boasting a range of forward-thinking elements. An eco-friendly product section takes pride of place, you can pack your groceries into free cardboard boxes at the checkout, and the trolley baskets made from recycled materials — all as part of the first Coles Local store in Queensland.
In addition to ticking a heap of environmentally conscious boxes, Coles Ascot features quite the range. As well as the aforementioned pastries from Jocelyn's Provisions, you can pick up sausages, patties and pre-marinated meats from Meat at Billy's, and baked goods like brioche burger buns from King Street Bakery. The store also stocks St Food Co's ready-made meals, so you can tuck into Brooklyn-style barbecue brisket, a Malaysian satay chicken or a Penang chicken curry even if you don't feel like cooking.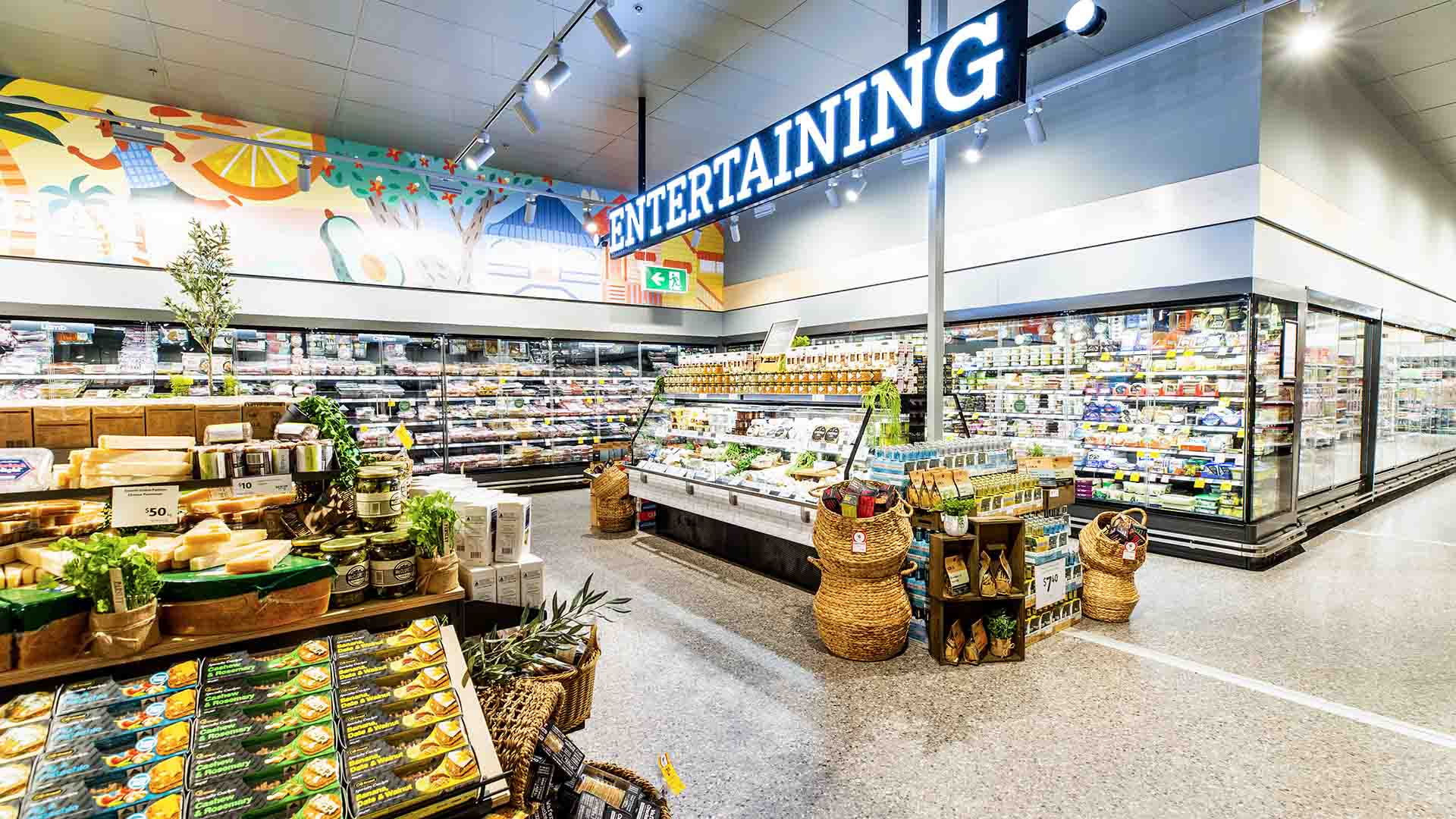 Having friends over? A dedicated entertaining section will stock you up with everything you need. Have a sweet tooth? Stop by the pick-and-mix candy bar. Love macarons? Then you'll want to hit up the mini-macaron bar, too.
Plus, Coles hasn't forgotten about the most important member of your family: your pets. You can pick them up a few goodies thanks to the new in-store pet treat pick-and-mix bar — so your pooch can have an after-dinner snack while you enjoy your Tim Tams. Frozen pet food ice cream is also in stock, because your four-legged friends deserve multiple types of treats.
Coles' fancier Ascot store follows two other big additions to Brisbane's supermarket options over the past six months. Late in 2020, Sydney's Harris Farm Markets launched its first Queensland venue in Clayfield, and then opened its flagship shop in West End earlier this month.
Coles Ascot is located on the corner of Racecourse Road and Dobson Street, Ascot — operating from 7am–9pm Monday–Saturday and 9am–6pm Sunday.
Images: Renae Droop/RDW Photography.
Published on June 17, 2021 by Sarah Ward