FOOD & DRINK
Australia's Best Locally-Made Icy Poles to Cool Down with this Summer
Sunny Boys, move to the back. These local pops, blocks and poles do summer right.
The humble icy poles is the star of childhood memories the world over, reminiscent of tuck shop visits, beachside jaunts, and those sticky days of summers past. Even when we're trying our hardest to adult, getting stuck into an icy treat is still up there with our favourite summer pastimes. And while Paddle Pops and Splices will always hold a place in our hearts and freezers, these days, you're just as likely to find us getting our kicks with some hand-crafted, locally-produced, artisan version. Yup, there's all sorts of fun things happening in the world of frozen treats right now — here's what we'll be ripping into this summer.
When two besties share an extreme love of frozen treats-on-a-stick, there's only one logical thing to do: start your own mini icy pole empire! That's the story behind Sydney company, Pure Pops, which has blossomed from a couple of farmers market stalls to a well-known brand, found at grocers, cafés, stores, and events across NSW. And these gals sure know how to make crowdpleasing icy poles. They've kept the sugary stuff to a minimum, going heavy on the natural fruit goodness, with most of the pops clocking in at under 80 calories. Expect summer-worthy flavours like banana caramel, blood orange, and pine-lime coconut splice. Check the website for your nearest stockist.
Liana Raine creations are kind of like the 'It Girls' of the frozen treats world — they're sophisticated, pop up on countless glossy magazine pages, and have even made it onto the runway at Mercedes Benz Fashion Week. That said, when it comes to the important stuff, this family-run biz likes to keep things simple. Their all-natural, all-Aussie, artisan icy poles are crafted with the best seasonal fruit on offer, with clever new flavours added as quickly as they can be dreamt up — peach, moscato, and raspberry, anyone? Liana Raine is keeping summer retail plans under wraps for now, but in the meantime, jump on the website to order yourself a box.
Old-school icy poles, served out of gorgeous vintage caravans – just try and match that for a nostalgia-tinged summer experience. These palate-pleasers from Perth-based Delish Ice are sure to win over young and old, what with the cute-as-pie retro styling and the downright tasty artisan pops. Flavours change regularly, but are sure to impress – expect combos like basil and elderflower; raspberry lemonade; and lychee, pineapple and lime. Buy them online, or catch one of their caravans or carts around Perth, Mandurah, Dunsborough, and Margaret River. They can even customise something special for your next summer shindig.
With all that sunshine and humidity, it's a safe bet Queenslanders know a thing or two about icy poles. So, your tastebuds are in excellent hands with Frozen Sunshine Iceblocks, which are handcrafted in Maroochydore, using top-notch local ingredients and zero nasty flavourings or preservatives. These cool little characters are all free of dairy and made with either a fruit or creamy coconut milk base. At any time, there are at least 12 varieties on offer, so you might find yourself blissing out on a coconut and candied ginger creation; or maybe a pineapple, mango and passionfruit number. Pick up a box from the factory, or find them at markets, cafés and food stores across the Sunshine Coast and Brisbane.
Pop Shop Sydney's icy treats might just be the prettiest popsicles you ever did see. These locally-made beauties have been tricked out with everything from juicy fruit chunks, to edible flowers, and even gummy bears. Although with flavours like choc banana, Pimms, and Japanese lemonade with kiwi and orange, you probably won't be spending too long admiring the aesthetics. While these guys supply to a tight selection of cafés and stores around Sydney, their main jam is custom orders for parties, weddings, and other events. Get in touch and let them whip you up something special.
Turns out, wine isn't the only Yarra Valley creation we'll be cooling down with this summer. The folks at Mountain Pops handcraft their cracking small batch ice blocks out of a kitchen in the Yarra Valley, pulling together fresh, locally-grown fruit to star in their lineup of inventive flavour combos. They've even had a play with some boozy pop varieties, which we suspect would go down a treat at your next backyard party. These thirst-quenchers are fast becoming a favourite on the festival circuit, making their way into many a hot little hand at the likes of Strawberry Fields, Rainbow Serpent Festival, Falls Festival and Yemaya. You'll also spy them at markets and events across town, and can keep tabs on their whereabouts at Where the Truck At.
If you fancy keeping those food miles to a minimum, then Flyin' Fox ice blocks are sure to have you smiling. This NSW-based company handcrafts its fruit-packed icy poles in Murwillumbah, with mostly organic ingredients sourced carefully from local farms. These guys are pretty proud of our Aussie fruit, and they make it sing, in flavour combos like pomegranate and blueberry, lime and mint, and coconut and milk. You'll find them gracing the freezer section of stores and cafés across NSW and QLD, as well as in Melbourne, Adelaide, and Alice Springs.
We guarantee this summer will see plenty of Melbourne ice block fans beating the heat with treats from The Pop Co. These guys sling handmade, gourmet popsicles out of a cheery little food cart, offering fruity flavours for all ages, alongside a range of signature, booze-infused creations. Kick it old-school with a strawberries and cream number, or embrace adulthood with a rum-laced Mojito pop. Customised flavour combinations are also on offer. The Pop Co. cart will be doing the rounds of Melbourne's markets, beaches, and outdoor events this summer, but you can always organise a special appearance, or bumper pop package for your own party.
This Melbourne brand pulls its name from the Spanish word for 'icy pole' and whips up its frosty treats based on authentic Mexican recipes. And indeed, these handmade sorbet icy poles, which feature an all-natural ingredient list, zero dairy or gluten, and stacks of fresh fruit, will prompt a mini fiesta in your mouth. Expect tropical flavours, like coconut, hibiscus, and your old mate watermelon, available in packs of 10 or 25, at stockists all across Melbourne. Try Aunt Maggie's in Fitzroy, The Prahran Grocer, and Market Espresso and Trolley Hire at the Queen Vic Markets.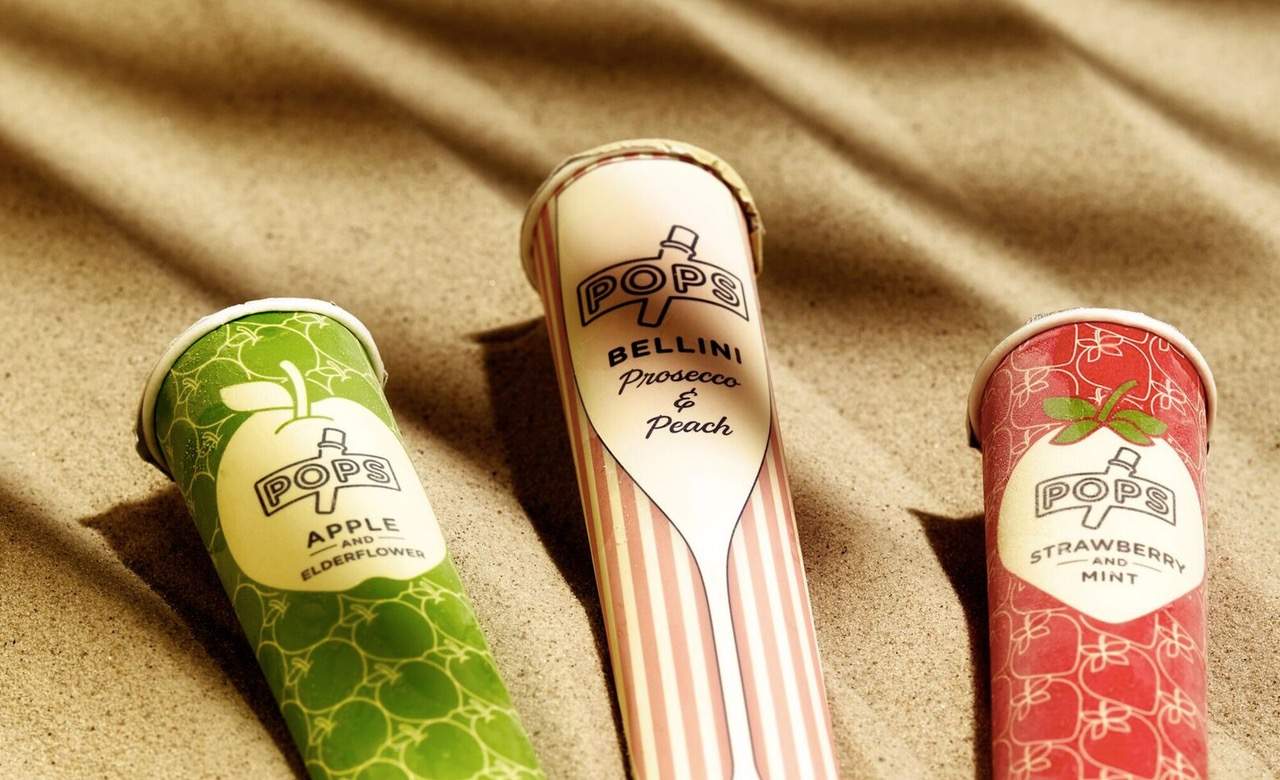 HONOURABLE EXPAT MENTION: POPS
Icy poles and booze — they're the two staples of a long, hot Aussie summer. Back in October, we told you that the two had finally come together as one. Now, those Calippo-style Champagne icy poles we've all been hankering for since are finally on sale in Australia. The genius creation from POPS, a UK brand that has been keeping folks stylishly cool since 2014, have started popping up around Melbourne. Head to online alcohol delivery service tipple.com.au to order one of four flavours: the Champagne pop (called The Classic) contains half a glass of Champers (wahee!), while the Bellini blends hibiscus flowers, blood orange juice, peach Schnapps, and half a glass of Prosecco. Plus, there are a couple of all-ages products too, which see the alcohol swapped out for real fruit combinations (apple and elderflower, plus strawberry and mint).
The timing couldn't be better, with the frozen delights arriving in our eskies just in time to be eaten in front of the fan (or, y'know, in the sun) this summer. As part of the Melbourne-first launch, they'll also be available at Arbory Bar and Eatery — and showering festival attendees with lickable icy alcohol goodness, including at The Pleasure Garden, Let Them Eat Cake and the Inverloch Sound of Summer. The POPS website also teases POPScycle bikes, so keep your eyes peeled.
Published on December 13, 2016 by Libby Curran