FOOD & DRINK
Ten Food Hacks to Try on Your Next Camping Trip
We all love a good sausage sizzle, but it's time to up the ante on your camping menu.
Camping is an excellent way to get away from the buzz of city living, to slow things down and reconnect with nature. While you may be stripping back to the very basics, that doesn't mean your menu has to be — even if options can feel limited when figuring out what to eat around the campfire. To help you out, we've whipped up a full menu of tasty camp cooking hacks and tips to make your next outdoor trip a culinary delight. With a little bit of prep and a few handy tools, these meal ideas won't make you feel limited by your outdoor camping kitchen. Treat yourself to these easy, delicious dishes no matter where you are.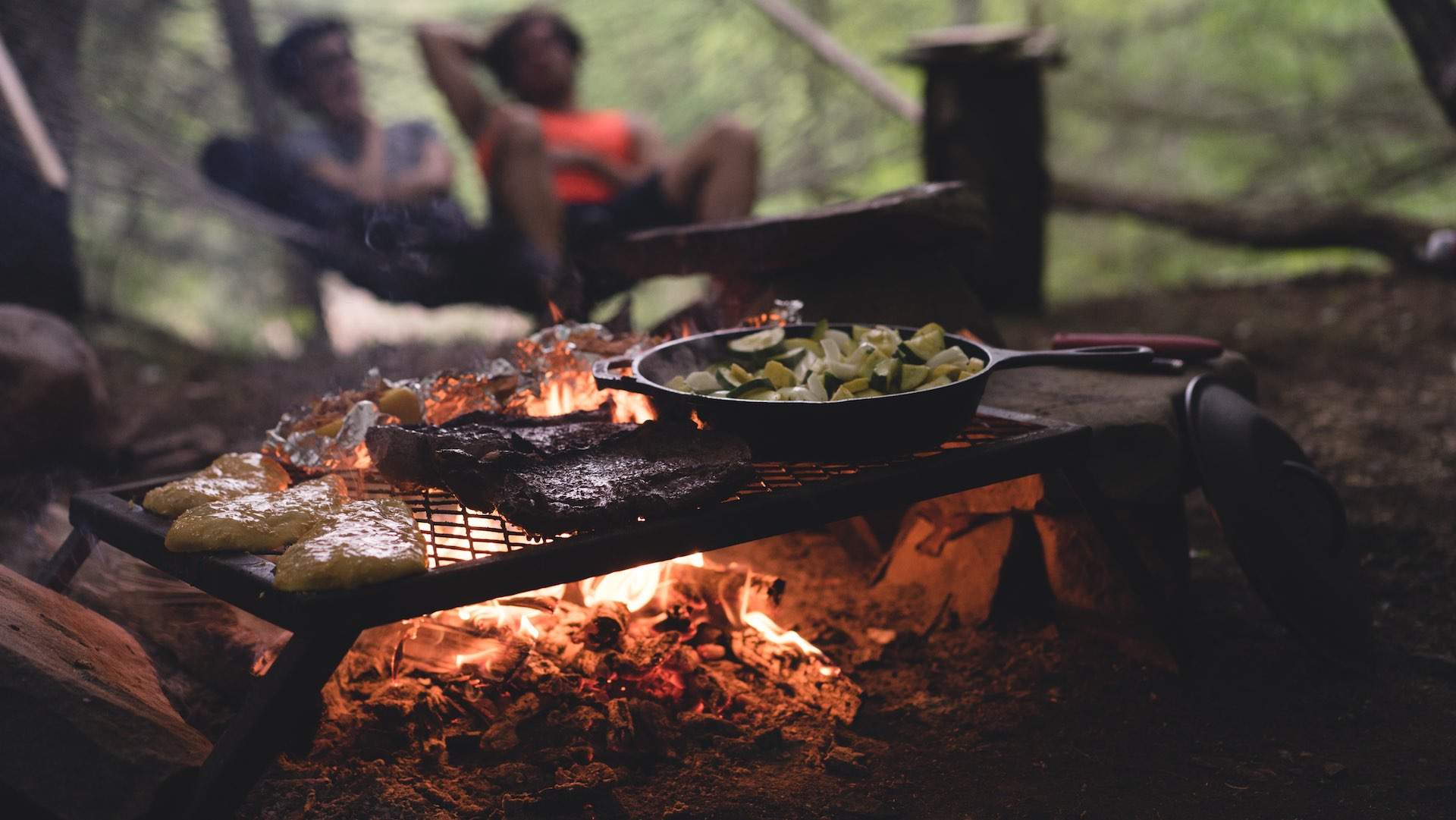 BREAKFAST
Paper Bag Bacon and Eggs
Love camping, but hate washing up? This is the perfect no-fuss breakfast for your next
rendezvous with the great outdoors. All you need to do is rub the inside of a paper bag with bacon to grease it, then line the bottom with a few strips of bacon, creating a nest for your eggs. Crack one or two eggs into the bag, fold the top down a few times, then poke a hole through the fold and put a stick through to hold the bag over the fire — though not so close that your breakfast bursts into flames (which can happen, so take care). Your bacon and eggs should take around five to seven minutes to cook, depending on how crispy you like your bacon and how soft your eggs. Make sure you have a bit of paper towel underneath the bag as you eat, otherwise you may end up with a nice greasy patch on your pants. Hot tip: Take your eggs and bacon to the next level by adding add some mushrooms or spinach.
Campfire Blueberry-Orange Muffins
For something pretty special for your next camping breakfast, we recommend
breaking out these special muffins. All you'll need is twelve oranges and some blueberry muffin pre-mix from the supermarket. Make up your muffin mix in a jug so it's easy to handle, slice the oranges in half and scoop out the flesh (which you can save for your camping sangria — more on that below). Pour the muffin mix into one orange cup, then top with the other emptied half. Wrap each orange in a layer or two of al foil, and rest them on some hot coals just next to the flames. Turn each wrapped orange over every minute or so for about ten minutes until they're cooked through. Unwrap and enjoy.

LUNCH
Campfire Nachos
The secret to making exceptional nachos is all in the layers. Making these nachos is super easy with a good camp oven and your preferred ingredients: tortilla chips, cheese, tinned black beans, tinned tomato, avocado, coriander, shallots, lime, salsa and more cheese. Start with a hefty layer of chips, followed by black beans, salsa, shallots, tomatoes and cheese, then repeat. Cook over the fire, so the cheese melts and the ingredients are warmed through. If you have an esky, bring some sour cream to add on top post-cooking, and unless you're a fan of warm avocado, top with avo and coriander as well. Finish off with fresh lime.
Camping Toasted Sandwiches
Few things hit the spot better than a gooey, melty toasted sandwich — especially when it's infused with some campfire smokiness. Bring a great jaffle iron, some bread and the fillings of your choice, and you're in business. If you don't have a jaffle iron, you can achieve similar results with foil and a skillet, or by cooking straight on the pan with some oil to stop your sandwiches from sticking. Filling options can range from roast chicken, swiss cheese and avocado to gruyere and blue cheese with fig jam.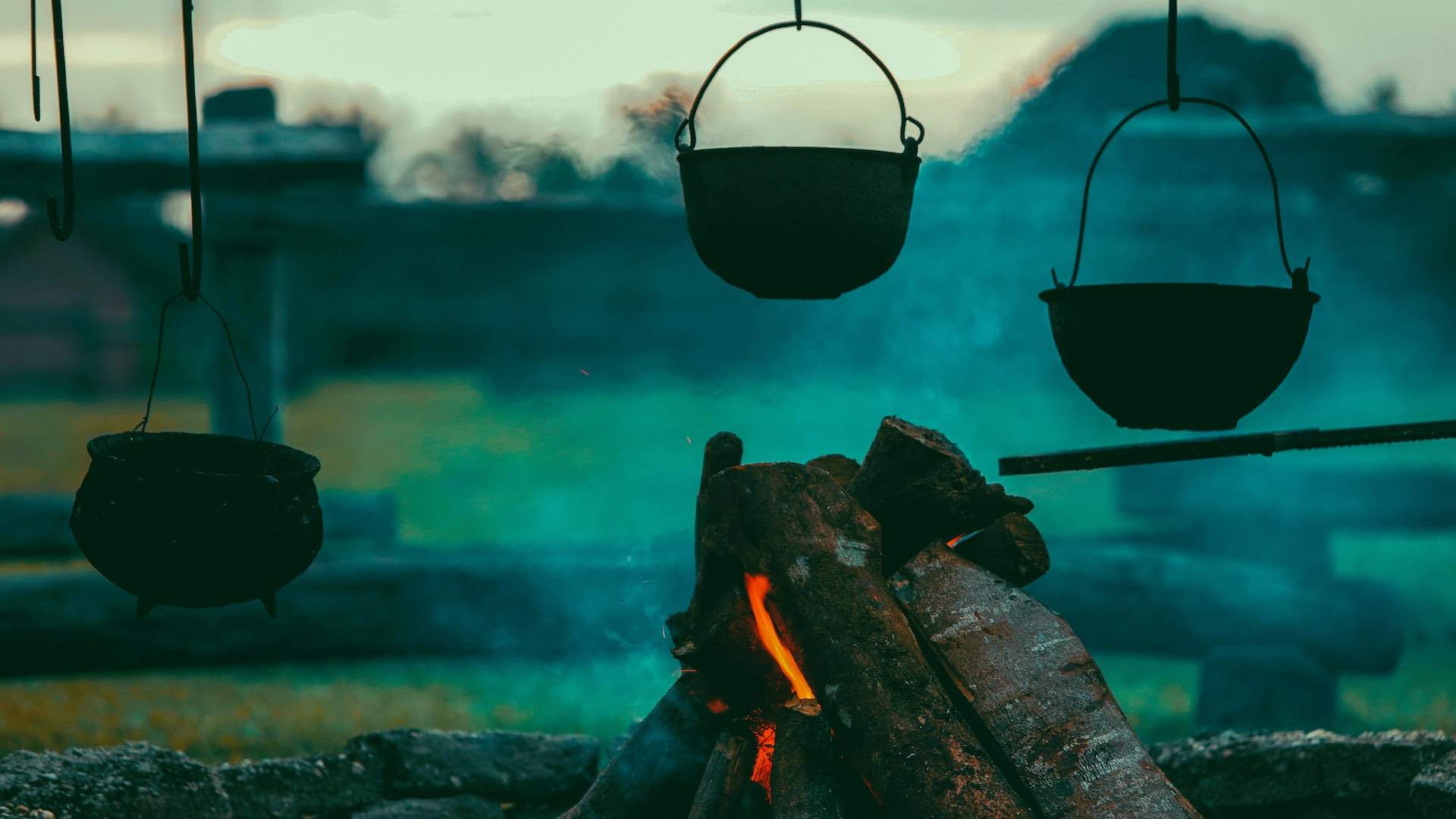 DINNER
Campfire Potatoes
Cold nights call for toasty warm, wintry food, and you can't go past campfire-cooked potatoes. As you fry up the spuds, the campfire will add a highly delicious smokey flavour. Warm up your camp oven by resting it over the fire on a tripod or straight on some hot coals. Slice brown onion into rings, and add them to your pan or camp oven with some minced garlic. Get those bits sizzling, as you cut your spuds into slices about half a centimetre thick. Toss the potatoes and a handful of diced bacon in with the onion and garlic, then pop on the lid, stirring every five minutes to make sure nothing sticks. Once everything's cooked, top your smokey, meaty, potatoes with that sour cream you brought for the nachos.
Camp Oven Pizza
Make sure you have plenty of hot coals for this one; it takes around 20 minutes to bake through. For ease's sake, grab some pre-made pizza dough — or prep some dough beforehand if you have a good recipe. Line the bottom of the camp oven with baking paper so that some paper sticks up on the sides, and press your dough in. Top with sauce, cheese and whatever toppings you fancy, put the lid on, and cook for 15 to 20 minutes until the cheese is golden and dough is cooked through. Using the extra baking paper on the sides, lift your pizza out, slice and dig in.

DESSERT
Campfire S'more Cones
Bring along some some waffle cones for an easier-to-eat, more decadent take on the s'more. Fill the cones with marshmallows, chocolate chips, chopped nuts, almond slices, coconut, peanut butter and anything else you can think of, and wrap each cone tightly in foil. Roasting them in the fire takes a bit of balancing skill, as you'll want to roast them upright if possible. Leave them near the fire for about five minutes. The al foil shouldn't get hot, but if the cones are too hot to hold, use tongs to hold them, or MacGyver some kind of cone holder. Ten points of the latter.
Baileys Marshmallows
This is straightforward excellence. Toast your marshmallows as usual, and once they're golden and gooey, dip them in Baileys. That's all there is to it — be warned though, things can get a bit messy. Best for each person to have their own little mug of Baileys for sipping and dipping.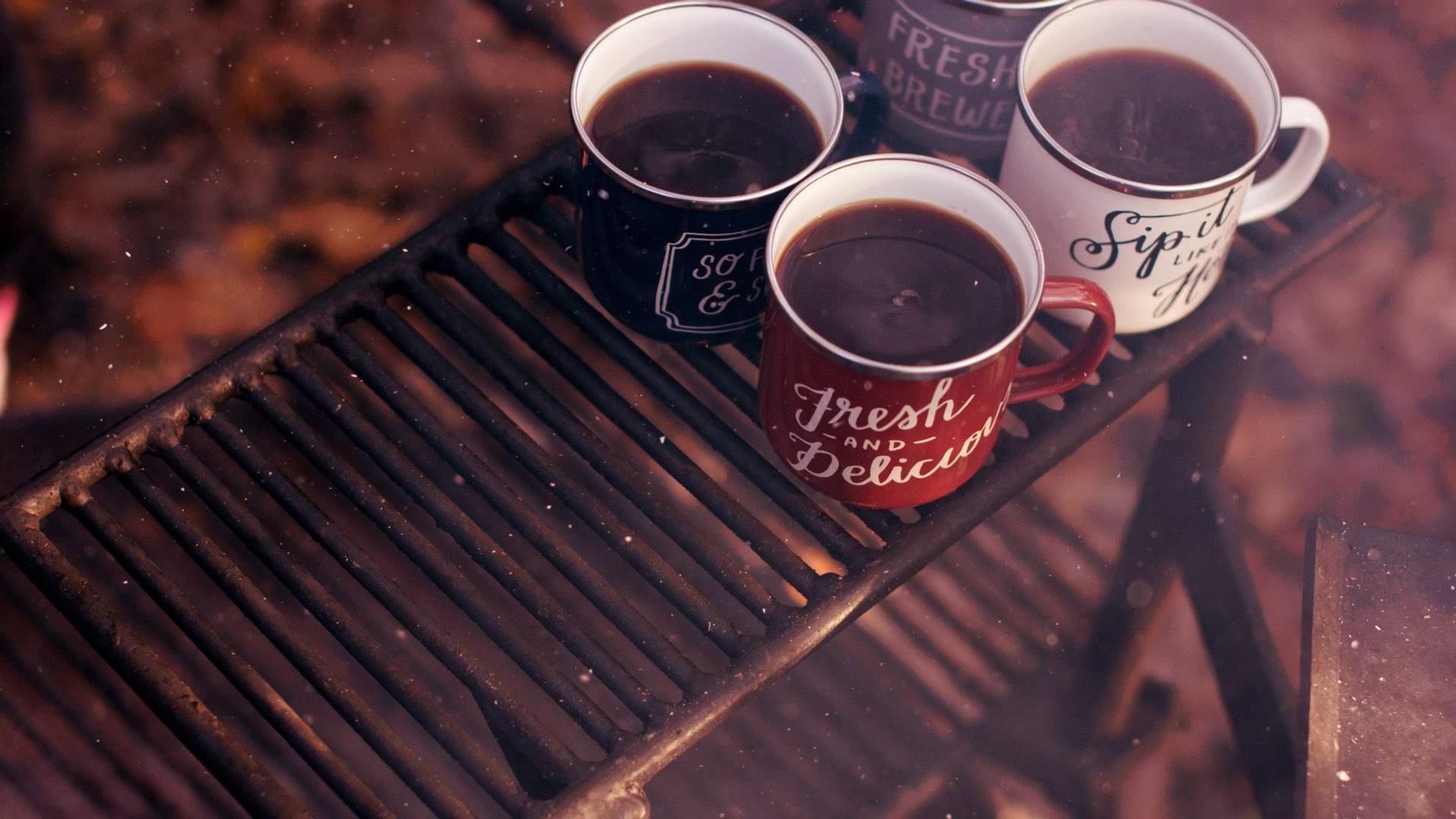 DRINKS
Campsite Sangria
Be the hero of the campsite with this boozy, fruity sangria. The night before you head off camping, add fruits like the orange flesh from the muffins, apples, peaches, strawberries and blueberries, plus a quarter cup of vodka to a large mason jar. Fill the rest of the jar with white wine, and leave to sit overnight. Once you arrive at the campsite, you'll have the perfect mix to combine with ginger ale and lemonade.
Speedy Mulled Wine
Mulled wine at a campfire is mighty fine, but there's a lot of fussing around with sugar,
cinnamon and spices, plus the mulling time. Keep things simple with two easy ingredients: cinnamon tea and port. Use a billy can to brew up some of the spicy tea, which is as simple as steeping cinnamon quills in water. Once the tea is sufficiently brewed and hot, fill mugs halfway and top off with port. The sweetness of the port balances out the cinnamon tea to add some extra warmth at night.
Published on August 01, 2017 by Laura Dawson