FOOD & DRINK
Fredericks Is West End's New Neon Pop-Up Bar Inspired by Old-School Ice Cream
The eye-catching space is co-designed by the art director of 'Mad Max'.
Fredericks Is West End's New Neon Pop-Up Bar Inspired by Old-School Ice Cream
The eye-catching space is co-designed by the art director of 'Mad Max'.
Both when it was approved and when it first opened its doors, West Village promised to shake up its patch of West End. Sticking to its word, the precinct has hosted everything from ice cream festivals to wine-fuelled dinners to plant markets, and welcomed pasta joints and poke eateries too — and now it's home to a new neon-hued pop-up bar in its fairy light-lit Factory Lane.
Pouring drinks from Friday, September 13 through until late November or early December, Fredericks is Boundary Street's new short-term go-to for vino, cocktails, cheese and charcuterie. Summery tipples are the main focus, with the open plan, primarily al fresco space keeping things simple, menu-wise. If you're after something more substantial to eat, you can also pick up a bite from neighbours Salt Meats Cheese, Cheeky Poké and Mr Bunz and enjoy it onsite.
Designed to showcase Factory Lane, which'll welcome an array of food and retail spots next year, Fredericks' main drawcard is its decor and setting. With the whole site originally the home of the Peters Ice Cream factory, the bar not only takes its name from founder Frederick Peters, but finds its aesthetic inspiration in the frosty dessert his company whipped up as well. Influenced by Peters Ice Cream packaging, shapes and flavours, designers Jon Dowding and Chrissy Feld have crafted a vibrant space filled with bold colours, neon lights and a retro-meets-modern vibe.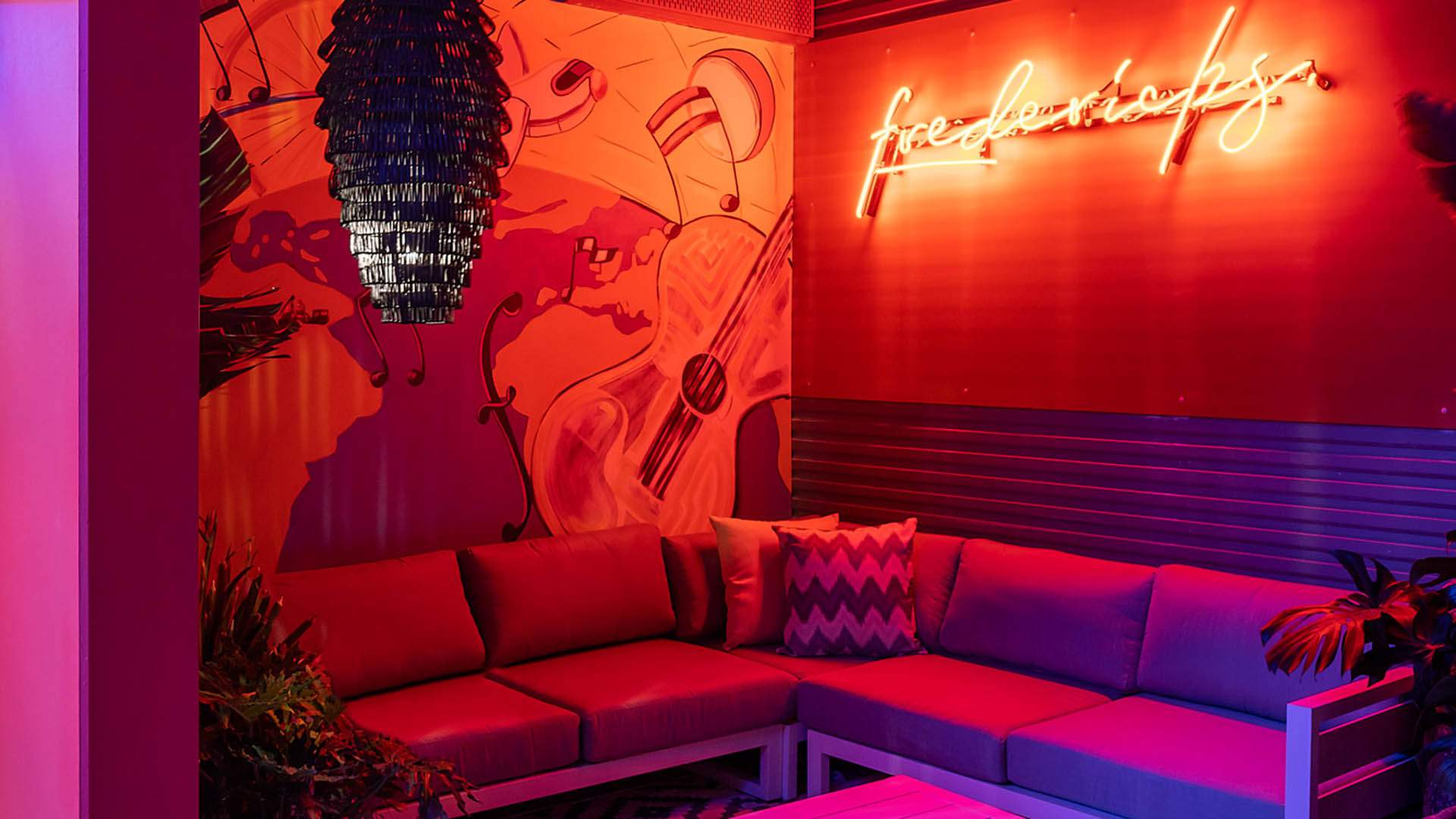 Dowding and Feld's involvement is exciting news on its own — both film industry veterans, the former was the art director on the original Mad Max movie, and the latter's decorating credits span The Crocodile Hunter: Collision Course, the Hoges mini-series and The Second.
On the hospitality front, the venture is spearheaded by talent with their own hefty resumes, including The Wolfe, La Lune, and Corella's Paul McGivern and Bailee Dewes, plus One Fish Two Fish's Daniel and Amelia Miletic.
Find Fredericks at West Village, 97 Boundary Street, West End, until late November/early December. It's open from Friday–Saturday 3–10pm and Sunday 11am–6pm.
Published on September 13, 2019 by Sarah Ward