Gelato Messina Is Bringing Back Its Single-Serve Cookie Pies to Warm Up Your Winter
The gelato chain is dishing up its one-person cookie pies for another year, serving them at different stores each week.
It's been two years since Gelato Messina first introduced its cookie pies to the world, much to the delight of tastebuds across Australia. Over that time, the dessert chain has kept bringing the OTT dish back, too, especially when we all needed an extra dose of sweetness during lockdowns. It has whipped up different flavours as well, including choc hazelnut, fairy bread and red velvet. And, in addition to its one-off specials that are designed to share — whether or not you do is completely up to you, of course — Messina started serving up one-person versions last winter.
That's all well and tasty, and it's about to be again — because those single-serve cookies pies are back. But, there's a caveat this time around: as well as only being available in stores on Mondays and Tuesdays, this round of pies is popping up at different Messina joints each week. No wonder the gelato fiends are calling it Le Tour De Cookie.
Hang on, a cookie pie? Yes, it's a pie, but a pie made of cookie dough. If you're new to the concept, that's all you really need to know.
And, yes, this cookie pie really is just for one person — and not just because you're not willing to share. The smaller-sized desserts come ready to eat as well. They're also topped with a scoop of gelato, because of course they are.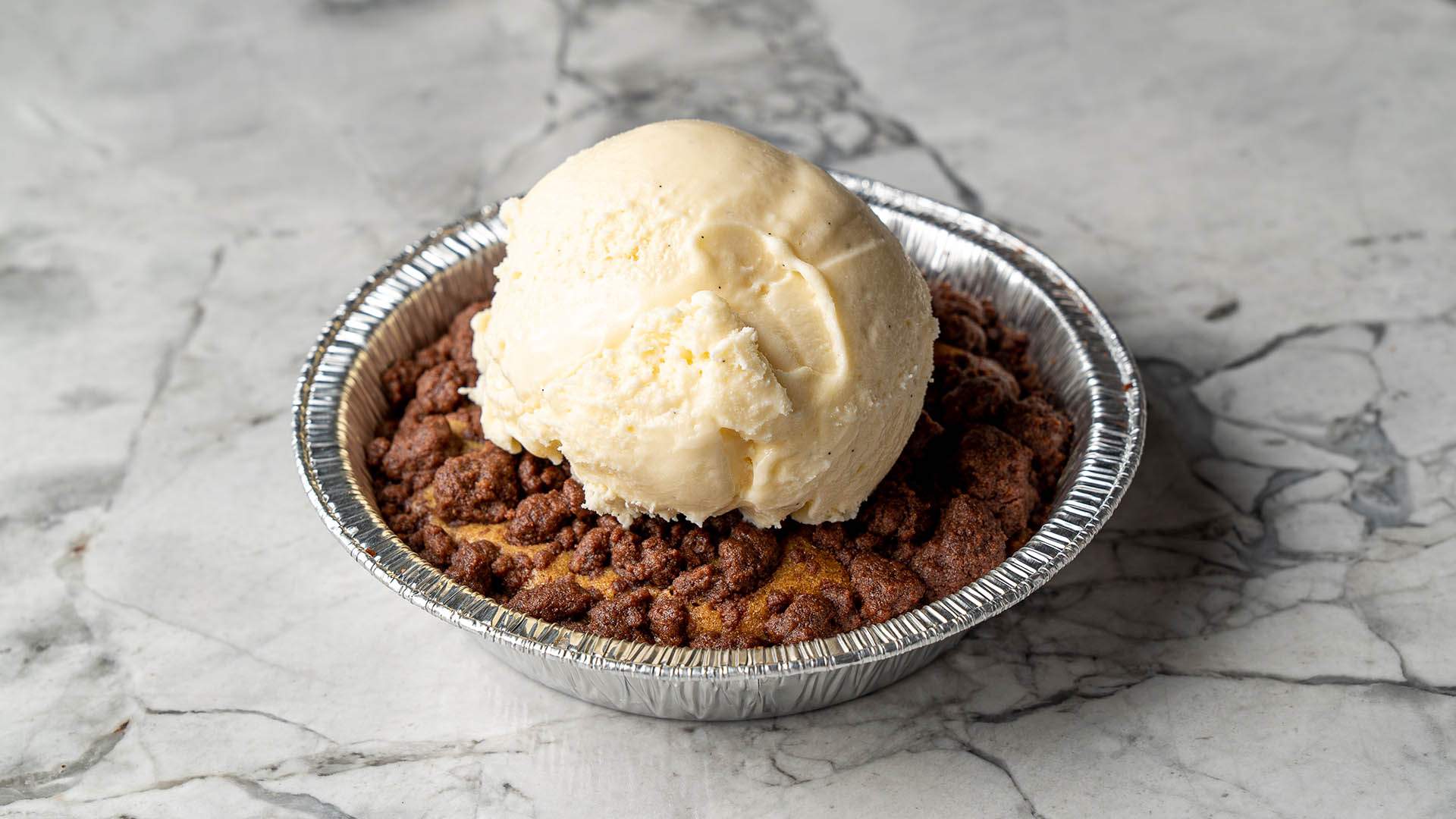 To pick up one of these single-serve desserts, you'll need to keep an eye on the Messina website, which will list the stores dishing them up each week. To start things off, the Rosebery outpost in Sydney will be doing the honours on Monday, June 20–Tuesday, June 21 — and the Fitzroy shop in Melbourne will get the nod on Monday, June 27–Tuesday, June 28.
Don't worry about pre-ordering, as that isn't required. With these small desserts, you just need to show up. Expect to pay $12 with a scoop, or $10 if somehow you don't want gelato on top.
Gelato Messina's single-serve choc chip cookie pies are available on Monday and Tuesday nights at select stores during winter. Keep an eye on the Messina website for further details.