FOOD & DRINK
Melbourne Coffee Pioneer Industry Beans Has Opened Its First Brisbane Cafe
Here, coffee is grown and roasted on site — and served in the brand's famed bubble-tea like cold brew.
Melbourne Coffee Pioneer Industry Beans Has Opened Its First Brisbane Cafe
Here, coffee is grown and roasted on site — and served in the brand's famed bubble-tea like cold brew.
At Newstead's latest cafe, coffee isn't just made, served and drunk by eager caffeine fiends — it's also grown and roasted, too. Opening its first Brisbane outpost, Melbourne's beloved Industry Beans has combined a coffee spot, roastery, greenhouse and event space into one sprawling inner-city venue, converting a Proe Street warehouse into its new flagship location.
If you're serious about your caffeine, you'll already be hankering for a cuppa. Founded by brothers Trevor and Steven Simmons, Industry Beans has picked up quite a following in its hometown since 2013, before launching in Sydney in 2019 to much fanfare. And if you're a newcomer to the coffee outfit, expect state-of-the-art equipment, specialty brews, an impressive range of brunch-style food and minimalist interior design flourishes.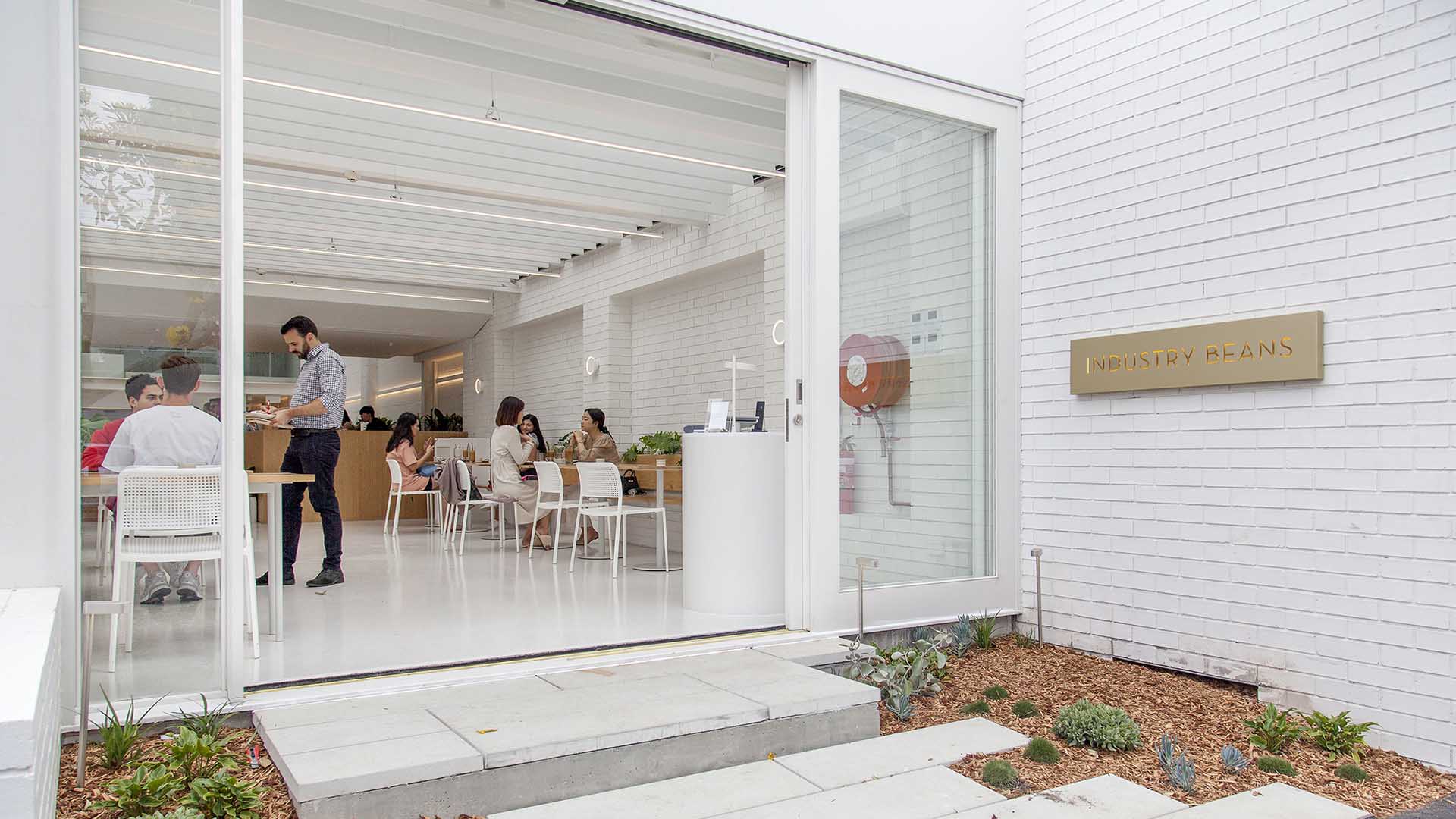 Given that Industry Beans' Melbourne joint was the first Aussie cafe to use the La Marzocco Modbar — a coffee machine that sits under the bench, rather than on the countertop — the equipment is an integral part of its new venue. Like their interstate counterparts, Brisbanites can watch as their coffees are whipped up on the Italian machine, with customers able to view the whole coffee making process.
As for what you'll be drinking, Industry Beans has created a new concoction for its new digs: Newstead espresso blend. It also serves limited seasonal blends, offers up two new single origins each fortnight, and is particularly well-known for its cold brews. Choose between the tapioca pearl-filled Coffee Bubble Cup and the wattleseed Fitzroy Iced.
Food-wise, the menu incorporates coffee in creative ways — try the coffee-rubbed wagyu burger (with chilli jam, cheddar and pickled zucchini on a brioche bun), the espresso-glazed beef rib (with potato foam, a truffle sphere, green pea puree and blueberry reduction), or the fruit sashimi with cold brew panna cotta and coffee caviar. Other highlights include porcini-dusted eggs with duxelles, artichoke hash and truffle oil, as well as the ginger beer pork belly with turmeric kimchi and XO mayonnaise.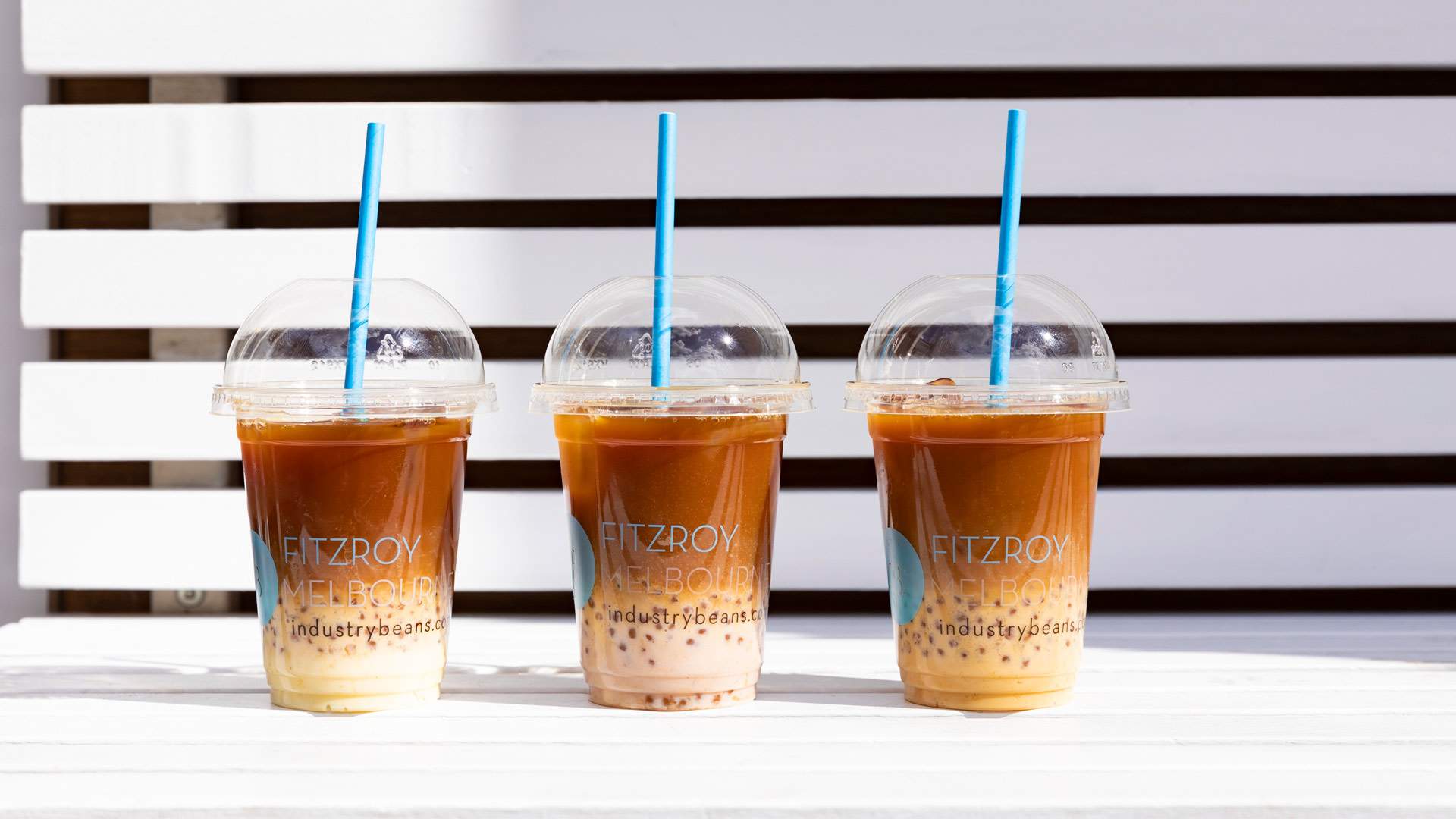 While you're sipping your cuppa or tucking into your daytime meal — with Industry Beans open from 7am–4pm daily — you'll be doing so in sleek surroundings. White and timber feature heavily in the cafe and its enclosed courtyard, as does natural light and greenery, including a full-grown tree in the main dining area.
On the roastery side of things, the Newstead site covers the company's entire wholesale and cafe roasting operations in Queensland — and several varieties of coffee plants grow in the greenhouse, too.
Find Industry Beans Brisbane at 18 Proe Street, Newstead — open from 7am–4pm daily.
If you're choosing to go out and support local businesses, have a look at the latest COVID-19 advice and social-distancing guidelines from the Department of Health.
Published on January 07, 2020 by Sarah Ward