Birthday Cake Croissants Are Lune's New Must-Try Baked Treat — But Only in October
It's been ten years since Lune first started serving up its coveted pastries, and it's celebrating in the tastiest way possible.
Each month, Lune Croissanterie whips up a new batch of limited-time specials, giving you something tasty to look forward to when you flip over your calendar. Lamington cruffins, bolognese and bechamel-filled lasagne pastries, Iced Vovo cruffins, tiramisu pastries, finger bun croissants and cherry blossom cruffins have all been on the list so far this year, just for a month. If that's what Lune cooks up just for a regular portion of the year, just imagine what's on its menu for its tenth birthday.
Actually, you don't need to ponder. The time is now, the birthday-focused October menu is here and your stomach will want it. First up, the latest Frankenstein's monster of baked goods: a birthday cake croissant.
Yes, it's exactly what it sounds like. Lune has taken a traditional croissant, brushed it with a vanilla milk syrup, then filled it with an almond and sprinkle frangipane. On top: a sprinkle crumble, buttercream icing and then more sprinkles. What's a birthday without sprinkles, after all? A bad one.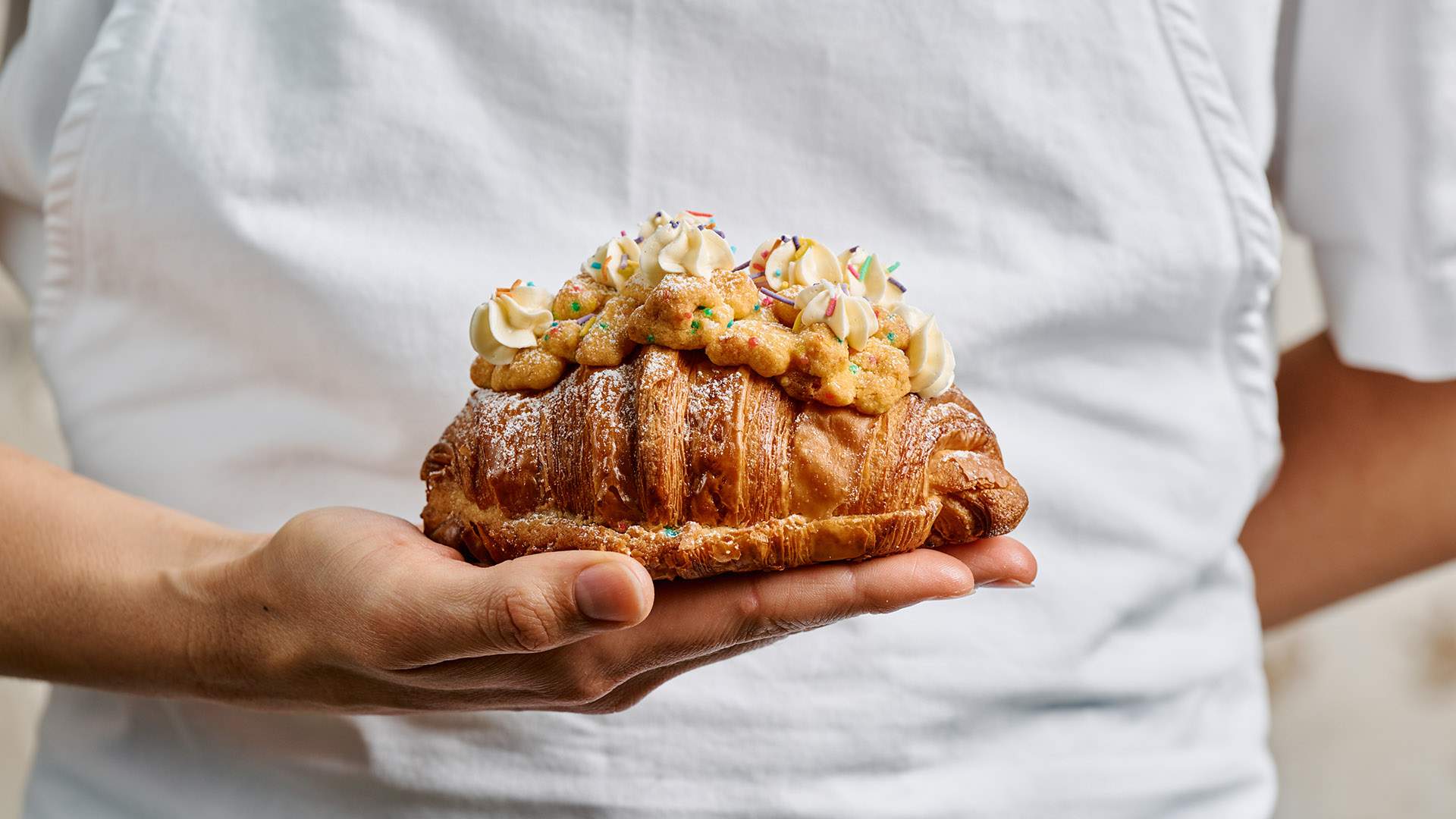 The birthday cake croissant is available at all stores right through the month until Monday, October 31, and you can order it online from South Brisbane. The rest of the list pops up here and there — but always at at least one spot in Melbourne and Brisbane, where Lune currently operates.
That includes cherry ripe pain au chocolats (made with cherry and coconut frangipane, buccaneer tea ganache and sliced maraschino cherries, then dusted with Mork chocolate and freeze-dried cherries) and PBJ cruffins (filled, obviously, with house-made raspberry jam and peanut crème patisserie, then dusted with cinnamon sugar and finished with a button of raspberry jam) — and both are on offer at Fitzroy and South Brisbane.
Or, there's the spring pea danish (which features fresh peas and broad beans coated in a herbaceous salsa verde, sat on top of a layer of orange marmalade and seasoned goats' curd, and garnished with snow pea tendrils and edible flowers), also at the same stores — and the return of the cheese and Vegemite escargots (an escargot pastry filled a classic Vegemite bechamel and gruyere cheese, rolled, then baked with extra gruyere melted on top) at all shops.
Fitzroy, South Brisbane and the new Brissie CBD spot in Burnett Lane are doing cardamon buns as well – a "kardemummabullar"-inspired croissant piped with a cardamon-spiced butter, then twisted into a knot, sprinkled with sugar and baked.
Hungry? Of course you are, and you now have a whole heap of snack options. In Melbourne on weekends in October, Lune is also serving up a selection of past hits — if you need even more choices.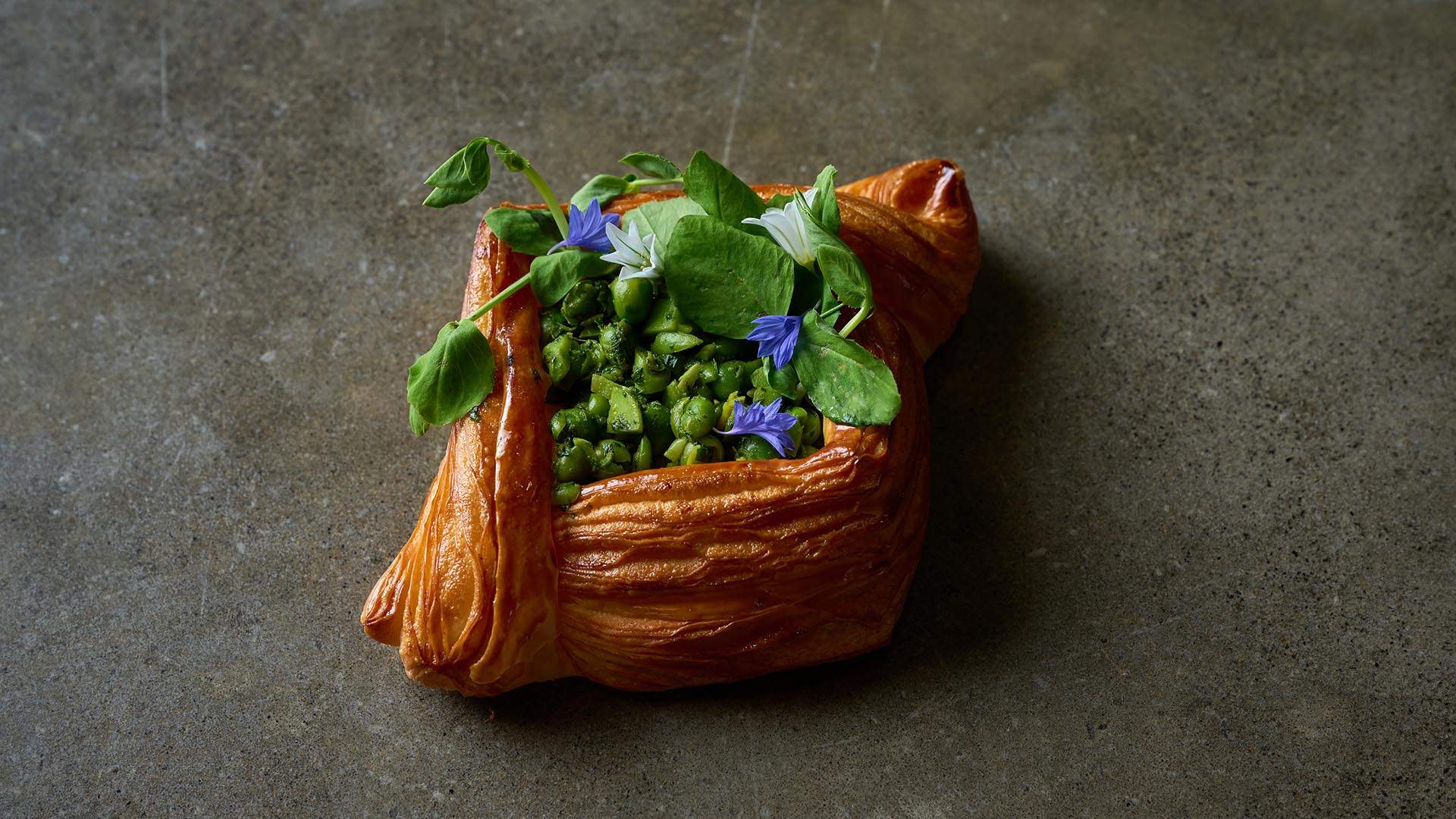 Lune's October specials menu runs until Monday, October 31, with different specials on offer at Fitzroy and the CBD in Melbourne, and South Brisbane and Burnett Lane in Brisbane. From the South Brisbane store only, you can also order them online.
Images: Pete Dillon.
Introducing Concrete Playground Trips
Book unique getaways and adventures dreamed up by our editors