Lune Croissanterie South Brisbane
Melbourne's acclaimed bakery is now slinging its world-famous croissants in Brisbane.
They're both buttery and flaky, they're made via a technique called laminating, and they're shaped like a crescent. They're a bakery and cafe staple, too, and also something that everyone has eaten their fair share of. We're talking about croissants, obviously — but there's a difference between an average example and "the finest you will find anywhere in the world". According to The New York Times, Lune Croissanterie serves up the latter. And, in great news for Brisbane's pastry fans, it's now doing so in South Brisbane.
After first announcing plans to head to Queensland back in late 2020, the famed Melbourne croissanterie has opened a new flagship shop on Manning Street. It's the first Brisbane outpost for the brand, as well as its first outside of its hometown. The Lune team also has plans in the works to open a Sydney store, but they've been pushed back due to COVID-19 restrictions.
On the menu: croissants, obviously. The new Brisbane venue serves up a menu of Lune favourites seven days a week, as well as a range of specials that'll rotate monthly. Highlights include twice-baked croissant aux amandes (stuffed with almond frangipane and generously topped with flaked almonds), lemon curd cruffins (a muffin-croissant hybrid made with lemon curd, citrus sugar and candied lemon zest), coconut kouign amanns (a traditional pastry from the Bretagne part of France, as filled with coconut caramel and desiccated coconut) and morning buns (a croissant pastry with a cinnamon and orange zest filling) — and traditional French croissants, which take three days to prepare, too.
Getting in early is recommended, because Lune slings pastries each day until sold out — and coffee is on offer as well.
Wondering what makes Lune's croissants so special? Founder Kate Reid is an ex-Formula 1 aerodynamicist, and brings scientific precision to her craft. That includes the climate-controlled glass cube that Lune croissants are made and baked in, and the time-consuming process used to perfect each flaky pastry.
It has been a big nine years for the brand, which Reid co-owns Lune with her brother Cameron and restaurateur Nathan Toleman (Dessous, Hazel, Common Ground Project). The company's journey started back in 2012 with a tiny store in the Melbourne suburb of Elwood. Since then, Lune has grown into a converted warehouse space in Fitzroy (with perpetual lines out the front), opened a second store in the Melbourne CBD, earned praise aplenty — including that aforementioned rave from The New York Times — and now branched out to Brissie.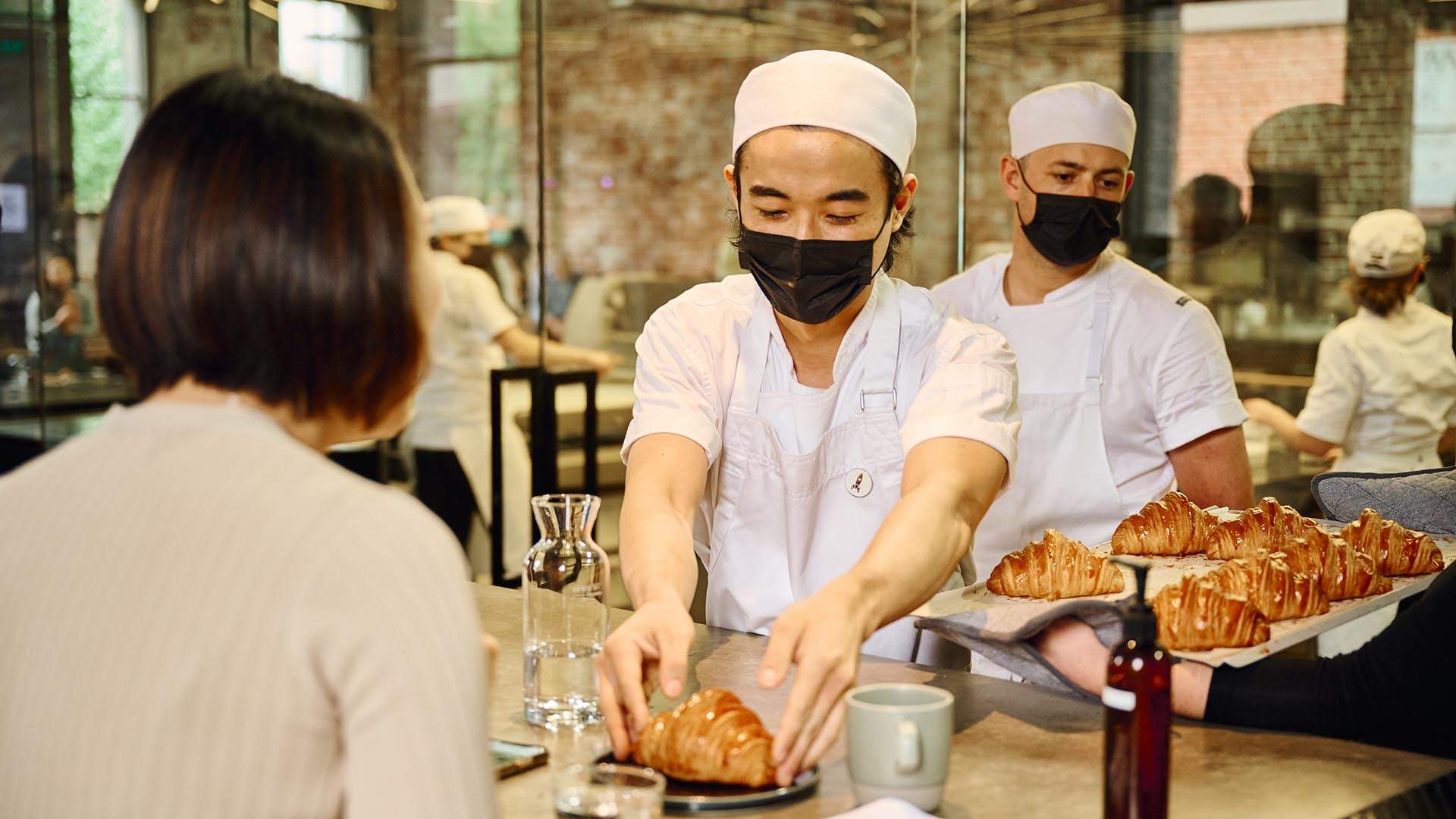 Images: Marcie Raw.
Concrete Playground Trips
Book unique getaways and adventures dreamed up by our editors