Over-the-Top Burger Chain Milky Lane Is Adding Caramilk and Biscoff Cocktails to Its Menu
You'll find the two cult dessert items in boozy loaded shakes, too — or you could opt for a grape-flavoured Hubba Bubba spider.
Home to stacked burgers named after Kanye West, Drake and Kevin Bacon, loaded fries of both the potato and doughnut variety, and boozy shakes and spiders, Milky Lane's regular menu brings one word to mind: indulgent. We all know that we shouldn't be eating fried chicken and maple smoked bacon burgs, mac 'n' cheese croquettes and deep-fried Golden Gaytimes every day — or drinking Bubble O' Bill and Zooper Dooper cocktails, either — but that's exactly what the chain serves at its stores across Sydney, Brisbane, the Gold Coast and Canberra.
If you think that those aforementioned dishes are OTT, they are. The brand's latest additions to its menu earn the term several times over, too, because mixing up Caramilk and Biscoff cocktails will do that. From Monday, June 28, Milky Lane will try to tempt your tastebuds with 12 new items — and whether you're keen on its burgs, desserts or boozy beverages, you're likely to find something to try on the new menu.
On the burger lineup, the Hail Caesar will feature a herb and panko-crumbed chicken schnitzel and a parmesan deep-fried mozzarella patty; the Chicken Parmy comes loaded with a schnitty, ham, mozzarella and smashed potato gems on a mozzarella coated bun; and the Big Poppa pairs a smashed pattie, pulled brisket, bacon, mozzarella and twice as much American cheese as usual. Still sticking with all things savoury, loaded potato gems are exactly what they sound like — and if you like the deep-fried cheese curds that come on top, you can also order them separately.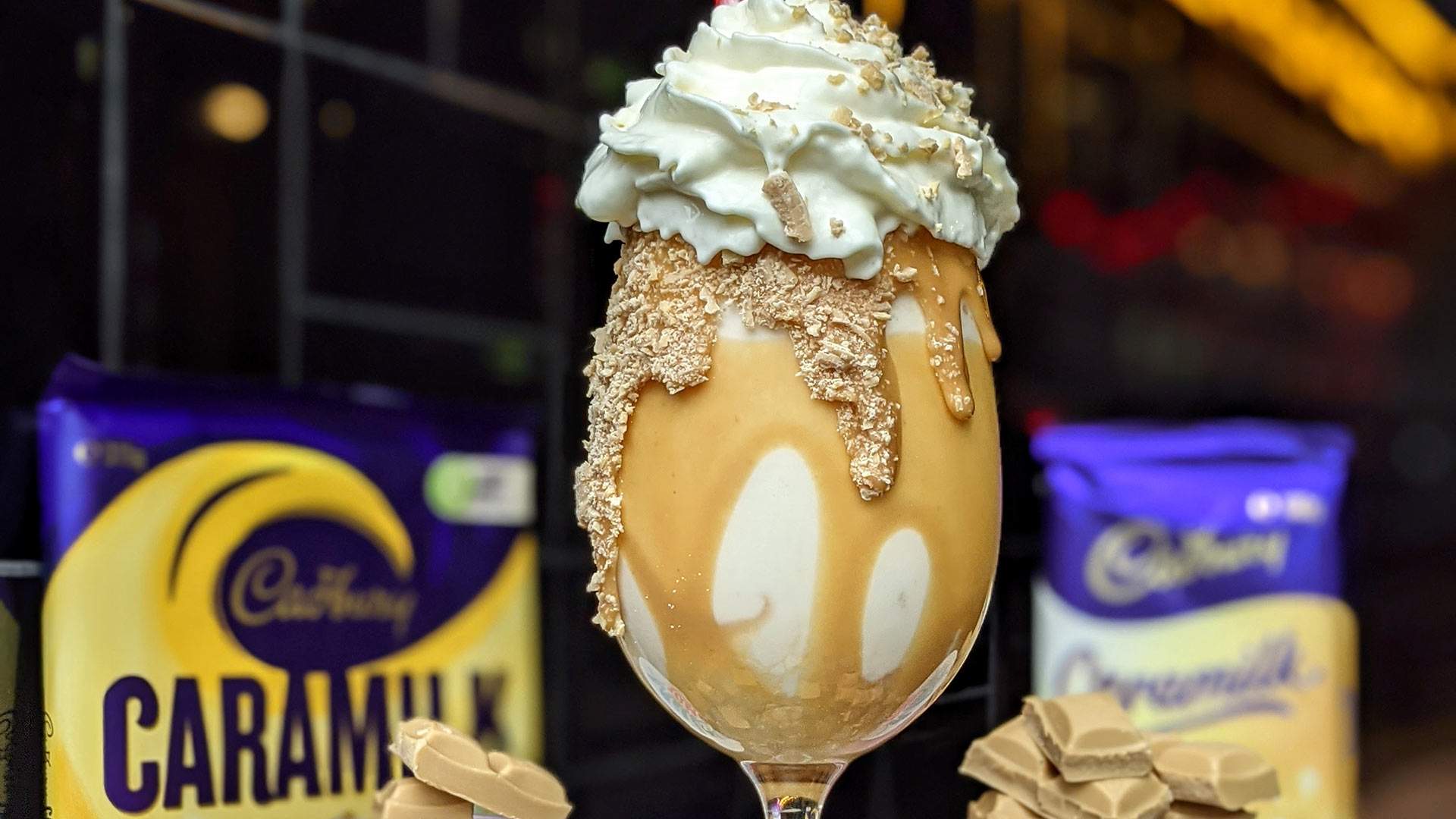 For folks with a sweet tooth, the new desserts range spans deep-dried Snickers served with liquid peanut butter, Nutella, crushed peanuts and vanilla ice cream, as well as a Caramilk and Biscoff cookie skillet — combining two cult dessert items in one dish. And, there's more Caramilk and Biscoff concoctions on the booze list, including Biscoff espressos, shots and loaded shakes, all featuring crushed Biscoff pieces, and Caramilk-heavy cocktails and loaded shakes.
A grape Hubba Bubba spider made with grape vodka, bubblegum syrup and grape Fanta rounds out the new offerings, if you'd like to combine sweet treats and booze in a different way.
Sydneysiders can head to Milky Lane's eateries in Bondi, Cronulla, Parramatta, Gregory Hills and Crows Nest, with fellow New South Wales stores also located in Newcastle and Terrigal. Queenslanders can hit up joints in Newstead and Surfers Paradise — and there's a store in Canberra in the Australian Capital Territory, too.
Milky Lane will start serving its new menu from Monday, June 28 at all of its stores across Sydney, Brisbane, the Gold Coast and Canberra. For further details, head to the chain's website.