FOOD & DRINK
Valley Hops Brewing Has Opened on Cloudland's Rooftop Just in Time for Sunlit Summer Sessions 
Towering above Ann Street, this new sky-high leafy oasis pairs Valley-brewed beers with pizzas, skewers and cheeseboards.
When Valley Hops Brewing was first announced a few months back, we noted that it combined two of Brisbane's favourite current hospitality trends. When this city loves something, it really loves it — and, now that rooftop bars seem to soar over street corner and craft breweries have popped up all around town, it's clear that Brisbanites adore sipping their beverages with a sky-high view and getting our beers straight from the source.
Fortitude Valley's new rooftop brewery, Valley Hops sits atop Cloudland — and yes, it was only a matter of time until a venue like this graced Brisbane's skyline.
Now open, the leafy brewpub looks like a garden in the sky, towers over Ann Street below and makes its own beers in a two-vessel 15BBL brewing setup. It's also designed to be the Valley's new lofty neighbourhood hangout, complete with brews named after people, places and moments in the the suburb's history.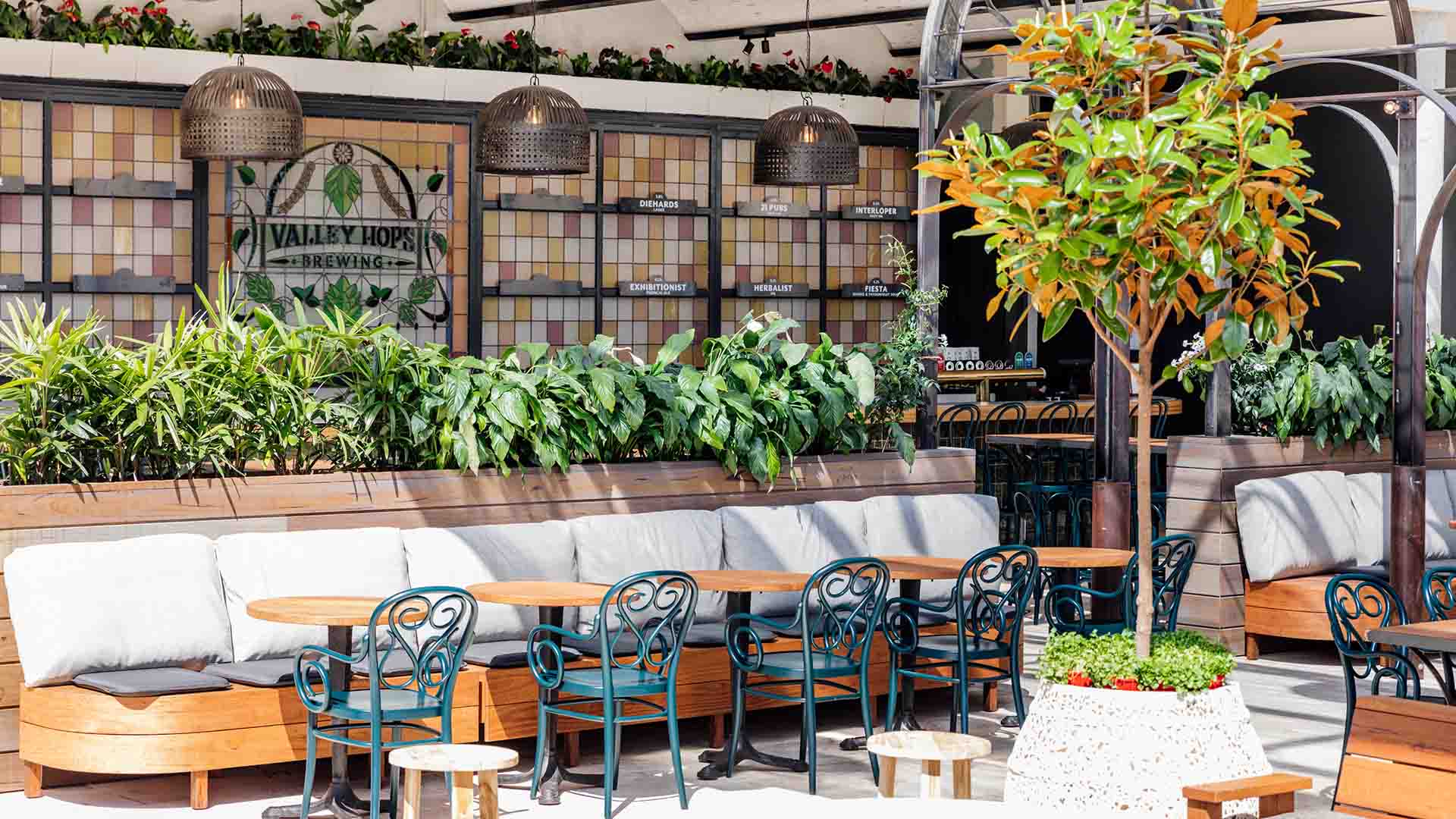 Here, you'll drink those beers that nod to the location — as Valley Hops' name makes plain, that's a big influence  — while peering out over the inner-city spot. So, get ready to knock back a light-bodied lager called Diehards, which references the local rugby league team, as well as Exhibitionist tropical ale, Fiesta Mango and Passionfruit sour, Herbalist IPA, Interloper Hazy IPA and 21 Pubs pale ale.
Those beers benefit from Josh Warren's (ex-Green Beacon) touch, too, with Valley Hops' Head Brewer adding another local venue to his list.
"The Valley's awesome and I'm excited to see people from the community coming up to the rooftop. It feels great to be open, to see people trying new varietals and enjoying the beers," says Warren. "I can't wait to try some new recipes out and see what people like."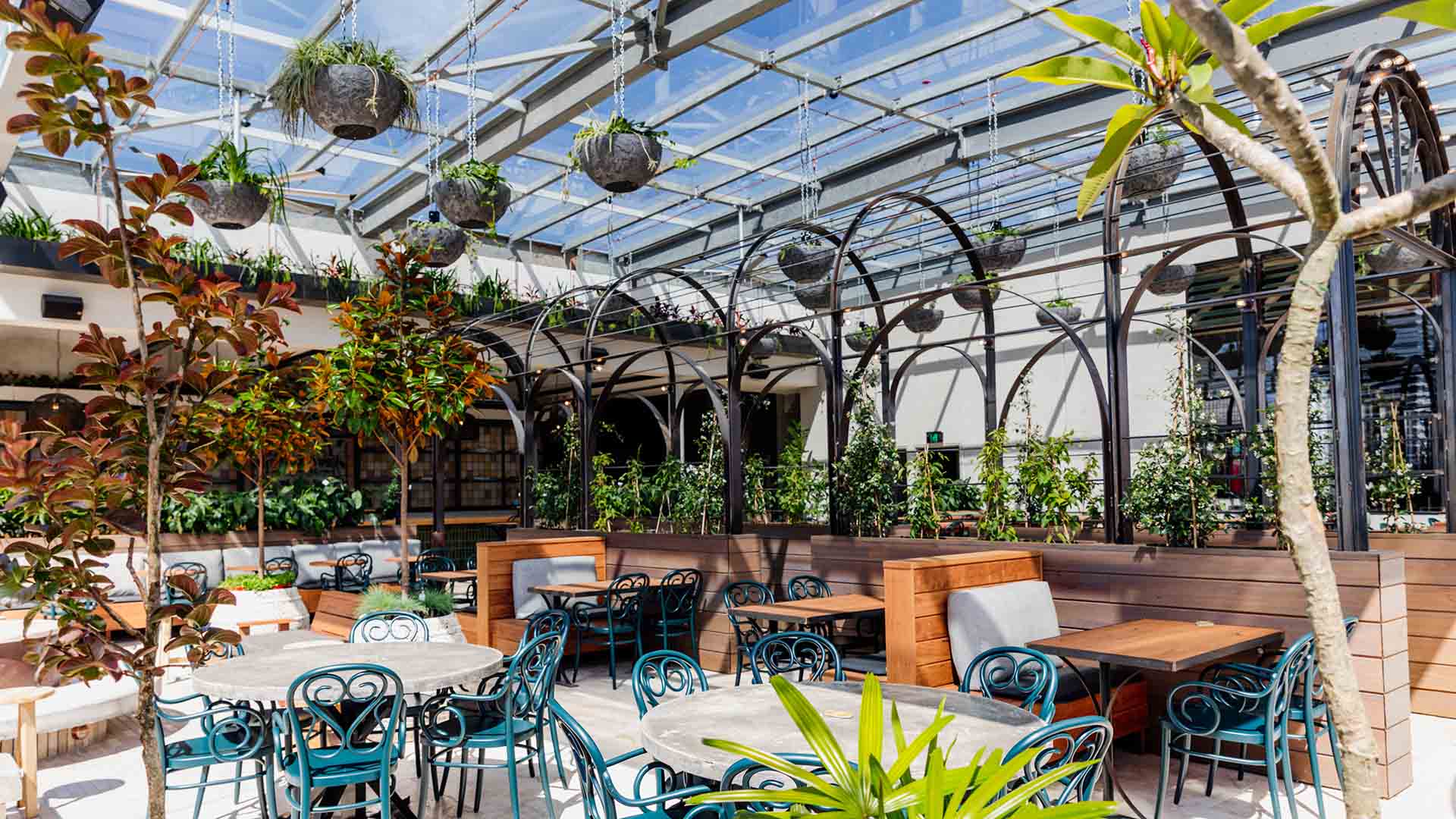 This might be a brewery, but those yeasty beverages are clearly only part of the attraction. The decor does plenty of heavy lifting, thanks to its blend of metalwork, stone, brick and plants. Vines creep over the metal arbour; wooden picnic-style, booth and high bar seating is peppered around the place; and there's also a large fire pit with built-in benches — not that that'll need much of a workout for a few months.
Launching just in time for sunlight summer sessions, Valley Hops also features a bespoke multi-coloured glass leadlight sat behind the entire length of the bar itself — because, from the decor to the view, there's plenty here that catches the eye.
Patrons can get up to the brewery via lift, and pair all those beers with woodfired pizzas, skewers from the charcoal grill and cheeseboards, as well as salt and vinegar chicken wings, chicken and spiced cabbage spring rolls and pineapple fritter. The culinary focus is on bite-sized options, with the entire menu designed to be eaten without cutlery.
Valley Hops Brewing is now open on Cloudland's rooftop at 641 Ann Street, Fortitude Valley — operating from 4pm–12am Monday–Tuesday, 11am–12am Wednesday and 11am–late Thursday–Sunday.
Published on November 23, 2021 by Sarah Ward