TRAVEL & LEISURE
Oche Is Fortitude Valley's New Two-Storey Electronic Darts Bar
Located in a historic flour mill, the 360-person bar boasts self-scoring boards, mojito and limoncello gummy bear bowls, and six types of G&Ts on the menu.
Oche Is Fortitude Valley's New Two-Storey Electronic Darts Bar
Located in a historic flour mill, the 360-person bar boasts self-scoring boards, mojito and limoncello gummy bear bowls, and six types of G&Ts on the menu.
Brisbane is already home to two mini-golf bars, multiple arcade bars, several axe-throwing bars and a digital ping pong bar — and now it boasts a huge new two-storey darts hangout, too. Usually the domain of old-school pubs, the projectile-flinging sport is the main attraction at Oche Brisbane, though it's had a thoroughly 21st-century update.
Originally launching in Oslo in Norway, Oche (pronounced ockey) has opened its first Australian digs in Fortitude Valley. Lining the walls are dart boards that look exactly how you remember — but they all have an electronic component. Each board comes with dozens of games built in, so you can pick between the knockout-style Killer, high-scoring High Striker and points-accumulating 201, among other options. The boards also keep score, so there's no need for a pencil and paper (and no room for arguments). And, for unknown reasons, some of them chat to you as well.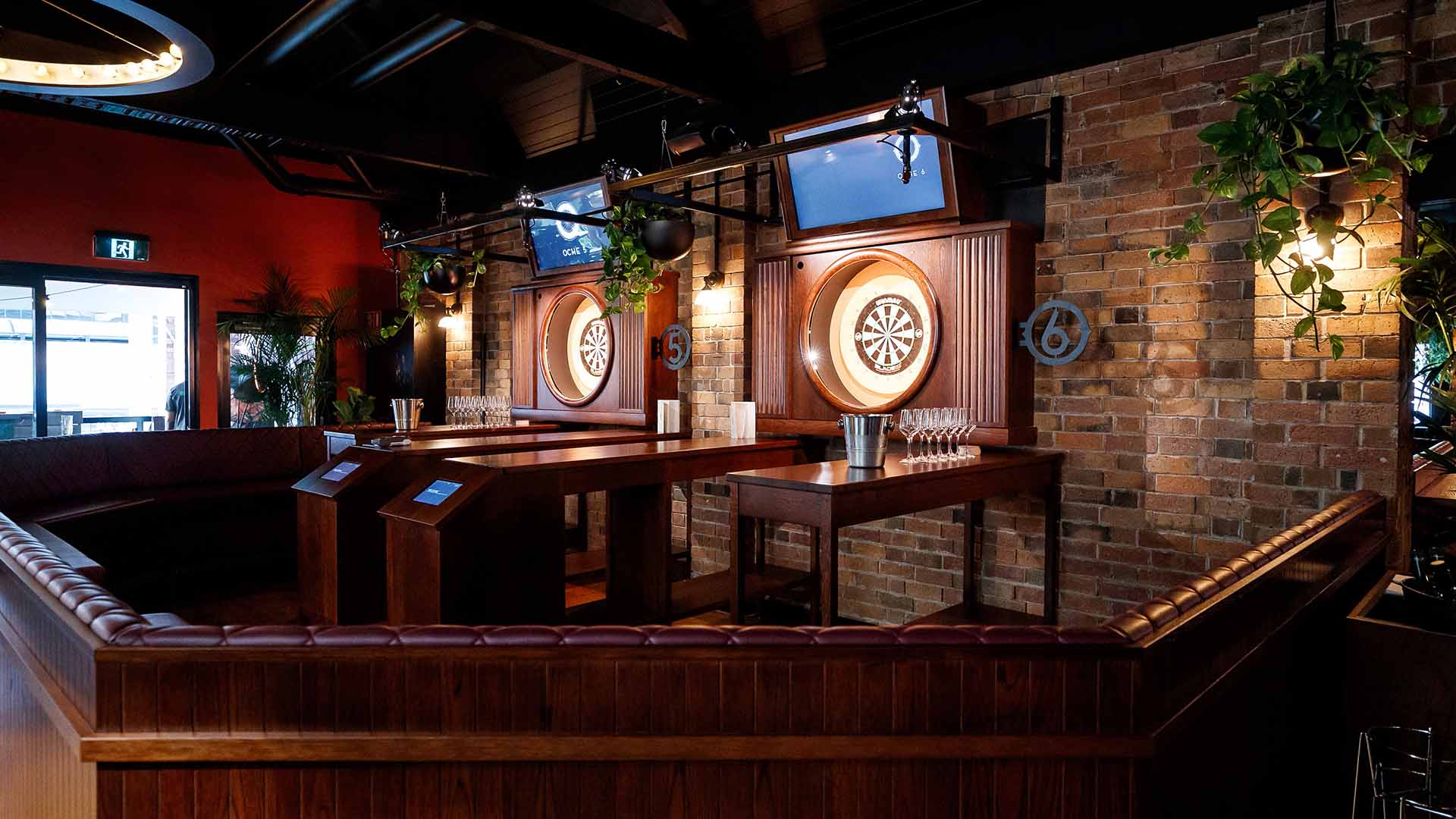 Nestled within the brick walls of the 115-year-old Old Flour Mill Building on Constance Street, Oche's darts sessions run for 85 minutes, and are designed to get patrons to do something that's definitely not common these days: put down your phone. The idea is that you'll head along with your mates, get drinking, throw a heap of darts, and forget about your emails, Insta feed, DMs and the like. (You'll probably keep picking up your phone to take and post snaps, but hey, getting folks to switch off is a noble aim).
Inside the 700-square-metre, heritage-listed spot, Oche also features an outdoor terrace and two separate bars, with one dedicated to local beverages. It'll spotlight different local breweries, distillers and winemakers each month, starting with Green Beacon in December. Or, you can sip your way through the regular beer and wine list, or opt for six types of G&Ts, seven kinds of spritzes, or other cocktails that pay tribute to Brisbane.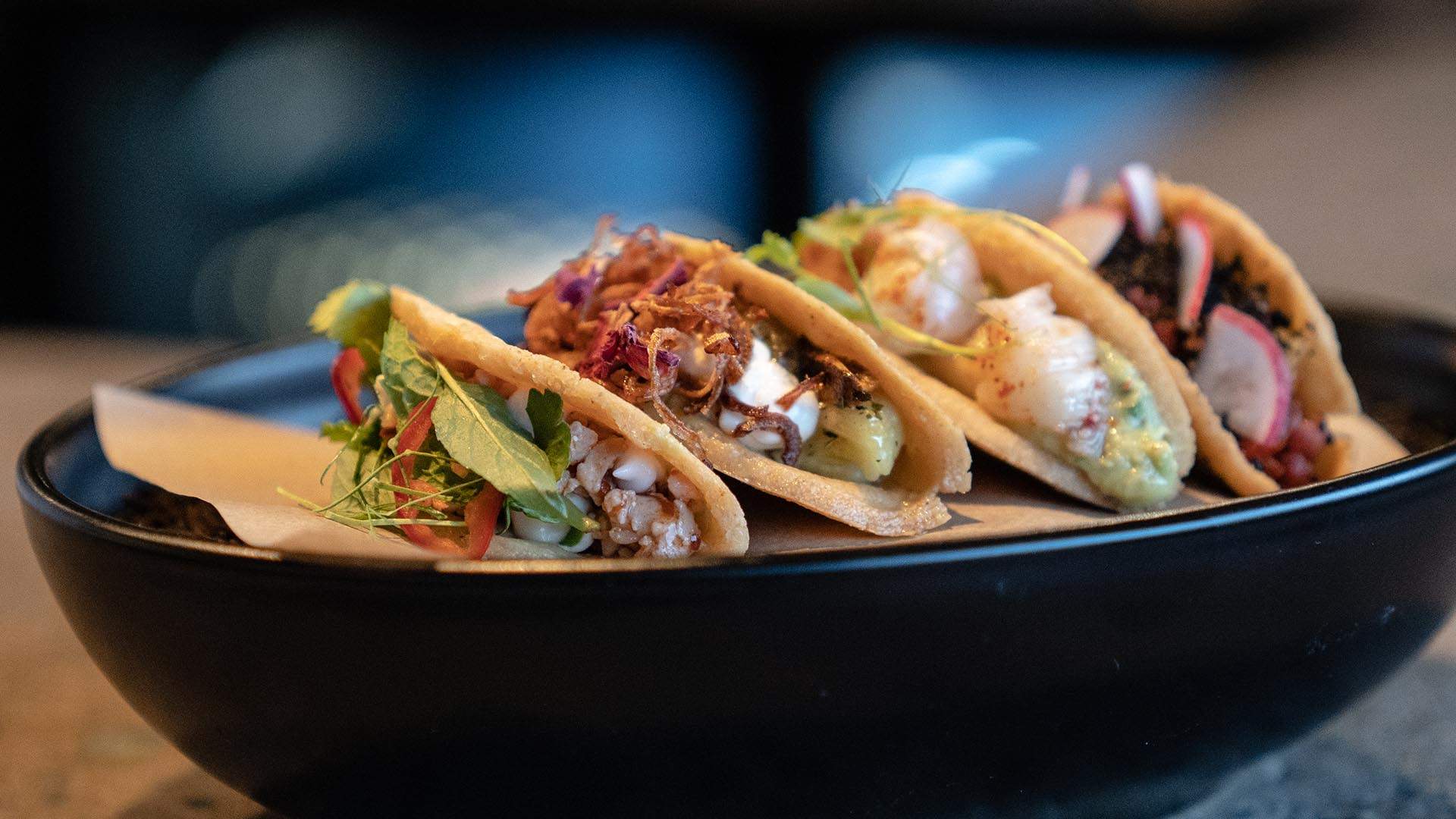 Food-wise, Ben Williamson (Gerard's Bar) has overseen the menu — with highlights including fried prawns with tom yum dust, charred lamb cutlets, Middle Eastern-style pizzas and charcuterie boards, plus four types of tacos, salt blocked cobia, mojito and limoncello gummy bear bowls, flavoured popcorn (with seasoning varieties changing daily), and mango and coconut macadamia ice creams. So you can hurl darts and eat simultaneously, everything is designed to be eaten with one hand. In fact, Oche doesn't stock cutlery.
Expect to have plenty of company while you're throwing darts at boards for bragging rights — Oche can accommodate 360 people.
And Oche Brisbane is just beginning of the company's Australian plans, with venues in Sydney, Melbourne, Perth and Adelaide in the pipeline.
Find Oche Brisbane at 111 Constance Street, Fortitude Valley — open from 12pm–12am Sunday–Thursday and 12pm–2am Friday–Saturday.
Published on December 09, 2019 by Sarah Ward