On the Way: Upcoming Brisbane Openings to Put in Your Diary for 2023 and Beyond
Brisbane is about to look a whole lot different — these are the newbies we're counting the days for.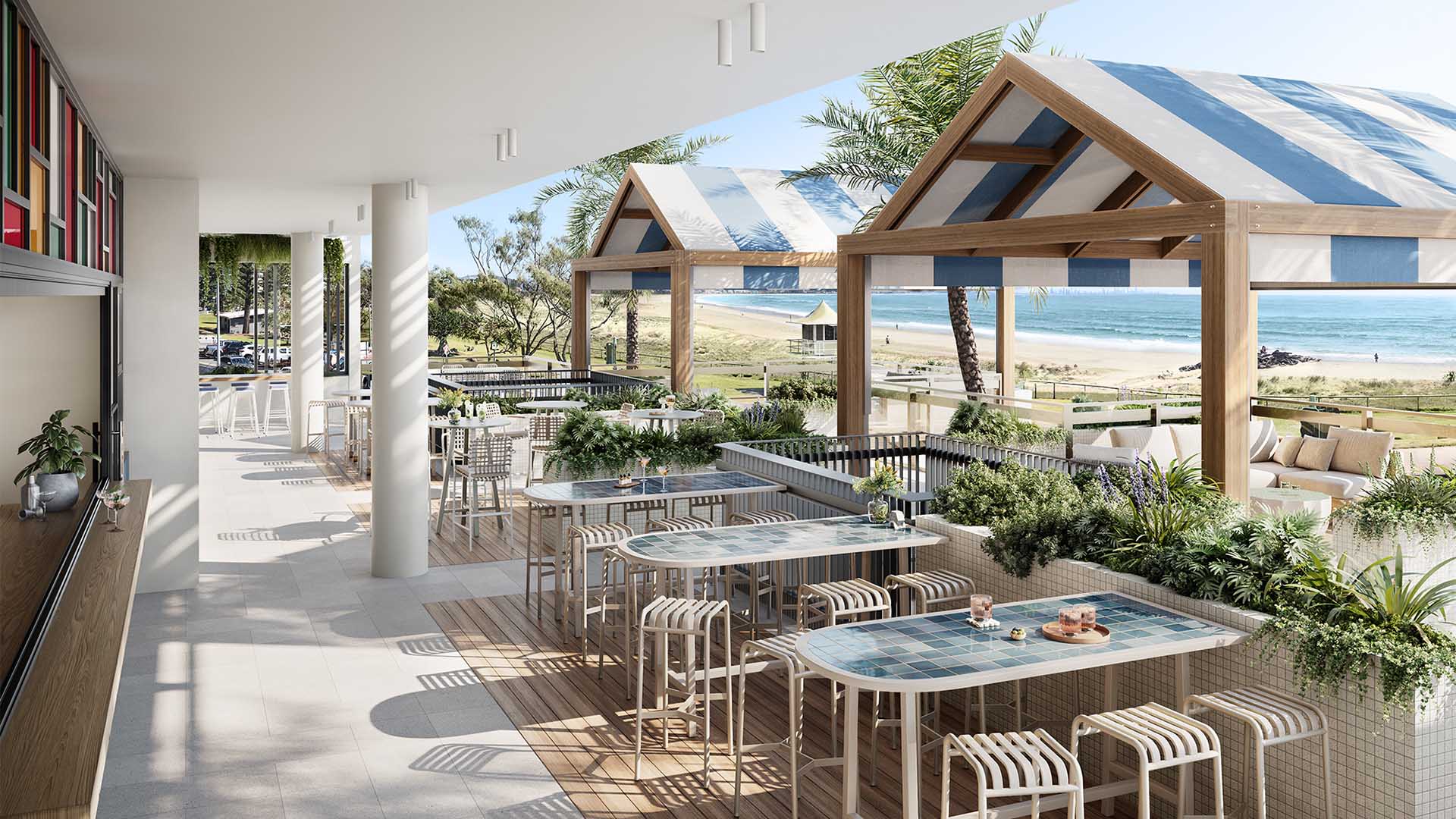 2023 is ticking by, and Brisbane is seeing plenty of new openings — restaurants, cafes, bars and even precincts — welcome in patrons for the first time. It seems that every week we're raving about the next fresh arrival that's bringing its own offering, theming or novelty viral food item to this fine city of ours.
The River City's newcomers are about to score more company, too, because there's a whole heap of upcoming eateries and watering holes in the works. If you're wondering what else is coming our way, here's a useful little list for you to get excited about.
Food & Drink

The giant guitar is gone, with a sports bar and brewpub featuring the Gold Coast's largest island bar taking its place from summer 2024.

Food & Drink

He's already launched an eatery on the Sydney Harbour Bridge — now the Story Bridge, Golden Gate Bridge and London Bridge are in Mangan's sights.

Food & Drink

Come 2024, you'll be able to hit up restaurant and bar Bombora for a bite and drinks over the water, and grab a coffee at the Mulga Bill's cafe.

Travel & Leisure

Brisbane City Council has locked in its master plan for the Herston site, which also features a mountain bike track, and reinstated water holes and wetlands.

Food & Drink

Called Station Square, this proposed plan includes a five-star hotel, shops, apartments, housing, green space and reopening the Chalk Hotel.

Food & Drink

The sky-high tourist destination's current cafe will be demolished, and the heritage-listed restaurant will score a new deck with killer views.

Food & Drink

Instead of bricks-and-mortar bars and restaurants, the mall might welcome pop-up gin bars, brewery tastings and food trucks.

Travel & Leisure

Brisbanites will have to wait a little longer for the CBD's new sky-high destination, which'll boast 360-degree views, a bar and all-day dining.

Food & Drink

Australia's local ice creamery will no longer be the country's only Wendy's, with the burger chain locking in plans to launch Down Under.

Food & Drink

The Billykart chef will whip up farm-to-table fare, including Queensland beef and traditional pastas, in a prime Fortitude Valley spot.

Travel & Leisure

The Star Brisbane's part of the new CBD precinct will also include the city's largest hotel ballroom, three pools for guests and a huge sports bar.

Food & Drink

Kirra Beach Hotel and Kirra Beach House will sit within the new Kirra Point Precinct in Coolangatta from November.

Food & Drink

Scottish-born culinary figure Jimmy Richardson will steer the kitchen as Executive Chef, returning after previously working as the venue's Head Chef.

Food & Drink

Come 2023, cyclists will be able to stop for a bite, drink and shower at new waterside bikeway cafe Velo — which'll also boast impressive views.

Travel & Leisure

Come 2026, Australia will score its third hotel from the lavish chain — following the existing Perth site and Melbourne's soon-to-open outpost.

Travel & Leisure

The riverfront precinct will undergo a huge revamp to host the Brisbane Athlete Village for the 2032 Olympic and Paralympic Games — and for residents to enjoy afterwards.

Food & Drink

The acclaimed chef is bringing Supernormal to the Sunshine State, opening in a prime riverfront position in Brisbane's CBD in 2023.

Travel & Leisure

The 42-hectare precinct will be renewed and reinvigorated, with a treetop walk, a permanent handmade goods market and new riverside lawns among the plans.

Food & Drink

Decked out with interiors inspired by iconic architect Frank Lloyd Wright, this new drinking spot hails from the crew behind Casa Chow, Sasso and South City Wine.

Travel & Leisure

The 16-year-old riverside precinct will score an extended entry plaza and main street, new stores, plus more shading for outdoor seating.

Food & Drink

The City Winery team will also keep the tenancy at 22 Wyandra Street, and open a yet-to-be-announced new venue.

Food & Drink

The Scottish brewery and Australian hospitality group are joining forces to expand BrewDog's craft beer bars across the country.
Tap and select
Add to Home Screen
to access Concrete Playground easily next time.
x