ARTS & ENTERTAINMENT
The Best Things to Do in Brisbane This Week
Feel good with this free workout program, or find vintage and handmade goods at a Fortitude Valley market.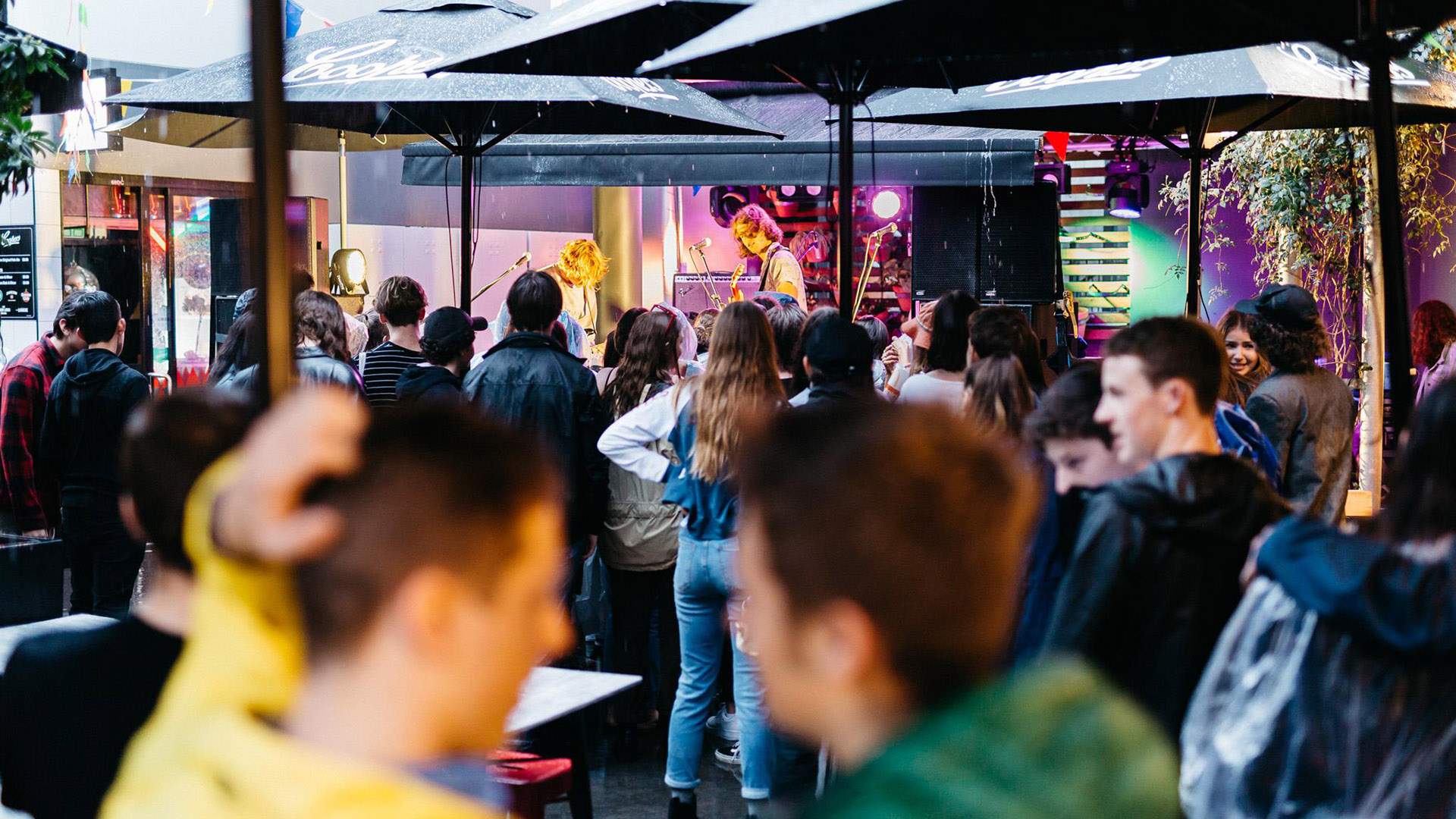 Heading back to the ol' daily grind can be pretty damn awful after a bright and shiny weekend of picnicking, bar hopping and patting dogs that aren't yours, but luckily Brisbane's a 'keep the ball rolling' kind of city and has plenty of events, exhibitions, theatre, film festivals and live music for you to inject a little awesomeness into your week. Sure, use Monday for Netflix. Then get out there and sink your teeth into Brisbane's best happenings this week.
Images: Live and Local
Food & Drink

Drink cocktails and recline on cushions in the Regatta courtyard.

Arts & Entertainment

Hear your favourite tunes from 'My Neighbour Totoro', 'Captain Marvel', 'Star Wars' and more.

Travel & Leisure

Shop for plants — or leave your unwanted greenery so it can be adopted into a new home.

Travel & Leisure

Before GoBoat launches in Breakfast Creek, it's popping up at Dockside Marina in the city.

Design & Style

Support the next wave of independent artisans at this biannual art and design market.

Food & Drink

Grab lunch in Fortitude Valley this week, then nab a free ice cream.

Arts & Entertainment

King Gizzard and the Lizard Wizard, The Avalanches, Violent Soho and Ball Park Music are taking over the Riverstage.

Arts & Entertainment

This dialogue-free documentary observes farm animals as they go about their daily lives, and the result is as haunting as it is striking.

Arts & Entertainment

Stanley Tucci and Colin Firth are simply heartbreaking in this affecting drama about a long-term couple dealing with early-onset dementia.

Food & Drink

Sip gin cocktails, sangria and Pimm's cups over a shareboard brunch.

Arts & Entertainment

This five-month exhibition features more than 250 works by the acclaimed photographer and performance artist, spanning his five-decade career.

Arts & Entertainment

Nominated for two Oscars, this compelling and confronting Romanian documentary spirals from a tragic fire to corruption in the country's health system.

Arts & Entertainment

This space-set survival-of-the-fittest thriller brings plenty of other movies to mind, but manages to still feel resonant enough.

Arts & Entertainment

A silent and swaggering Nicolas Cage battles demonic animatronic mascots in this horror flick, which is never as entertaining or out-there as it should be.

Arts & Entertainment

With remarkable performances from Anthony Hopkins and Olivia Colman and a purposefully puzzle-like approach, this drama about dementia leaves a lasting imprint.

Arts & Entertainment

Bob Odenkirk stars in this 'John Wick'-style action-thriller, sliding into a gleefully OTT film with flair and texture.

Food & Drink

Ten weeks, ten creative schnitzel variations — and a cheeky $10 Wednesday special if you want to sample them all.

Food & Drink

Eat and drink your way through degustations, high teas and cocktails at this food festival.

Food & Drink

Keep the warm weather vibes going with spritzes and seafood by the river.

Arts & Entertainment

Head to Event Cinemas and score 50-percent off your ticket price every Tuesday — including in Vmax and Gold Class.

Arts & Entertainment

A smash on Broadway since 2017, it's based on the true story of 7000 air passengers who became grounded in Canada after September 11.

Travel & Leisure

Brisbane's newest sky-high bar is hosting sunrise and sunset fitness classes.

Food & Drink

Sip your way through mango, watermelon, passionfruit and grape Nerds-flavoured margaritas.

Arts & Entertainment

Featuring more than 100 films, talks and parties — including on rooftops, in a brewery and 77 levels above the ground.

Food & Drink

Add some drag, games and sing-alongs to your bottomless brunch.

Food & Drink

See out the weekend at Brisbane's newest overwater bar.

Food & Drink

End your weekend with drinks and live music on a South Bank rooftop.

Arts & Entertainment

The Brisbane-exclusive exhibition features interactive experiences — and the world's oldest motorbike.

Food & Drink

Fortitude Valley's 24-hour bar and eatery gets into the boozy brunch game.

Arts & Entertainment

Peer at ancient creatures from the deep — and their fossils — across more than 70 exhibits.

Arts & Entertainment

The record-breaking Broadway musical, based on the smash-hit Disney film, is bringing Arendelle's frozen fractals and toe-tapping tunes Down Under.

Food & Drink

Sip your way through six different types of spritz while hanging out on this Newstead bar's deck.

Food & Drink

Choose between chicken and cauliflower pieces at this bottomless midweek feast.
Tap and select
Add to Home Screen
to access Concrete Playground easily next time.
x