Hustle Boxing Has Opened Its First Nightclub-Style Queensland Workout Studio in Fortitude Valley
If you like your fitness sessions to feel like a night on the town, this Sydney favourite has just set up shop in Brisbane.
Brisbanites are used to going to Fortitude Valley to get sweaty among colourful lights, and to a pulsating soundtrack. Normally, though, that doesn't involve popping on boxing gloves. But making your next exercise session feel like a night hitting the clubs is the whole remit of Hustle Boxing, the Sydney workout favourite that's just launched its first Queensland studio.
Hustle initially opened in Sydney in 2019 courtesy of business partners Tim McGann and Simon Maree, who were keen to give Australia an inclusive, accessible and premium venue for boxing group fitness classes. When it comes to ditching the usual vision that hopping into the ring inspires, the end result definitely packs a punch — including in its sleek new 400-square-metre Brisbane space on Brookes Street.
Decor-wise, black walls, pops of colour and bright-hued LED lighting are a big feature, in a venue with high ceilings and a minimalist approach thanks to architect Tomas Scerbo. But Hustle's Valley digs also sport two things you won't find in a nearby bar or music venue: floor-to-ceiling windows to let natural light in, and murals paying tribute to Aussie sporting legends — including Shane Warne and Cathy Freeman.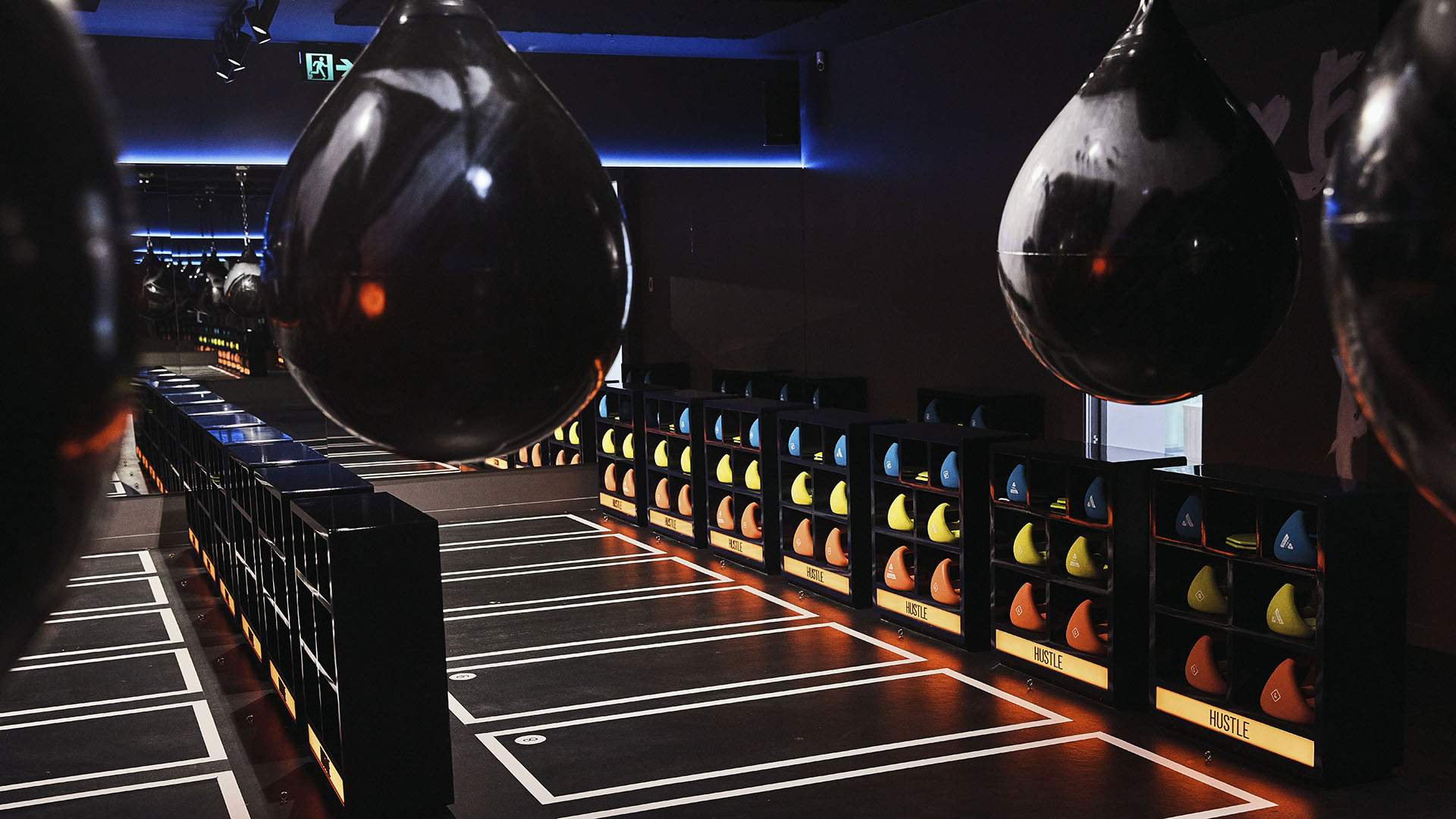 Also helping the vibe are curated playlists by Flight Facilities' Hugo Gruzman, plus commercial-grade lighting and a nightclub-quality sound system. That's what you'll be listening to and standing under when you hit up one of Hustle's personal fitness stations, which feature individual LED displays with instructions for your workout, and also store equipment for your session, such as weights, sliders and resistance bands.
Trainer Andrew Papadopoulos oversees Hustle's training programs, with strength and conditioning a huge focus — as well as full-body functional boxing exercises. Expect to combine cardio, speed, and dynamic- and strength-themed routines — and, thanks to its brand-new Hustle Track, to hit the treadmill or floor. This fresh addition to the chain has its own dedicated room filled with treadmills, and also hosts 'Tenzing' classes named after Tenzing Norgay, the first Sherpa to scale Everest. Yes, running at an incline is on the cards.
If you're not usually the most sporty or exercise-conscious of folks, part of the reason for Hustle's eye-catching design and club-inspired atmosphere is to make the joint accessible to everyone — regardless of your fitness, skills and past boxing experience.
Introductory offers start at $25 for five days, or ten-day unlimited training passes for $49 — and Hustle's other boxing and track classes also take their names from famous figures. So, you might find yourself taking an eight-round 'Jagger' session or the hefty 16-round endurance-testing class that is 'The Godfather'. There's also the 'Denzel', which'll have you going smooth and easy on the treadmill; the 'Rihanna', where heading uphill is the aim of the game; and the 'Bolt', if you're a fan of running as fast as possible.
Find Hustle Boxing at 100 Brookes Street, Fortitude Valley — open 5am–6.30pm Monday–Friday and 8am–11pm Saturdays.