TRAVEL & LEISURE
A Weekender's Guide to Kangaroo Island
While the west side of the South Australian island has been recently ravaged by bushfires, the eastern half — and its wineries, beaches, oyster farms and accommodation — are still open and as beautiful as ever.
A Weekender's Guide to Kangaroo Island
While the west side of the South Australian island has been recently ravaged by bushfires, the eastern half — and its wineries, beaches, oyster farms and accommodation — are still open and as beautiful as ever.
---
The bushfires on Kangaroo Island have been some of the most horrific of the summer — they've burned through large swathes of Flinders Chase National Park, devastated the island's wildlife population and, all up, scorched an enormous 215,000 hectares. Some good news is that the fires didn't spread to the whole island, and the damage has been contained to the west side. The areas east of Snelling and Vivonne Bay haven't been affected and are as stunning as ever — meaning that there are still plenty of spectacular coastal views, wildlife, wineries and pristine beaches to explore. (We've attached a handy map down the bottom which shows you what areas of the island are open.)
The outpouring of support for bushfire affected communities in recent weeks has been incredible, but there's so much more to be done — and one of the best ways you can help is by getting back out into the affected areas and putting your cash into the local economy. Kangaroo Island is easily accessible from Adelaide and is the perfect weekender if you're looking for some island adventure and a bit of luxury. This handy guide will help you make the most of all the beauty the island still holds.
All businesses and attractions mentioned here were open at the time of publication, while some national parks and attractions were still closed due to impact from the bushfires. Before you head off on an adventure, download the Alert SA app and keep up to date with warnings from the CFS and refer to these Kangaroo Island bushfire FAQs.

DO
If you're arriving by ferry, you'll get into Penneshaw — and from there you can head straight to Kangaroo Island Ocean Safari to swim with dolphins. In Lashmar Conservation Park, you can also watch out for wildlife as you kayak along the Chapman River to Antechamber Bay, where you'll find a lovely private beach perfect for a dip.
Making your way west, seafood lovers should spend an afternoon at American River, where The Oyster Farm Shop will sort you out with fresh local oysters, marron, abalone and King George whiting, before you explore the protected wetlands of Pelican Lagoon.
Of course, one of the best things about Kangaroo Island is the beaches: crystal clear, blue waters, long stretches of glittery white sand and lazy days spent soaking it all in. The best ones? Emu Bay on the island's north coast, where you can drive your car right onto the four-kilometre stretch of white sand and spend a day in the tranquil waters, or — a little further west — Snelling Beach for an epic sunset.
Spend a day exploring the shops and sights of Kingscote, the island's largest town just south of Emu Bay. Stop in at the Spinners and Weavers Shop for handmade natural fibre treasures, take a tour of Island Beehive and pick up some local honey, shop art at Shep's Studio and Fine Art Kangaroo Island, and visit Emu Ridge Eucalyptus Oil distillery. Be sure to make time for a two-hour blend your own gin experience at Kangaroo Island Spirits.
You should head southwest to Vivonne Bay for surf and to sandboard down Little Sahara with KI Outdoor Action. Join a quad bike tour to explore the grass and bushland before heading to the Seal Bay Conservation Park for a guided twilight tour of the sea lion colony.
If you have some time to spare and want to spend a day getting your hands dirty, you can volunteer with Blaze Aid or the KI Community Centre to help with the rebuild after the bushfires.

EAT AND DRINK
Straight off the ferry? Head to Millie Mae's Pantry for a full brunch made with ingredients from the kitchen garden, or pick up something to take with you for lunch while you adventure through the island. If you've stayed in Kingscote, start the day off with coffee from Cactus, which has been keeping bushfire affected locals and volunteers caffeinated and well fed. Try to resist coming back later in the day for dumplings, tacos or whatever is one the menu that night.
A winery tour is a must while you're in town, so make sure to hit Bay of Shoals Wines, which boasts the closest vines to the sea in the southern hemisphere. Nearby, there's also The Islander Estate Vineyards for vino made by a renowned Bordeaux winemaker and, for balance, Kangaroo Island Brewery where you can stop for lunch and to try a few local cold ones. Also worth checking out on the far east side of the island is False Cape Wines — known for its minimal intervention drops — and Dudley Wines, which has incredible views and live music on the first Sunday of the month (when you should also check out the monthly farmers and community market day at Penneshaw Oval).
For the island's best fish and chips, we have to recommend KI Fresh Seafood in Kingscote. It's attached to a petrol station, but don't let that put you off — take away and enjoy on the water's edge.
For a finer affair, head to dinner at Sunset Food and Wine. The modern bistro looks out over American Beach and is owned by Jack Ingram, former executive chef of Southern Ocean Lodge, another Kangaroo Island favourite that was sadly destroyed in the bushfires. The menu is stacked with fresh local seafood and produce, including rock lobster, kingfish sashimi and Kangaroo Island honeycomb. Otherwise, the Penneshaw Hotel is perched on a clifftop and offers a decent pub feed overlooking the wide open sea.

STAY
Kangaroo Island has lots of luxury accommodation and you can go off-grid in style at Stowaway Kangaroo Island. Imagine curling up in the window seat of a luxurious private cabin on the edge of Lathami Conservation Park and a privately owned sheep farm, soaking in views of the bush and ocean in the distance. Both of the cabins, aptly named The Nest and The Sleepy Hollow, come with a huge soaker bath with sweeping views, a hot tub out on the deck, a sauna and a local produce hamper. Guests also get a free massage if they stay between February 1 and April 30 this year, as part of a bushfire recovery special.
Otherwise, make yourself at home at Ecopia Villas on a vast property in the middle of the island, complete with exclusive access to the Eleanor River and hundreds of acres of wilderness; book an all-inclusive package with bespoke 4WD tours at the Sea Dragon Lodge and Villas; or fall asleep to the sound of waves crashing against the cliffs of the island's eastern-most point at lighthouse keeper's cottages within the Cape Willoughby Conservation Park.
If you'd rather keep it simple (and cheap), pitch a tent at one of these gorgeous camping spots (except for the Western River Campground, which is currently closed to the public) that are all mere steps from the beach and have their own toilets, barbecues and picnic facilities.

And here's the aforementioned handy map. It's been created by the South Australian Tourism Commission to show which parts of the island are currently open. This one was last updated on January 30, 2020 — but you should keep checking for the latest version over here.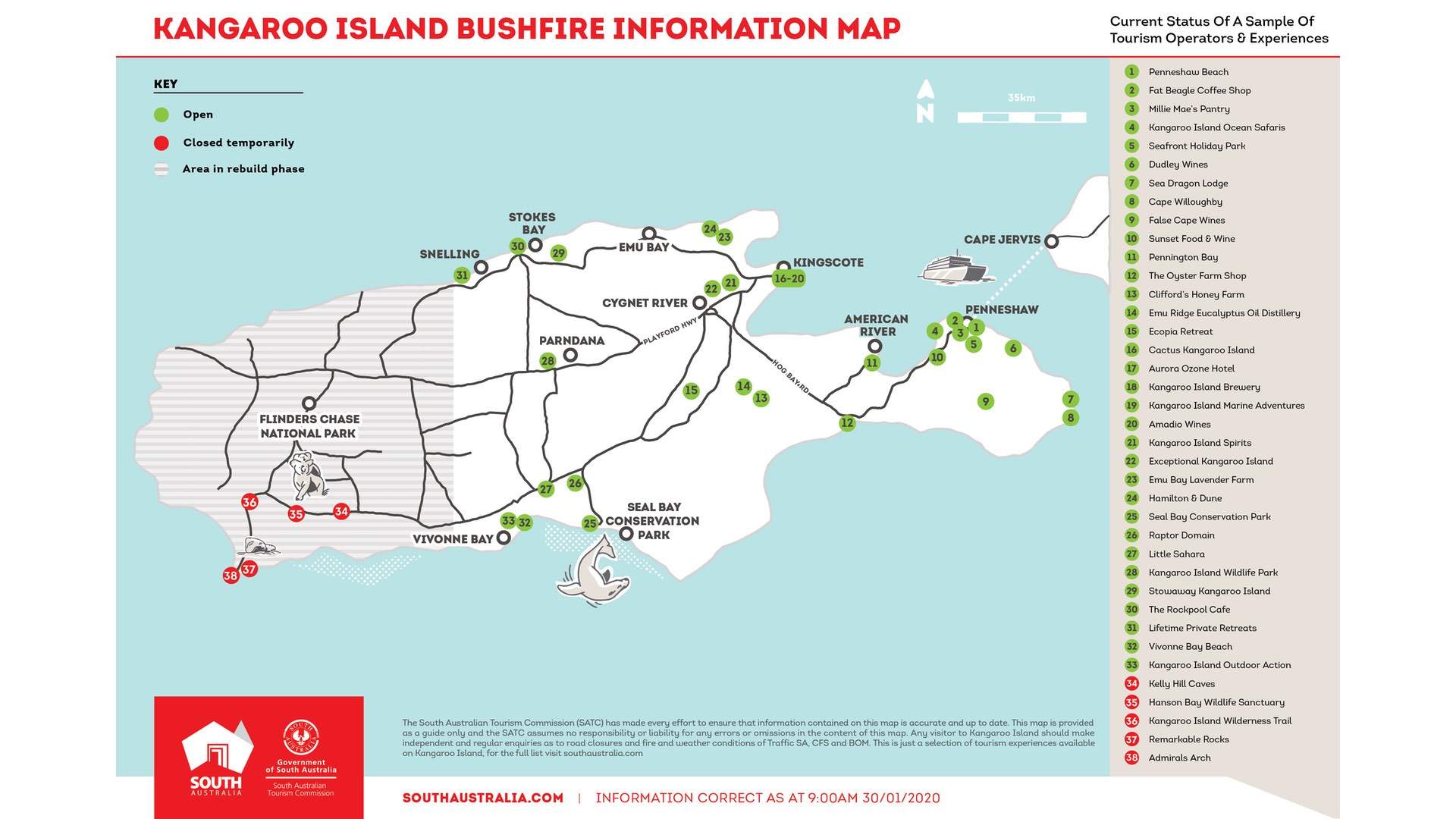 All images courtesy of the South Australia Tourism Commission. 
Published on January 23, 2020 by Leisha Kapor