TRAVEL & LEISURE
Follow in Giant Footsteps at Australia's Own Open-Air Dinosaur Exhibition
Wander over a gorge to view scale replicas of Australian dinosaurs in outback Queensland.
Jurassic Park still hasn't become a reality, but plenty of people are trying to build the next best thing. Brisbane played host to a virtual dinosaur zoo, Queensland could be getting a Jurassic Park-themed amusement park, an American attraction lets visitors roam through the desert with life-sized renderings and Jurassic World movies keep being made.. Now, an open-air dinosaur exhibition has popped up in Australia.
Dinosaur Canyon is the latest addition to the Australian Age of Dinosaurs, aka the dinosaur-focused museum you mightn't realise sits in central Queensland. Perched on a cliff, the new section boasts a 300-metre floating, treetop-style concrete walkway that takes patrons over a gorge and past five galleries filled with dinosaur replicas. Cast in bronze and built to scale, they're not just statues of any old dinos — they're versions of the types of dinosaurs that have been found in the region.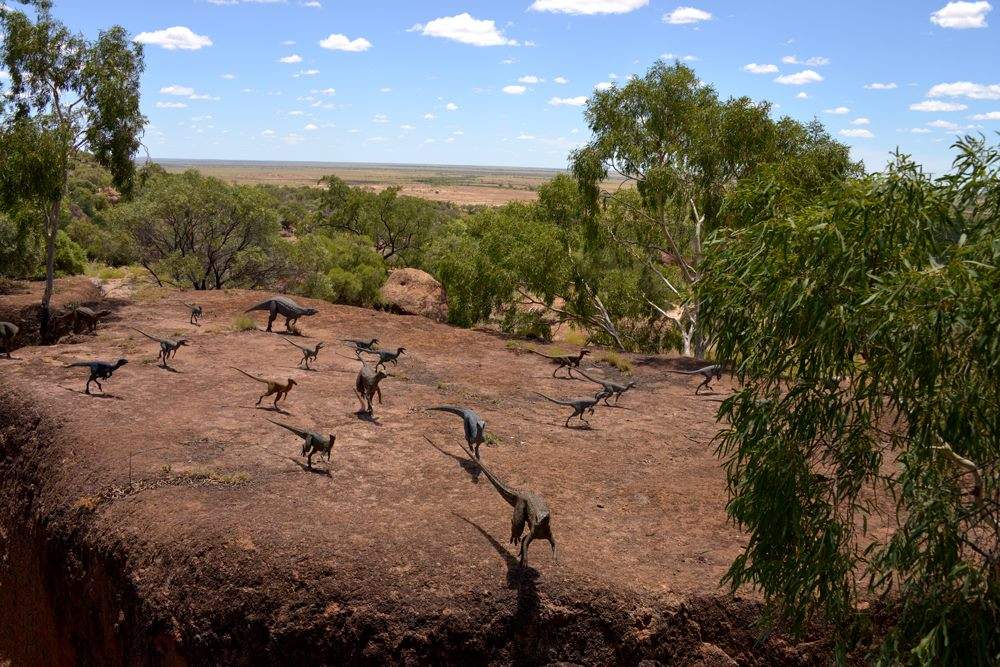 Yes, if you're wondering why the country's dinosaur haven resides in the middle of the outback — it's located just outside of Winton, which is approximately 1500 kilometres from Brisbane — it's because that's where dino fossils were found back in 1999. Local grazier David Elliott came across a piece while mustering, and then turned his attention to transforming the site into a natural history museum that delves into its previous inhabitants.
Dinosaur Canyon opens to the public on April 16, offering a fresh attraction for dinosaur fiends who happen to find themselves in the dusty centre of Queensland. As well as checking out the new replicas against a stunning natural backdrop, visitors to the Australian Age of Dinosaurs can view bones, touch them — yep, touch actual dinosaur bones — and participate in both dinosaur digs and fossil preparation.
Via ABC. Images: Sarah Ward / Australian Age of Dinosaurs.
Published on April 15, 2017 by Sarah Ward