Queensland Will Further Ease Travel, Entertainment and Hospitality Restrictions from Midday on June 1
The state is bringing forward its second stage of eased limits — including travelling anywhere within Queensland, and allowing 20 people in cafes, restaurants, pubs and clubs.
Queensland's gradual lifting of COVID-19 restrictions is set to continue, with Premier Annastacia Palaszczuk bringing forward the next stage of the state's loosening of lockdown conditions. It's a result of the "tremendous job that everyone in this state has been doing," the Premier advised. And if you've been eager to travel to anywhere in Queensland, have more than a few friends over, head out with a big group of your mates or go to the gym, it's all great and welcome news.
Since the beginning of May, the state has been easing restrictions in stages, including announcing a roadmap for the government's plans between May–July. At present, up to five visitors are allowed inside homes, gatherings of ten are permitted outside, retail shopping is back on the cards, Queenslanders can travel within 150 kilometres within the state, and cafes, restaurants, pubs and hotels can welcome ten people at a time.
Now, today, Sunday, May 31, the Premier has outlined a heap of additional activities that will be permissible from midday tomorrow, Monday, June 1. The majority of the newly announced changes were already planned to come into effect in mid-June, but are now happening at the beginning of the month, with all of the following allowed:
Up to 20 people in your home, including both residents and visitors.
Gatherings of up to 20 people outside of the house, for outdoor, non-contact activities — such as personal training, hiking in national and state parks, swimming in outdoor and indoor pools, visiting public spaces such as South Bank Parklands (including the lagoons), and heading to parks, playgrounds, skate parks and outdoor gyms.
Up to 20 people in gyms, health clubs and yoga studios.
Up to 20 people in libraries.
Weddings with up to 20 people.
Church gatherings of up to 20 people.
Funerals with up to 50 people.
The reopening of entertainment and cultural venues such as galleries, museums, historic sites, indoor cinemas, arcades, zoos, concerts, theatres, arenas, auditoriums, stadiums and outdoor amusement parks — with 20-person limits.
Non-contact community sporting activities, both indoors and outdoors, with 20-person limits.
Dining in and/or seated drinks at cafes, restaurants, pubs, hotels and licensed clubs, with up to 20 people allowed inside at any one time.
Open homes and auctions with up to 20 people.
Beauty therapy services, with up to 20 people allowed in-store at any one time.
Recreational travel, camping and accommodation, including caravan parks, anywhere in the state — including overnight stays.
In addition, cafes, restaurants, pubs and hotels with more space will be allowed to permit 20 people per defined area from midday on Friday, June 5, rather than just 20 customers in total in their entire space — but only if they have an approved COVID Safe Industry Plan in place.
Some venues, such as places of worship and tourism experiences, will be required to collect and keep the names and contact details of people visiting their sites to assist with contact tracing.
Notably, given the debate on the issue in recent weeks, Queensland's borders still won't be opening to interstate visitors as yet. No timeframe has been announced; however the new announcement does advise that "current interstate border control measures will remain in place and [be] reviewed for Stage 3 of the Roadmap, commencing on 10 July".
Here's Queensland's updated stage-by-stage rundown, reflecting the changes announced today: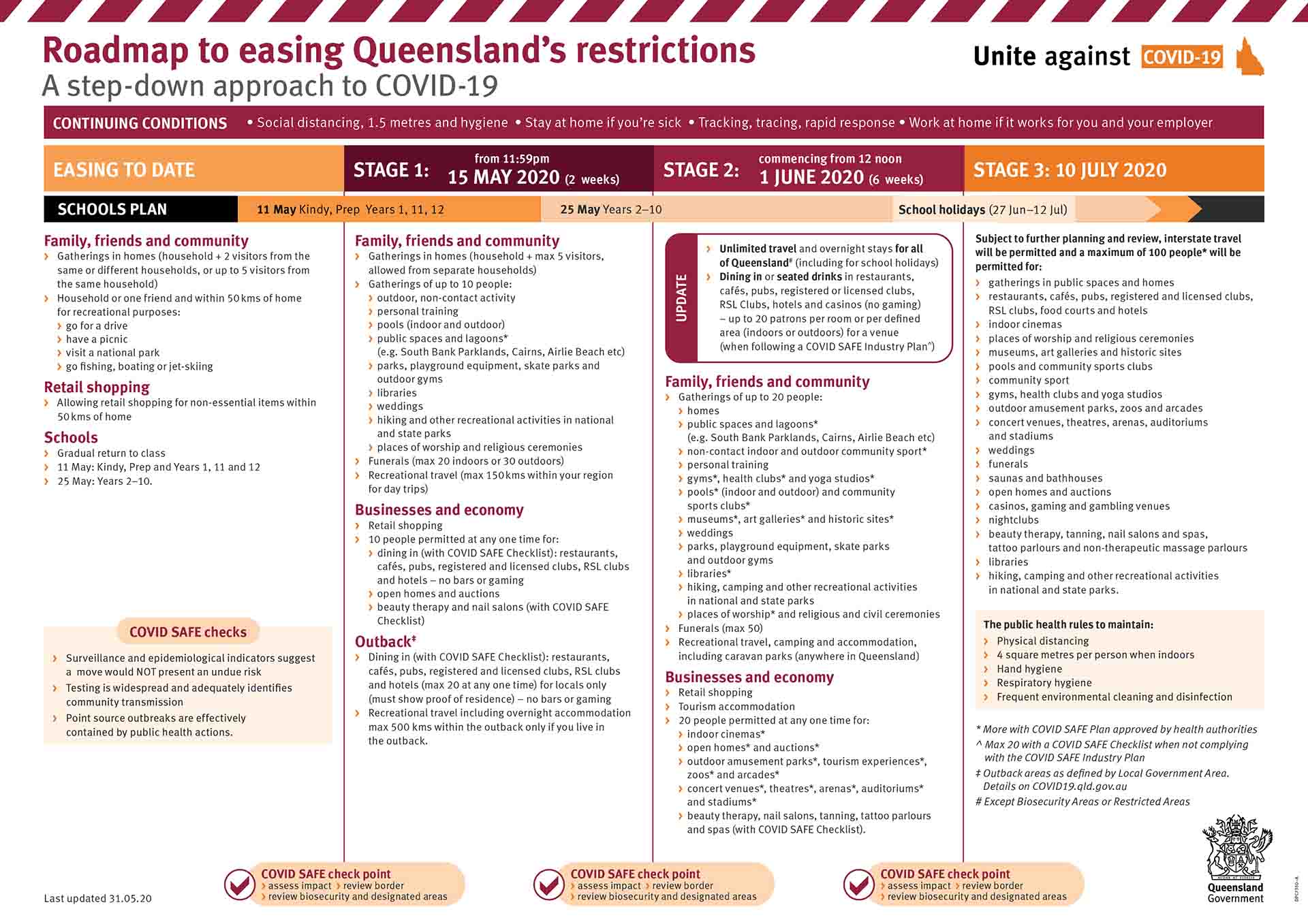 If all goes well, the next stage of eased restrictions will come into effect on July 10. That said, the Queensland Government will continue to assess community transmission and testing rates before giving the go-ahead to loosen more limits.
When the next stage does start in Queensland, people limits will increase to 100, and nightclubs, food courts and gaming areas will also be able to reopen with those caps.
At each stage, the standard social-distancing requirements still apply — so sticking with physical distancing, maintaining four square metres per person indoors, hand and cough hygiene, and frequent cleaning and disinfection.
Announcing the eased restrictions, Premier Palaszczuk also advised that Queensland only has five active cases of COVID-19 at present, with zero new cases overnight.
To find out more about Queensland's easing COVID-19 restrictions, and the status of the coronavirus in the state, visit Queensland's online COVID-19 hub.
To find out more about the status of COVID-19 in Australia and how to protect yourself, head to the Australian Government Department of Health's website.
Top images: Nick Boustead, Tourism and Events Queensland / Atlanta Bell.
Concrete Playground Trips
Book unique getaways and adventures dreamed up by our editors