TRAVEL & LEISURE
Queensland Will Implement the First Step of Australia's Eased COVID-19 Restrictions on May 15
That means gatherings of up to ten people outside of homes are allowed and restaurants, pubs and cafes can open (with some rules).
With COVID-19 cases remaining low in Queensland over the past couple of weeks — including no new cases reported in the past 24 hours — the state has been relaxing a number of coronavirus-related restrictions. Already, Queenslanders are allowed to leave the house for some non-essential purposes. From Sunday, May 10, you'll be able to welcome five people from another household into your home, too. And, in the next week, a whole heap of other limitations will also be lifted.
Queensland Premier Annastacia Palaszczuk revealed the state's roadmap out of COVID-19 restrictions today, Friday, May 8, following a similar announcement at the federal level. While Prime Minister Scott Morrison just unveiled the nation's three-step plan to lift lockdown limitations between now and July this afternoon as well, that country-wide framework needs to be implemented at the state level individually by each state — with Queensland getting in quick to explain exactly what's to come.
From 11.59pm on Friday, May 15, Queensland will move to stage one of its "step-down approach to COVID-19", which is due to run for four weeks. During stage one, many normal, everyday activities that have been off limits since March will be allowed once again. In fact, it's a lengthy list.
During stage one, the following will be allowed:
Up to five visitors in your home, including from separate households.
Gatherings of up to ten people outside of the house, for outdoor, non-contact activities — such as personal training, hiking in national and state parks, swimming in outdoor and indoor pools, visiting public spaces such as South Bank Parklands (including the lagoons), and heading to parks, playgrounds, skate parks and outdoor gyms.
Gatherings of up to ten people in libraries.
Weddings with up to ten people.
Church gatherings of up to ten people.
Funerals with up to 20 people indoors and 30 outdoors.
Recreational travel within 150 kilometres of your place of residence — for day trips only.
All retail shopping.
Dining in at cafes, restaurants, pubs and hotels, with up to ten people allowed inside at any one time.
Open homes and auctions with up to ten people.
Beauty therapy services, with up to ten people allowed in-store at any one time.
Of particular note is the increased number of outdoor activities, the fact that Queenslanders can now venture three times as far away from their homes, and the fact that cafes, restaurants and hotels will be able to open for dine-in customers — with the latter not initially expected to occur until June. Bars and gaming aren't included in stage one, however, but pubs serving food are.
If all goes well, stage two will come into effect on June 12. That said, the Queensland Government will assess the effectiveness of stage one and monitor the outbreak of new COVID-19 cases before giving the go-ahead to loosen more restrictions. When stage two does start in Queensland, gathering limits will increase to 20, recreational travel will be allowed within 250 kilometres of your house, and 20 people will be allowed inside cafes, restaurants and hotels. Cinemas, museums, art galleries, theatres, arenas, arcades, zoos and outdoor amusement parks will also be able to open, again with a maximum of 20 people permitted at any one time.
It's not until stage three, which has a target kick off date of July 10, that gathering limits will increase to 100 — including in cafes, restaurants and hotels, with bars and gaming venues then also allowed to open. Broader intrastate as well as interstate travel is also on the cards at this stage.
Here's the full stage-by-stage rundown: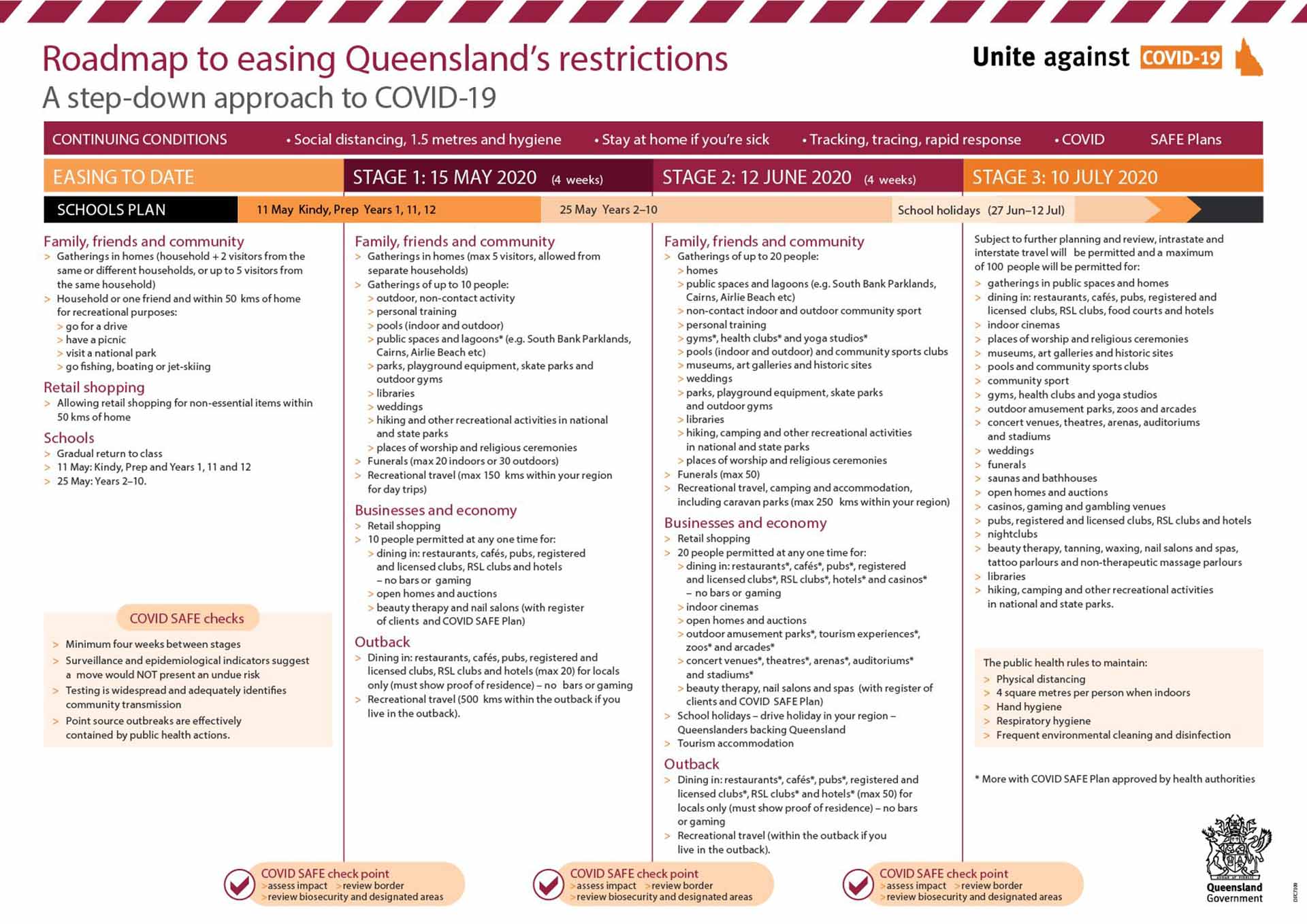 At each stage, the standard social-distancing requirements will still apply — so sticking physical distancing, maintaining four square metres per person indoors, hand and cough hygiene, and frequent cleaning and disinfection.
And, as the Premier stressed more than once during her press conference, these stages will be assessed on a month-by-month basis — so the timing may change depending on COVID-19 case numbers. "I am announcing our clear Queensland plan for the next three months. Of course, there may be setbacks along the way but I hope this plan can give certainty to Queenslanders as we map our path forward," the Premier noted.
To find out more about the status of COVID-19 in Australia and how to protect yourself, head to the Australian Government Department of Health's website.
Top image: Grace Smith
Published on May 08, 2020 by Sarah Ward