TRAVEL & LEISURE
This Is What Australia's Three-Step Roadmap Out of COVID-19 Lockdown Looks Like
Step one includes regional travel, opening restaurants and gatherings of up to ten — and all three steps are expected to be implemented by July.
Prime Minister Scott Morrison last week announced "Australians have earned an early mark" for the work they'd done containing COVID-19 and the announcement of some eased restrictions would take place on Friday, May 8. That day has come and we now know a little more about what Australia's road to recovery will look like.
After a national cabinet meeting today, Prime Minister Scott Morrison said "we're fighting this virus and we're winning", and he then outlined a three-step roadmap to a COVIDSafe Australia, with all three steps expected to be rolled out by July, 2020.
Step one will "enable greater connection with friends and family", with the following allowed:
Up to five visitors in your home, ten in businesses and public places
Libraries, community centres, playgrounds and boot camps open
Local and regional travel
Shops, restaurants and cafes allowed to open, with a maximum of ten people at a time and one person per four square metres
Step two, Morrison says, "will allow larger size gatherings up to 20 people, including for venues such as cinemas and galleries", ending with: "you'll be pleased to know, barre classes open once again."
Gatherings of up to 20 people
Gyms, beauty therapists, cinemas, theatres, amusement parks, galleries and museums open
Caravan and camping grounds open
Some interstate travel
Step three, which will depend on the success of the previous steps, includes:
Gatherings up to 100 people
Nightclubs, food courts, saunas and bathhouses open
All interstate travel
Consider cross-Tasman, Pacific Island travel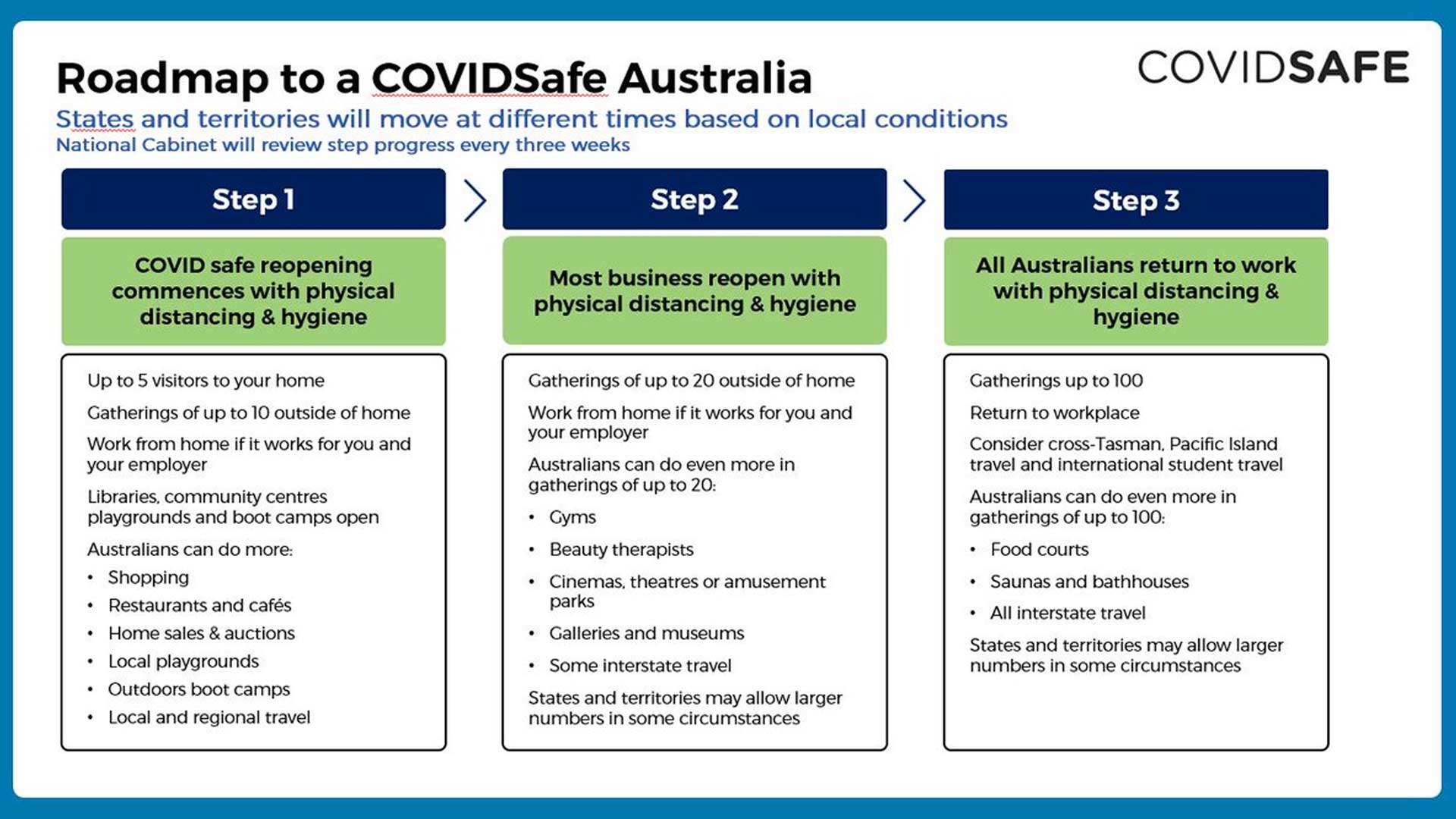 Those dreaming of an overseas jaunt will have noticed the roadmap does not include mention of international travel, except for to New Zealand and the Pacific Islands. On travel to other countries, the Prime Minister has said, "there's nothing on our radar which would see us opening up international travel in the foreseeable future." 
On the other three steps, the Prime Minister said the intention is by July "we will have moved through the three steps", but movement from one step to the next will depend on three criteria: testing, tracing and trapping. If all goes to plan, it's expected the country will move to the next step every three weeks. But, he has also warned that as restrictions are eased, "there will be outbreaks, there will be more cases, there will be set-backs".
As has been the case throughout the COVID-19 pandemic, the roadmap is a guideline and it's now up to the individual states and territory leaders to implement the steps — and amend the state laws — as they see fit. NSW Premier Gladys Berejiklian has already announced that no restrictions will be eased before Mother's Day and Queensland will ease some public gathering restrictions from this Sunday. Victorian Premier Daniel Andrews has said no changes will be made until Monday.
To find out more about the status of COVID-19 in Australia and how to protect yourself, head to the Australian Government Department of Health's website.
Image: Kimberley Low
Published on May 08, 2020 by Samantha Teague