TRAVEL & LEISURE
Seven Getaways from Brisbane Perfect for a Winter Escape with Your Crew
Whether you're nature enthusiasts, food lovers or just in need of some quality D&M time, these retreats will sort you out.
Seven Getaways from Brisbane Perfect for a Winter Escape with Your Crew
Whether you're nature enthusiasts, food lovers or just in need of some quality D&M time, these retreats will sort you out.
---
in partnership with

We've said it before and we'll say it again: it may be winter, but that doesn't mean you should spend the next few months hibernating on the couch. Boost your group's moral by booking into a nearby winter getaway that'll let you and all of your mates brave out the winter chill together all while exploring some incredible sights. Plus, thanks to Suncorp Platinum Credit Card*, you can earn points for every dollar you spend on the everyday essentials you may need while you're away, like petrol, drinks and that extra pack of bacon for brekkie in the morning.
Read on to discover seven spots with something to offer for everyone — whether you're after a luxe beachside retreat, a camping getaway on the beach or a full-on spa weekend. So, lock in that date you can all get away and book something ASAP.

BEACH CAMPING AT DOUBLE ISLAND POINT
Camping in winter may sound a bit too chilly for your liking. But luckily for us in the Sunshine State, the season ain't all that bad. Plus, camping in winter means bonfires, marshmallows and getting cosy with your favourite people. Located in the Great Sandy National Park, Double Island Point is a tranquil spot for just that. To get there you'll need a four-wheel drive, a beach driving permit, all your own supplies and knowledge of the tides (you can only reach it at certain points of the day) — so invite your mates who are more seasoned campers. But once you're there, you'll experience clear blue water, complete calm and, hopefully, a chance encounter with a dolphin or two. Pack your sleeping bag, your favourite people, supplies for a fireside feast and make a weekend of it.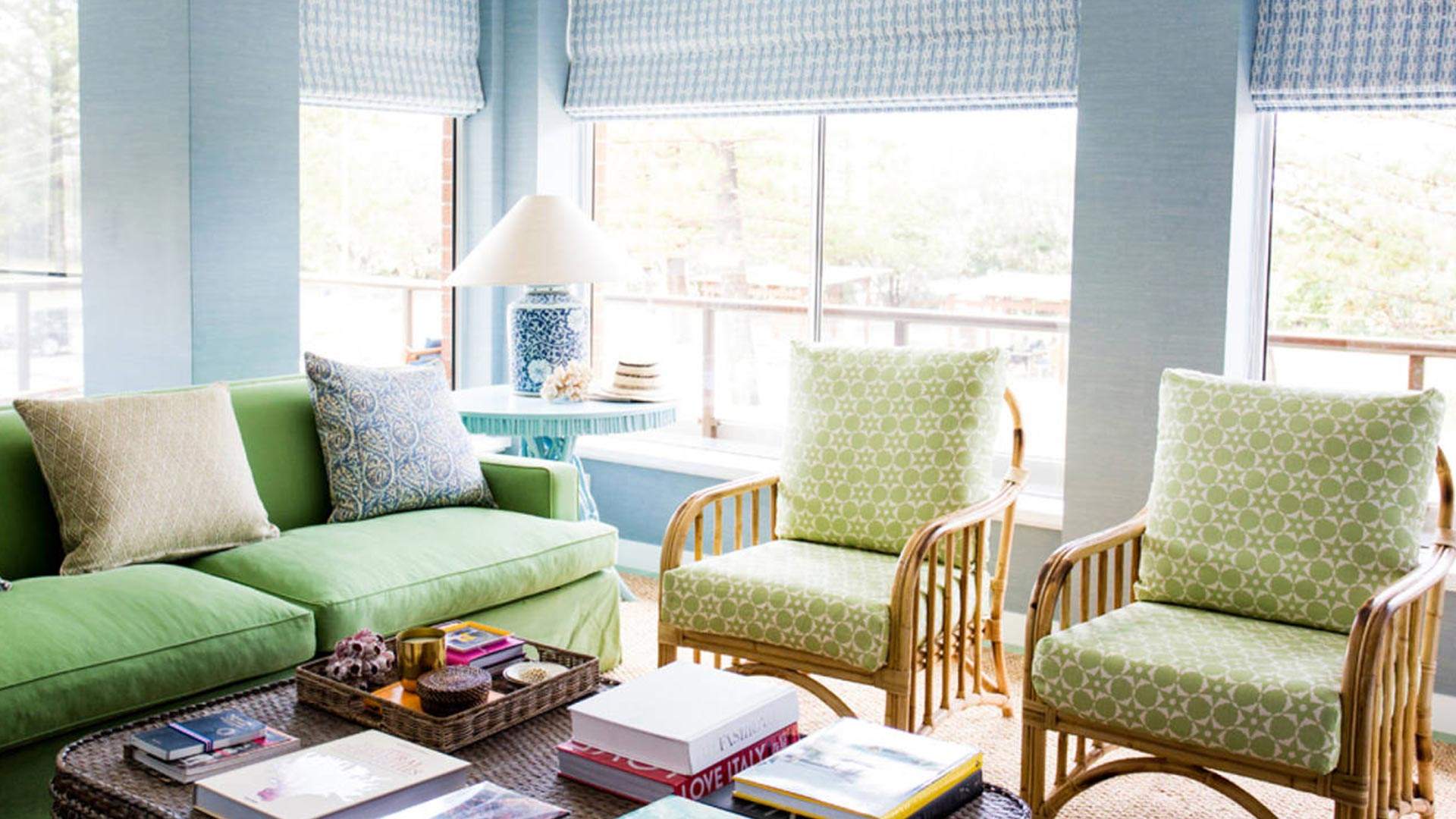 LUXE LIVING AT PANDANUS APARTMENT, BURLEIGH HEADS
Burleigh Heads has everything a group of friends could look for in a getaway; you've got the beach, shopping, dining, surfing and nightlife. Oh, and it's only a short drive down the highway from Brisbane. Burleigh's beach offers a great place to swim and surf with protection from the headland (and it's totally possible in winter on a sunny day). The headland itself is home to a scenic walk that leads you to Tallebudgera Creek, which is a stunning place to relax, especially in winter when it's not fraught with tourists. Plus, since you'll be visiting in winter, accommodation prices will be cheaper for you and your crew.
If you're planning a getaway for a special occasion, book into Bon Sol's beachfront Pandanus apartment. On arrival, you'll be met with a bottle of vintage Champagne by the property manager, who'll also help you with reservations should you want to check out the new beachfront Burleigh Pavilion or the hatted Rick Shores — or both.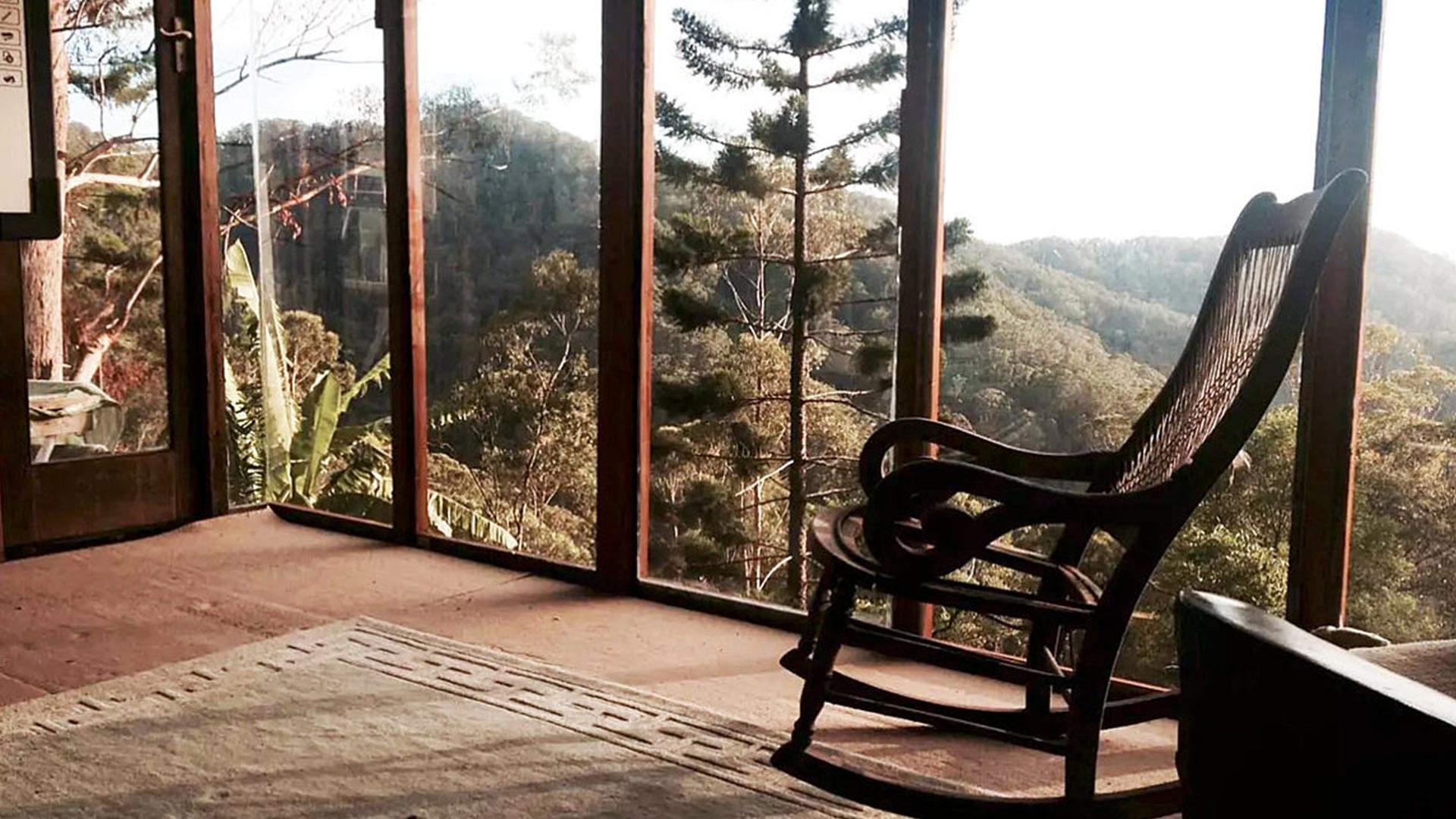 RAINFOREST ESCAPE AT KYOTO MOUNTAIN LODGE, THE POCKET
Everyone loves Byron Bay, but there are so many northern New South Wales towns to explore outside of the tourist hotspot with just as much charm — if not more. Pack up the car and road trip down the coast to towns like Fingal Head, Kingscliff, Casuarina, Cabarita Beach and Brunswick Heads. Grab four of your best mates, and book yourselves into the Kyoto Mountain Lodge where you'll sleep among the trees just 15 minutes away from Brunswick Heads. Surrounded by a rainforest sanctuary, this retreat will certainly bring you back in touch with nature. While you'll enjoy a fully equipped kitchen, fast internet and indoor fireplace, the location is considered a 'primitive campsite' — you'll need a four-wheel drive to get you to its location on top of a mountain. But once you're there, the views over the rainforest, bushwalks through nature and outdoor shower built into a tree trunk will make the trek well worth it.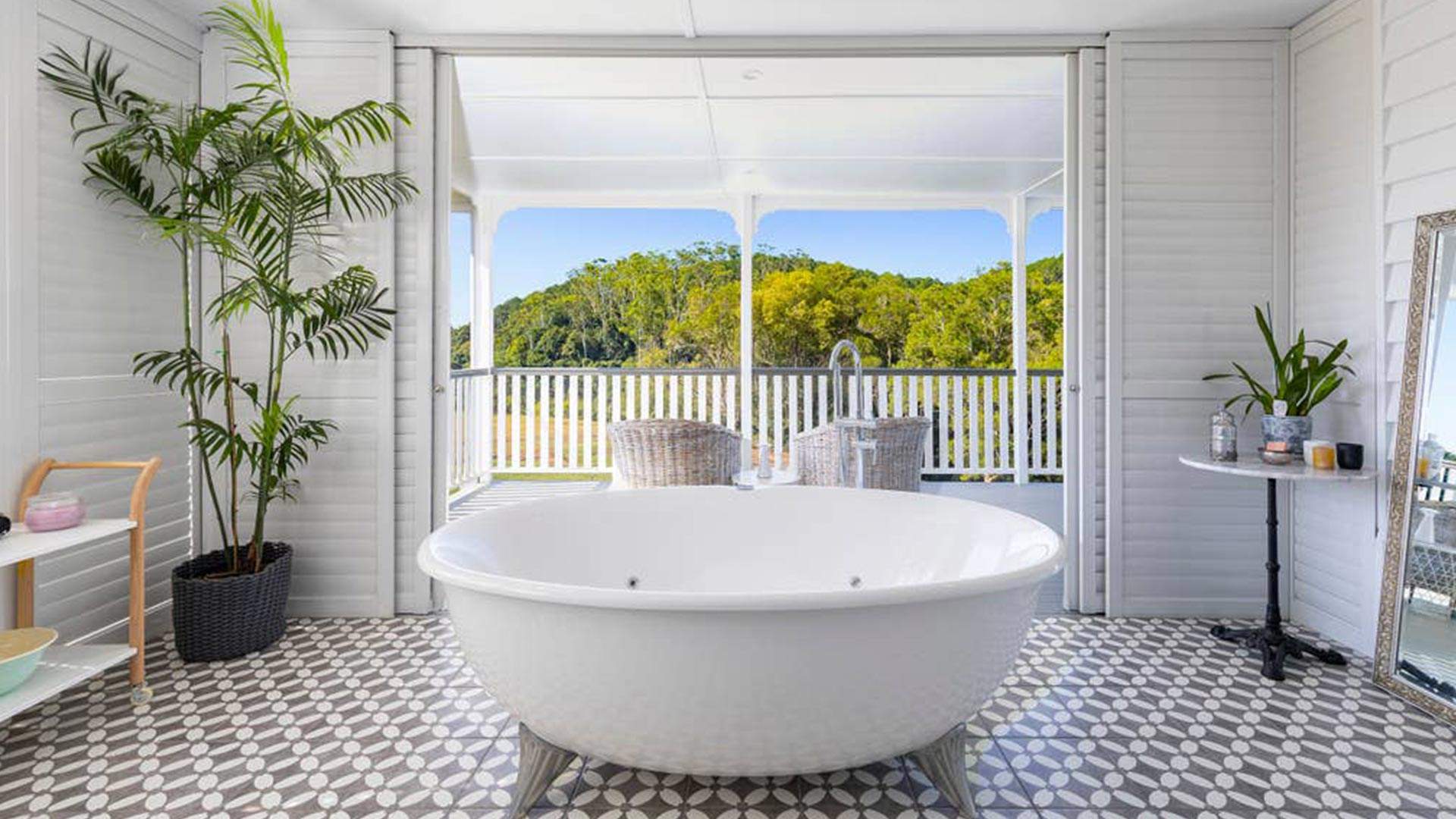 HINTERLAND HIDEAWAY AT BIRD SONG VALLEY, MONTVILLE
Whether it's Glass House Mountains, Kenilworth, Maleny or Montville, the Sunshine Coast Hinterland is rich with culinary experiences and beautiful sights in equal measure. Take rainforest walks, chase waterfalls and catch views of the coastline, all while hunting down excellent local pubs and cafes. Don't miss Brouhaha Brewery in Maleny to try quality craft brews (see: the strawberry rhubarb sour) and Kenilworth Country Bakery to sip your coffee from a doughnut or, better yet, attempt the one-kilogram doughnut challenge.
Base yourself at Bird Song Valley, one kilometre from Montville. The 1920s Queenslander offers a large space for you and five of your best mates to settle into for a long weekend getaway. Here you'll find several free-standing baths, a fireplace and views over the surrounding hinterland, plus each guest gets their own robe and slippers.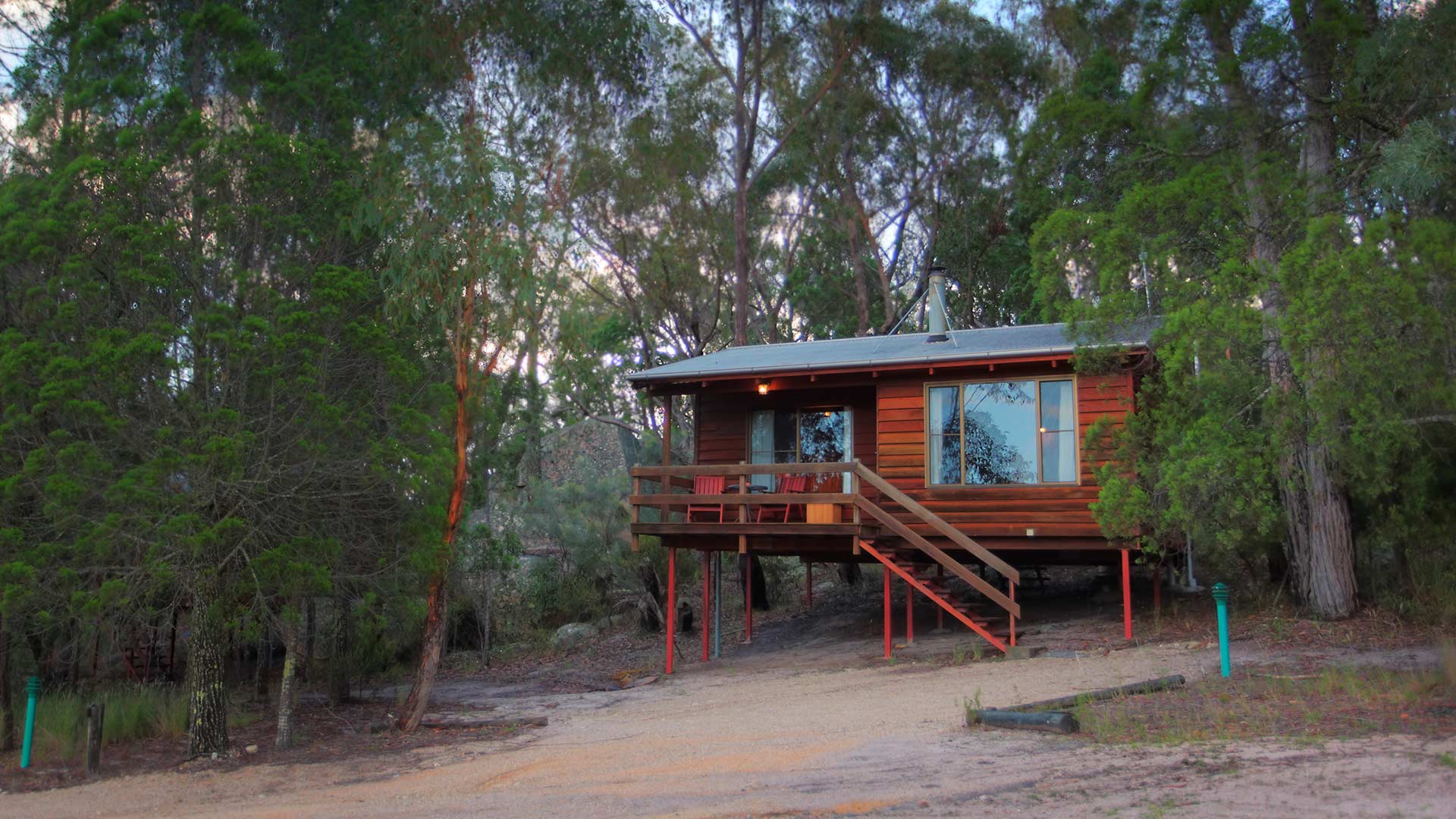 CABIN STAY AT GRANITE BELT BREWERY, STANTHORPE
Less than three hours southwest of Brisbane you'll find Queensland's coldest area. Known for producing all sorts of delights from apples, pears, berries and stone fruit to chocolate, beer and, of course, wine, the Granite Belt is the perfect place to head with your food-loving friends. Explore the region's wineries to sip wines made from unconventional grape varieties, or as they're known in the region, Strange Birds. You'll find the likes of barbera, durif and nebbiolo, and even lesser-known grapes like pinotage, colombard and sylvaner.
After a day of tastings, relax in front of the fire with friends at Granite Belt Brewery's retreat. If you're travelling with a full crew, you can book The Hidden House, which sleeps ten, or if you want to go a bit more rustic, consider the log cabins. They sleep between two and four, with the spa cabin offering double spas sat alongside the fire. And since you are staying at a brewery, it'd be remiss to not sample its range of beers made on site. And should you be after something more adventurous, go for a bushwalk or rock climb in Girraween National Park, which is known for its wildlife and balancing boulders.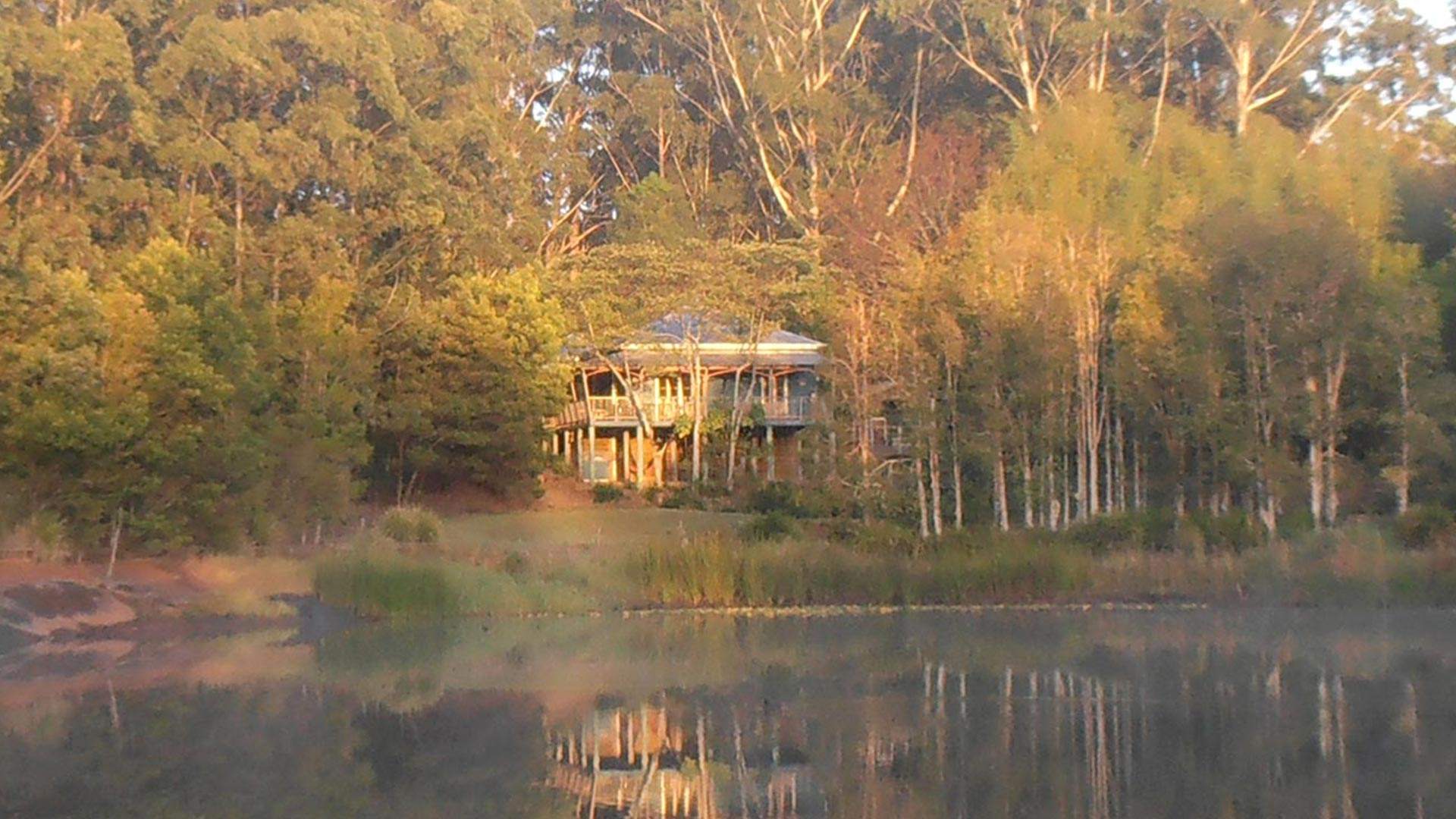 CREEKSIDE RETREAT AT CLOUDLAKE MOUNTAIN RETREAT, THE DARLING DOWNS
The humble, and largely overlooked, Darling Downs region provides plenty for those looking to experience a different part of Queensland. If it's a road trip you're after, head west from Brisbane and stop in at any of the many small towns and experience a few good old fashioned country pubs and bakeries. Be sure to stop in Toowoomba to explore some great cafes, parks, pubs and street art. And for something totally left of field, check out the Darling Downs Zoo in Pilton, which actually allows you to feed lions.
A 40-minute drive from Toowoomba, Cloudlake Mountain Retreat's Mother of Ducks home offers a large, yet cosy escape for groups of six. Sitting on the edge of Oaky Creek, the home features plenty of views over the lake, a woodfire and surrounding gardens with produce and herbs you're welcome to use. Should you be met with warmer days, opt for cooking your meals in the outdoor kitchen and playing a game of pétanque in the sun.

STAYCATION AT THE CALILE HOTEL, BRISBANE
If you just can't seem to rally the troops for a trip out of the city, why not consider a staycation? With its stunning architecture and interiors, the relatively new Calile Hotel in Fortitude Valley is one to set your sights on for a luxe stay. Book in for a weekend with your crew, and treat yourselves to the hotel's resort vibes that'll have you forgetting you're even in Brisbane. Really splash out and book into the spa for a body wrap, exfoliating treatment, massage or all of the above, or opt to relax by the rooftop pool and grab a bite to eat from Hellenika's poolside offering of snacks and wraps. What's more, should you want to leave your luxe abode, you'll be in close proximity to one of Brisbane's best shopping and dining precincts: James Street.

Seize the day, make your everyday moments count and get rewarded all the while with Suncorp.
*Issued by Citigroup Pty Limited ABN 88 004 325 080 AFSL No. 238098 Australian credit licence 238098.
Published on June 25, 2019 by Caitlyn Spanner