TRAVEL & LEISURE
Seven Tiny Cabin Stays Around Australia to Book When You Need a Weekend Off the Grid
Disconnect from the world and escape to a remote paradise.
Seven Tiny Cabin Stays Around Australia to Book When You Need a Weekend Off the Grid
Disconnect from the world and escape to a remote paradise.
---
in partnership with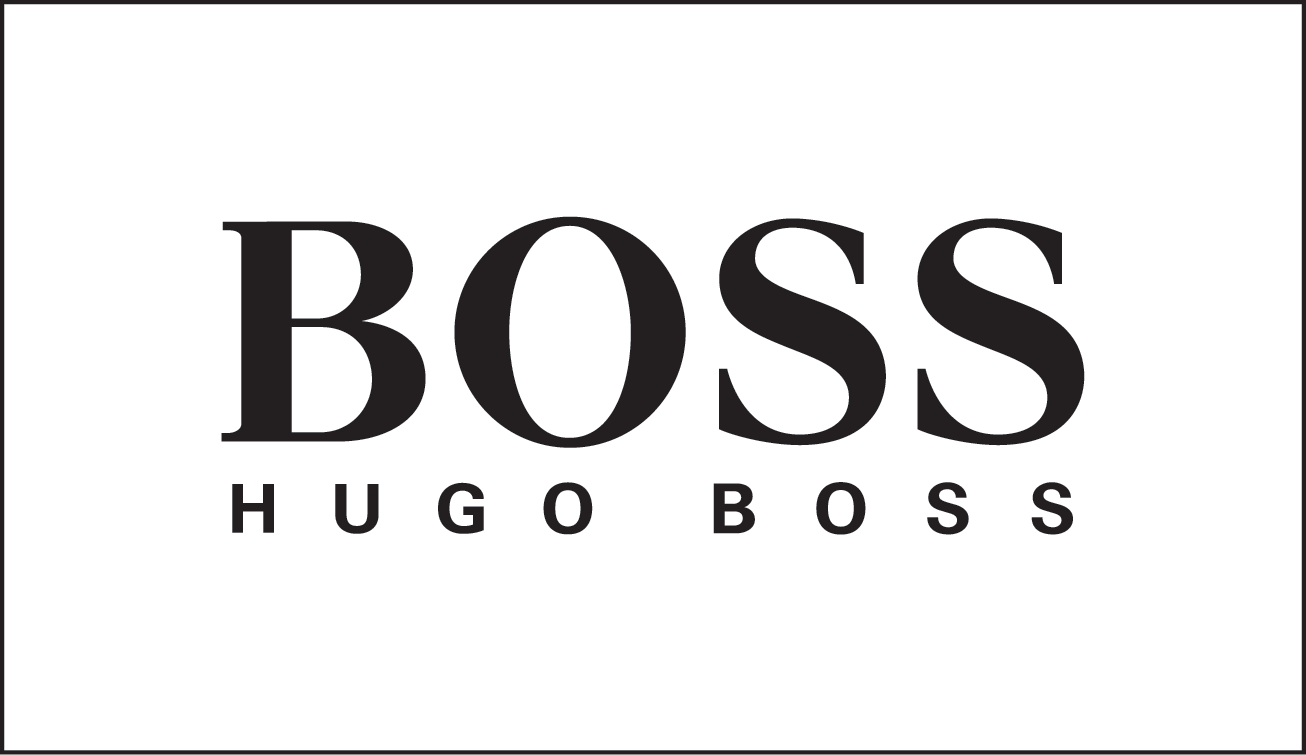 How many times have you booked a relaxing holiday away, only to find yourself unable to disconnect from your phone and not actually relaxed at all? Well, pause that infinite scroll and still that swiping thumb; we've teamed up Hugo Boss to make your next escape an off-the-grid adventure. With a stay at one of these teensy remote cabins around Australia, you'll have no choice but to chuck your phone into your bag and forget about it till you're back in mobile range. You won't have UberEats nor fresh updates on Instagram, but these places will have you coming back utterly relaxed and refreshed —much like Hugo Boss' newest fragrance, BOSS BOTTLED Infinite.
We're doing this for your own good. We know it's a scary thought but trust us and get yourself booked into one of these tiny gems ASAP.

VICTORIA
Tea Tree Hill Beach Shack was created with all the important creature comforts in mind —  it's a stone's throw from the beach, plus it has an indoor (and outdoor) fireplace and an outdoor bath. Set in stunning Venus Bay, this little spot is surrounded by stellar secluded beaches and coastal landscapes but also features luxurious amenities and top-quality furnishings to lounge on. It's perfect for those who want to ensconce yourself in the worlds of fishing, stand-up paddleboarding and staring at a fire contemplating life. Plus, Wilsons Prom is just an hour or so away, so you can easily head out for a day trip of hikes (with some spectacular views). And upon your return, you can snuggle in beside the fire with a complimentary whisky or port in hand.

NORTHERN TERRITORY
30 kilometres from Alice Springs, Ooraminna Station Homestead is about as far off the beaten track as they come. Set on 600 acres of red Aussie outback, the homestead lies between the MacDonnell Ranges and the Simpson Desert and has four cabins available to rent — the Stone Cottage, the Timber Cabin, the Tin Cabin and the Slab Hut. Bushwalks, bird watching and camping under the stars are optional extras, but very much encouraged. Wander around the station and you'll come across an old movie set, where you can pretend you're in your own spaghetti western. And if you're worried about getting lost during your stay, in lieu of Google Maps, there's resident dog Scruffy to guide you through your off-the-grid exploring.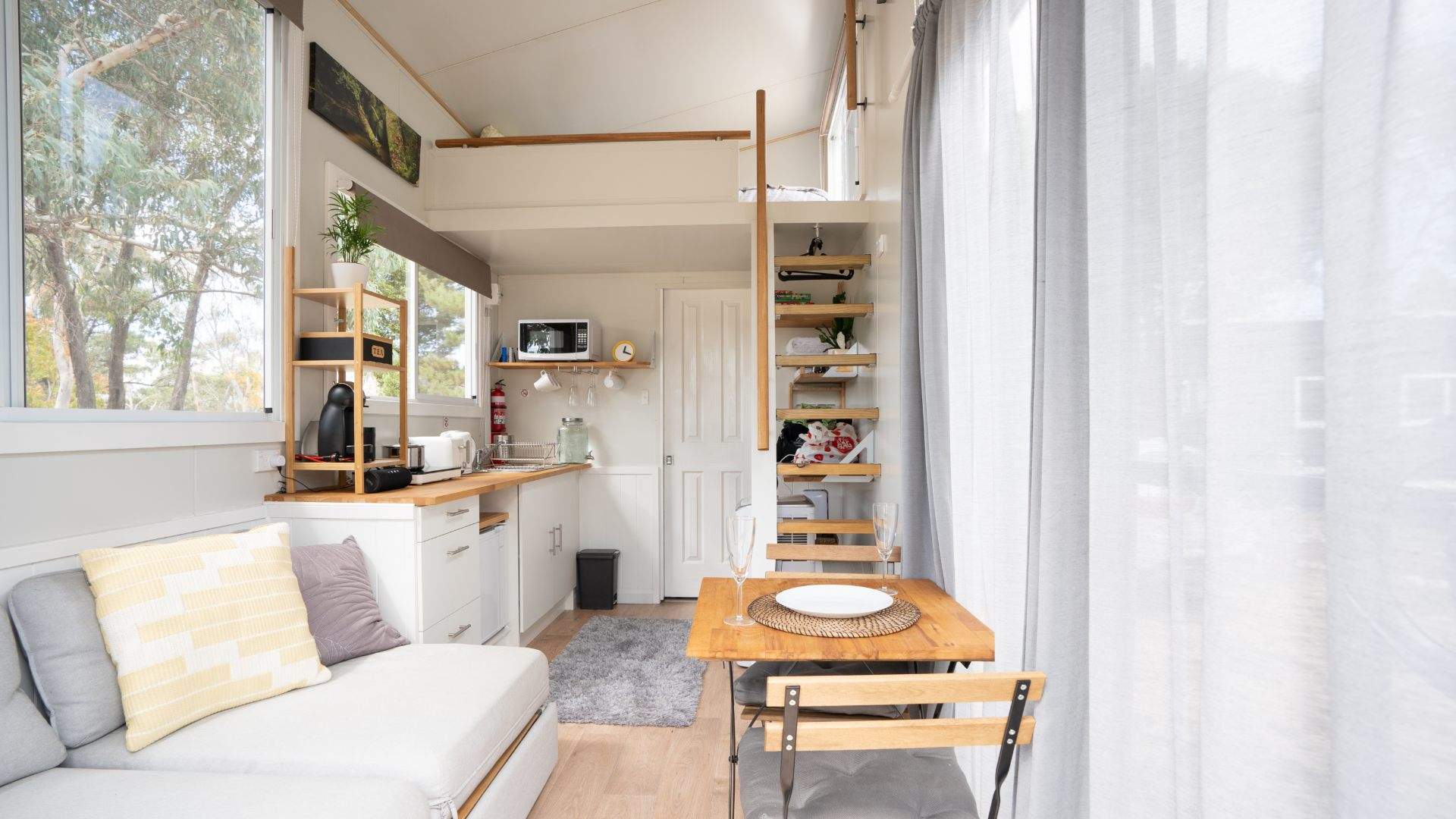 NEW SOUTH WALES
Essentially a fancy caravan, Whispers Tiny House holds two people and everything you and your travel buddy will need for a weekend in luxurious seclusion (yes, even the kitchen sink). Although teensy tiny, the space is well-designed and highly functional, set with a bed, power, a bathroom and heating as well as outdoor amenities like a barbecue, an outdoor firepit (available upon request) and chairs so you can sit under the night's sky. Plus, it's got 360-degree views of the countryside. You can sleep snug, knowing that you really are right in the middle of nowhere. Well, just on the outskirts of the Blue Mountains in small-town Marrangaroo, among some spectacular New South Wales' national parkland.

QUEENSLAND
Known for its glorious sun and lush rainforests, Queensland and its northern parts are well worth the trip, and this tiny Rainforest Creek Cabin makes it even more so. Smack bang in the middle of a rainforest, with birds singing at you and a stream bubbling nearby, it's the type of place where you'll close your eyes and think you're on a yoga retreat in Bali. There's no internet, no reception and no screens in sight — just a bed, kitchenette, a deck with glorious views and an outdoor shower and toilet. So, you're getting back to basics in this cabin set among some lush tropical surrounds. Located just a six-minute drive from the artistic little town of Maleny, with a few restaurants, coffee shops an galleries to poke your head into, its a great spot for those wanting the best of both worlds.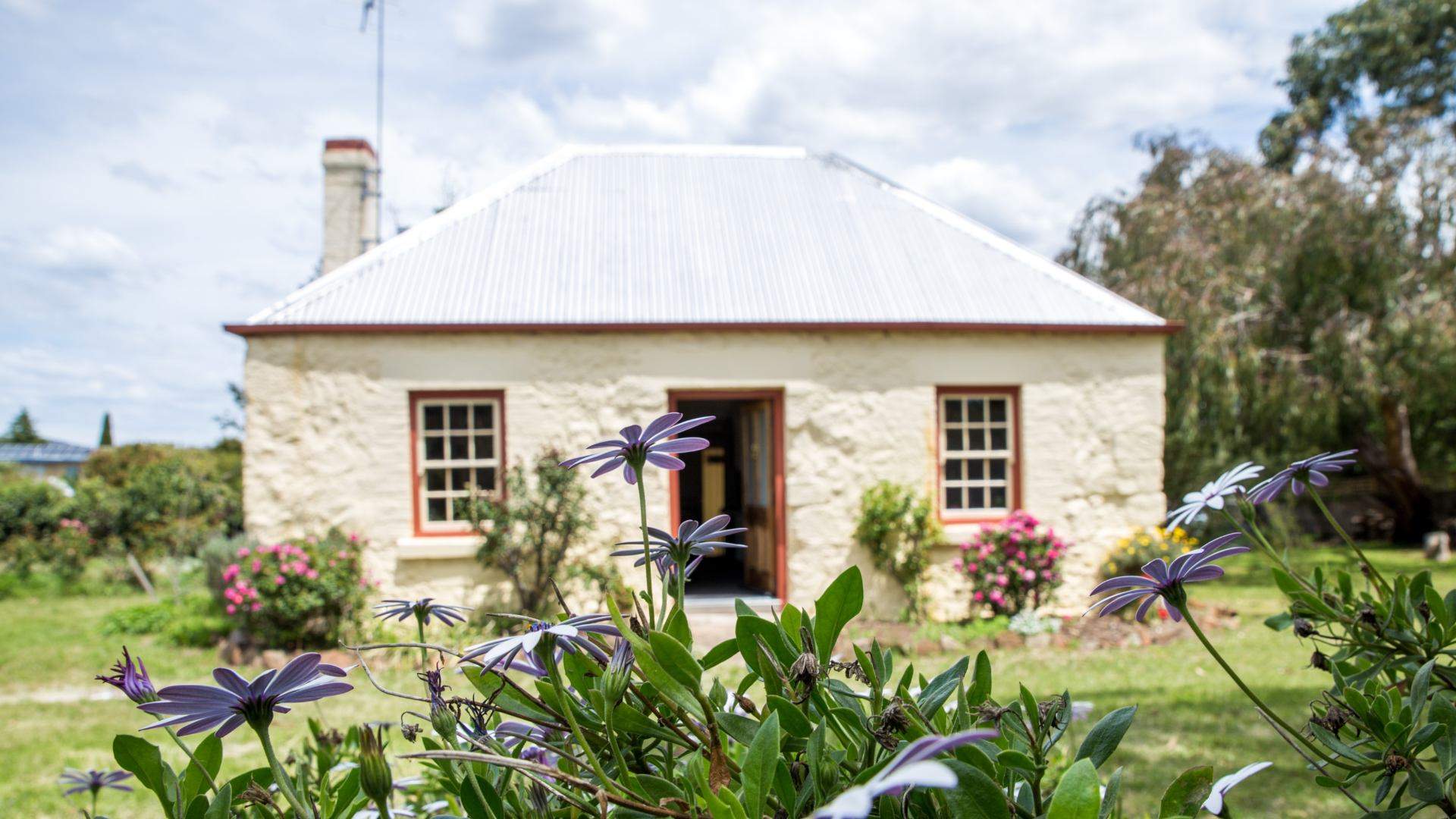 TASMANIA
If it's rustic, seaside vibes you're after, Tasmania should be at the top of your list. Worth crossing rough seas for, Swansea is a town of just 557 residents with a seriously chill coastal vibe, and it's in this little town where you'll find the quaint Scarecrow Cottage. Built in the 1850s, this heritage little abode features a cosy indoor fireplace and it's completely wifi-less. Plus, there's complimentary wine and chocolates upon arrival. What's more, if you can pull yourself away from said fireplace, it's just a casual five-minute stroll to Swansea's shops and historic colonial buildings. If you're up for a hike, Freycinet National Park is just a short drive away, too.

SOUTH AUSTRALIA
In case you've been too distracted by the Whitsundays or, really, the entire east coast of Australia, let us remind you: South Australia's beaches are some of the most beautiful in the country. Just an hour's drive from Adelaide brings you this little guesthouse on the Fleurieu Peninsula, with ocean views, panoramic sunsets and even some kangaroo pals. There's a loft bed to make you feel like you're really living the bohemian, perennially-on-vacay lifestyle (if only for a weekend), plus lovely facilities for such a teeny space, including an indoor fireplace for those cooler nights. The house is set on a large amount of land, filled with gumtrees and 'roos, so get your face up from the screen and taking in the beauty. Bonus: this little guy is just 3 kilometres from popular holiday spot Carrickalinga Beach and only a 30-minute drive from Mclaren Vale — one of Australia's top wine regions.

Hitting that work-life balance is hard. But shutting your laptop, splashing on some new BOSS BOTTLED Infinite and getting out in nature will help you seize the day and live your best life.
Top image: Whispers Tiny House.
Published on May 22, 2019 by Kat Hayes