TRAVEL & LEISURE
Ten Country Towns Near Brisbane You Should Day Trip to This Winter
These picturesque spots offer everything from ancient rainforests to cosy pubs with fireplaces.
in partnership with

Brisbane's winters aren't as harsh as those endured down south, but that doesn't mean that Queenslanders don't feel the cold. Within a couple of hours' drive of Brisbane there's a stack of country towns ideal for visiting when swimming and sunbathing are off the agenda.
Plan one of these short trips and you could be tucking into local produce beside roaring log fires, warming up with walks through ancient rainforest, meeting super-friendly locals in old-fashioned pubs and whale watching from some of the best vantage points on Australia's east coast.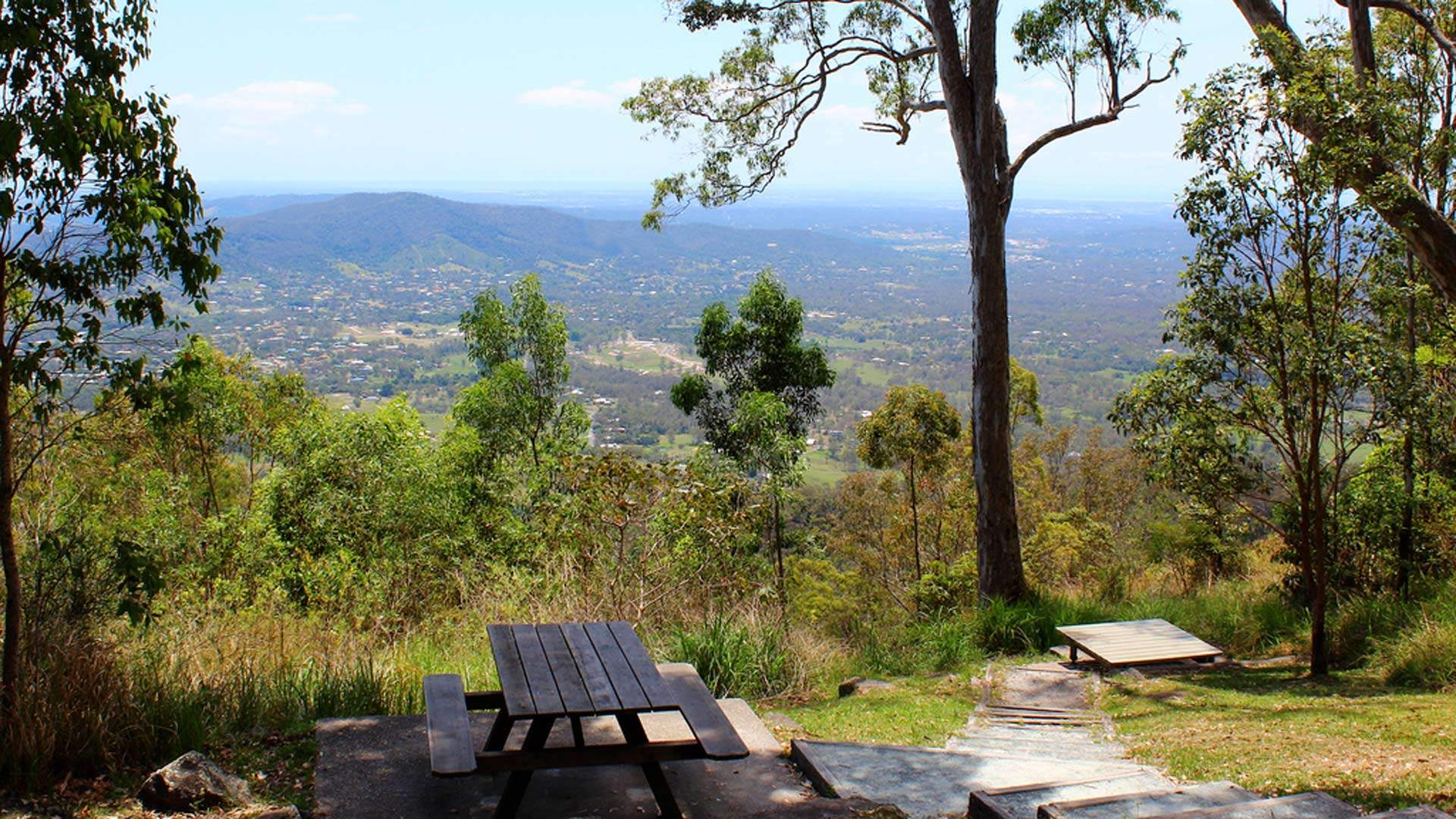 MOUNT NEBO
If you don't have much time, but desperately need a hit of fresh air to take you out of your mid-winter stupor, journey to Mount Nebo. This super-cute village lies just 45 minutes' drive west of Brisbane, at the southern end of the D'Aguilar Range. On the way, stop at Samford for brekkie at The Flying Nun Cafe, where you'll be tucking into potato and feta hash cakes with poached eggs, roasted carrot purée and chorizo crumb beneath the stained glass windows of a former church. When you hit the actual Mount Nebo, warm up with a rainforest walk, such as the one-kilometre Pitta Circuit or the eight-kilometre adventure taking in Jollys Lookout, before heading to Mount Glorious for a fireside lunch at Elm Haus Cafe.
How far? A 45-minute drive

TAMBORINE MOUNTAIN
Pack your scarf: winter on Tamborine Mountain, which is 530 metres above sea level, is noticeably cooler than in Brissie. If your day trip is an excuse for a feast, then book a table at Three Little Pigs Bar and Bistro. A stone fireplace takes care of central heating, while the chefs transform local produce into delectable dishes. Another lovely spot for lunch is among the log fires of Cedar Creek Estate Vineyard's Hamblin Room. Stay for a wine tasting, before rugging up to explore Tamborine Mountain's many walks, waterfalls and gardens.
How far? A one-hour drive

MARYVALE
Encircled with farmland, and perched on the edge of the Main Range National Park, Maryvale packs a lot of punch. In town, you'll come across the Maryvale Crown Hotel, built in 1912. If you're not careful, you might find yourself spending your whole day (and night) there; it's a proper, old-fashioned country pub, filled with friendly folks. Should you manage to get away, you'll find plenty to pique your curiosity around Maryvale, including the ancient rainforest and breathtaking lookouts of heritage-listed Main Range National Park, found five minutes' drive east from the pub.
How far? A two-hour drive


STANTHORPE
For a day trip that involves plenty of wine tasting, make Stanthorpe your destination. It's the gateway to the Granite Belt, which is developing quite the reputation for its experiments with alternative varieties. At Balancing Rock, you'll be trying a wild yeast syrah, and at Ballandean Estate, there's a range of unusual drops, including jacquez, a grape believed to have originated in North America and also known as black spanish. Prefer beer? Get your winter warmer at Granite Belt Brewery, with a chocolate porter. In between drinks, wander around Stanthorpe's delis and cafes, and be sure to visit Suttons Farm for homemade apple pie — it's a perfect wintry afternoon tea.
How far? A two-and-a-half-hour drive

MOUNT MEE
Another town where you can rise above winter is Mount Mee, which, like Mount Nebo, is part of the D'Aguilar Range, and lies around 75 minutes' drive northwest of Brisbane. Get your bearings and lift your spirits at Dahmongah/Mount Mee Lookout, which gives you panoramic views of Brisbane, the coastline to the east, and the Glasshouse Mountains to the west. Continue to soak up the mind-blowing scenery during lunch at Birches Restaurant. If time is on your side, then drive ten minutes' north to visit bohemian Woodford, famous for its huge annual folk festival, or stop by Dayboro on the way home, for idyllic countryside, cafes, breweries and wineries.
How far? A 75-minute drive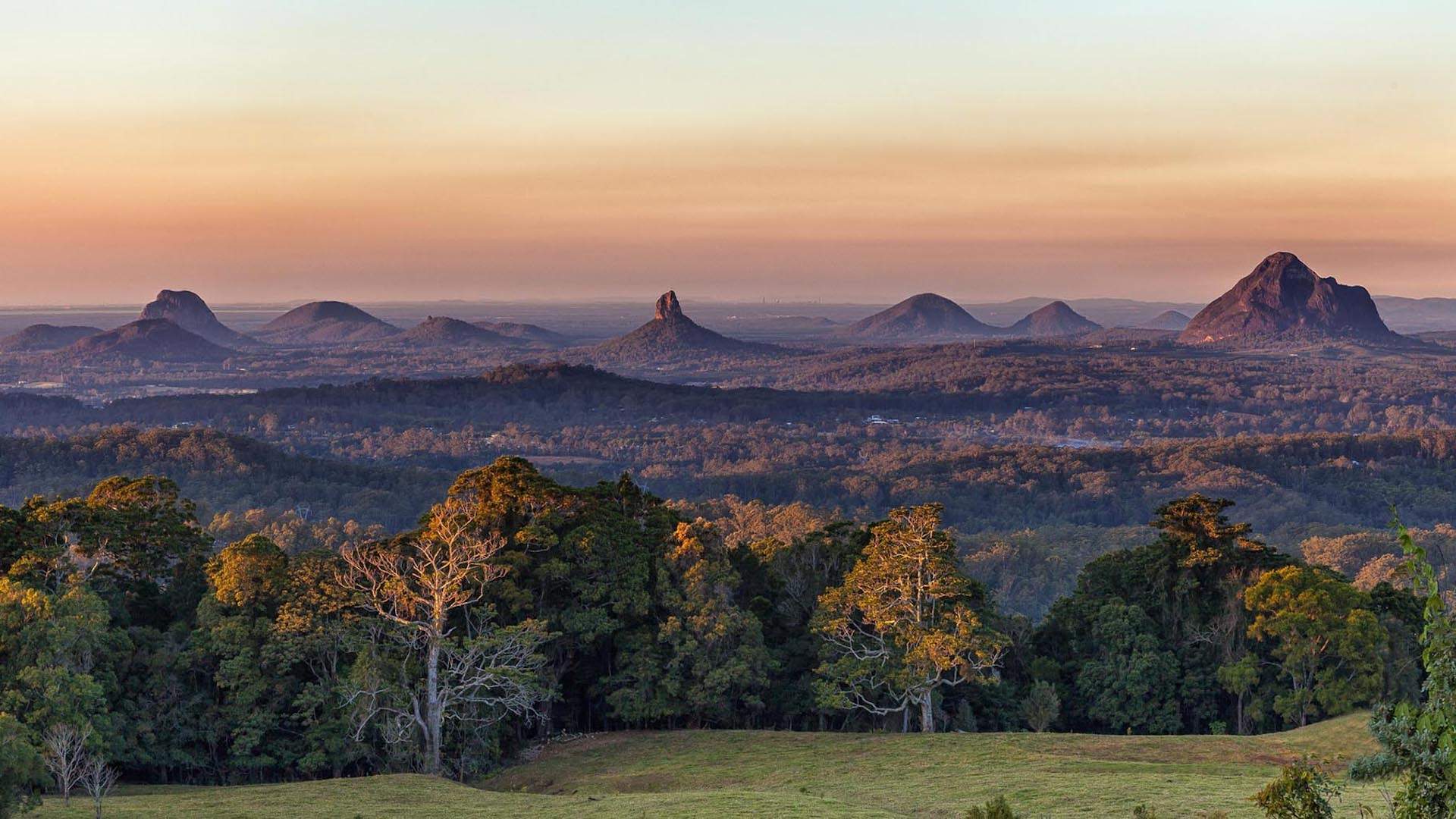 MALENY
Maleny, at 436 metres above sea level, affords magnificent views of the Glasshouse Mountains. Since the 1980s, it has been a magnet for artists, craftspeople, writers and musicians, who find inspiration in the dreamy landscapes. There's an abundance of cafes, dishing up wholesome, homemade fare — exactly what you want to be eating on a chilly day. Visit Maleny Food Co for gourmet cheese, Shotgun Espresso for comforting dishes, including spiced poached chicken broth, and Monicas Cafe, for hearty burgers and gourmet sangas made from organic produce.
How far? An 90-minute drive


BLACKBUTT
Home of the Blackbutt Avocado Festival (returning in September 2021), this historical settlement started out in the 1840s as a timber town. It must've been thirsty work because, in 1910, a population of 300 managed to keep five hotels open. These days, just one survives: the Radnor, which was built over a century ago. When you're done carousing with the locals, head to the Blackbutt Bakery to dig into a cracking pie, followed by a caramel snickers mallow crown (if you can get one — they sell out fast). Blackbutt is along the Brisbane Valley Rail Trail, the longest continuous rail trail in Australia, which travels for 134 kilometres from Ipswich to Yarraman. Definitely consider taking your bike.
How far? A two-hour drive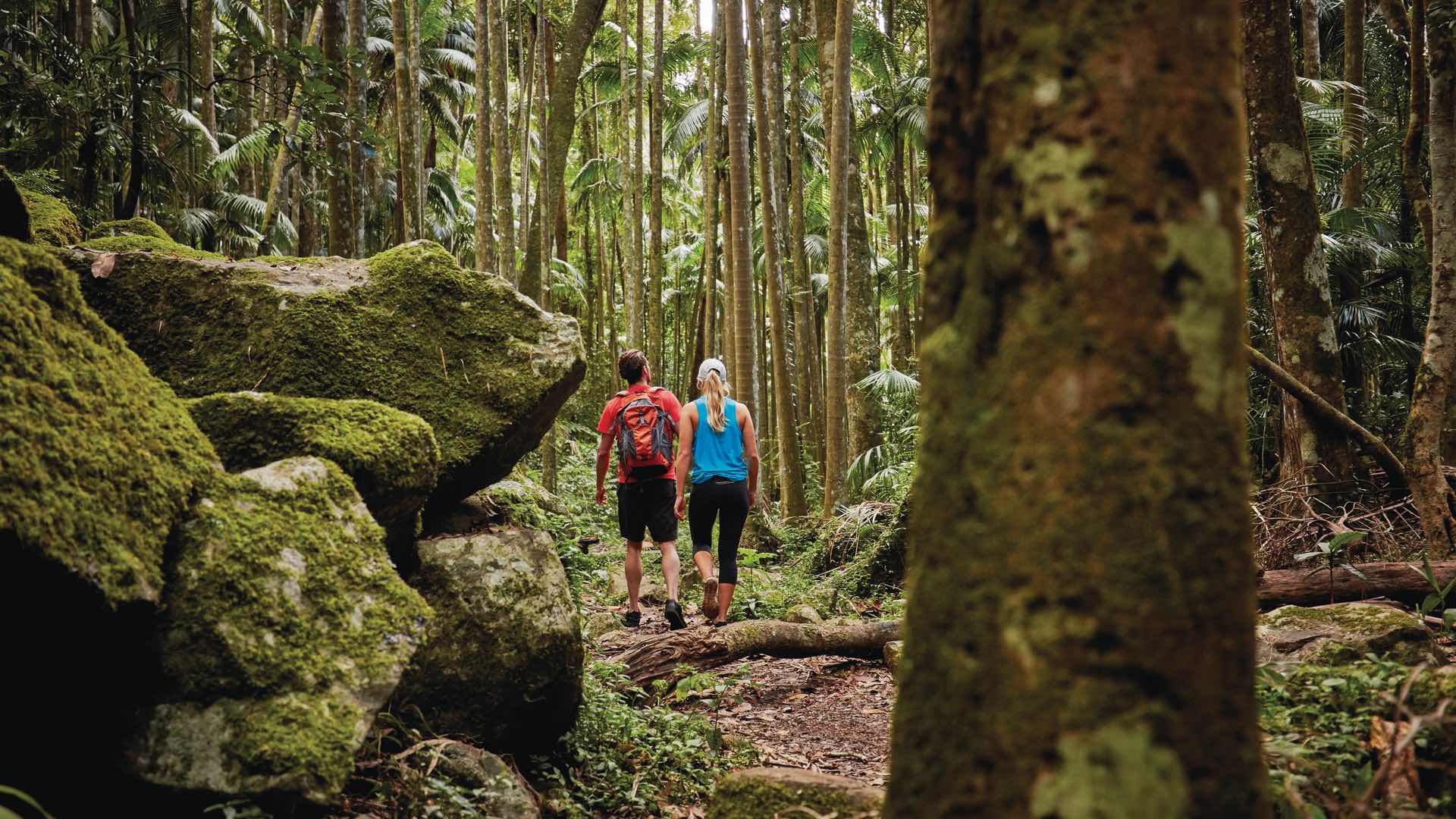 CANUNGRA
Canungra, which lies in the Gold Coast Hinterland, was born as a timber town in the 1800s. These days it's home to numerous artists and artisans. Step back in time with a beer at the Canungra Hotel, before wandering around art galleries and workshops. Running through the heart of them all is Canungra Creek, where, if you're lucky, you might spot a platypus. Go beyond town to visit cellar doors, including Albert River's grand Auchenflower House Billiard Room; O'Reilly's, where you're welcome to spend the afternoon picnicking with a gourmet hamper in hand; and Sarabah, to escape to vineyards and banish all thought of winter in the city.
How far? A one-hour drive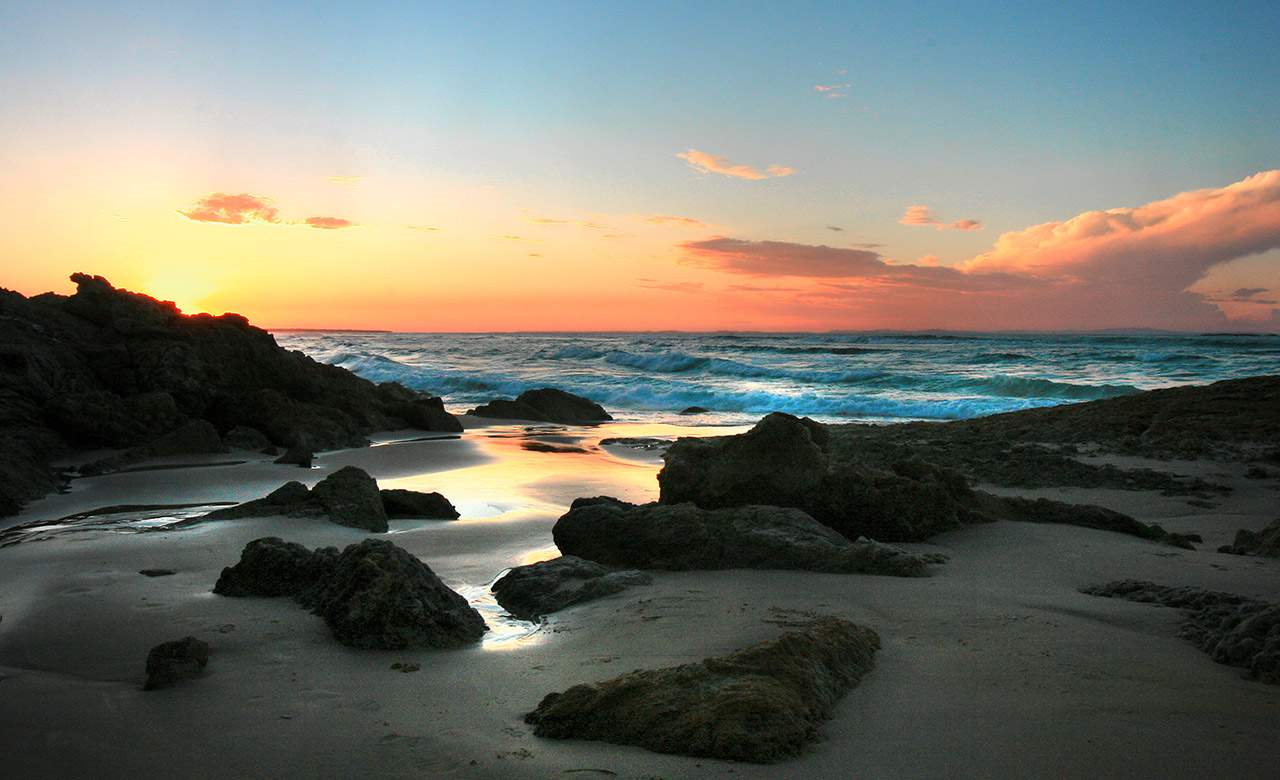 NORTH STRADBROKE ISLAND
North Stradbroke Island isn't exactly a country town, and you probably wouldn't normally associate it with winter, but bear with us. For a start, it's the closest place to Brisbane where you can go whale watching while keeping your feet firmly planted on the ground. What's more, the North Gorge Walk is considered one of the best spots in Australia for spotting humpbacks. Don't forget your binoculars. More reasons we love Straddie in the winter include the spectacular sunsets and the fact that you can explore as you please, without jostling sweaty summer crowds.
How far? A 50-minute drive plus a 45-minute ferry ride


NOOSA HEADS
Another day trip destination that involves whale watching is Noosa Heads, on the Sunshine Coast. When it comes to vantage points, you're spoilt for choice — try your luck at Main Beach, Sunshine Beach, Castaways Beach or while strolling along the stunning 11-kilometre coastal walk in Noosa National Park. It's even more breathtaking at sunset. Alternatively, climb aboard a whale watching tour and head out to sea. As at Straddie, you'll be able to spend your day soaking up Noosa's extraordinary natural beauty without battling hordes of sun-seekers.
How far? A two-hour drive

Top image: Tourism and Events Queensland
Published on May 21, 2021 by Jasmine Crittenden