TRAVEL & LEISURE
Ten Epic Mountains in Australia You Should Climb at Least Once in Your Life
Climb Kosciuszko, conquer Cradle Mountain and scale Mount Sonder for incredible views over the Aussie ocean, bush and desert.
Ten Epic Mountains in Australia You Should Climb at Least Once in Your Life
Climb Kosciuszko, conquer Cradle Mountain and scale Mount Sonder for incredible views over the Aussie ocean, bush and desert.
Need some perspective? Grab your hiking boots. There's no better way to get yourself out of your head (and your altitude) than a good old mountain climb. Australia's ranges might not have the height and ruggedness of the Himalayas, but they do have snow gums, wildflowers, seemingly infinite space and wallabies. Now that spring is here, the weather is ideal for conquering a peak or two. Start with these ten. Depending on where you live, you can knock them out on day trip, conquer one on a weekend away or plan a whole holiday around a climb.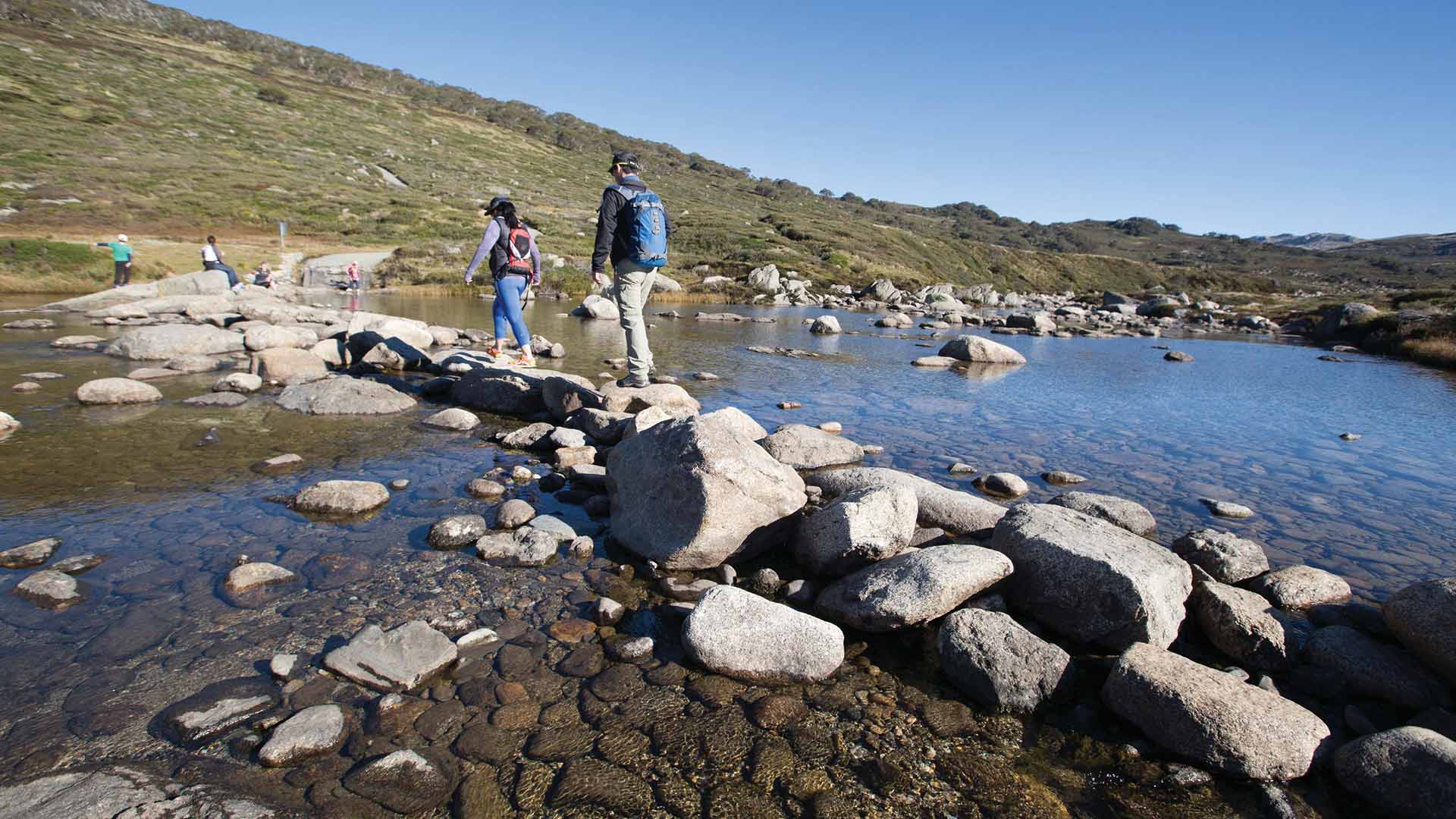 MOUNT KOSCIUSZKO, NSW
Start at the top. Mighty Mount Kosciuszko is the highest peak in Australia. You'll find its towering 2228 metres in the Kosciuszko National Park, around 500 kilometres southwest of Sydney. The most popular route follows the Old Summit Road for 18 kilometres, beginning at Charlotte's Pass. For a longer adventure, take the Main Range Walk, a 22-kilometre loop that takes in several impossibly blue glacial lakes. Either way, you'll find yourself surrounded by spectacular wilderness — and you'll end your journey looking down on Australia.

MOUNT GOWER ON LORD HOWE ISLAND, NSW
Perched 875 metres above the Tasman Sea on Lord Howe Island, the Mount Gower summit walk isn't just a mountain climb — it's a serious adrenalin rush. You'll need a guide, ropes and a helmet. The trail carries you 14 kilometres through the island's most inaccessible — and most beautiful — terrain, where you can expect to meet endangered creatures and unusual plants. The peak is covered in a seemingly enchanted forest, filled with mosses and ferns, soundtracked by the sounds of waves crashing nearly a kilometre below. Lord Howe Island is just under two hours' flight east of Sydney and is one of Australia's best islands for a holiday.

CRADLE MOUNTAIN, TASMANIA
From a distance, Cradle Mountain, which is perched on the shores of Dove Lake, looks like a challenge fit for Frodo. And it pretty much is. The 13-kilometre circuit includes quite a bit of rock scrambling and boulder hopping among ancient rainforest, rushing streams and wild creatures. Get to the summit and your efforts will be well rewarded with absolutely magical vistas of Cradle Mountain-Lake Saint Clair National Park, part of the Tasmanian Wilderness World Heritage Area. Finish off your holiday with a food-centric road trip or continue hiking along the iconic Overland Track, an 65-kilometre six-day adventure.

BURRINGURRAH (MOUNT AUGUSTUS), WESTERN AUSTRALIA
Burringurrah (also known as Mount Augustus) isn't just a mountain, but an island, too. Like Uluru, it's an inselberg — that is, an island mountain, a single rock formation that rises dramatically from surrounding plains. But you can climb it. The tough 12-kilometre return trail spends most of its time among native shrubs and flowers, including wattle, cassias and and figworts, so the views are panoramic. As the day passes, you'll notice the changing light bringing various colours out of the landscape. If this walk sounds too difficult, there are plenty of shorter trails to choose from. However, you can only climb during the day, as the Wajarri people — Burringurrah's traditional custodians — request that no one climb the inselberg after dark.

MOUNT SONDER, NORTHERN TERRITORY
There are two ways to master Mount Sonder: as the finale of the 223-kilometre Larapinta Trail, or as a day trip. Its rich red peak, at 1380 metres, is the highest point in the West MacDonnell Ranges and the fourth highest mountain in the Northern Territory. The trail is a steady climb, leading eventually to high slopes dotted with round-leafed mallee and native pines. Keep your eyes down for grey-headed honeyeaters and desert mice and up for wedge-tailed eagles and peregrine falcons.

MOUNT WILLIAM, VICTORIA
Another peak that's good for newbie mountain goats is Mount William. At 1167 metres, it's the highest peak in The Grampians, which lie around 250 kilometres northwest of Melbourne. You can drive much of the way to the base, so the walk is just 45 minutes. For minimum effort, the rewards are major: the summit affords mind blowing views of The Grampians' many plateaus, rocks formations and swathes of wilderness.

RAWNSLEY BLUFF, SOUTH AUSTRALIA
There are numerous peaks to conquer in the Flinders Ranges, a mountain range 200 kilometres north of Adelaide. St Mary's Peak is the highest, but since the Adnyamathanha people have requested that walkers keep away from the summit, considerate hikers have been pursuing other possibilities. One of these is Rawnsley Bluff. The 11-kilometre return trail immerses you in a spectacular arid landscape, dotted with wildflowers, roos and emus. At the top, prepare for breathtaking panoramas of Wilpena Pound, the Elder Range and the Flinders Ranges.

MOUNT BOGONG, VICTORIA
Mount Bogong, at 1986 metres high, is the highest mountain in Victoria and the eighth highest in Australia. It's in the Alpine National Park, around five hours northeast of Melbourne. The most walked route is the Staircase Spur, a steep, eight-kilometre climb to the summit. You'll pass through a forest of peppermint gums before reaching Bivouac Hut, which marks the halfway point. Beyond, snow gums line the way, opening onto a rocky ridge and then Bogong's summit: an open plateau that affords 360 degree views of the High Country. If you're looking for a cosy campsite, head to Cleve Cole Hut.

DIDTHUL (PIGEON HOUSE MOUNTAIN), NSW
If you're keen to climb, but don't have the skills and fitness of a pro mountaineer, make tracks to Didthul (Pigeon House Mountain), which lies around three hours south of Sydney in the Budawang National Park. Unlike many of the other peaks on this list, it's a relatively easy trail. The five-kilometre return walk is clearly marked and ends in awe-inspiring views of wilderness plus coast: on a good day, you'll see as far north as Jervis Bay and as far south as Bermagui.

MOUNT BARNEY, QUEENSLAND
24 million years ago, the Focal Peak Shield Volcano erupted, leaving behind a collection of craggy peaks, including Mount Barney, which, at 1,351 metres, is the second highest mountain in South East Queensland. You'll find it within the Scenic Rim, a land of ancient rainforest, rugged scenery and little villages, in the Gold Coast Hinterland. Fair warning: the trail is challenging and tricky to navigate at times, so you'll want some bush walking experience under your belt. Should you make it to the top, you'll be feasting your eyes on epic sights, including uninterrupted views of fellow volcanic peaks, Mt Maroon, Mt Ernest and Mt Lindesay.

Top image: Cradle Mountain by Jason Charles Hill/Tourism Tasmania. 
Published on September 28, 2018 by Jasmine Crittenden