TRAVEL & LEISURE
The Best Rivers for Swimming in Near Brisbane
Skip the surf and overcrowded sands of Queensland's beaches in favour of floating upstream.
The Best Rivers for Swimming in Near Brisbane
Skip the surf and overcrowded sands of Queensland's beaches in favour of floating upstream.
---
Dolphins might've been spotted swimming in the Brisbane River, but its muddy waters are pretty off-putting for humans. There's a growing call to clean up the waterway, but with those plans still in the pipeline — and the summer heat fast rising — you don't have time to wait. So we've scoped out some rivers near the city where you can take a dip, in clean, healthy waters. Whether you want to hang out underneath a tumbling waterfall or picnic among tranquil rock pools, there's a cool, watery escape for you here.
Something to note: this year's bushfire season is particularly dangerous. Before you head on an out-of-town adventure, check RFS Queensland and Queensland Parks and Wildlife Service websites and heed any alerts and warnings.

CEDAR CREEK, NEAR SAMFORD
Found just 45 minutes' drive northwest of Brisbane, Cedar Creek is probably the best known spot on the list. This pretty, cheerful river starts high up in Mount Glorious, before gradually winding its way to Moreton Bay. The loveliest spot for a dip is Cedar Creek Falls, near Samford village. Park your car at the end of the road, then rock-hop for around 20 minutes to get there. You'll discover deep, clear, freshwater pools encircled with large boulders and shady trees. Pack a picnic: you'll want to kick back and relax for a while.


BUNYA CROSSING RESERVE, THE HILLS DISTRICT
When you're short on time, make tracks to Bunya Crossing Reserve swimming hole, which you'll find on a bend in the South Pine River, just 25 minutes' from the CBD. Yep, it's more or less in the suburbs. There are a bunch of spots of various depths, letting you completely submerge yourself or stick to paddling in the shallows. Note that you could be sharing the water with ducks, fish and turtles. In the surrounding bushland — part of Bunyaville State Forest Park — walking trails are home to possums, wallabies and bush turkeys. You're welcome to fish and there are gas barbies, too, where you can fire up your catch while it's still super-fresh.

CURRUMBIN CREEK, GOLD COAST HINTERLAND
No doubt your usual motivation for road tripping to the Gold Coast is beaches. But, drive inland from Currumbin Beach for just 15 minutes, and you'll reach the enchanting rock pools of Currumbin Creek, nestled into Currumbin Valley. Set against steep rock faces, dotted with rope swings and ledges, they look like something out of an Enid Blyton adventure novel. Should you work up an appetite, nick across the road to the Currumbin Farm Community Campus for snacks and drinks. Currumbin Rock Pools are an hour and 40 minutes' drive south of Brisbane.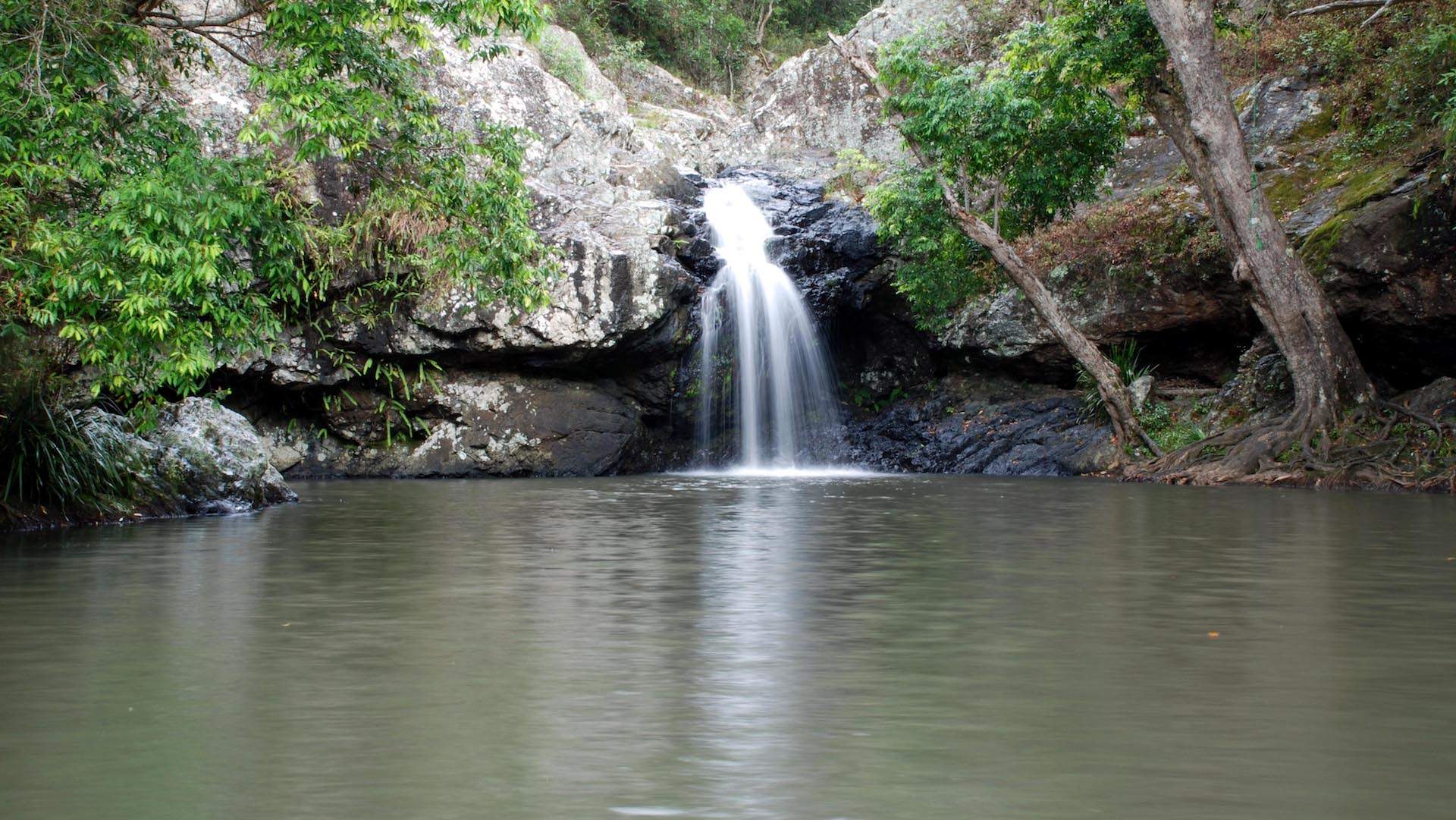 GARDNERS FALLS, MALENY
At some point along the shady, ferny walking trail to Gardners Falls, the real world slips away. This dreamy rock pool feels like it could be a portal to some fairytale alter-universe. It's hidden in the Sunshine Coast Hinterland, just five minutes' drive from Maleny – and 90 minutes' drive north of Brisbane. There's a variety of swimming holes, from shallow spots where you can get your feet wet to an expansive pool beneath a waterfall. Spend your terrestrial time relaxing on rock platforms or go exploring in nearby bushland.

LOWER PORTALS, MOUNT BARNEY NATIONAL PARK
Note: As of December 19, 2019, Mount Barney National Park was closed due to an active bushfire. Please check here for updates regarding the park's reopening.
To make the most out of this river swim, leave early. It's a 1.5-hour drive southwest of Brisbane, then a 3.6-kilometre walk along a steep and rocky trail. That might sound like an effort, but the cool, lush gully known as Lower Portals are worth it – especially on a steaming hot day in Brisbane. You'll discover a string of crystal-clear rock pools, separated by enormous boulders. Fair warning: the water is usually rather cold, even in the middle of summer. There's a campsite with room for just three tents and a permit is mandatory.
Published on December 19, 2019 by Jasmine Crittenden