TRAVEL & LEISURE
Five Waterfalls Near Brisbane You Can Swim Under
There are pools. There are beaches. There's running under the sprinklers. But for the most picture-perfect summer swim, you'll be wanting one of these.
Five Waterfalls Near Brisbane You Can Swim Under
There are pools. There are beaches. There's running under the sprinklers. But for the most picture-perfect summer swim, you'll be wanting one of these.
---
We hate to say it, but TLC were wrong — sometimes, you should go chasing waterfalls. What can beat splashing about in a natural swimming pool, underneath streams of rushing water? In the middle of summer or during the remainder of Queensland's typically warm months, not much.
Living in the city may limit your opportunities to enjoy such an aquatic experience, but delights await if you're willing to go for a drive. Here are five watering holes that are more than just the rivers and the lakes that you're used to, all a short road trip from Brisbane.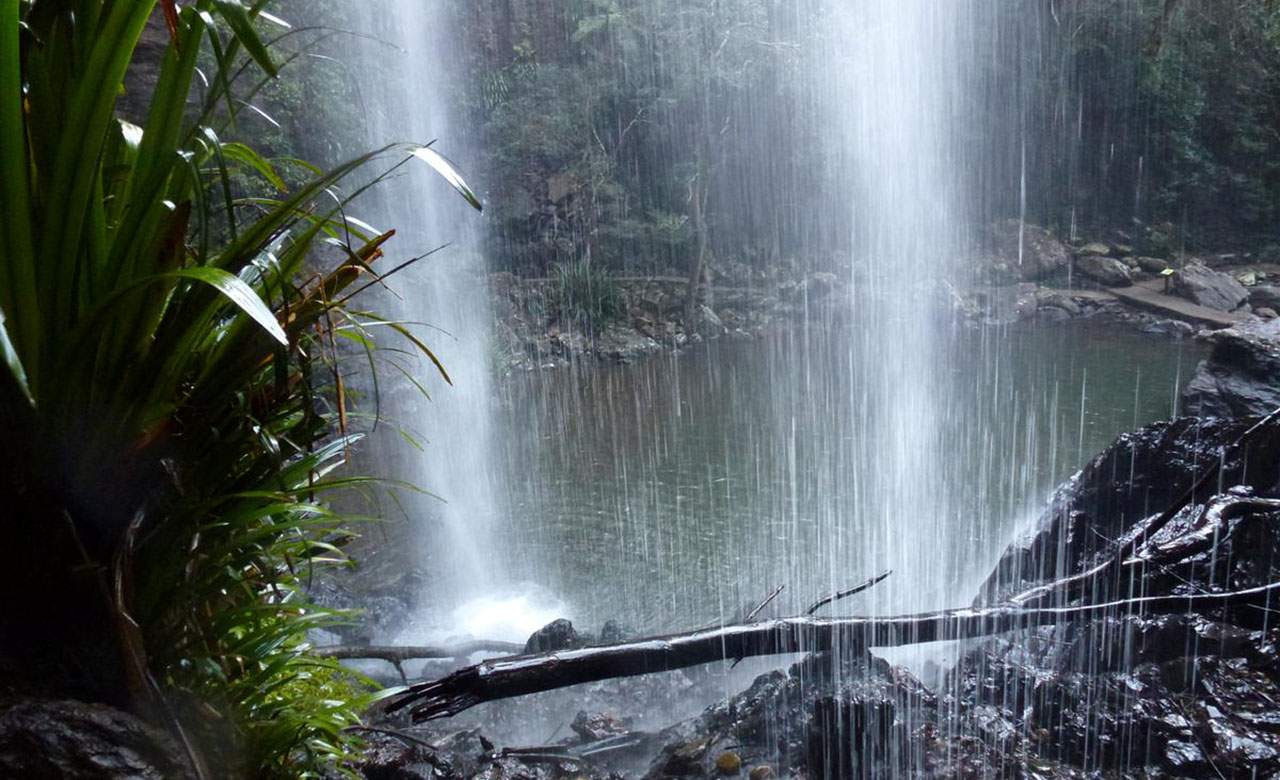 TWIN FALLS, SPRINGBROOK NATIONAL PARK
About 100 kilometres south of Brisbane, including a winding drive off of the Pacific Motorway, Springbrook National Park is large, sprawling and home to many a spot to wet your feet. Since its famous Natural Bridge closed its waters to swimmers due to dangerous conditions, Twin Falls has become the park's new favourite place to take a dip. And what a place it is. Walking a 4 kilometre circuit will get you there and back, hiking over rocks, tramping through jungle-like landscape and even stepping behind the waterfalls in question. Once you see them, you won't be able to resist jumping in.
Image: Springbrook Canyon Cottages.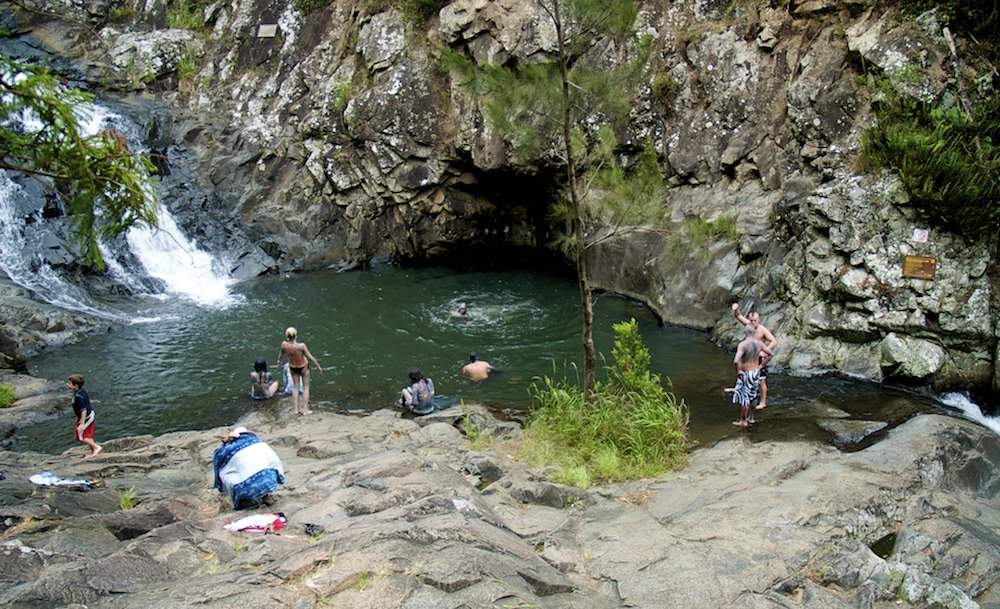 CEDAR CREEK FALLS, TAMBORINE MOUNTAIN
In the heart of the Gold Coast Hinterland, Tamborine Mountain's most popular spot can be enjoyed from above or below — or both. After venturing along Mt Tamborine Road and then Cedar Creek Falls Road, a 30 minute return walk each way takes you either up to the lookout, where you can see the falls cascading into rock pools, or down to the only swimming holes on the mountain. When the water is really flowing, you won't be making a splash yourself – you'll feel like you're in a natural hot tub, without the heat. Picnic tables are nearby for those making a day of it, but be warned: if the weather is nice, they'll be busy.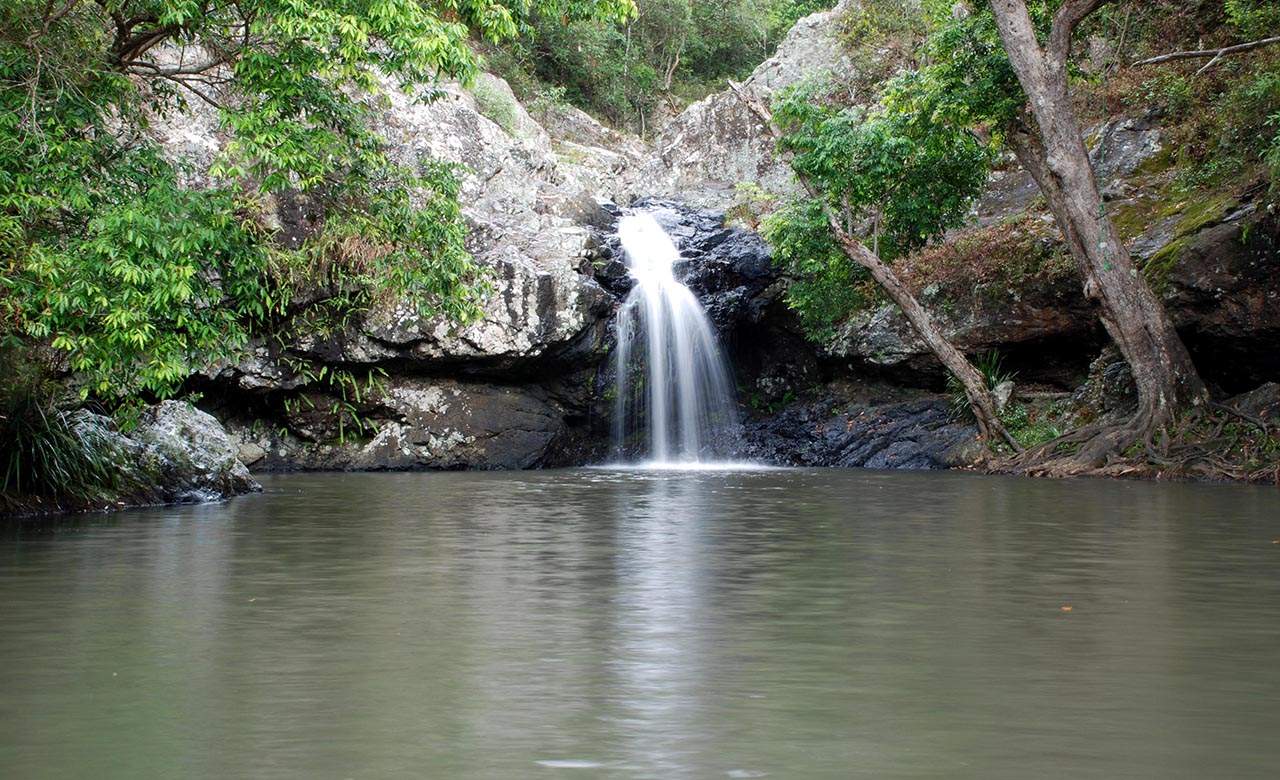 KONDALILLA FALLS, MONTVILLE
Heading north, the Sunshine Coast Hinterland boasts many a treasure — and not just of the wintry variety. You might be more familiar with making the journey up the Bruce Highway and past Landsborough to Montville to snuggle up in the cold, but you can also frolic in the nearby swimming spots when it is warmer. Located within Kondalilla National Park on the Blackall Range, the falls are named for an Aboriginal word meaning rushing waters. In that, they deliver. The main attraction plunges 90 metres down into a rainforest valley, but after a steep 45-minute walk to loftier heights you'll find a rock pool with its own 4 metre falls, as well as an adjacent picnic area.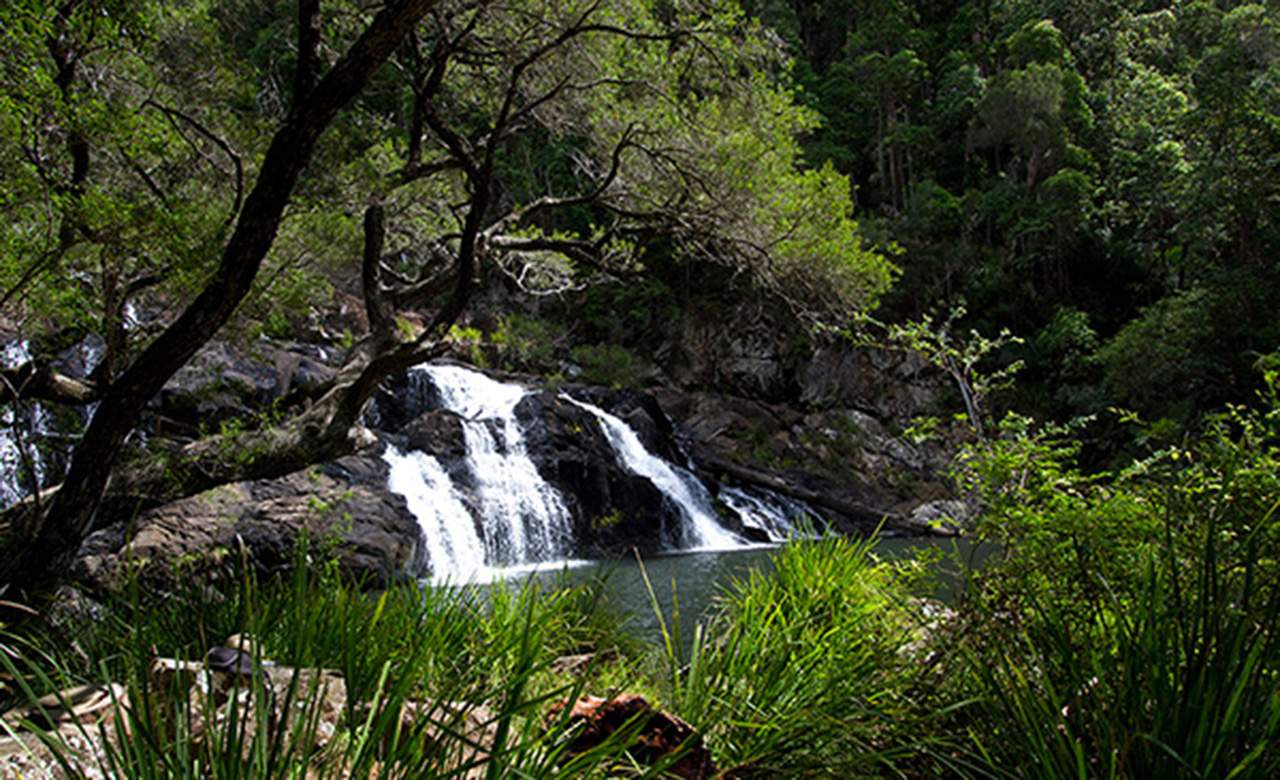 BOOLOUMBA FALLS, CONONDALE NATIONAL PARK
Montville isn't the only quaint mountainous town with gushing streams close by, with Maleny yet again matching its neighbour for exciting experiences. You'll take a similar 90-minute drive up from Brisbane, this time heading towards Kenilworth until you get to Conondale. Alas, from there it is not quite as easy, unless you find a 1.5 kilometre walk from the designated picnic area a piece of cake. Even if that sounds like a fair trek, traversing the distance is worth it to reach the falls, accompanying rock pools and the sights of The Breadknife rock formation. Just look out for leeches.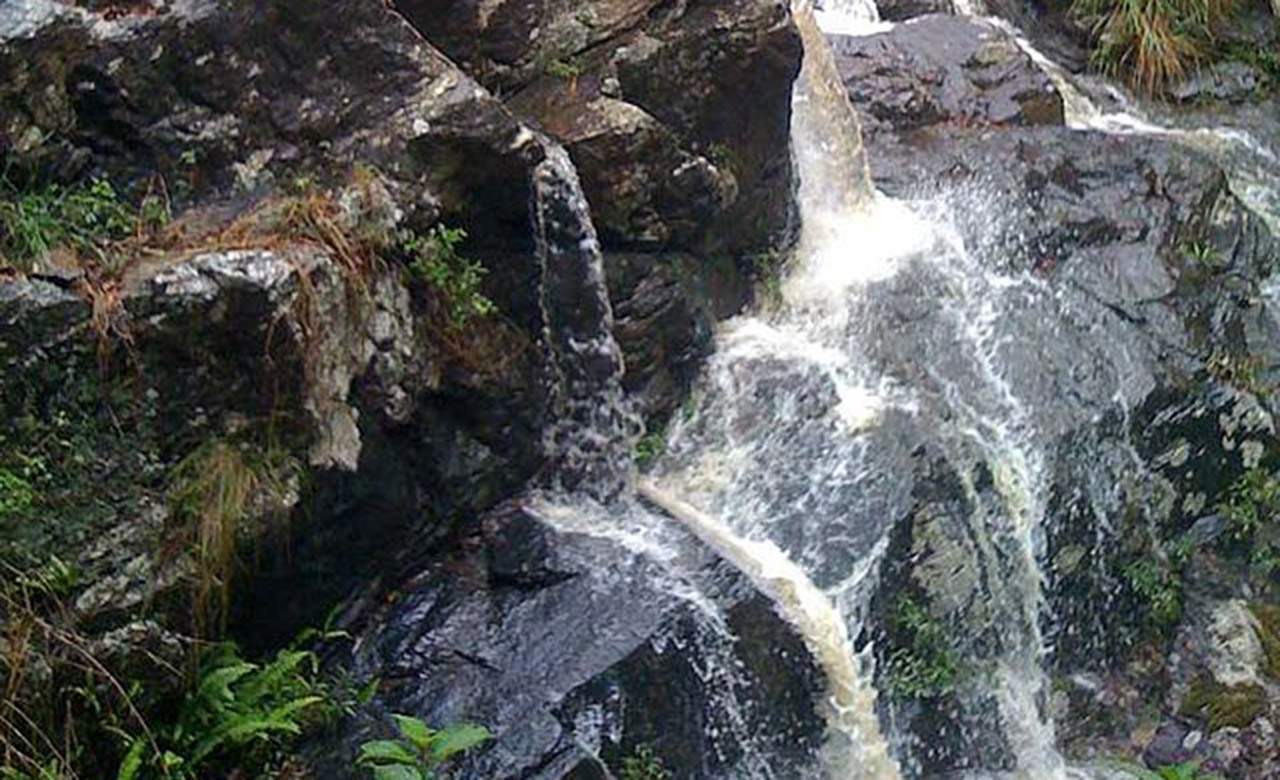 JC SLAUGHTER FALLS AND SIMPSON FALLS, MT COOT-THA
What's this — waterfalls in Brisbane? And a stone's throw out of the CBD, at that? Yes, it is true. The one catch: it depends on how much rain there has been lately. If wet weather has cast shadows over the city (which is fairly likely during summer, let's be honest), there might just be enough water for these falls to live up to their name. Both JC Slaughter Falls and Simpsons Falls are ideal for barbecues and picnics, regardless of recent precipitation levels. Plus, from the lookout to the botanic gardens, there are plenty of other things to do while you're at Mount Coot-tha.

Published on January 30, 2015 by Sarah Ward