TRAVEL & LEISURE
The Big Lollipop Is Australia's Latest Oversized Tourist Attraction
It's also the world's largest freestanding lollipop, and it's located outside a candy store.
From big pineapples to big melons to big lobsters, Australia is rather fond of a giant-sized statue. We're also the home of the big banana, big avocado, big bench and big guitar, as well as the big merino, big prawn and big potato. The big list of Big Things not only keeps going on, but has just scored a new addition, too — the Big Lollipop.
To answer the obvious question: no, it isn't edible. Sorry to dash your Willy Wonka-style dreams. You will be able to stand beneath the new towering sweet and lick the real thing, however, because it happens to be located outside — where else? — a candy store.
Just unveiled on Sunday, September 8 in Ravensthorpe in Western Australia — around 530 kilometres southeast of Perth, if you're planning your next road trip — the Big Lollipop stands next to the pink-hued Yummylicious Candy Shack. Owner Belinda McHarg came up with the idea two years back, as a way to help boost tourism when the local nickel mine closed down for the second time, and now this oversized candy has become a reality.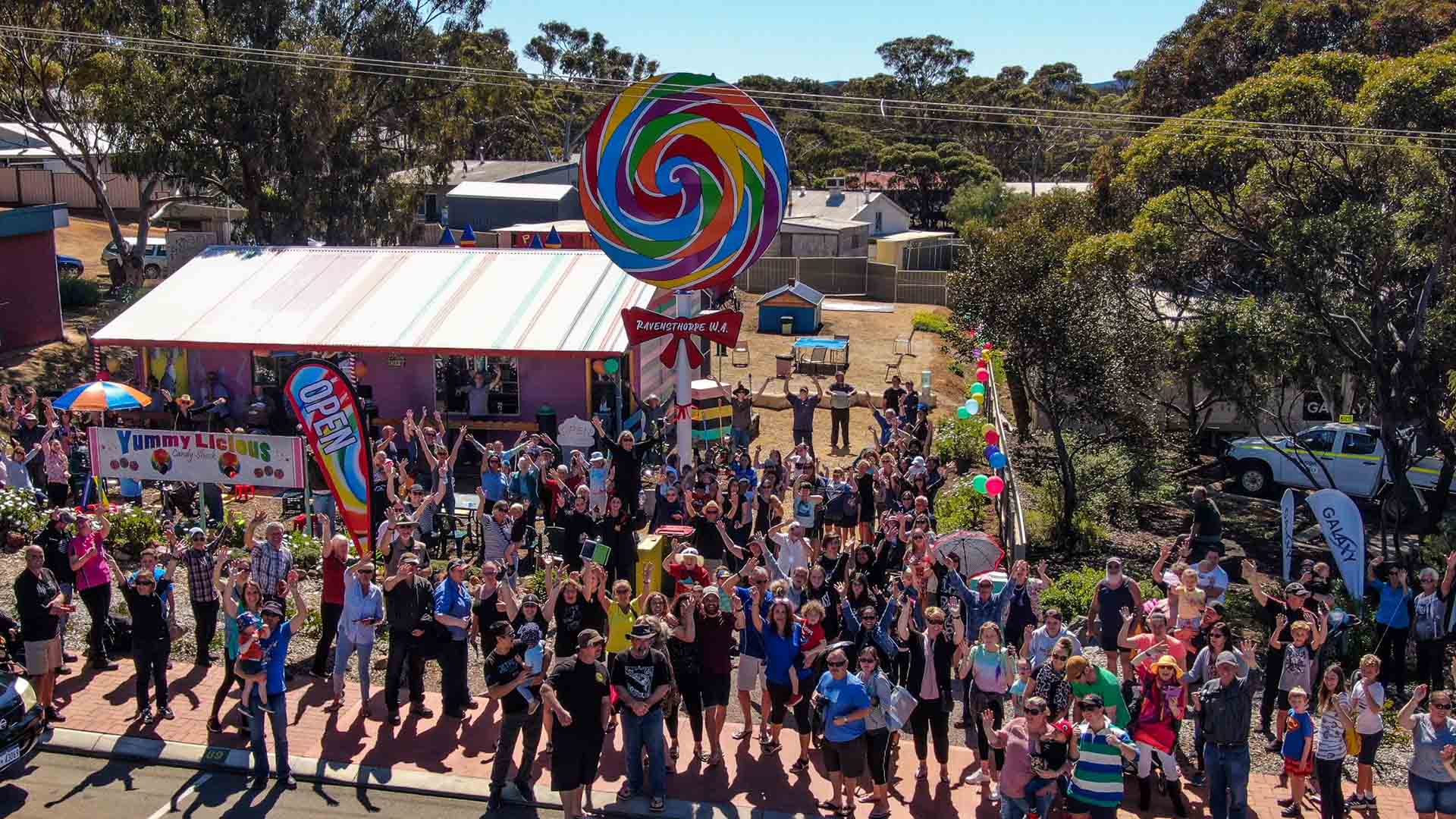 Sure, everyone has seen a hefty edible lollipop before. When you were a kid, you probably convinced your parents to buy you one, couldn't get through it all, hid the rest under the couch and raced around the house in a sugar-fuelled high. We've all been there. This giant version definitely can't be eaten, and it really is giant, standing over seven metres tall (7.4 to be exact) and measuring four metres wide. It's also the world's largest freestanding lollipop, because if you're going to go big, you may as well go all the way.
Painted a rainbow of colours, as plenty of smaller-sized lollipops tend to be, the Big Lollipop was launched to mark Yummylicious' third anniversary.
The Big Lollipop is located outside the Yummylicious Candy Shack, 89 Morgans Street, Ravensthorpe, Western Australia. The store is open from 10am–5pm daily — for more information, visit the shop's Facebook page.
Images: Dana Fairhead.
Published on September 09, 2019 by Sarah Ward