Taron Egerton-Starring True-Crime Miniseries 'Black Bird' Is Your Chilling and Riveting Next Binge
Based on the real-life quest to keep a serial killer in prison, the entire six-episode Apple TV+ series is available to stream now.
Twisted true tales getting the TV treatment: that's 2022 in a nutshell. The trend isn't confined to this year alone, it won't go away once December 31 hits, and it isn't new or a passing fad; however, the list of crime dramas based on IRL events has just kept growing in recent months. From Pam & Tommy to Inventing Anna, and The Dropout through to The Girl From Plainville and The Staircase, one case after another has been filling streaming queues — and that's just to name a few such shows. Still, even with such a hefty roster reaching screens of late, Black Bird grabs attention. It also boasts an immediately compelling premise: the quest to get a serial killer to confess to his crimes to ensure that he'll never be released from prison.
Now available to stream in full via Apple TV+, the six-episode miniseries focuses on Jimmy Keene (Taron Egerton, Rocketman), a former star high-school footballer turned drug dealer. A charmer — with women and in his illicit line of work alike — he's happy in his narcotics-financed life, even if facing hairy situations comes with the territory. But that all crumbles when he's arrested in a sting, and has zero chance of escaping jail time. Offered a plea bargain with the promise of a five-year sentence (four with parole) by prosecutor Edmund Beaumont (Robert Wisdom, Barry), he takes the deal on the advice of his former cop dad Big Jim (the late Ray Liotta, The Many Saints of Newark), but ends up getting ten anyway.
Seven months afterwards, still fuming at Beaumont and worried about  Big Jim's ailing health, Keene is given the opportunity to go free. The catch: as put to him by FBI agent Lauren McCauley (Sepideh Moafi, The Killing of Two Lovers), he needs to transfer to a different maximum-security prison out of state, where the most vicious and violent are held, and where hellish conditions await. While there, he'll have to befriend suspected kidnapper and murderer Larry Hall (Paul Walter Hauser, Cruella), an avid civil war reenactment attendee. Hall is accused of abducting, raping and killing up to 14 girls young teenage girls, possibly more, and Keene's job is to get him to reveal where he's buried his victims' bodies.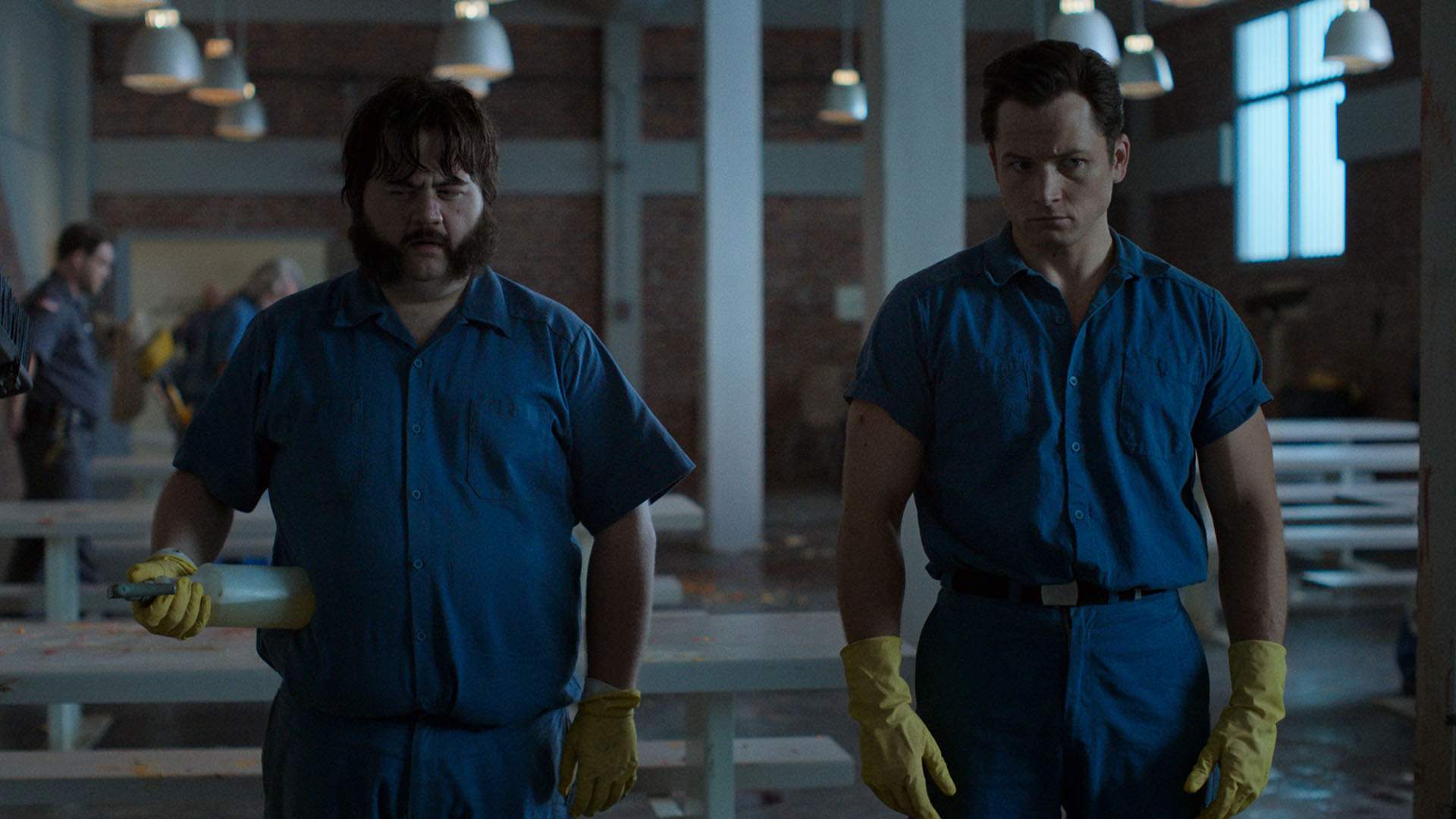 The first instalment of Black Bird is unsurprisingly instantly gripping, charting Keene's downfall, the out-of-ordinary situation put to him and the police investigation into one Hall's suspected victims. When Jessica Roach (debutant Laney Stiebing) is found dead, Vermilion County sheriff's investigator Brian Miller (Greg Kinnear, Crisis) tracks the clues to the man considered a harmless weirdo by those who know him — and given that includes local law enforcement in Hall's own hometown, the cop's intuition is dismissed. The slow-spoken, sideburn-sporting person of interest, and grave-digger's son, also has a history of confessing to murders, then routinely recanting and proving unreliable. Accordingly, Hall is labelled an attention-seeking serial confessor, but Miller isn't convinced that's all there is to his story.
Black Bird takes its tale from Keene's autobiographical novel In with the Devil: a Fallen Hero, a Serial Killer, and a Dangerous Bargain for Redemption, making two things plain from the outset for those who don't know the tale. Clearly, he'll have to get to the point where there's a memoir to write — and he'll have to be alive to do so. But that doesn't make the series any less compelling, tense or chilling; in fact, the wild and riveting details just keep on coming in each episode. With Dennis Lehane, author of Gone Baby Gone, Mystic River and Shutter Island, as its behind-the-scenes driving force, Black Bird dives deep into its complicated scenario as Keene starts to truly realise that his own life and freedom aren't the most important things at stake.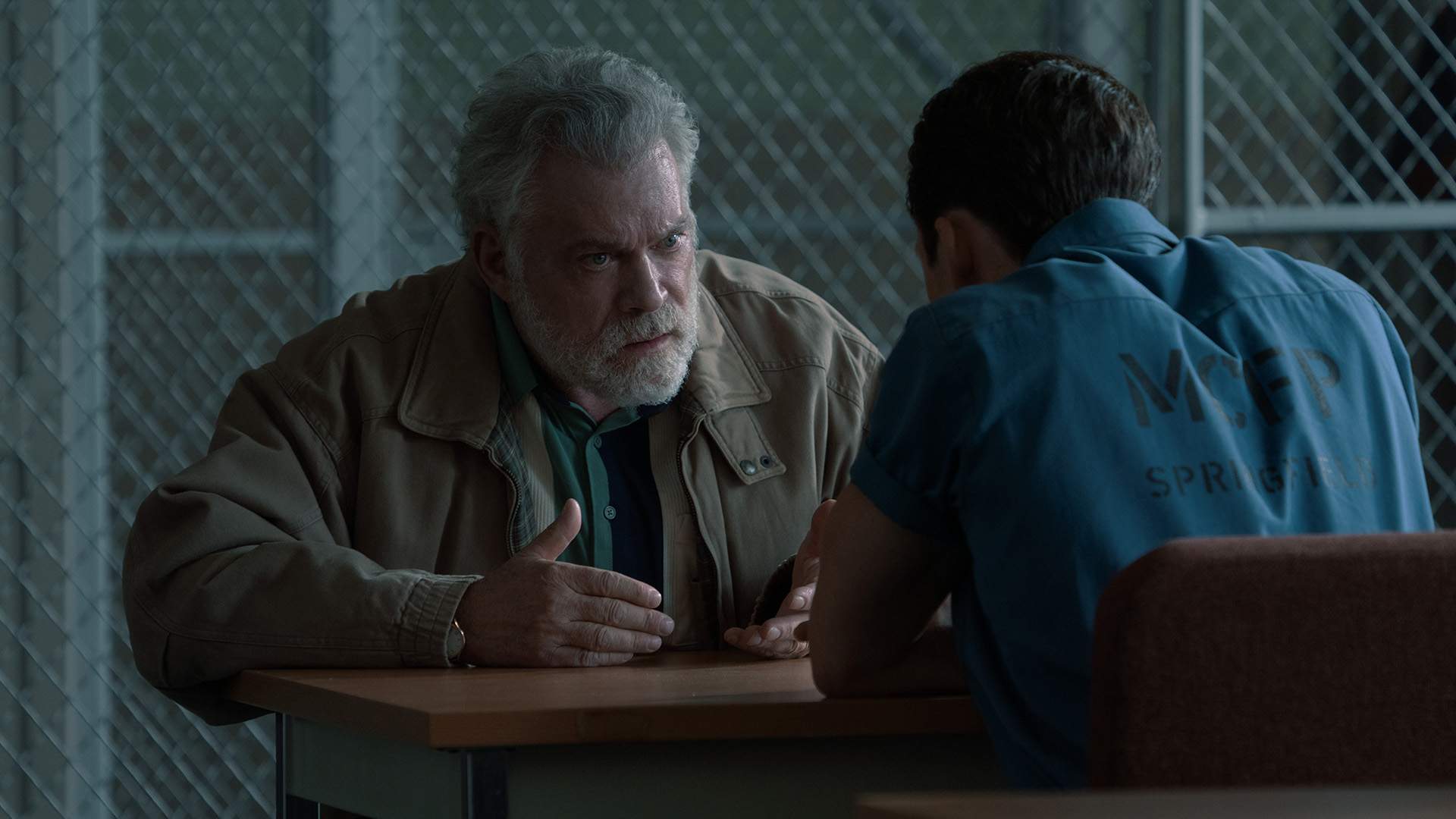 A prison drama, a catch-a-killer game of cat and mouse, a psychological thriller, a redemption journey: Black Bird ticks all of these boxes. As Keene strikes up a tentative friendship with the reluctant Hall, the series also features a sadistic guard (Joe Williamson, All Rise) extorting Keene for cash under threat of blowing his cover, plus a mafia old-timer (Tony Amendola, Father Stu) with his own veiled threats — and Miller and McCauley's continued investigations, especially after one of Hall's appeals is granted. It covers Hall's relationship with his handsome twin brother Gary (Jake McLaughlin, Quantico) as well, and Big Jim's guilt over failing to stop Jimmy ending up behind bars, which compounds his health woes. These all add emotion and detail, but if Lehane had solely focused Black Bird's grey-hued frames on its two central inmates, the series wouldn't have been any less powerful.
At its core, this is an intense two-hander about two men laying bare their true natures in thorny, anxiety-dripping back and forths, and Keene learning the cost of getting his life back in the process. In a weighty acting showcase, the look on Egerton's face frequently says it all in; Keene will always have to live with what he discovers from Larry, with crimes like these impossible to forget. 2022 marks a decade since Egerton's first on-screen credit as a then-23 year old, and he's rarely been out of the cinematic spotlight since — but Black Bird is his most mature performance yet. The confidence that's so crucial to his work in the Kingsman movies dissipates the further that Keene is plunged into a nightmare. The adaptability that worked so well for Egerton as he hopped through Eddie the Eagle, Robin Hood and Rocketman also comes in handy. It's a multi-faceted turn, and it's fantastic.
Black Bird is home to excellent performances all round, each one proving pivotal. Liotta makes a firm imprint as Big Jim, and is particularly heartbreaking to watch after the actor's sudden passing in May. Hauser's menacing efforts won't ever be forgotten, either — and ranks among the great on-screen serial killer portrayals. That too is a packed field, but from the sluggish, wheezy voice through to the distinctive casual-yet-taught body language, his time as Hall is that unnerving, that raw, and that eerily extraordinary. If you were to come across the actor in-character after watching the series, you'd want to run the other way. That, and feeling echoes of Mindhunter as well, couldn't be more of a compliment.
Check out the trailer for Black Bird below:
Black Bird streams via Apple TV+.
Concrete Playground Trips
Book unique getaways and adventures dreamed up by our editors