Patricia Piccinini's Latest Exhibition Is Taking Over Flinders Street Station Ballroom Until January
Initially part of this year's Rising Festival, 'A Miracle Constantly Repeated' fills the long-closed venue with Piccinini's distinctive creatures.
If you've ever seen Patricia Piccinini's Skywhale in full flight — or you've been lucky enough to catch a glimpse of its recent companion, Skywhalepapa — you won't have forgotten it. As these billowing balloons float across the sky, they bring the acclaimed artist's otherworldly creatures, and her fascination with the weird, the wonderful, and the lines between reality and science fiction, into the biggest arena there is. If you've been to one of her indoor exhibitions, you will have experienced the same feelings of awe, curiosity and intrigue, too. That's what her work conjures up with its hyper-real yet exaggerated forms that straddle the gap between art and science.
Piccinini's latest such example: A Miracle Constantly Repeated, which was originally announced as part of this year's brand-new Rising Festival. The Melbourne arts event was impacted by Victoria's late-May lockdown; however, fans of Piccinini's inimitable art can now check out her current exhibition until Sunday, January 16, 2022.
As announced today, Thursday, July 29, Rising has extended A Miracle Constantly Repeated's season for obvious reasons (since the exhibition opened, Melbourne has been through not just one lockdown, but two). When it has been able to welcome in punters so far, the Piccinini showcase has proven popular, attracting close to 20,000 visitors already.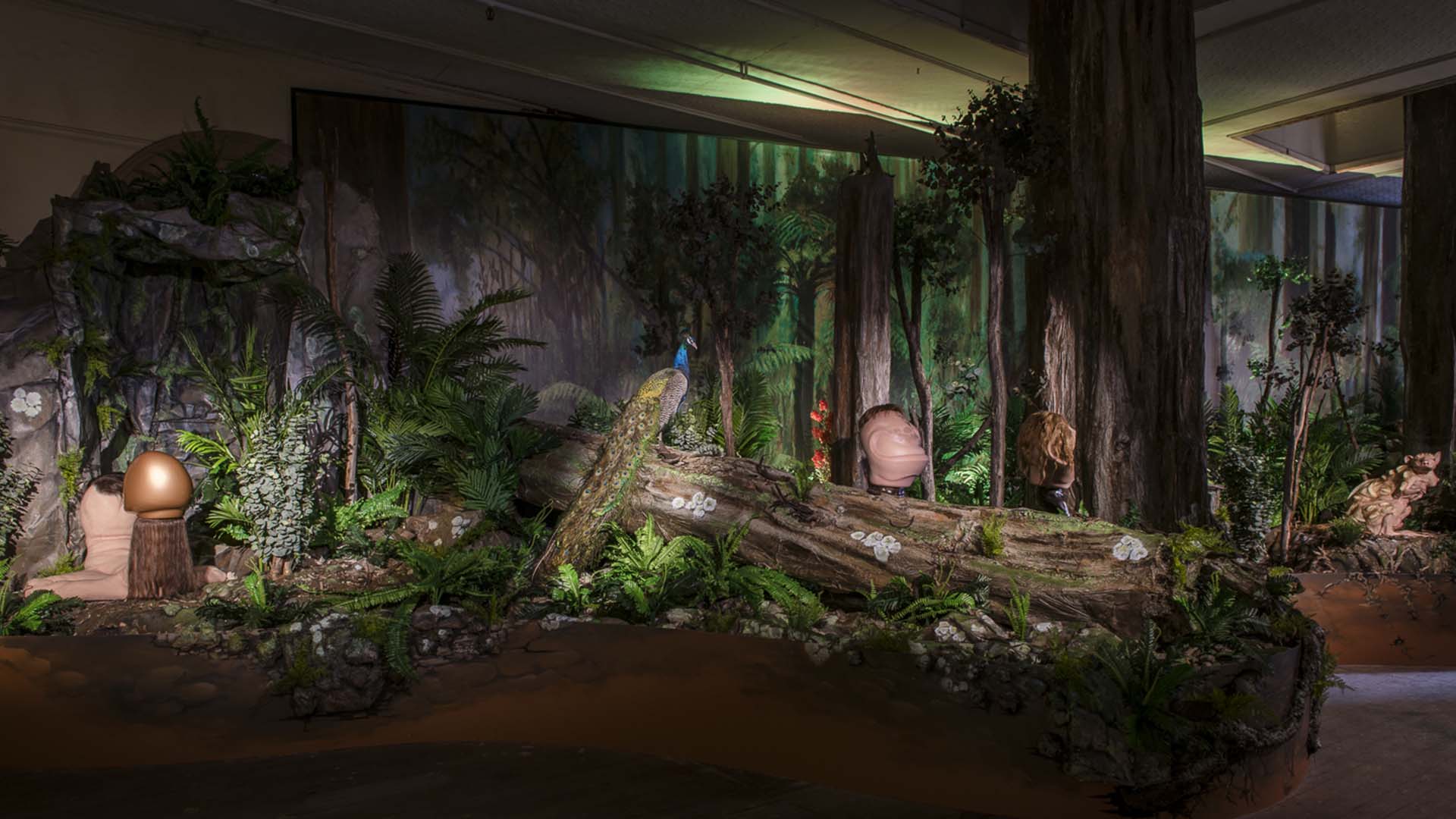 It's easy to see why folks have been flocking to the artist's latest creation. All of her signature touches are evident in its rooms of twisted flowers and eccentric bodies — and, whenever you walk through the former, it really does feel like stepping onto another planet. A Miracle Constantly Repeated also marks the Melbourne creative's first hometown show in almost two decades. And, it sprawls across the usually closed Flinders Street Station Ballroom.
The venue hasn't been open to the public in more than 30 years, in fact. Now, both the ballroom and nine other surrounding rooms play host to Piccinini's pieces. This overall exhibition is designed to showcase the site, too, with the artist responding to the space as an organic environment. Accordingly, expect to see her critters placed amongst peeling paint and sat next to left-behind filing cabinets.
Announcing the extension — a welcome kind of extension for once, given how often that term applies to lockdowns and restrictions of late — Rising Co-Artistic Director Hannah Fox said that "in an era marked by cancellations, shortened seasons and sudden ends, we are so delighted by the degree to which audiences have embraced this stunning exhibition by one of Australia's foremost artists."
She continued: "that we are able to extend the season for A Miracle Constantly Repeated, ensuring more people get to experience this incredible space, while continuing to draw visitors back to the CBD as the city continues to recover and rebuild, is all the more gratifying."
Tickets to visit the exhibition from Wednesday, September 1 onwards will go on sale at 10am on Friday, July 30 — and attendees can also listen to a personal tour from Piccinini, via an audio guide, as they wander through the space.
Patricia Piccinini's A Miracle Constantly Repeated is on display at Flinders Street Station Ballroom, Melbourne, until Sunday, January 16, 2022. Tickets for dates from Wednesday, September 1 onwards will go on sale at 10am on Friday, July 30.
Images: Eugene Hyland.
Concrete Playground Trips
Book unique getaways and adventures dreamed up by our editors