Melbourne Bars with Games and Activities for When You Want to Do More Than Just Sit Around and Drink
Sip a Shiraz over Scrabble or polish off a pot with a game of pool.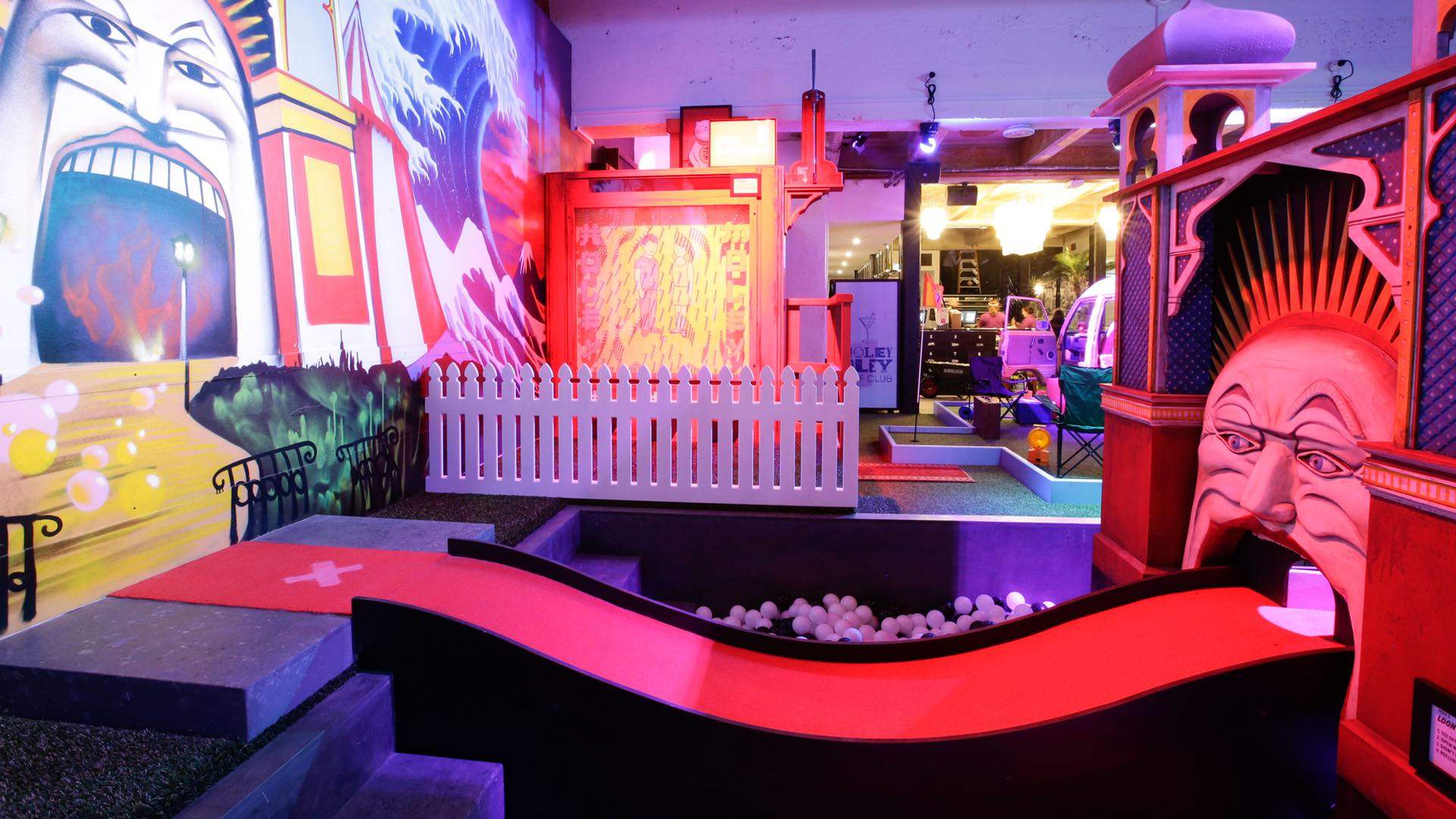 Going for a bev is one of life's simple pleasures, and the best bit is that you don't need much more that some good mates and a great atmosphere. But sometimes you want to take it to the next level — do something other than just sit around and drink. If the crazy response to the opening of Melbourne's new mini-golf bar is anything to go by, Melburnians are crying out for venues to offer more than just a cosy corner and great craft on-tap. So from bocce to arcade games to ping pong and cheap games of pool, this is where you can combine your quaffing with some quality activities.
Food & Drink

A cosy neighbourhood cheese and wine bar, with a well-stocked online store to match.

Food & Drink

Fancy a game or two of Street Fighter, Mario Kart or even Time Crisis with your cocktails?

Food & Drink

A retrofuturistic brew bar with 25 taps and a leafy, heated beer garden.

Food & Drink

This two-storey dive bar and urban winery is located in Preston.

Food & Drink

This giant, very OTT brewery bar is like a boozy theme park you'll never want to leave.

Food & Drink

The Melbourne brewing powerhouse started out life in this Abbotsford warehouse — it's worth a visit for a couple of beers and some pizza.

Food & Drink

One of Richmond's oldest and most iconic pubs, just across the road from all the sporting action.

Food & Drink

A 70s-themes karaoke bar from the Holey Moley crew.

Food & Drink

This Carlisle Street institution boasts 19 taps, two fireplaces and an indoor bocce court to boot.

Food & Drink

You go-to for pizza and prosecco in the King Valley.

Food & Drink

This vineyard has an underground cellar door and a lovely deck with views over the Macedon Ranges.

Food & Drink

A rock 'n' roll Chinatown dive bar serving up free gigs and towering burgers.

Food & Drink

This cosy little wine bar is stocked with second-hand books and board games to keep you entertained while you quaff.

Food & Drink

A circus-themed arcade bar from the Holey Moley crew complete with bowling, dodgems and colourful cocktails.

Food & Drink

A sleek weekend-only cocktail bar above the Retreat Hotel.

Food & Drink

An adults-only arcade bar offering vintage games, prizes and alcoholic bubble tea until 3am.

Food & Drink

Glide in and grab a pint or dance away the night in this classic Richmond bar.

Food & Drink

There's nothing common about this pub, from an ice-skating rink to raging fire pit, it's full of surprises.

Food & Drink

A Lygon Street institution has been transformed into a sleek late-night Italian bar and eatery.

Travel & Leisure

Forget Throwback Thursday — this bar is conjuring the nostalgic feels on Fridays.

Food & Drink

A Japanese biker gang-themed joint with Mario Kart battles, karaoke rooms and a dry ice spa.

Food & Drink

Abbotsford's no-frills neighbourhood warehouse bar.

Food & Drink

A casual Collingwood warehouse bar connected to Backwoods Gallery.

Food & Drink

A Prahran bar sporting a pool table, Buffalo wings and an extensive back bar of hard-to-find American booze.

Food & Drink

Your local better watch out — The Rooks Return threatens to take its place.

Food & Drink

A Preston brewpub doing one-litre cans of beer.

Food & Drink

Fitzroy's retro arcade bar with Donkey Kong-themed cocktails, American tinnies and all the Street Fighter II you can play.

Food & Drink

Drink tinnies, down burgers, dance and play pool in Leonard's lounge room-like bar.

Food & Drink

Toast your outsides by the fireplace, while warming your insides with any of 100 different beers.

Food & Drink

The new neighbour set to elevate the dining scene of Preston.

Food & Drink

Play bocce in summer or cosy up with a glass of wine in winter at this High Street stalwart.

Food & Drink

Prahran's late-night bar slinging pizzas till 3am.

Food & Drink

With a strict 'no dickheads' policy (that they take very seriously), it really is about drinking better, not more.

Food & Drink

A purveyor of fine drinks and good times, what Mr Wow is selling, we are happy to be buying.
Tap and select
Add to Home Screen
to access Concrete Playground easily next time.
x