Code Black Coffee
With freshly roasted coffee beans you can't go wrong, but it's the food menu is where this Brunswick roasting house goes oh-so-right.
Coffee savants may be able to smell the roasting of beans from Sydney Road, but the Code Black warehouse front doesn't give as much away. The industrial-sized frosted sliding door may only be open a crack and, if there's no one sipping a latte out front, passers-by may be forgiven for thinking it's closed. But, inside, the place is big and bustling — like Wonka's chocolate factory for the caffeine addicted.
Code Black doesn't just make your coffee, but they personally source the beans and roast them in-house. Opening earlier this year, they've joined to Melbourne's burgeoning local roasting community. The guys see the process right through from beginning to end — from farm to cup — which is something rather nice to consider as that last bit of espresso lingers on your lips.
The warehouse space is much longer than first anticipated, and surprisingly light considering the sleek black fit out, concrete floor and black exposed brick walls. With communal seating and tables for two, locals stop by for a quick fix or extended stay any day of the week.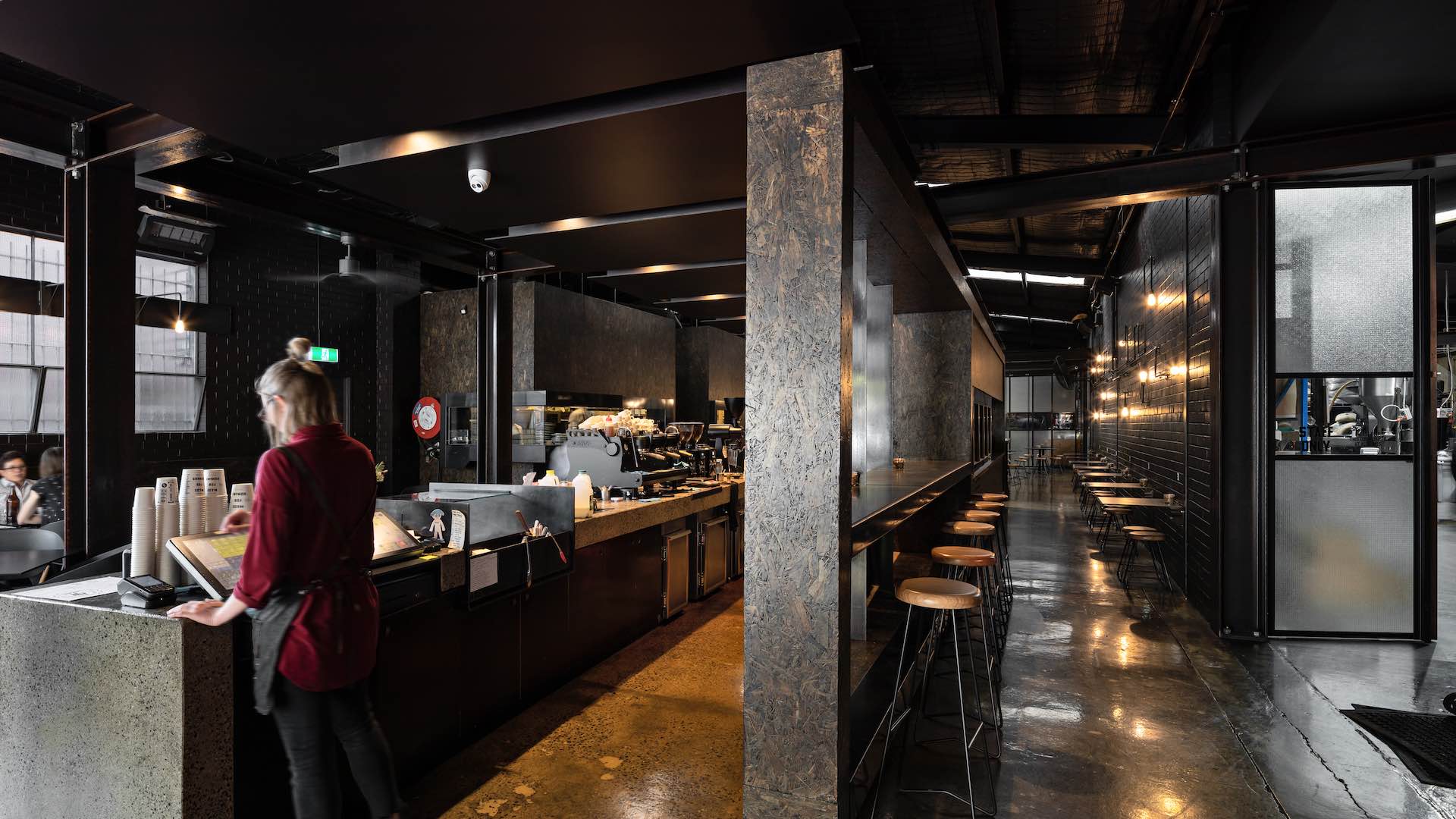 Coffee is, of course, the main game here. Their seasonal blend ($3.80) is always sharp and — if you choose a cup of single origin ($4.30) — expect freshly roasted beans from anywhere from Guatemala to Brazil, Rwanda or Costa Rica.
But, in a suburb where single origin cup isn't too hard to find, Code Black Coffee sets itself apart with a brunch menu just as incredible as the coffee they roast. Both sweet and savoury are covered, as well as some notable vegetarian and gluten free options. The breakfast cous cous steamed with fruit juice and served with nuts, berries and coconut milk ($13.90) is as exotic as it sounds, but the broccoli, almond and chia fritters with corn salsa, coriander, avocado, poached egg ($16.90) is a highlight of the menu.
From 11am seasonal salads and sandwiches are ready to order for lunch — it's worth noting that chef Laura Neville won the title of Australia's Best Sandwich last year — and the counter display of cakes are hard to ignore post-meal.
At Code Black coffee is most certainly the name of the game, but this roasting house matches its brew with a brunch menu like no other. Who says you can't have it all?
Images: Supplied
Food & Drink

Friday, April 22 - Saturday, October 22

Bridge Road Brewers Cardboard Bar

Food & Drink

Monday, March 7 - Sunday, May 29

The Mill Brewery

Food & Drink

Monday, May 9 - Sunday, July 31

Fonda restaurants across Melbourne