TRAVEL & LEISURE
This Website Helps You Easily Find You and Your Mate's 15-Kilometre Bubble Crossover
Picnics are allowed, the travel radius has expanded to 15 kilometres, and this'll handy website will help you plan out where to head.
Since 11.59pm on Tuesday, September 28, Melburnians under the state's sixth lockdown have been able to venture a little further from home. That's when a new travel radius came into effect, allowing you to head 15 kilometres away to shop for essentials, exercise and enjoy outdoor social interaction with your mates.
So, you now have more room to play with. And, you'll want to get quickly acquainted with that 15-kilometre bubble — and your friends' bubbles, too. Because hanging out with your pals outdoors is permitted as long as it's just you and one other person, or up to five adults from two households (plus their dependents) if you and your friends are fully vaxxed with both doses of the COVID-19 vaccine, you'll need to work out where these bigger bubbles overlap as well.
Thankfully, there's an easy way to calculate exactly where you can partake in those government-approved picnics, thanks to the familiar COVID five-kilometre overlap finder website. Just change the radius to 15 kilometres, and it'll remain a saviour, as it has during past lockdowns — and under the five-kilometre and ten-kilometre rules during this one.
The website remains simple but effective, promising pain-free planning of those meet-ups. Simply plug in your home address and that of your mate, and it'll display each of your 15-kilometre radiuses highlighted on the map. And, the all-important crossover zone shows all the places where you're allowed to meet up. Just don't forget to abide by all the other rules in effect.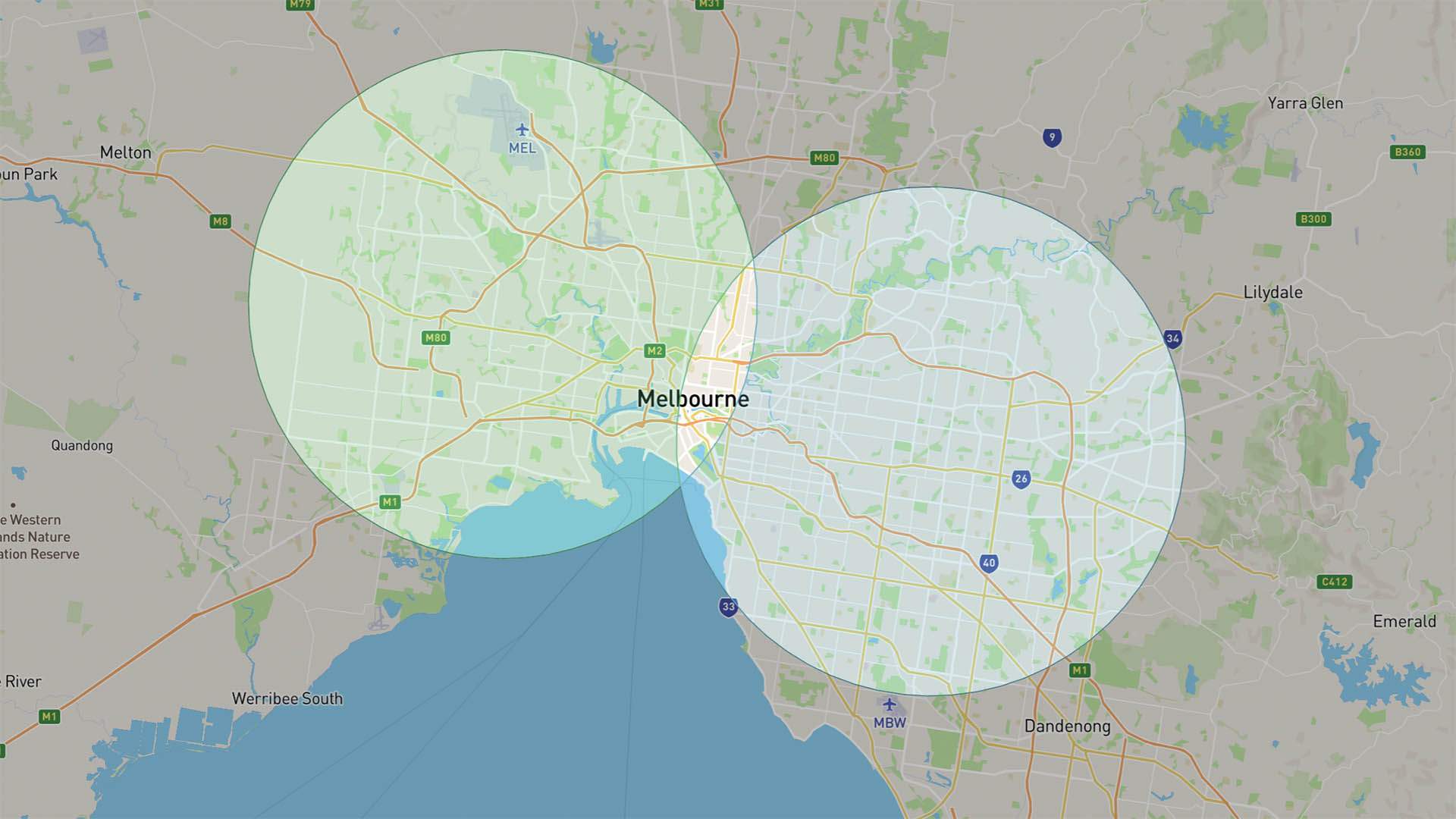 To work out where you and your mate can exercise together, head to the COVID overlap finder website. For more information about the rules currently in place in Melbourne, head to the Victorian Department of Health website. 
Published on September 30, 2021 by Concrete Playground