Ten Melbourne Date Ideas That Aren't Just 'Grabbing a Drink'
You're not boring, so don't be boring — make your next date one to remember.
Whether you're lining up those dates as fast as your finger can swipe right or you and your significant other have a semi-regular date night locked in, the whole dating game can start to feel a bit monotonous after a while. Sure, a casual drink at your local bar might be an easy go-to, but it doesn't exactly stir that adventurous spirit.
Luckily, this city of ours is brimming with non-boring date opportunities. We've hunted down some of its best for you to try next time you're given planning privileges. Opt for one of these and you're pretty much guaranteed a good time… even if the company turns out to be the opposite.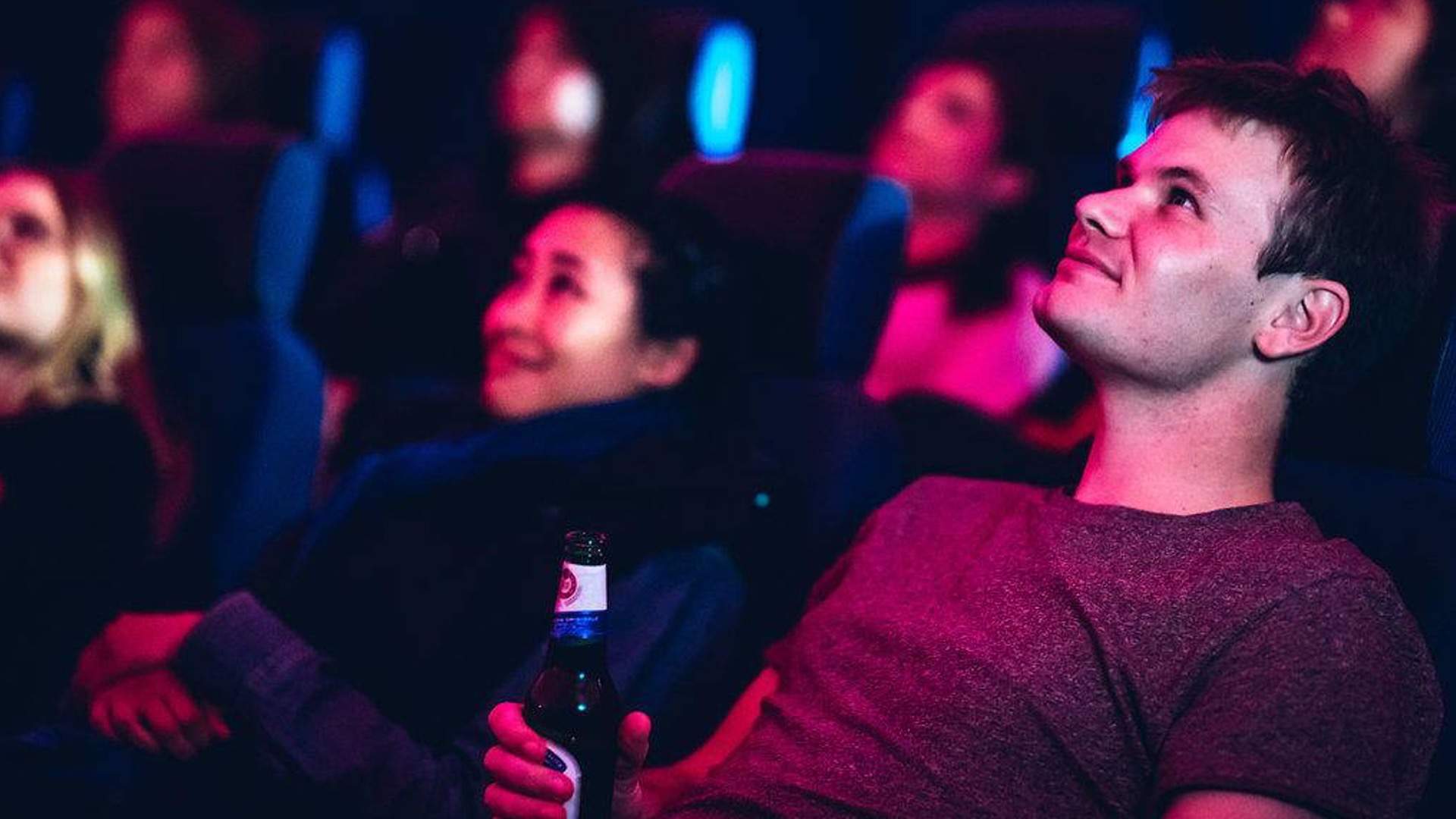 GET STARRY-EYED AT THE PLANETARIUM
Is there anything more romantic than gazing at a glittering, star-filled sky with your fave squeeze by your side? If that tickles your date night fancy, book yourselves in for one of the adults-only Friday night sessions that Scienceworks Planetarium hosts regularly throughout the year.
Each night usually features two full-dome film screenings — one aimed at astronomy junkies and followed by a presenter-led exploration of the night sky (7.30pm), and the other promising a trip into the unknown by way of a space-focused art film (9.30pm). There's also a fully stocked bar so you can team your astronomical travels with a tipple or two.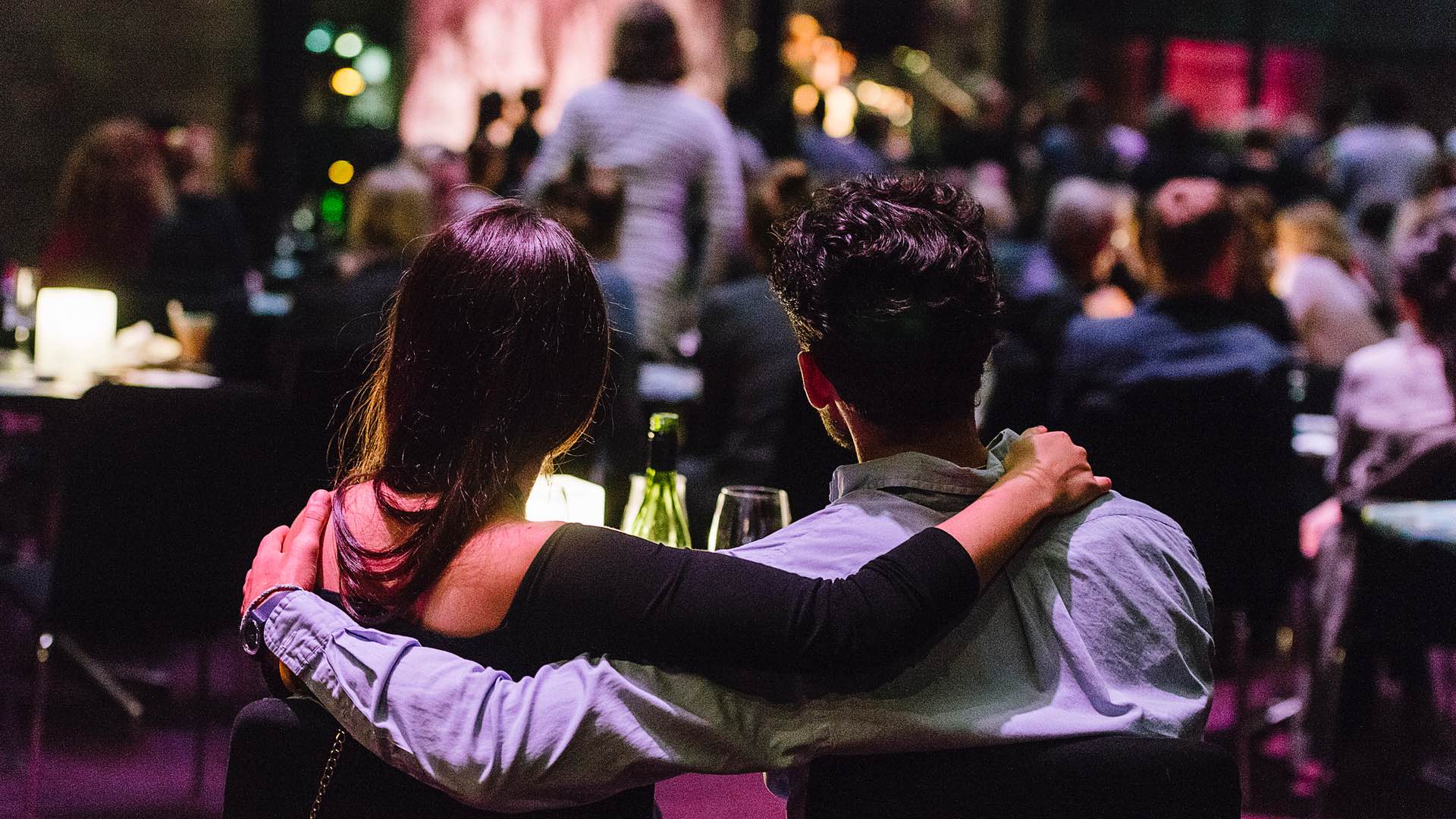 DIVE INTO A NIGHT OF ART, FOOD AND MUSIC AT THE NGV
For a date-night culture fix that covers lots of different interests at once, you can't go past the NGV's much-loved Friday Nights sessions, which run across various seasons and happen most weeks of the year. First up, you and your boo will have after-hours access to whatever big-name exhibition is running at the time — which in itself offers something a little more special than the usual daytime gallery-hopping.
Then, there's the assortment of pop-up bars and eateries themed around the gallery's current art and design showcases. Kick back in the gardens with a few gin cocktails in hand, try a wine tasting or settle in with a date night bite to eat. There's also a stellar DJ lineup soundtracking each season of NGV Friday Nights, so you can round out your evening with some tunes or even hit the dance floor. Past seasons have featured hit acts like Nai Palm, Electric Fields, Banoffee, C.FRIM, Emma Volard, Kee'ahn and stacks more.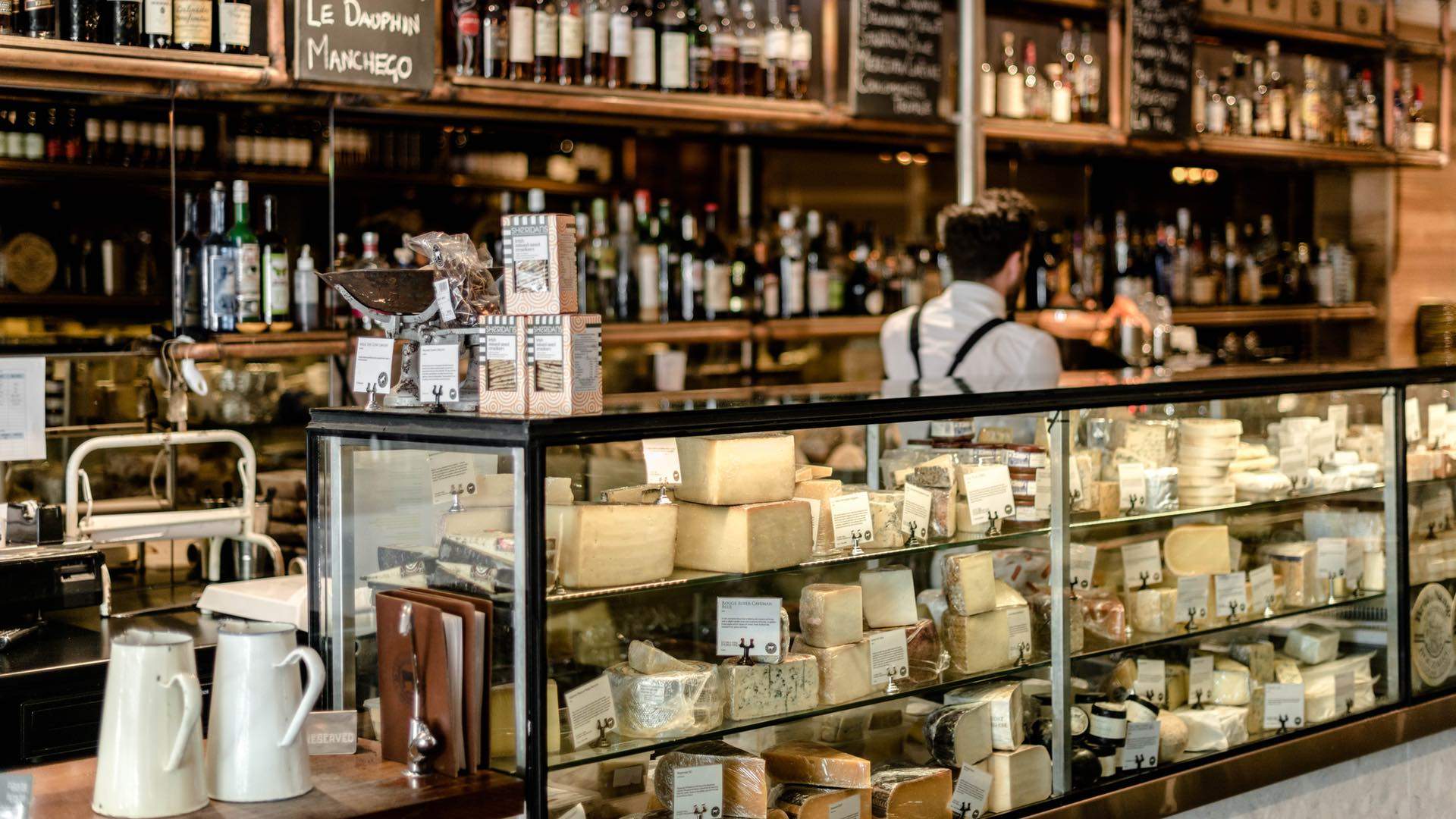 EMBARK ON A BOOZE-MATCHED CHEESE FLIGHT
For an extra-cheesy date idea — literally — you can't go past a gourmet tasting session at Melbourne's OG licensed fromagerie. Milk the Cow's expert staff are the masters of cheese and booze pairing, and you can experience their talents via a whole range of curated tasting flights starting at just $24 a pop.
Settle in and bond over some top-notch international cheese expressions, each matched carefully to a different drink as part of a themed selection — perhaps a flight of gin, Aussie craft beer or even sparkling wine. It's the perfect opportunity to unleash your inner food nerd; plus ,with all that sipping and sampling, you'll probably discover some shared favourites to revisit on your second date.
TAKE IN A CLASSIC DOUBLE FEATURE AT THE ASTOR
Dating is a fast-paced machine these days, so sometimes it's nice to slow things down and kick it old school. And what better place to do that than Melbourne's only remaining single-screen cinema still in continuous operation?
The majestic Astor Theatre is a glorious throwback to the 1930s, with a glitzy old-world foyer and a program packed with re-released classic films spanning a whole range of genres. Fancy doubling the fun? The cinema also serves up regular double features, whether you and your date are into sci-fi classics, you both dig mystery flicks, or you simply want to cosy up nice and close for back-to-back cult horror films.
GO FOR A JAUNT ON THE RIVER
Here's something your SO might not have done before: a self-guided cruise along a serene section of the Yarra. Boasting a picturesque riverside spot just seven kilometres out of the city, Fairfield Boathouse has a watercraft situation to suit everyone, with a range of canoes, kayaks and even hand-built Thames-replica rowing skiffs available to hire.
Pick your favourite for a relaxing river jaunt with your companion, maybe flexing some boating skills in the process. Then cap off the adventure with a visit to the Boathouse's historic tearoom, where you can reward yourselves with a romantic session of homemade scones and tea.
BECOME A PAIR OF COCKTAIL WHIZZES
Instead of just kicking back and drinking cocktails on your date, go one better and learn how to whip up a few sips of your own. In Melbourne, we've got a world-class cocktail scene — and who better to teach you and your plus one the ropes than one of our city's own bartending wizards?
Acclaimed bar 1806 hosts intimate cocktail-making (and mocktail-making) classes, during which you'll learn the tricks of the trade, boost your street cred with some new skills and gain insight into your love interest's favourite drinks. Eau de Vie also offers a trio of cocktail masterclasses, each focused on a different classic style of drink-making.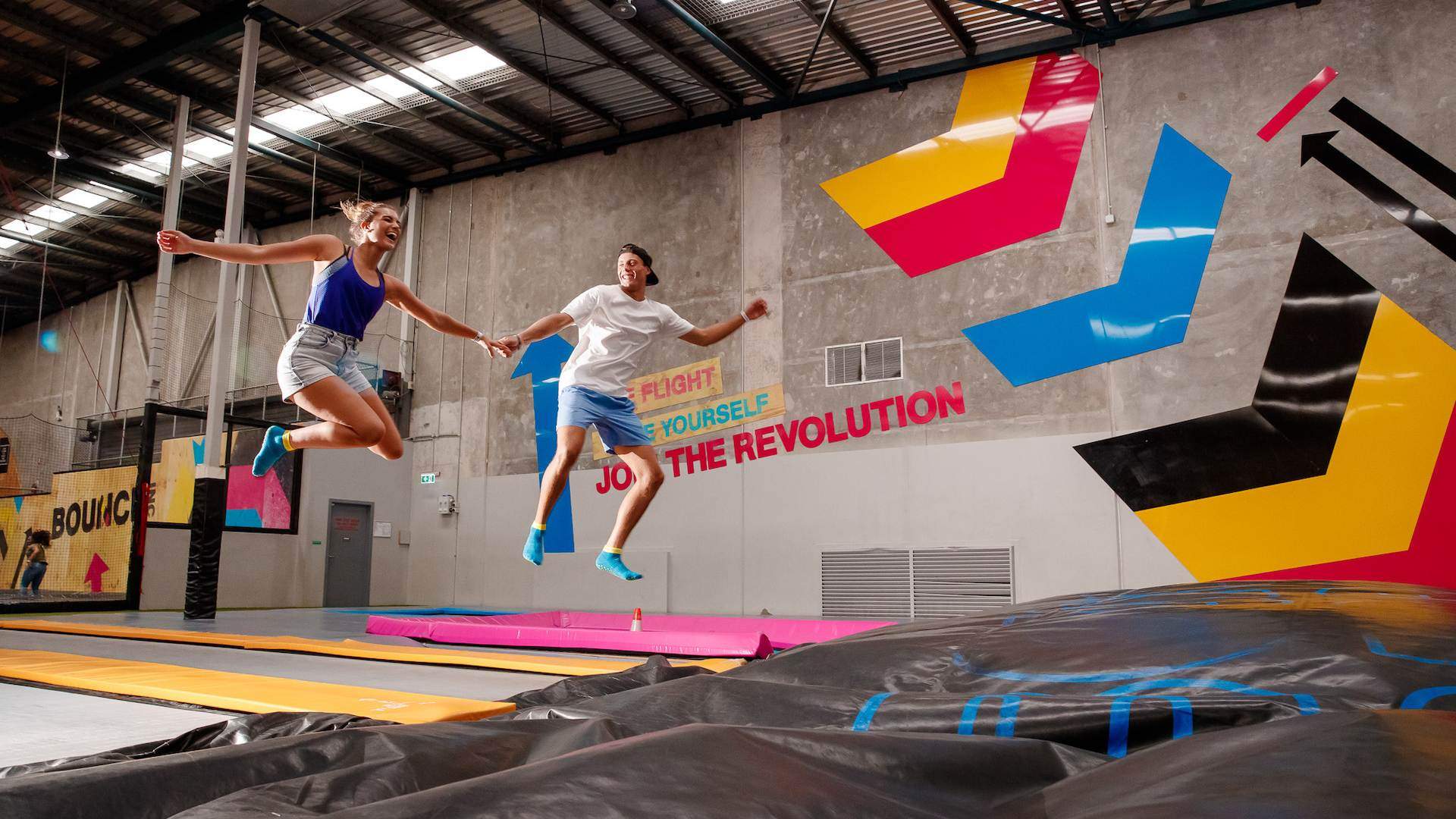 BOUNCE YOUR WAY RIGHT INTO THEIR HEART
Get physical with some good, clean kidult fun by booking yourselves in for an energetic, fast-paced trampolining session. With seven Victorian outposts to choose from, Bounce Inc is an indoor trampoline centre where you can jump, flip and spring around to your heart's content, testing out signature activity courses like the basketball-inspired Slam Dunk, and offerings like the monster-sized trampoline they've dubbed the Super Tramp.
Here in this huge padded playground, you'll get to unleash your inner kid and get a bit nostalgic, while showing off some slick moves. And of course, there's nothing like some high-energy activity to send any first date nerves packing. What's more, if you find yourselves with a new shared passion for the bounce, why not lock in the Friday-evening freestyle sessions as a standing date night?
MESS AROUND AT YOUR OWN PRIVATE PAINT PARTY
There's a quick way to diffuse any nervous first date energy and it involves some plain white walls, a bunch of paint and 30 minutes spent getting messily creative. Over in Oakleigh, Smash Splash is offering some unconventional forms of stress relief, including its series of 'splash rooms'.
Here, you and your date will don protective suits, head into your own private pod and experience the supreme satisfaction of hurling paint balloons at the wall for half an hour ($110). Prefer to keep things a little cleaner? The venue also has smash rooms — you'll get a couple of hammers and a room full of objects begging to be broken to bits.
LEARN TO SALSA
Show off your killer dance moves — or maybe just your self-deprecating sense of humour — and sign you and your date up for a salsa class. In the CBD, The Salsa Foundation holds free beginners classes every Wednesday, Thursday and Sunday, with zero experience required and an unpretentious social vibe to help put yourselves at ease.
Plus, there's a program of more advanced sessions you can work your way up to if dance date numero uno proves a success. Start your evening with a bit of nerve-loosening dance floor action; then, stick with the theme hitting one of Melbourne's excellent South American eateries for a post-salsa refuel session.
DRINK YOUR WAY AROUND THE CITY
Date night drinks at a bar is a fine proposition, but the sheer amount of quality Melbourne watering holes means you'll be missing out if you limit yourselves to just one. A handful of companies offer bar tours, but for bonus points we recommend shirking them in favour of creating your own inner city bar crawl.
Head to Pearl Chablis & Oyster Bar for fine wine and molluscs, pop past Nick & Nora's for top-notch cocktails or hunt down State of Grace's secret basement bar. Or check out our pick of the city's most romantic drinking spots, work out an itinerary and take all the credit. You'll get to do some exploring — and even if you're not sold on your date, you'll at least end up with some great ideas for the next one.
Top image: Smash Splash.
Concrete Playground Trips
Book unique getaways and adventures dreamed up by our editors