The Most Luxurious Boutique Hotels In and Around Melbourne
Whether you're vacationing or staycationing in Melbourne, these hotels will have you sleeping in soft linen, eating in fine restaurants and relaxing in big spa baths.
When that vacation craving hits, sometimes the best option is to have a sneaky weekend getaway without going far at all. There's something undeniably romantic about staying in a hotel room in the heart of your own city, or just a short drive away — and it's certainly an enticing choice now that lockdowns and border restrictions are part of our daily lives.
Really, staycations should be mandatory for us all, at least once in a while. That way, we can all take a break from the drudgery of everyday life and become the best version of ourselves — the hotel version, that is.
There's never been a better time for a staycation in Melbourne, with the events of the past year or so giving us plenty of new excuses to think local. Plus, a heap of truly stunning retreats have opened in Australia in recent years, too. Melbourne has quite the cornucopia of boutique hotels, from lush garden suites and dream escapes for wine lovers to primo urban stays with views aplenty. There are some seriously impressive (and incredibly designed) hotels awaiting your arrival. Pencil one into your 2021 calendar as soon as possible.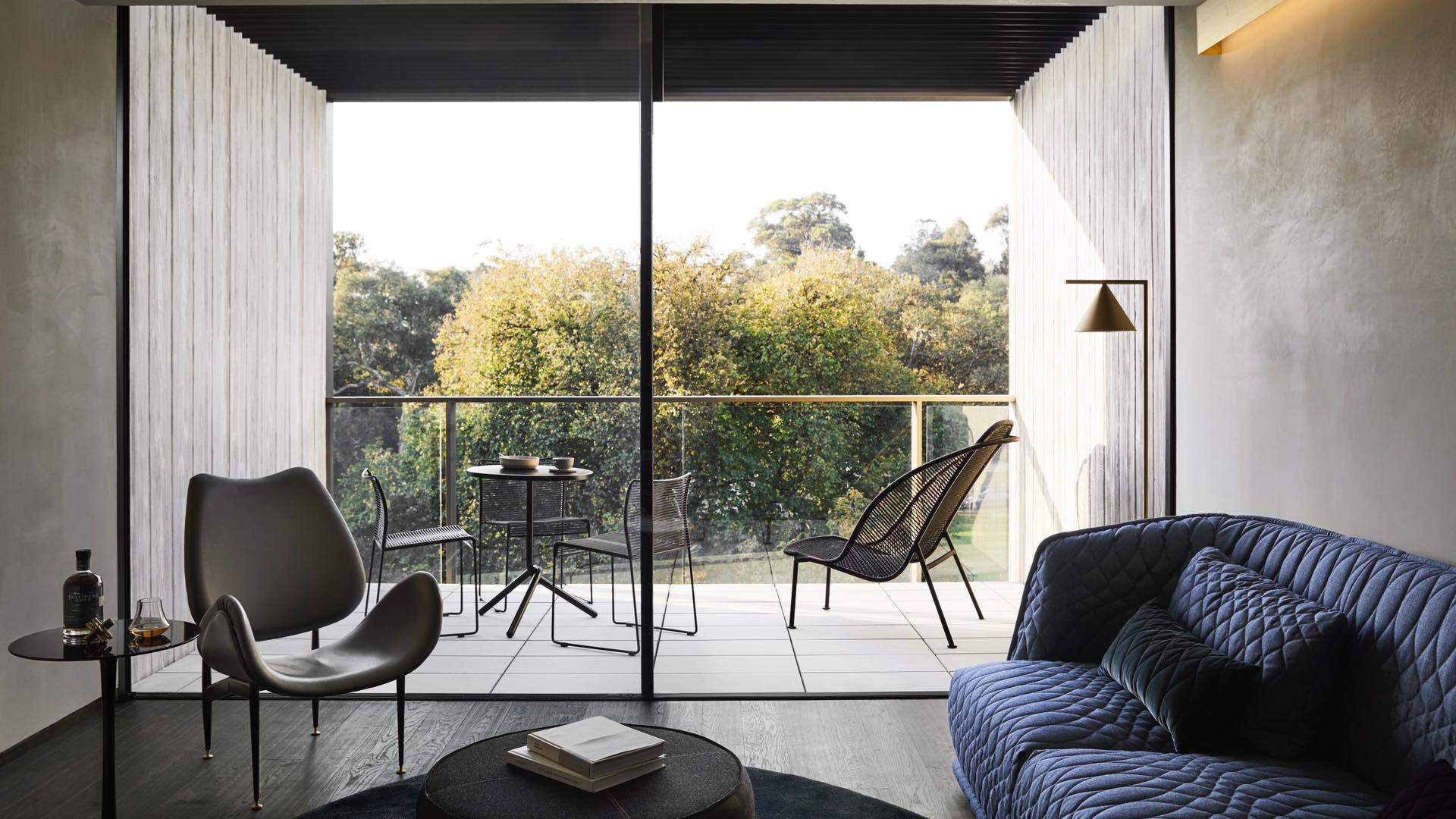 UNITED PLACES, SOUTH YARRA
United Places' remit was to create a home away from home. Its success is immediately apparent, with the greenery from the Royal Botanic Gardens across the road extending right into the 12 luxury suites, creating a space you'll never want to leave. Each offers hardwood floors and polished kitchens, while terraces with sweeping city and parkland views complement the cosy living zones.
While you're there, you'll get to have a taste of acclaimed chef Scott Pickett's restaurant, Matilda. The kitchen's contemporary Australian cuisine is produced entirely over open flames and hot coals — and you won't have to leave your room to enjoy it, with the high-end meals delivered directly to your suite. Dining at the restaurant is an experience in itself though, so we'd recommend heading in one night, too.

QT MELBOURNE, CBD
QT Melbourne is a multi-faceted playground for its guests. The lobby and common areas are filled with lots of colourful lighting, mountains of modern furniture and elaborate wallpaper. Then, in the stunning guest rooms, you'll find timber flooring, state-of-the-art technology and designer furniture that's at once quirky and tasteful.
In addition to this luxe accommodation, the hotel also has some serious eats: Parisian-style dinners at Pascale Bar and Grill, pastries in The Cake Shop, laneway bar feels and Korean food at Hot Sauce, and a glamorous rooftop bar, too. The 'secret' rooftop garden is also open to the public, showcasing bespoke Four Pillars cocktails. This leafy haven even hosts private parties of 10–25 people if you fancy a taste of luxury without booking a night's stay.

JACKALOPE HOTEL, MORNINGTON PENINSULA
Jackalope Hotel takes a weekend on the Mornington Peninsula to a whole new level of luxury. The boutique spot's 46 rooms offer terrace or vineyard vistas, with their double-the-size 'lair' suites offering the best views in the house. Each room boasts floor-to-ceiling windows, private terraces and hand-crafted bespoke furnishings. If you're one for a good bath, the deep-soak Japanese tubs and exclusive Hunter Lab bath products will keep you relaxed while you admire your fabulous self in the double vanities.
If you're looking to venture beyond your private bath, the landscaped gardens include a black 30-metre infinity pool with an adjacent pavilion offering spa treatments. The hotel also houses an extensive art collection, commissioned specifically for the site for anyone looking to soak up some culture instead of sun. And, Jackalope is also home to not one but two restaurants headed by chef Simon Tarlington: fine diner Doot Doot Doot and the more casual Rare Hare. For other options in the area, check out our weekender's guide.

NOTEL, CBD
The rooftop at Notel Melbourne offers a luxurious alternative to the cramped family camper you would have piled into as a kid. This boutique venture consists of six vintage airstream caravans transported from the US and completely refitted as "designer urban accommodation", complete with a queen-size bed, split-system heating and cooling, and a fridge full of complimentary craft beer and wine. Throw in a little laneway graffiti art and this joint couldn't get any more Melbourne if it tried.
In addition to the amenities listed above, each caravan at Notel Melbourne comes with an iPad Pro for Netflix sessions, linen and an ensuite bathroom with full height shower. Sounds a little cosy, but sometimes that's exactly what you need, especially when you're dealing with chilly Melbourne weather. There's also an 'Airstream with benefits' ultra-luxe option, which includes access to an openair spa outside your trailer.
LON RETREAT AND SPA, POINT LONSDALE
Located on a hilltop in the Bellarine Peninsula, Lon Retreat and Spa sits on a majestic piece of Point Lonsdale real estate, set within a 200-acre family-owned property and complete with 360-degree views of the bay. The luxury retreat features seven sanctuary-like suites, each one decked out differently to mirror a particular aspect of the surrounding landscape. Expect earthy, natural tones throughout, with most of the furniture, ceramics, artwork and lighting sourced or crafted locally.
As well as the plush rooms, Lon boasts its own private beach access, a guest lounge with an open fire and views across the ocean, an exhibition space showcasing local works, and a heated pool fed by mineral water. In the spa, you'll also find an OTT six-jet shower.

THE CHEN, BOX HILL
In 2017, the Art Series Hotel Group created The Chen, a five-storey boutique hotel inspired by Chinese-Australian artist Zhong Chen. The Box Hill hotel houses 100 suites, designed by architects Peddle Thorp and taking its aesthetic cues from Chen's King Fu series — so expect fun, bold and bright colours. There's a bunch of digital archival fine art editions of Chen's works featured here, as well as a stack of originals.
There's plenty of top-notch eating on premises, all thanks to the Golden Lily yum cha restaurant. You can also count on the Art Series' usual artistically-leaning facilities and activities, including in-room libraries and art television channels, plus a gym and heated rooftop pool that overlooks the city skyline.

MITCHELTON HOTEL, NAGAMBIE
Located in the scenic Goulburn Valley wine region in Victoria, Mitchelton Hotel's accommodation is every bit as spectacular as the sprawling winery it calls home. Featuring a palette of moody, rural tones designed by acclaimed architectural practice Hecker Guthrie, this spot is a wine lover's dream escape.
Chef Daniel Hawkins (POW Kitchen, Newmarket Hotel, Stokehouse) helms restaurant The Muse, which serves ethically farmed produce sourced throughout the Nagambie Lakes district. The Provedore is the site's more casual cafe-style eatery, also offering picnic fare to enjoy on the grassy lawns, while Mitchelton Gallery of Aboriginal Art displays works from over 15 Indigenous communities across Australia. If you book a stay, you'll get a full selection of Mitchelton Wines as soon as you step inside the door, plus you can enjoy guided tours and tastings. While you're in the region, check out our guide to Nagambie and its surrounds.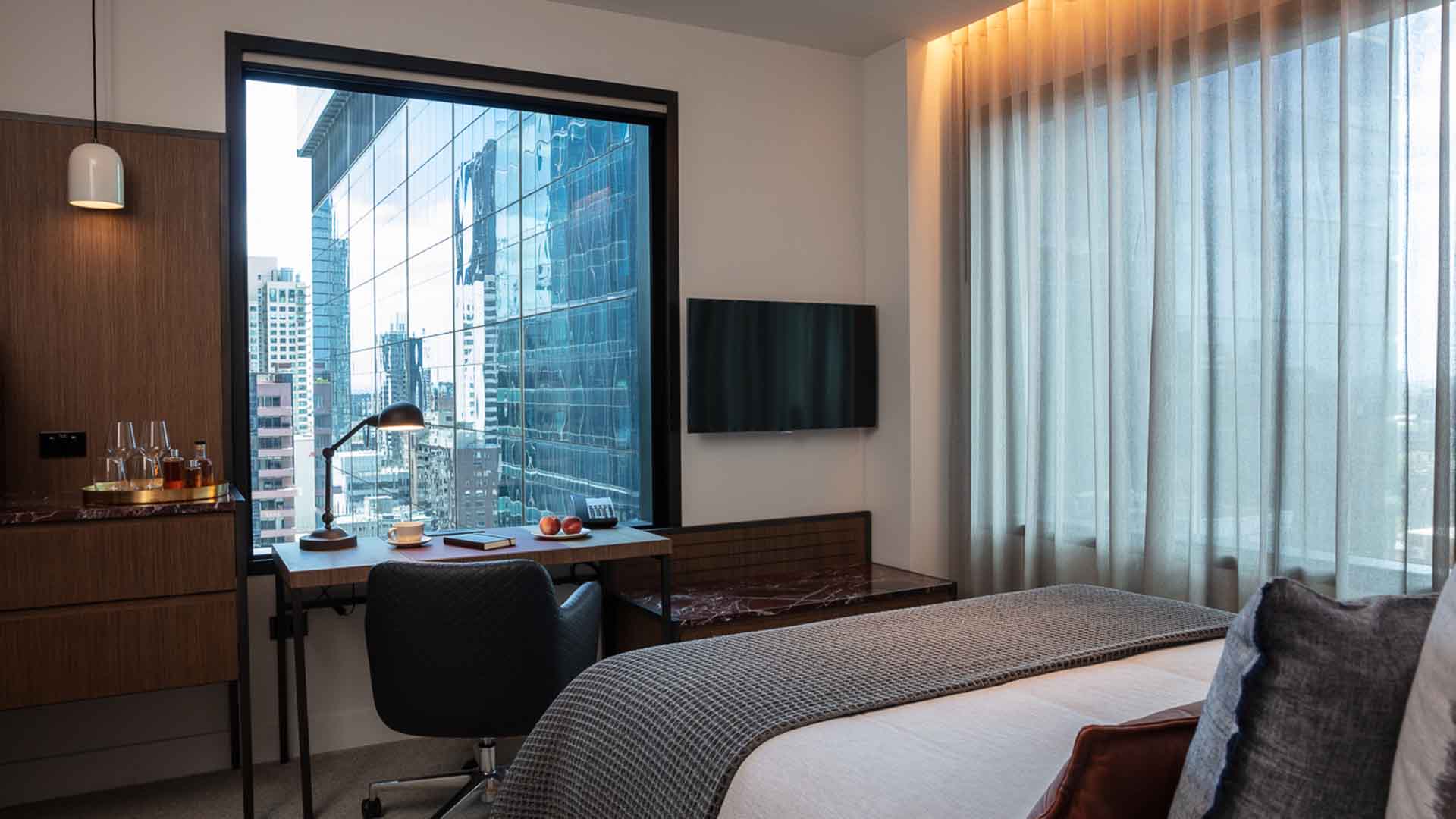 NEXT HOTEL, CBD
The new 80 Collins precinct isn't just home to a growing number of top-notch restaurants, bars and cafes — it's also the address of the much-anticipated Next Hotel Melbourne. Launched in March 2021, this opulent 225-room escape is a design-lover's dream, fitted out with an abundance of marble, plus art by the likes of Jonny Niesche and Julia Gorman.
The glam suites boast features like espresso machines, Hunter Lab toiletries and Dyson hairdryers, as well as handy in-room cocktail-mixing stations. Next Melbourne is also the first hotel in Australia to barrel-age its own spirits, the fruits of which you can experience at sprawling third-floor bar and restaurant La Madonna, as well as the adjacent Barrel Room. And yes, that drinks program translates to some pretty special hotel mini-bar offerings, too.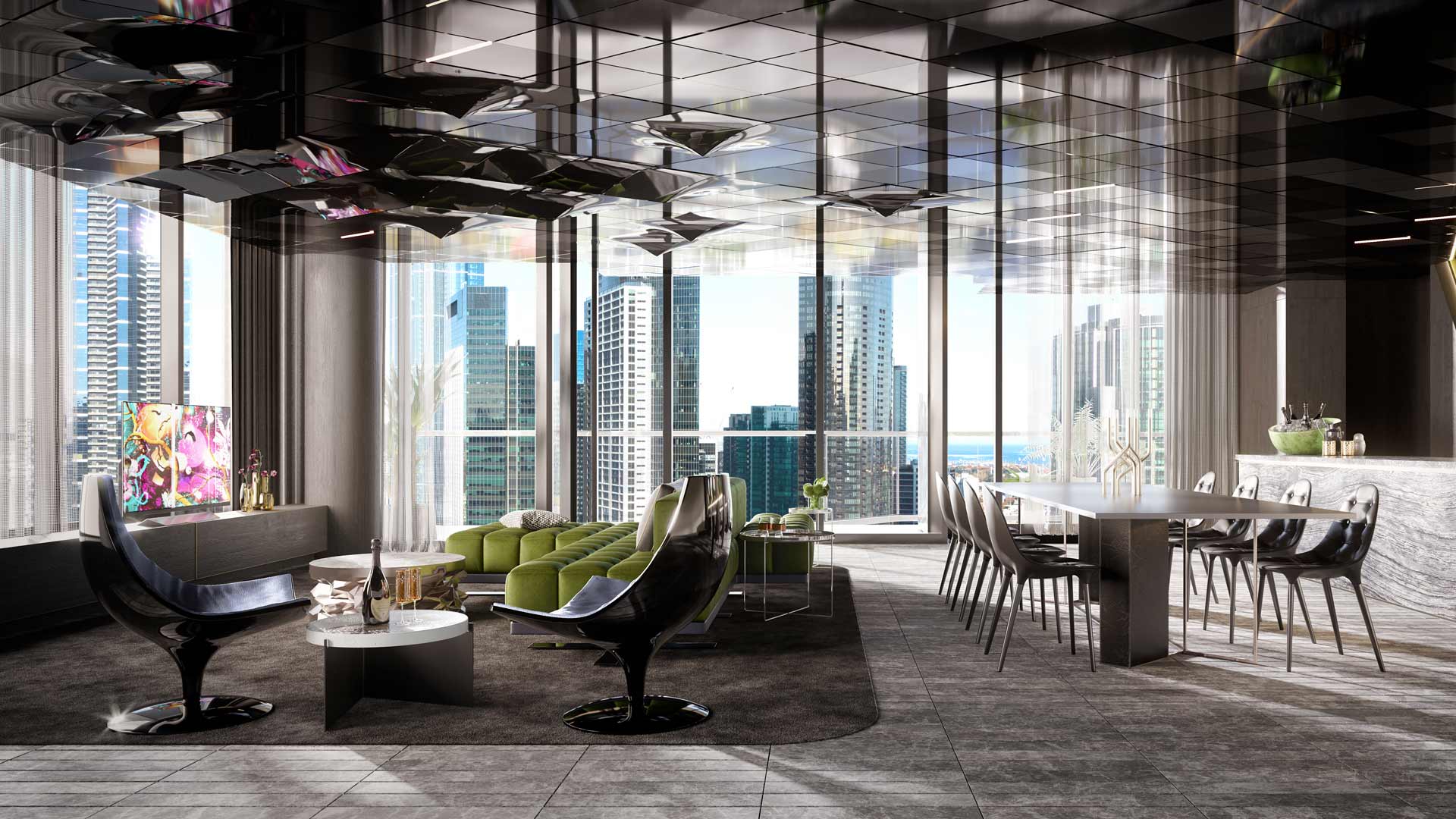 W HOTEL, CBD
With its sky-high pool adorned in gold, elaborate laneway cocktail bar and achingly trendy designer finishes throughout, W Hotel group's first Victorian venue has caused quite the splash since opening the doors in early 2021. Designed by local architect and interior design firm Hachem, W Melbourne is a study in contemporary opulence right across its 265 guest rooms and 29 suites.
There's even an especially indulgent 'Extreme Wow Suite', boasting a jukebox, cocktail bar and private 40-square-metre balcony with river views. The lavish heated indoor pool with sweeping vistas and gold-trimmed surrounds offers even fancier vibes. And hidden bar Curious is just one of four primo onsite hospitality venues, featuring innovative cocktails in a stunning cocoon-esque space.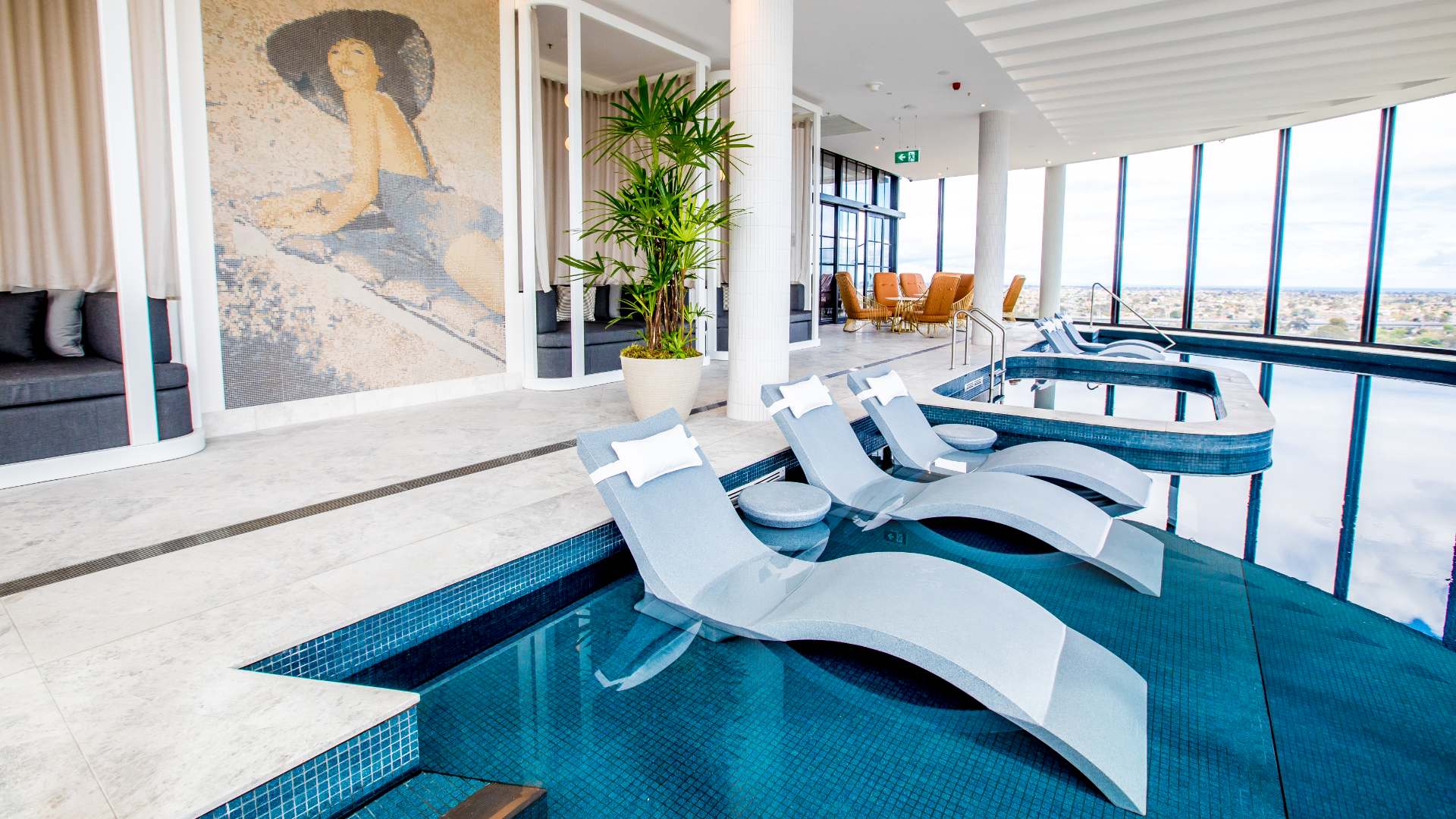 HOTEL CHADSTONE, CHADSTONE
Open since late 2019, Hotel Chadstone is a glamorous venture from the MGallery by Sofitel crew, encompassing 12 storeys of total luxury with sweeping vistas from city to bay. Adjacent to the ever-growing Chadstone Shopping Centre, this five-star escape features 250 designer rooms, as well as a rooftop bar and swimming pool that lend new meaning to the phrase "living the high life".
Its spaces are heavy on the brass and leather accents, mini-bars come stocked with an array of premium local goodies, and Scott Pickett's celebrated Italian restaurant Pastore will beckon you again and again. What's more, on top of all the impressive high-end finishes, Hotel Chadstone has the honour of being only the second in Australia to achieve a 5 Star Green Star Design rating.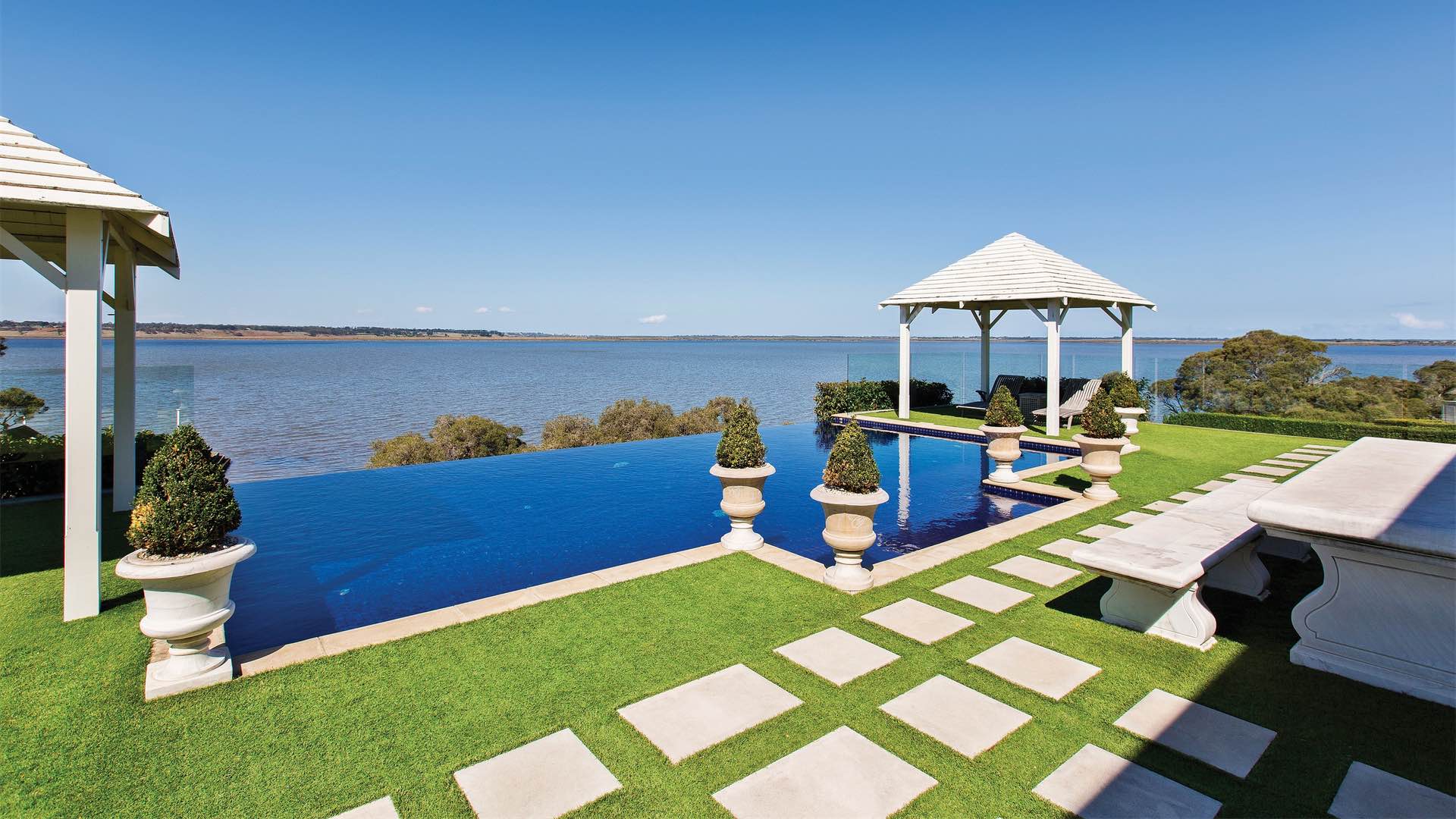 CAMPBELL POINT HOUSE, LEOPOLD
If you're looking for a luxurious local holiday, consider this: the oh-so-elegant Campbell Point House boasts a stunning location in the heart of Bellarine Peninsula wine country that's enough to make some other high-end getaways feel like veritable hostel stints. Originally built as a family home, this boutique hotel takes design cues from the majestic chateaux of the Loire Valley, and is now open to the public following a multimillion-dollar spruce-up and makeover. Across its eight opulent suites, Campbell Point can host a maximum of just 30 people at once, with facilities reserved strictly for guest use. Basically, visit the sprawling property and you'll pretty much feel like you've got the whole place to yourself.
And those facilities sure aren't shabby, with the hotel rocking its own championship grass tennis court, day spa, infinity pool and private jetty onto Lake Connewarre. Inside, you can kick back in style in the huge Provincial-inspired lounge, or perhaps the cigar salon, conservatory or billiards room. Of course, when that level of luxury awaits, you ditch the car and instead make use of the onsite helipad.
THE PRINCE, ST KILDA
Want to be beside the sea in the heart of St Kilda? Pick The Prince, which happily sits just a short tram ride away from the Melbourne CBD and a quick stroll from the sand. Here, you'll find comfortable, polished and modern rooms that look to be pulled straight out of a design magazine, with the hotel rocking an upscale beachy vibe while also highlighting the building's art deco architecture.
There are six different suite styles available, decked out with elegant pops of colour and specially commissioned photography works by Tom Blachford and Kate Ballis. Onsite wining and dining options are in strong supply, between the Mediterranean-accented Prince Dining Room, the recently-revamped Prince Public Bar and boutique wine bar Little Prince Wine. And if you're up for a night out on the town, all you have to do is head to the hotel's iconic Prince Bandroom, where some of the city's best live acts have been known to frequent.
Introducing Concrete Playground Trips
Book unique getaways and adventures dreamed up by our editors