TRAVEL & LEISURE
The Most Luxurious Boutique Hotels In and Around Melbourne
Whether you're vacationing or staycationing in Melbourne, these hotels will have you sleeping in soft linen, eating in fine restaurants and relaxing in big spa baths.
The Most Luxurious Boutique Hotels In and Around Melbourne
Whether you're vacationing or staycationing in Melbourne, these hotels will have you sleeping in soft linen, eating in fine restaurants and relaxing in big spa baths.
---
When it's only January but you already need a vacation, sometimes the best option is to have a sneaky weekend getaway without going far at all. There's something undeniably romantic about staying in a hotel room in your city, or just a short drive away. It should be mandatory for us all, at least once in a while, to take a break from the drudgery of life and to become the best version of yourself — that is, the hotel version of yourself.
And a staycation in Melbourne has never been better, with a heap of stunning new hotels opening in Australia in 2018. Melbourne has quite the cornucopia of boutique hotels, from lush garden suites and dream escapes for wine lovers to artisan playgrounds and views aplenty. There are some seriously impressive (and incredibly designed) hotels awaiting your arrival. Pencil one into your 2019 calendar as soon as possible.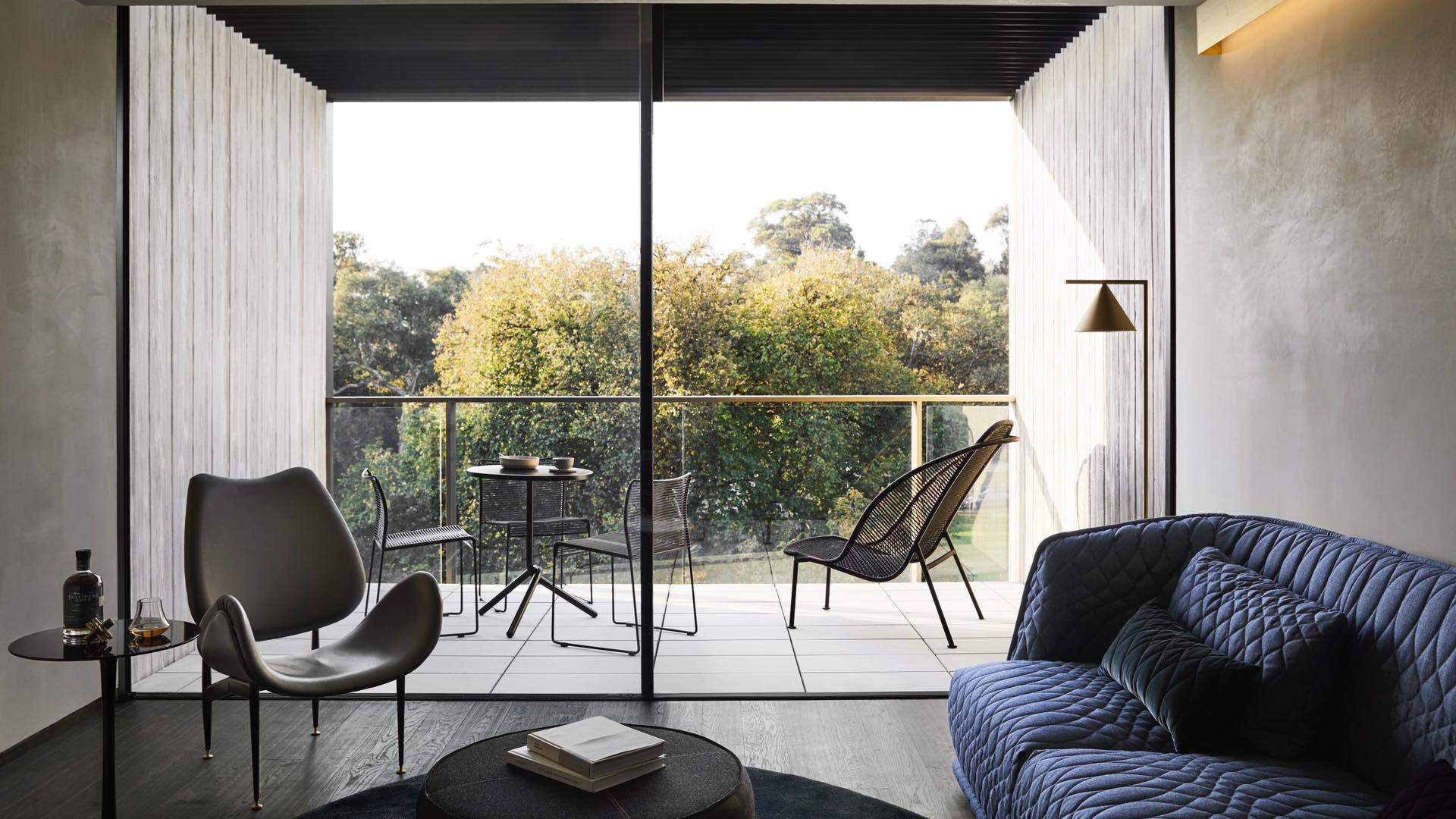 UNITED PLACES, SOUTH YARRA
United Places' remit was to create a home away from home. And its success is immediately apparent, with the greenery from the Royal Botanic Gardens across the road extending into the 12 luxury suites, creating a space that you'll never want to leave. Each offers hardwood floors and polished kitchens, while terraces with sweeping city and parkland views round out the cosy living spaces.
While you're there, you'll get to have a taste of Melbourne chef Scott Pickett's latest restaurant, Matilda. Pickett's contemporary Australian cuisine is produced entirely over open flames and hot coals — and you won't have to leave your room to enjoy it, with the high-end meals delivered directly to your suite. Dining at the restaurant is an experience in itself though, so we'd recommend heading in one night, too.
United Places is located at 157-159 Domain Road, South Yarra. Make a reservation here.


QT MELBOURNE, CBD
QT Melbourne is a playground for its guests. The lobby and common areas are filled with lots of colourful lighting, mountains of creative furniture and ostentatious wallpaper. The stunning guest rooms feature timber floors, state-of-the-art technology and designer furniture that's at once quirky and tasteful. In addition to the luxe accommodation.
The hotel also has some serious eats: Parisian-style dinners at Pascale Bar and Grill, pastries in The Cake Shop, laneway bar feels and Korean food at Hot Sauce, and a fully-stocked rooftop bar, too. The 'secret' rooftop garden has just opened to the public for private parties of 10–25 people, so you can also get a taste of luxury without booking a night's stay.
QT Melbourne is located at 133 Russell Street, Melbourne. Make a reservation here.


Jackalope Hotel is a Victorian boutique that takes a weekend on the Mornington Peninsula to a new level of luxury. The 46 rooms offer terrace or vineyard views, with their double-the-size 'lair' suites offering the best views in the house. Each room boasts floor-to-ceiling windows, private terraces and hand-crafted bespoke furnishings. If you're one for a good bath, the deep-soak black Japanese tubs and exclusive Hunter Lab bath products will keep you utterly relaxed while you admire your fabulous self in the double vanities.
If your private bath isn't quite enough, the landscaped gardens include a black 30-metre infinity pool with an adjacent pavilion for spa treatments. The hotel also houses an extensive art collection, commissioned and installed specifically for the space for anyone looking to soak up some culture instead of sun. And to be certain it is not to be outdone, Jackalope is also home to not one, but two restaurants headed by chef Guy Stanaway: fine diner Doot Doot Doot and Rare Hare. For other options in the area, you can use our weekender's guide to the area to navigate.
Jackalope Hotel is located at 166 Balnarring Road, Merricks North. Make a reservation here.



The rooftop at Notel Melbourne offers a luxurious alternative to the cramped family camper you would have piled into as a kid. This boutique venture consists of six vintage airstream caravans transported from the U.S. and completely refitted as "designer urban accommodation", complete with queen size bed, split-system heating and cooling, and a fridge full of complimentary craft beer and wine. Throw in a little laneway graffiti art and this couldn't get any more Melbourne if it tried.
In addition to the amenities listed above, each caravan at Notel Melbourne comes with a television, linen and an en suite bathroom with full height shower. Sounds a little cosy, but sometimes that's exactly what you need, especially when you're dealing with chilly Melbourne weather. There's also an 'Airstream with benefits' ultra-luxe option, which includes access to a spa outside your trailer.
Notel Melbourne is located at 388 Flinders Lane, Melbourne. Make a reservation here.

LON RETREAT AND SPA, POINT LONSDALE
The Bellarine Peninsula welcomed a stunning new hilltop retreat in October 2018. Lon Retreat and Spa boasts a majestic piece of Point Lonsdale real estate, set within a 200-acre family-owned property and complete with 360-degree views of the bay. The luxury retreat features seven sanctuary-like suites, each one decked out differently to mirror a particular aspect of the surrounding landscape. Expect earthy, natural tones throughout, with most of the furniture, ceramics, artwork and lighting sourced or crafted locally.
As well as the plush rooms, Lon boasts its own private beach access, a guest lounge with an open fire and views across the ocean, a private art gallery showcasing local works, and an indoor heated pool fed by mineral water. In the spa, you'll also find an OTT eight-jet shower.
Lon Retreat and Spa is located at 25 Gill Road, Point Lonsdale. Make a reservation here.



THE CHEN
In 2017, the Art Series Hotel Group created The Chen, a five-storey boutique hotel inspired by Chinese-Australian artist Zhong Chen. The Box Hill hotel houses 100 suites, designed by architects Peddle Thorp and inspired by Chen's King Fu series — expect fun, bold and bright colours to rule. There's a bunch of digital archival fine art editions of Chen's works, as well as a stack of originals.
There's plenty to eat on premises too, including Golden Lily yum cha restaurant and Whitehorse Chloe coffee shop. You can also count on the Art Series' usual arty facilities and activities, including in-room libraries and art television channels, plus a gym and heated rooftop pool that overlooks the city skyline.
The Chen is located at 820 Whitehorse Road, Box Hill. Make reservations here.


MITCHELTON HOTEL, NAGAMBIE
Set in the scenic Goulburn Valley wine region in Victoria, the recently opened Mitchelton Hotel accommodation is as good as the on-site winery. Featuring a palette of moody, rural tones designed by acclaimed architectural practice Hecker Guthrie, the Mitchelton is a wine lover's dream escape.
Chef Daniel Hawkins (POW Kitchen, Newmarket Hotel, Stokehouse) helms restaurant The Muse, which serves ethically farmed produce found throughout the Nagambie Lakes district. Boutique chocolate producers The Ministry of Chocolate run the decadent café, while Mitchelton Gallery of Aboriginal Art displays works from 15 Indigenous communities from across Australia. If you book a stay, you'll get a full selection of Mitchelton Wines as soon as you step inside the door. While you're there, check out our guide to Nagambie and its surrounds.
Mitchelton Hotel is located at 470 Mitchellstown Road, Nagambie. Make a reservation here.


THE OLSEN, SOUTH YARRA
Oh, the pastel dreamscape that is The Olsen. Another Art Series Group accommodation, the artist-in-residence here is John Olsen, whose art represents the Yarra River and its coexistence with the hotel's South Yarra location. At 224 suites, it's large for a boutique hotel, but the bespoke amenities will make it feel anything but. Think award-winning interiors, a rooftop bar, day spa, glass-bottomed pool, fully loaded gym and Chapel Street at your door.
If you're really feeling flush, the penthouse offers a private rooftop (pictured above) with its own herb garden, a 'vitamin D therapy deck', a plunge pool and a 30-degree hydrotherapy spa. Taste local, seasonal fare at the hotel's Spoonbill Restaurant, or stop by the bar's daily $5 happy hour before heading out for the night.
The Olsen is located at 637-641 Chapel Street. Make a reservation here.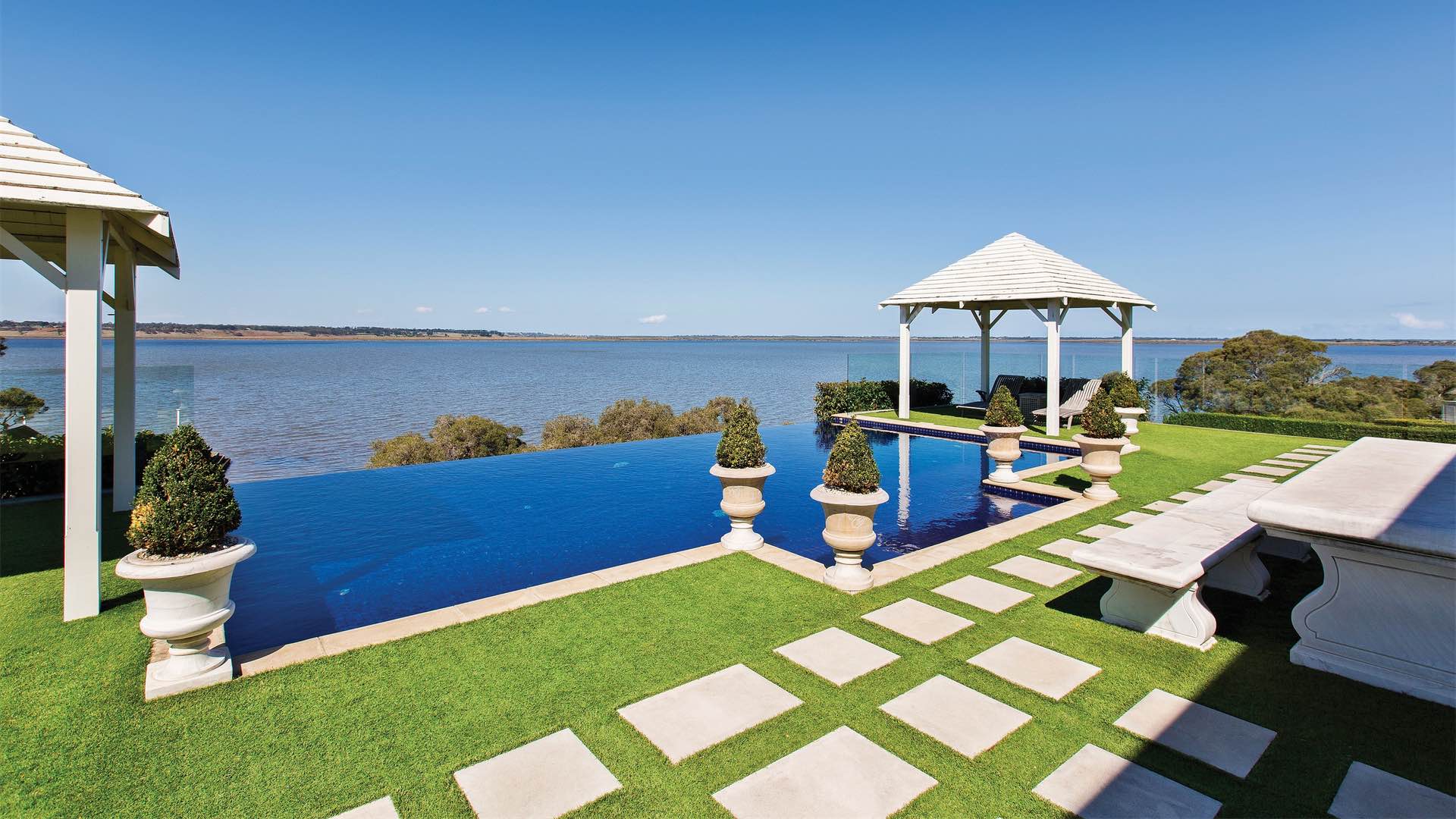 CAMPBELL POINT HOUSE, LEOPOLD
If you're looking for some new local holidays to plan, consider this: the ever-so-elegant Campbell Point House has opened in the heart of the Bellarine Peninsula wine country, and it's enough to make some of the other luxury getaways feel like veritable hostel stints. Originally built as a family home, the new boutique hotel takes design cues from the majestic chateaux of the Loire Valley, now open to the public following a multimillion-dollar spruce-up and makeover. Boasting eight opulent rooms, Campbell Point can host a maximum of just 30 people at once, with facilities reserved strictly for guest use — visit the sprawling property and you'll pretty much feel like you've got the whole place to yourself.
And those facilities sure aren't shabby, with the hotel rocking its own championship grass tennis court, day spa, infinity pool and private jetty onto Lake Connewarre. Inside, you can kick back in style in the huge Provincial-inspired lounge, or perhaps the cigar salon, conservatory or billiards room. Of course, when that level of luxury awaits, you ditch the car and instead make use of the onsite helipad.
Campbell Point House is located at Matthews Road, Leopold. Make a reservation here. 

THE PRINCE, ST KILDA
Want to be beside the sea in the heart of St Kilda? Pick The Prince, sitting happily just a short tram ride to the Melbourne CBD. Here you'll find slick, modern rooms straight out of a design magazine, with an upscale beachy vibe and art deco architecture highlighted. The Public Bar is offering a full spritz menu all summer long, too — perfect for seaside sipping.

And if you're up for a night out on the town, all you have to do is head to the hotel's newly opened adjoining restaurant, or the Prince Bandroom, where some of the city's best live acts are known to frequent.
The Prince is located at 2 Acland Street, St Kilda. Make a reservation here.
Published on January 14, 2019 by Marissa Ciampi