ARTS & ENTERTAINMENT
Five Hidden Gems to Seek Out at Vivid 2018
Venture deeper into the light program to uncover some glowing treasures.
in partnership with

Vivid is back for its tenth birthday, and there's more to see and do this year than ever. With so much to fit in, it's often hard to know where to start and how to get off the well-beaten track. As always, there are the big lights dotting the harbour, but there are also heaps of hidden gems worth seeking out — down alleyways, against the water and even up in the air. With the help of our mates at Samsung, we've pulled together a list of some of the best works tucked away in and around The Rocks and Circular Quay. And once you find them, it'd be remiss not to snap a shot or two so you can take them home with you — especially if you have Samsung's new Galaxy S9 and S9+ phone, which allows you to take beautiful photos in the dark with its Super Low Light camera. Check out our Galaxy S9+ snaps taken by photographer Cole Bennetts, take note of his tips and make tracks to these hidden Vivid gems.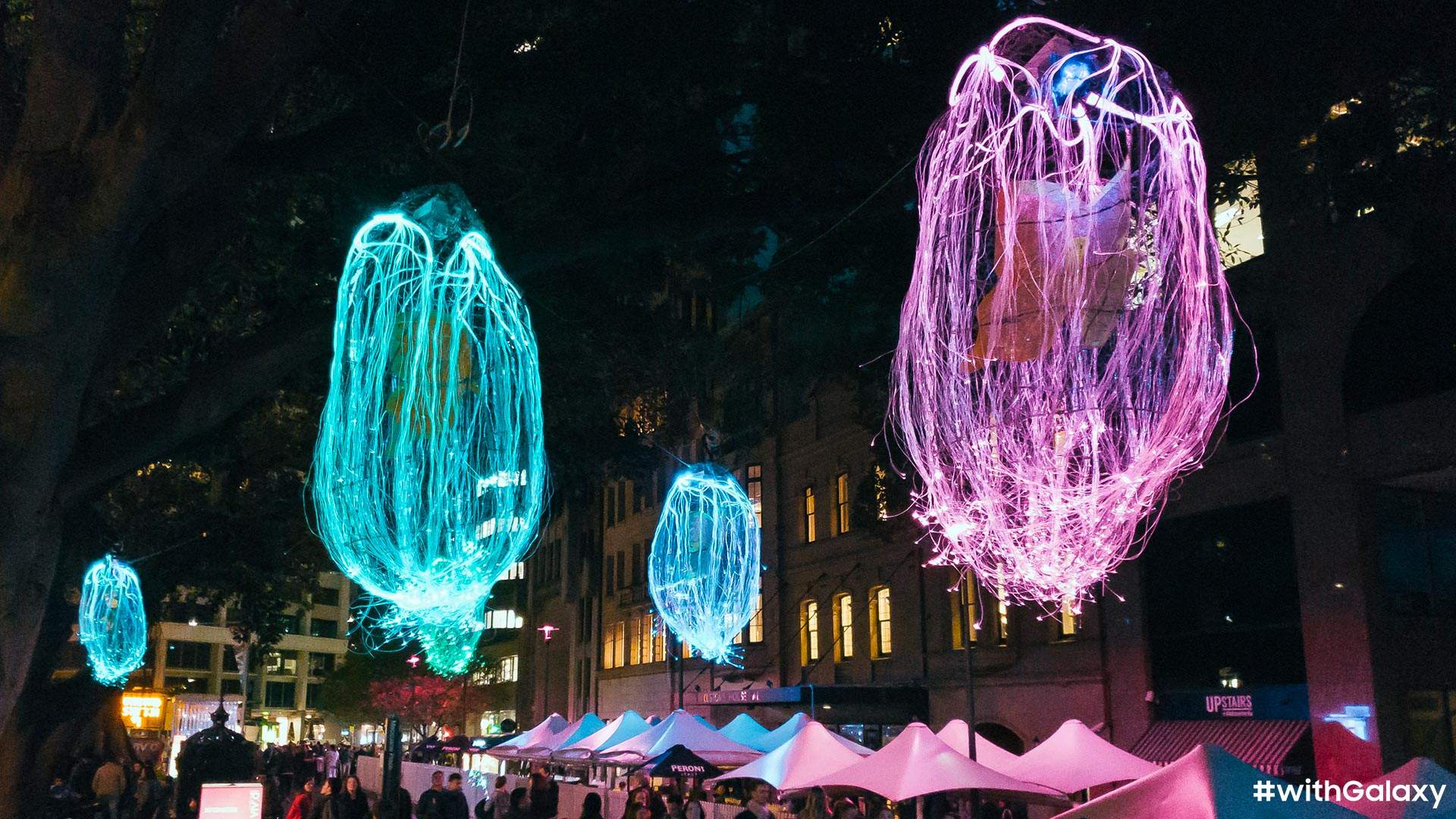 CHRYSALIS — REIBY PLACE
Just as a caterpillar in a cocoon needs the right conditions to emerge, so too does the butterfly within each of the illuminated shells in Chrysalis. The sound of the audience approaching causes the butterflies to stir, and as people get closer and their collective noise grows louder, the butterflies awaken. Finally, they spread their wings within their five neon homes and flit and flutter with the crowd's presence.
Cole's tip: Avoid contributing to a newsfeed clogged with identical Vivid snaps by changing your perspective. Get down low or shoot from up high to make the picture more interesting.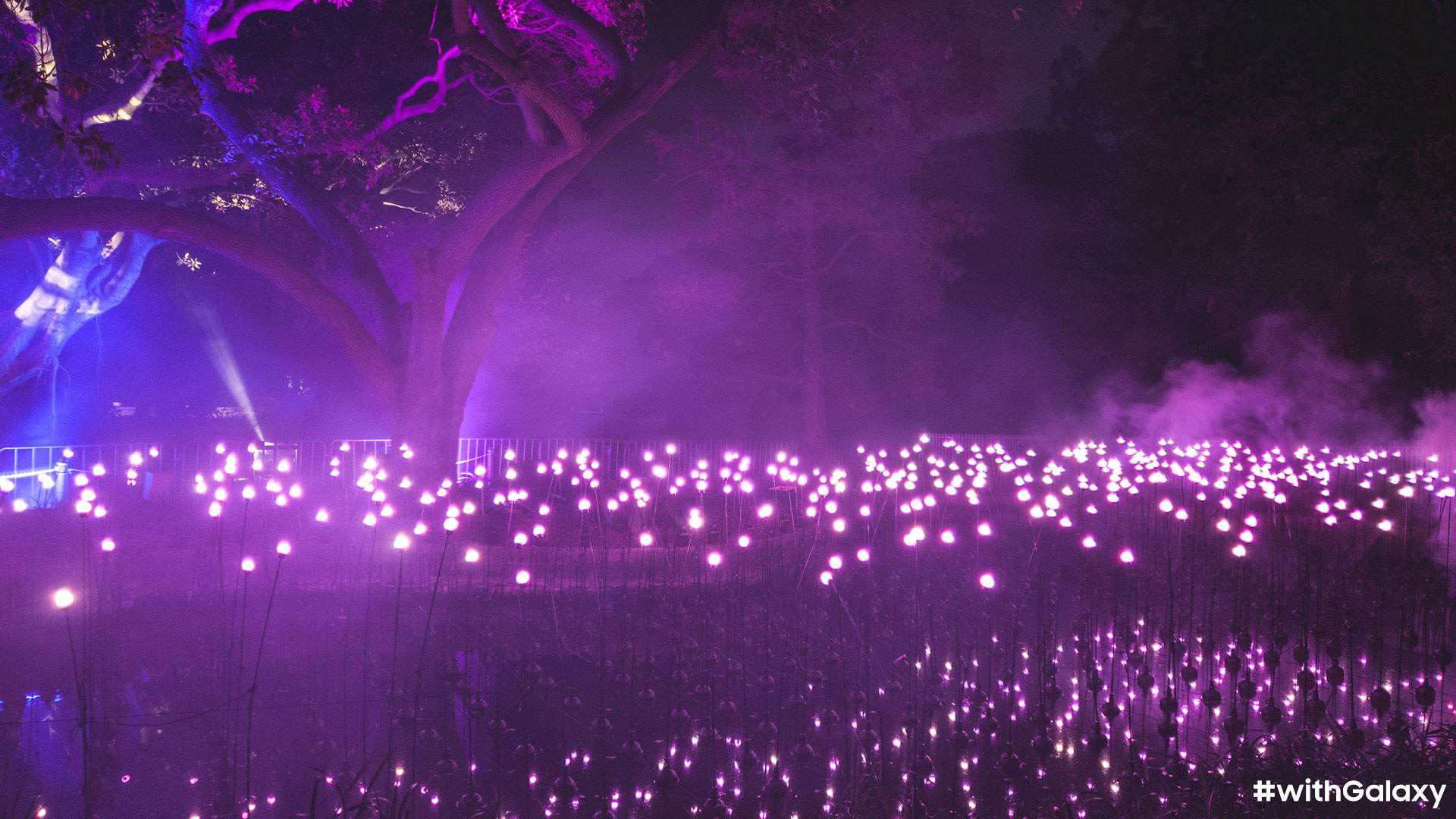 OASIS — ROYAL BOTANIC GARDEN
Oasis is a shimmering, bioluminescent-inspired sea of light. Set in a corner of the Botanic Garden devoted to "lonely, frightened, lost and abused children who never knew the joy of a loving family", the work is dedicated to Australia's forgotten children — those raised in orphanages, children's homes and institutions. Playing on the relationship between light and water, courage and vulnerability, the seemingly floating lights move with nature but are always steadied by their underlying strength, returning them to their upright position.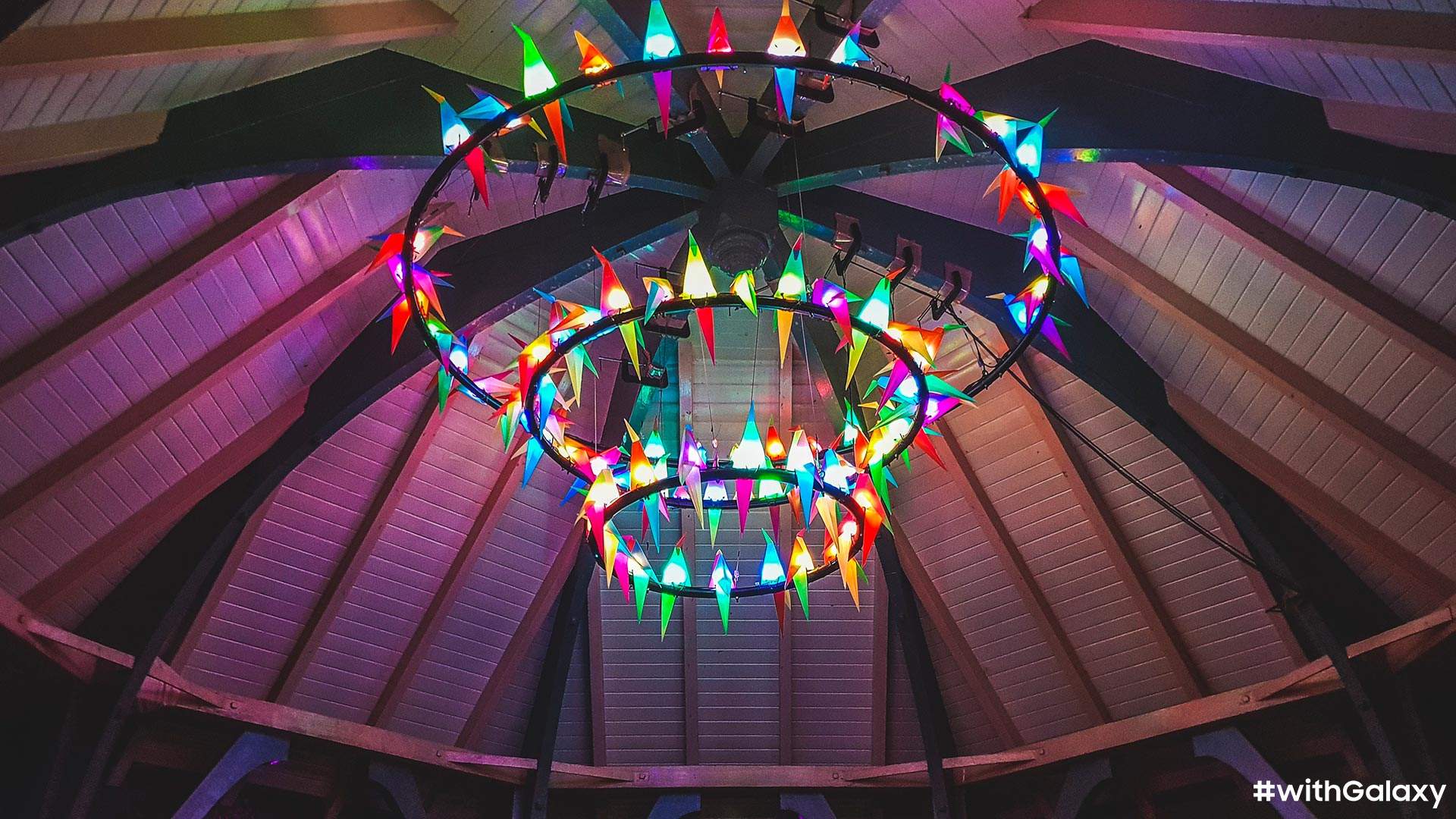 PARROT PARTY — ROYAL BOTANIC GARDEN
Is it a flock of birds in the gardens? Or a clandestine party among the flora? Well, it's a bit of both, actually. The festive Parrot Party in the Botanic Garden bursts with colour and sound, that grows brighter and more jovial as people join in. Perched in a pavilion, the birds' song is modulated by the crowds who come and go. Made up of Kiwi kea parrots and Australian rainbow lorikeets — a nod to the close relationship between our two countries — the flock's song grows louder as the crowd draws in, bursting with a display of sweet calls and chatter.
Cole's tip: Vivid has excitement at every turn. You don't want to miss the money shot, so keep your S9 at the ready. When you stumble across a hidden gem worth snapping, double-tap the power button to bring up the camera quickly.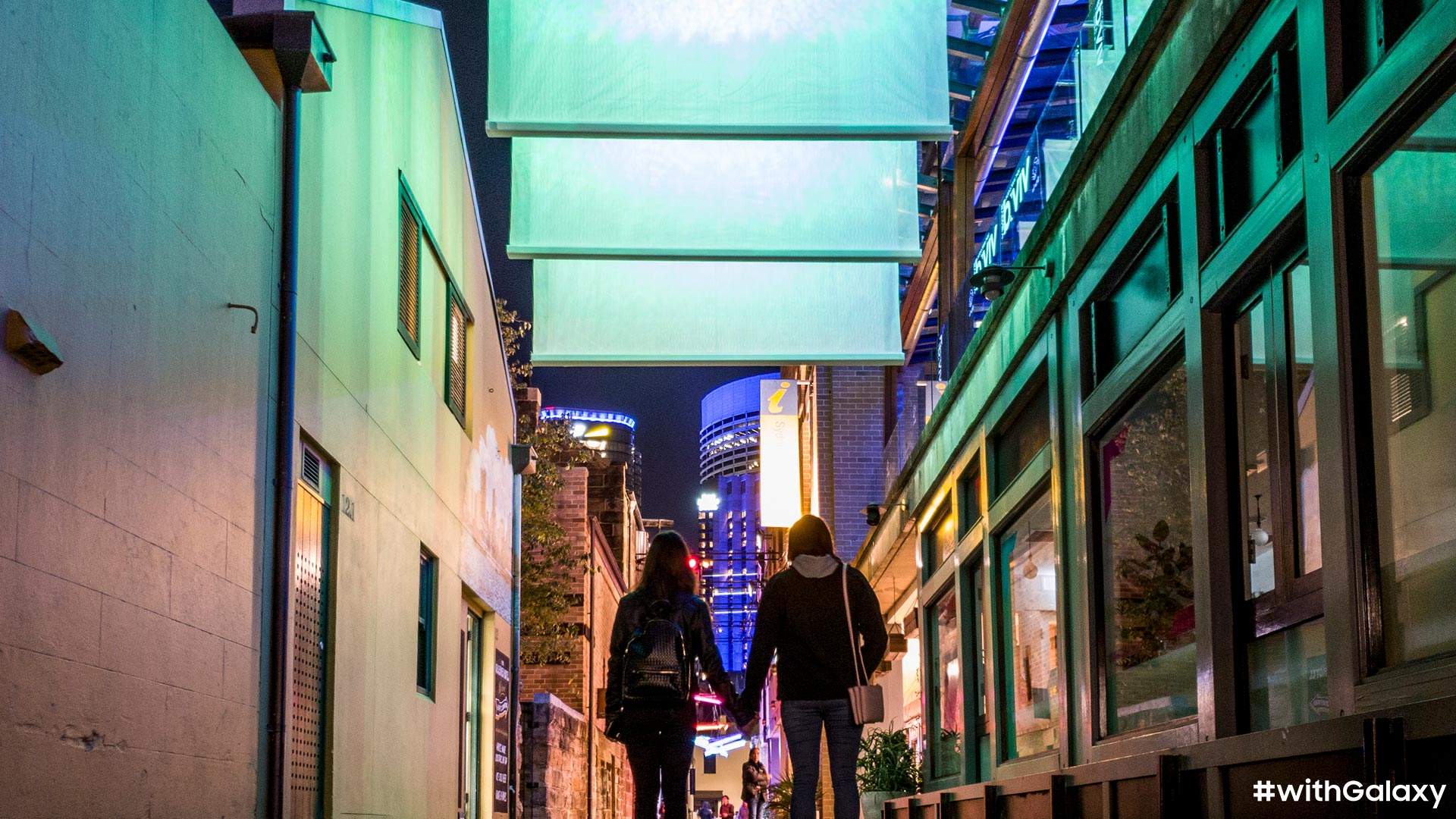 555 NANOMETERS — KENDALL LANE
Hanging above a historic laneway in The Rocks, 555 Nanometers' sheets of green light and integrated soundscape also draw people in with the sound and sights of Australian flora and fauna. Follow the noise of cicadas calling into the night, pulling you toward this canopy of light. The name of the installation is a reference to its yellow-green hue that specifically sits at colour spectrum 555 nanometers. The human eye is most sensitive to the colour and feels most at ease when looking at it. As you look up at the illuminated perforated sheets, you'll find yourself reminded of looking at light streaming through leaves on a bright summer's day.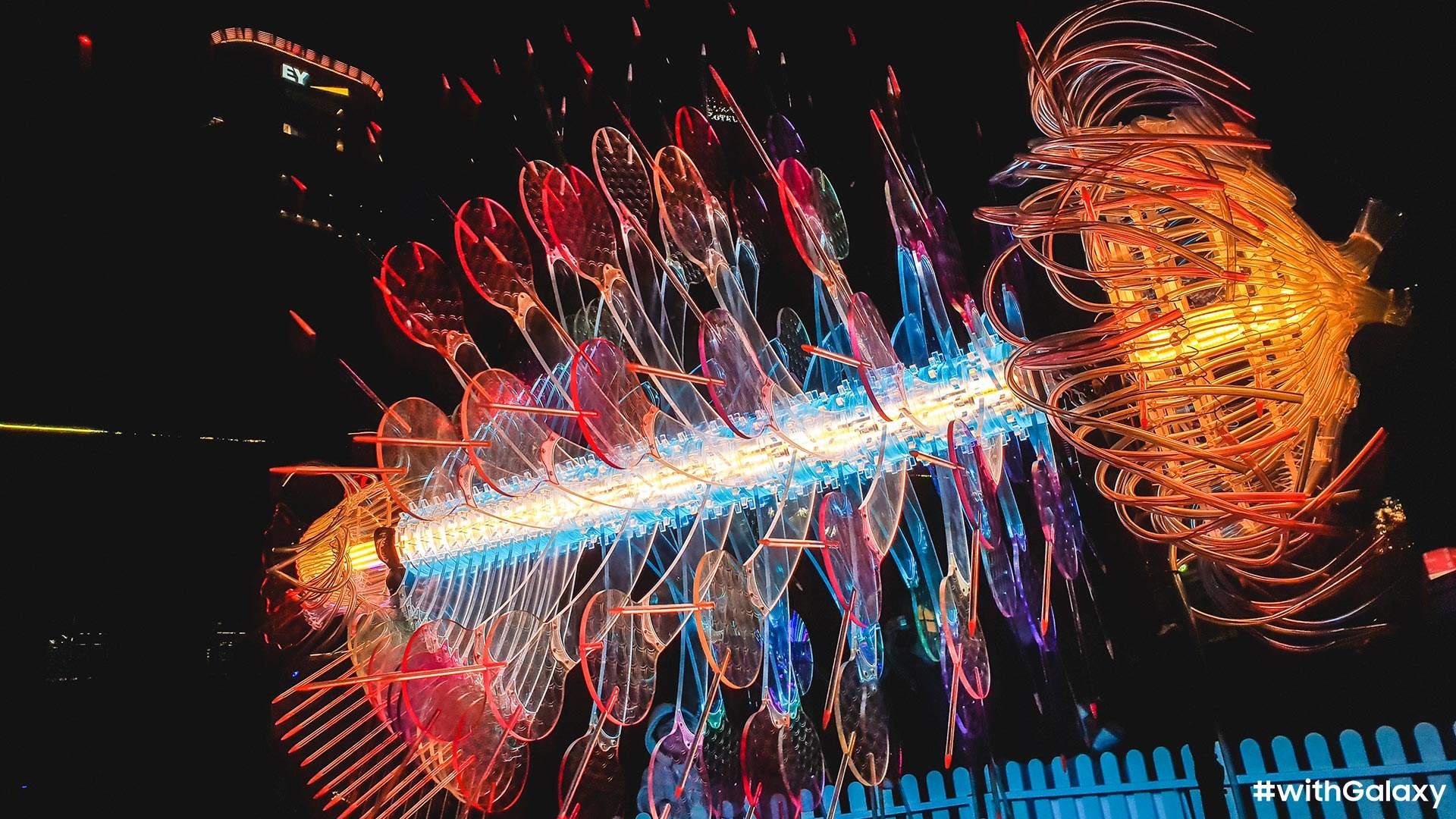 FUGU — THE ROCKS
If watching David Attenborough's Blue Planet has taught us anything, it is that the goings-on in our oceans are both compelling and crucially important. Artists Amigo and Amigo depict this in their installation Fugu. It's a kinetic light sculpture in the form of a pufferfish, a peculiar critter that changes form for protection against predators. As audiences surround the spiky creature it comes to life, expanding, contracting and pulsating in glowing multi-colour. The piece represents the fragility of life under the surface and highlights the importance of conservation.

As you explore and uncover the hidden gems of Vivid, get the best snap on the new Samsung Galaxy S9 and S9+, designed especially for low light.
Images: Cole Bennetts.
Published on May 31, 2018 by Tamar Cranswick