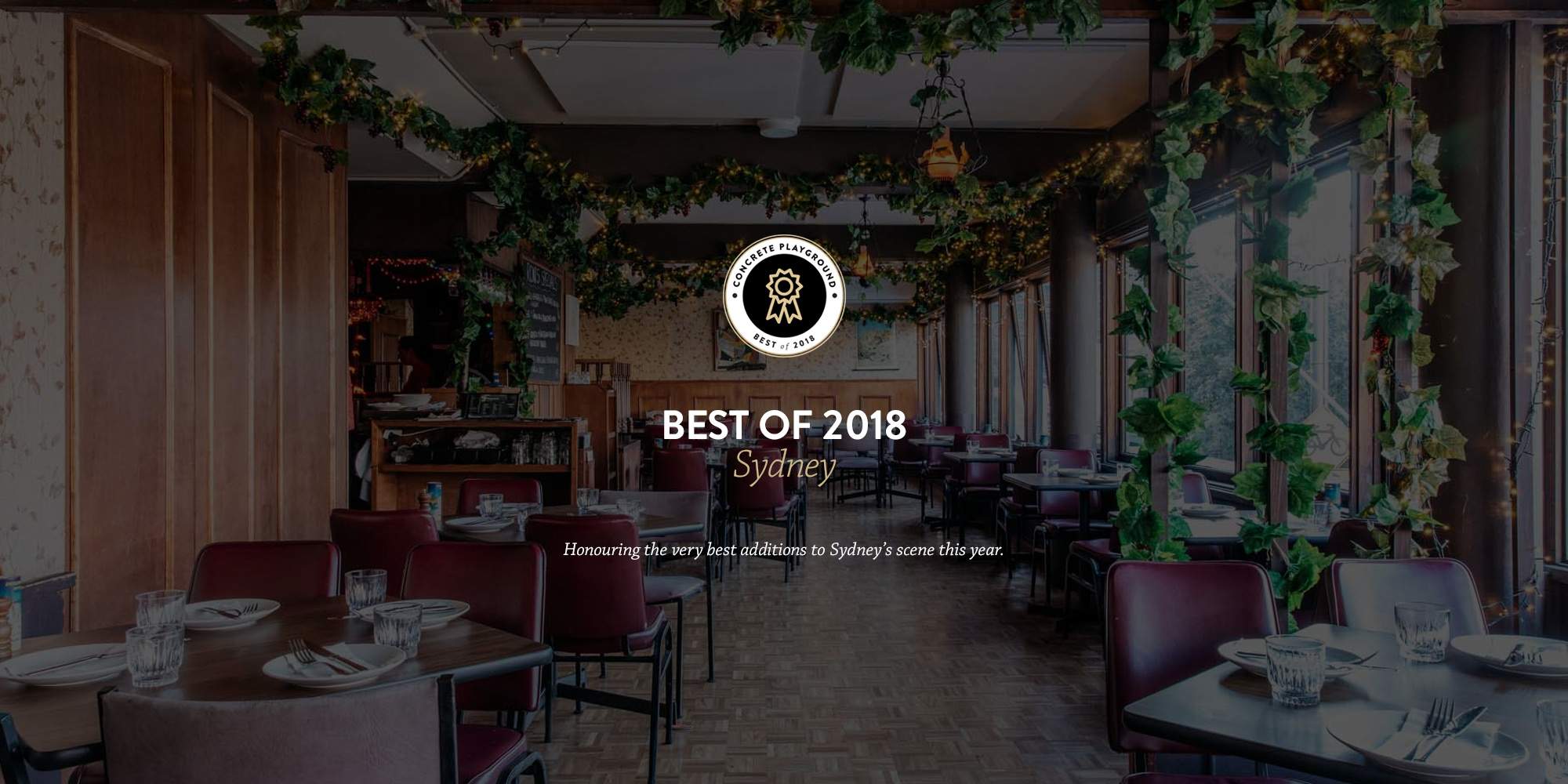 WIN We're giving away dinner for you and a friend at Sydney's hottest new restaurant. But first, we need you to help us decide what it is. Vote in our Best of 2018 Awards below (and fill out the comp form) and you'll be in the running to score a free dinner at the winning restaurant.
Sydney hasn't yet lost its legislative shackles, but it's adapting and evolving around them, discovering new ways to eat, drink and have fun. You'll find fun in underground restaurants dedicated to Tuscan steaks, in dozens of rooftop bars scattered across the city, at immersive theatre experiences in abandoned warehouses and, even, in six-storey futuristic libraries decked out with amphitheatres and grand pianos.
And the fun we're having as a city is becoming ever more inclusive. Our restaurants are catering to more dietaries and allergies, our pubs and bars continue to celebrate the LGBTQI+ community and our artworks and spaces are beginning to acknowledge and celebrate the achievements of Aboriginal and Torres Strait Islander Peoples.
As the city continues to grow, new openings abound. Chefs — established and new — continue to experiment and specialise, opening Sri Lankan hopper eateries in the inner city and luxe French fine diners up north. Bars no longer just serve good drinks, but distill onsite, and serve their own spirits alongside restaurant-quality snacks (sometimes in renovated opium dens). Cafes continue to roast coffee, too, as well as bake, milk and batch in-house, serving up sandwiches that achieve almost immediate cult status. Pubs may not necessarily be new, but historic ones are getting second lives — revived by both hospitality giants and small players.
The city's cultural calendar, not restricted to just bottomless brunches and high teas, brims with immersive experiences, living installations and new festivals. And, the city's most stunning spaces are more dramatic, futuristic and sustainable.
At Concrete Playground we encourage exploration and showcase innovation in our city every day, so we thought it fitting to reward those most talented vanguards pushing Sydney to be a better, braver city. And so, we are very pleased to announce Concrete Playground's Best of 2018 Awards.
This year, we will be awarding both a reader voted People's Choice and Overall award in each of the following six categories:
These 36 outstanding Sydney ventures have been handpicked by Concrete Playground for their combination of originality, innovation, creativity, approachability and sustainability. We straight-up love them.
Cast your People's Choice votes below by 5pm on Wednesday, December 12 (you can only vote once per category, so make those votes count). People's Choice and Overall winners in each category will be announced at 3pm on Thursday, December 13. Please note that your vote is recorded as soon as you make your selection in each category, but that you can edit your votes right up until when voting closes. If you have any questions or feedback, hit us up at [email protected]
O Tama Carey's iconic Sri Lankan hopper eatery.

A decadent dining room and bar attached to Merivale's northern beaches pub.

This underground CBD restaurant specialises in just one cut of steak.

Innovative plant-based dining is front and centre at this stunning Waterloo restaurant.

The Arcadia Liquors team's restaurant is an upstairs Euro bistro full of kitsch and neighbourhood charm.

The Ester team's still-very-elegant take on a casual restaurant and wine bar.
Pair quality cuppas with innovative, Japanese-inspired brekkies at this inner city cafe.

Clayton Wells' diner doles out an all-day offering, from breakfast doughnuts to lamb shoulders and batched cocktails.

Marrickville's bold NYC-inspired cafe heroes local producers and big flavours.

A health-conscious Bondi cafe making almond milk and baking bread in-house.

A pastel pink beachside bakehouse with some of Sydney's best croissants.

The award-winning Canberra coffee roaster has opened its first Sydney cafe in the inner west.
This killer Royal Botanic Garden's exhibition features 25,000 carnivorous plants.

An Edgar Allen Poe-inspired immersive theatre experience in an abandoned Newtown warehouse.

Partyeth like it's 1614 with performances of 'Macbeth' at this full-scale replica of the historic theatre.

A new Sydney sister festival to Austin's much loved event.

One of the greatest movie soundtracks of all time becomes a masquerade rock show.

A new immersive installation that surrounds you with First Peoples' stories.
NEXT CATEGORY
PREVIOUS CATEGORY
Concrete Playground Trips
Book unique getaways and adventures dreamed up by our editors
Tap and select
Add to Home Screen
to access Concrete Playground easily next time.
x