ARTS & ENTERTAINMENT
Five Sydney Date Ideas for This Week That Aren't Dinner and a Movie
Just think of us as your cultural wingman.
Five Sydney Date Ideas for This Week That Aren't Dinner and a Movie
Just think of us as your cultural wingman.
---
Tired of the classic movie and dinner date night combo? Us too. That's why we're always on the hunt for new things to do, scouring the city for not-boring Sydney activities — ones that are guaranteed to take your next date way beyond done-before beers at the pub. Whether you're taking someone on a second date or doing your 100th with your significant other, we've got some killer (and, yes, cute) Sydney date ideas for this week, no matter how much money you've got to spend. Just think of us as your cultural wingman. You're welcome.


FREE
TAKE A GIANT LEAP INTO SPACE AT THIS FREE EXHIBITION SERIES
Fly down the M5 all the way to the moon with this expansive exhibition at the Casula Powerhouse Arts Centre. Celebrating the 50th anniversary of the first moon landing, Giant Leap is a massive program of arts, events, performances and exhibitions that has taken over CPAC, continuing until September 8 — and most of it is free.
Within the exhibition space is Memories of the Moon Landing, which captures the 1969 moon landing with NASA photographs, video footage and memorabilia; High Loom, an installation by artist Lisa Sammut, which reflects the 'movement and interaction of celestial bodies in space'; and Under the Same Moon features work by local community groups and reviews beliefs and legends about the moon — including astrology, celestial events and UFOs. Plus, on Sunday, August 25, there will be two free film screenings: The Martian for early birds at 10am, and Apollo 13 at 2pm. Book here.

UNDER $20
TAKE IN SOME AMAZING NATURE PHOTOGRAPHY TOGETHER
This spring, you can immerse yourself in the wilderness without leaving the city, when the Australian Geographic Nature Photographer of the Year exhibition takes over the Powerhouse Museum. More than 100 photographs will transport you and your love to spectacular scenery and put you eye-to-eye with crested-horn sharks, short-beaked echidnas and flying foxes. As well as being completely captivating, the images show the incredible natural diversity of Australia, New Zealand, Antarctica and New Guinea.
The photos will take you from NSW's snow-capped Australian Main Range to waterfalls in Tasmania and WA's Cheynes Beach, without having to travel too far. The Powerhouse Museum is open from 10am–5pm every day, and entry will set you back $15 per adult. Afterwards, we recommend keeping the date going with Japanese beer and dumplings at the nearby Harajuku Gyoza Beer Stadium.

CELEBRATE THIS REDFERN BAR'S FIRST BIRTHDAY
Sydney's Australiana-themed Redfern Surf Club is turning one this week. And it's celebrating in a big way. The colourful cocktail joint is throwing an all-day bash on Saturday, August 24 with bands, DJs, tinnies and $10 cocktails, and a whopping $250 bar tab up for grabs.
The party will kick off at noon with $6 tinnies by Young Henrys, natural wines by the South Coast's Nattie by Nature and cheeseburgers by The Lord Gladstone. Punk rock band Beerwolf and a few special guests will take the stage during the arvo, then DJs will keep the party going until late — including The Delta Riggs and Money For Nothing.
The only thing that could take this date to the next level would be if you were the lucky punter to nab a $250 bar tab — just make sure you get in before 4pm to go in the running.

UNDER $50

SLURP DOWN LOTS OF $1.50 OYSTERS TOGETHER
Do you (or your lover) go weak at the knees for a good mollusc? Luckily for you, The Morrison Bar and Oyster Room's month-long Oyster Festival is still kicking for another week. Between 6pm and 7pm every single day until August 31, you and your date will be able to eat as many oysters as you can handle at just $1.50 a pop. This deal is available for walk-ins only, so we suggest getting there a little early.
Head Chef Sean Connolly is also conjuring up his favourite oyster dishes, from fried oyster sliders, oysters with slow-cooked pork belly (also known as pearls and pig), oyster carbonara, oyster and leak chowder served with duck fat fries and oyster-stuffed steak. If you're willing to splash a little more cash on a seafood and sparkling extravaganza, on Saturday and Sunday you can down a dozen oysters with two hours of bottomless bubbles for just $55 a head. Bookings are recommended for this.

UNDER $100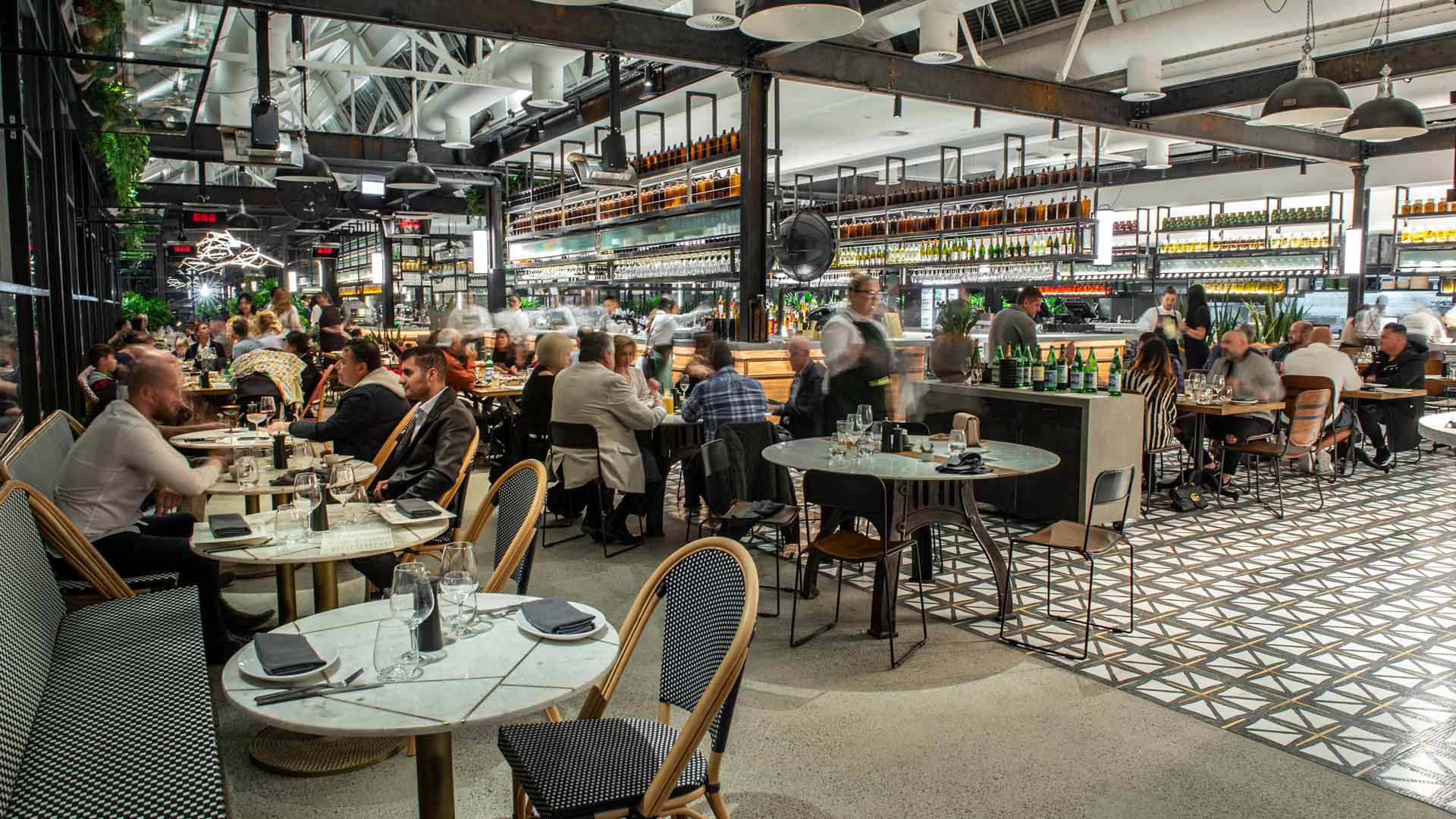 TRY A LITTLE BIT OF EVERYTHING AT THE PAPER MILL
Okay, we admit, sometimes it is nice to go out on a classic date of wining and dining. But that doesn't mean it has to be boring. Give Western Sydney's newest culinary precinct, The Paper Mill Food a try. Set in a heritage building on the banks of the Georges River, the hub houses four different eateries, open for morning coffees, dinner feeds and everything in between.
Kick things off with a Neapolitan-style, woodfired pizza and a round of cocktails at Georgie's Pizzeria & Bar. Mains are best served with a bottle of wine at the Fire Pit restaurant, which showcases dishes cooked over charcoal or in one of two woodfired ovens. Here, tuck into corn-fed chicken breast with miso and corn cream, barbecue-glazed charcoal pork ribs, and even charcoal lobster served with fermented hot sauce butter and chips. Or, enjoy a modern take on Lebanese charcoal chicken at Charcoal Joe's. No date is complete without dessert, so finish up the evening at Shepherd's Lane Cafe and Dessert Bar for decadent waffles, bakery treats, doughnuts, gelato and loaded shakes.
Published on August 13, 2019 by Concrete Playground