Harry Styles and Florence Pugh Get Caught in a 1950s Nightmare in the 'Don't Worry Darling' Trailer
The pair play a married couple seemingly living the perfect life in this psychological thriller from actor and 'Booksmart' director Olivia Wilde.
When Olivia Wilde first made the leap from starring in front of the camera to helming behind it with Booksmart back in 2019, she took a genre that usually spins easy celluloid dreams — high school-set coming-of-age comedies — and gave it her own twist. For her second feature as a filmmaker, the actor-turned-director is set to actively dismantle a different fantasy. She also indulges in one, at least if you've always wanted to see Harry Styles get steamy on-screen.
Fresh from proving the talk of Coachella — and locking in a 2023 Down Under tour, too — the former One Direction member stars with Florence Pugh (Black Widow) in Wilde's Don't Worry Darling, which strands the pair in a 1950s nightmare. Well, for Pugh's Alice, it's anything but peachy; however, Styles' Jack, her husband, is content with the idyllic status quo.
Here's the setup: seven decades back, the community of Victory appears picture-perfect. It's home to the men who work for the top-secret Victory Project — such as Jack — and their families, and it's where Don't Worry Darling's central duo are meant to be living blissful lives. They're given two rules to abide to, though: exercising the utmost discretion and committing 100-percent to Victory's vision, even if the town's wives don't actually know what their husbands get up to all day.
That's all well and good — and terrific, in fact for most of Victory's residents — but it stops being the case for Alice in the film's just-dropped first full trailer. Despite the pervasive optimism of the era, as well as overt reassurances by company CEO Frank (Chris Pine, All the Old Knives) and his wife Shelley (Gemma Chan, Eternals), Alice is certain that all isn't quite what it seems — or that she can or should trust what the company is so determined to impress upon the town's inhabitants.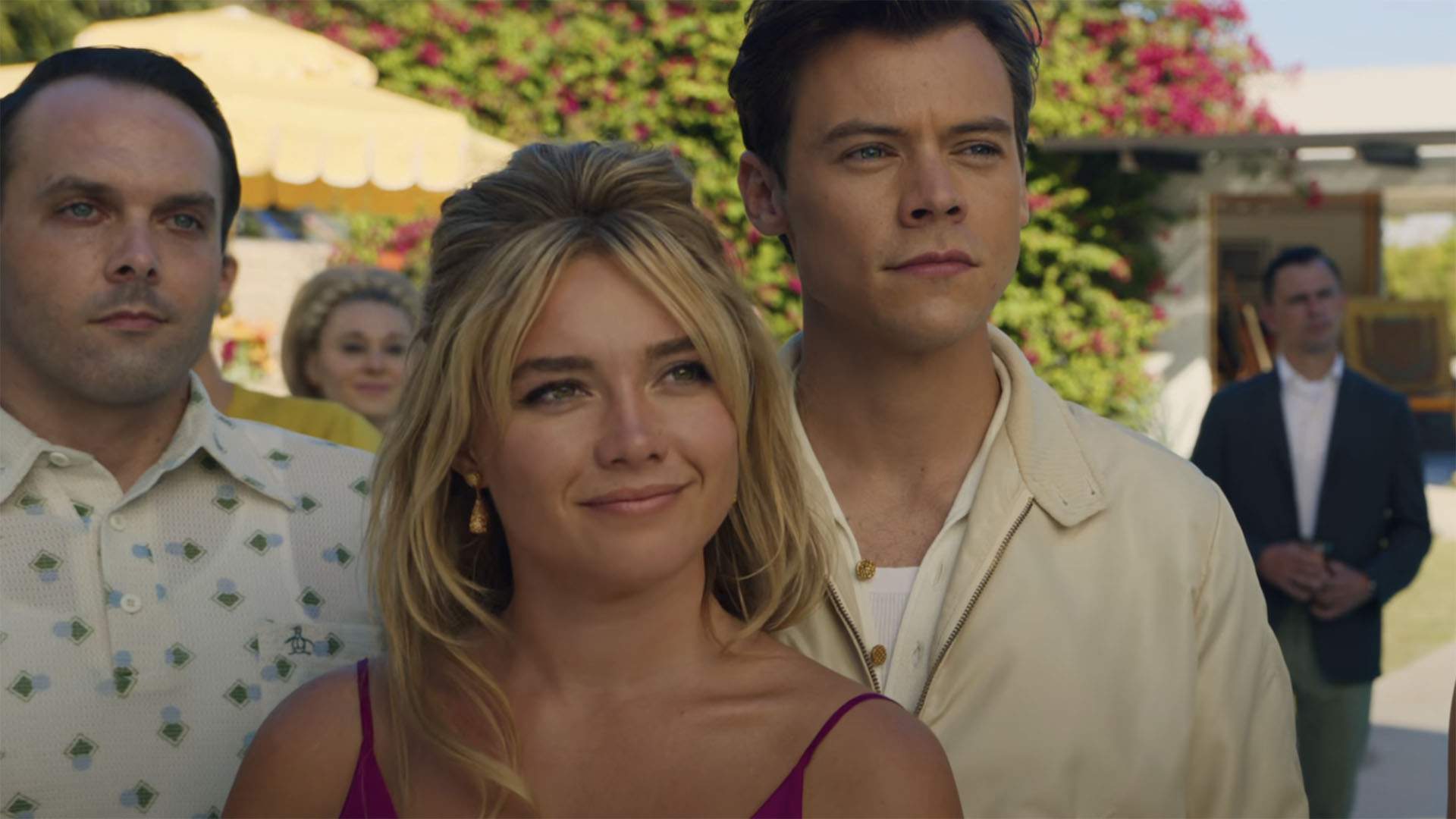 In Don't Worry Darling's initial sneak peek, Pugh shows the rebellious streak that served her so well in Little Women, plus the utter horror that helped make Midsommar what it is — all within an immaculate-looking movie that's 100-percent a psychological thriller. As for Styles, he's trying to both toe and sell the company line as Jack, but Alice isn't having it. There's a bit of a The Truman Show vibe, too, as Alice refuses to acquiesce.
Don't Worry Darling also co-stars Wilde herself, playing another Victory employee's spouse, as well as Nick Kroll (Our Flag Means Death), Sydney Chandler (The Golden Rut), Kate Berlant (Once Upon a Time in Hollywood), Asif Ali (WandaVision), Douglas Smith (Big Little Lies), Timothy Simons (Station Eleven) and Ari'el Stachel (Zola).
And yes, it's clearly one of the big movie must-sees for the rest of the year — and hits cinemas Down Under in early October.
Check out the trailer for Don't Worry Darling below:
Don't Worry Darling releases in cinemas Down Under on October 6.
Top image: © 2022 Warner Bros. Enterainment Inc. All rights reserved.