All About That 'Bullet Train': Brian Tyree Henry Chats Banter, Brotherhood and Beating Up Brad Pitt
In his latest role, the 'Atlanta' star plays an assassin with a 'Thomas the Tank Engine' obsession hurtling across Japan on a shinkansen.
As Alfred 'Paper Boi' Miles in Atlanta, Brian Tyree Henry has been given plenty to utter. Across the hit Donald Glover-created series' three seasons so far, his rapper character has soared from up-and-comer to global star touring Europe, as chronicled with the show's banter-filled dialogue. But there's one thing that hasn't ever fallen into his remit in his best-known role, and is highly unlikely to in the fourth and final season that's set to arrive this September: obsessing over Thomas the Tank Engine.
Henry might be as synonymous with Atlanta as Glover, complete with a 2018 Emmy nomination for his stellar performance, but his resume spans far further than the acclaimed series. In movies as varied as Widows, If Beale Street Could Talk, Spider-Man: Into the Spider-Verse, Joker, Godzilla vs Kong and Eternals — and shows such as Boardwalk Empire, The Knick and This Is Us as well — he's kept proving a compelling presence. There's no Thomas the Tank Engine fixation among them either, though.
Instead, waxing lyrical about blue British locomotives is the domain of Henry's part in action-comedy Bullet Train. He plays blonde-tressed assassin Lemon, half of a chalk-and-cheese killer duo with Aaron Taylor-Johnson's (The King's Man) Tangerine. Dubbed "the twins" but clearly brothers in friendship rather than blood, they're just two of the movie's many killers, as led by Brad Pitt (The Lost City) — all of which, fittingly for Lemon, find themselves speeding across a neon-drenched vision of Japan via the titular shinkansen.
In other films, it's easy to predict how Henry's part would go. But, working with John Wick and Atomic Blonde filmmaker David Leitch, Henry was determined that Lemon would transcend tropes — and be a hitman that viewers cared about, even as he's using Thomas the Tank Engine to decide whether people are trustworthy or not and, obviously, as he's hopping around the train killing people. Ahead of the movie's local release on August 4, we chatted to Henry about Bullet Train, childhood favourites, busting tropes, gravitating towards banter, and a shoot that felt like "a bloody summer camp".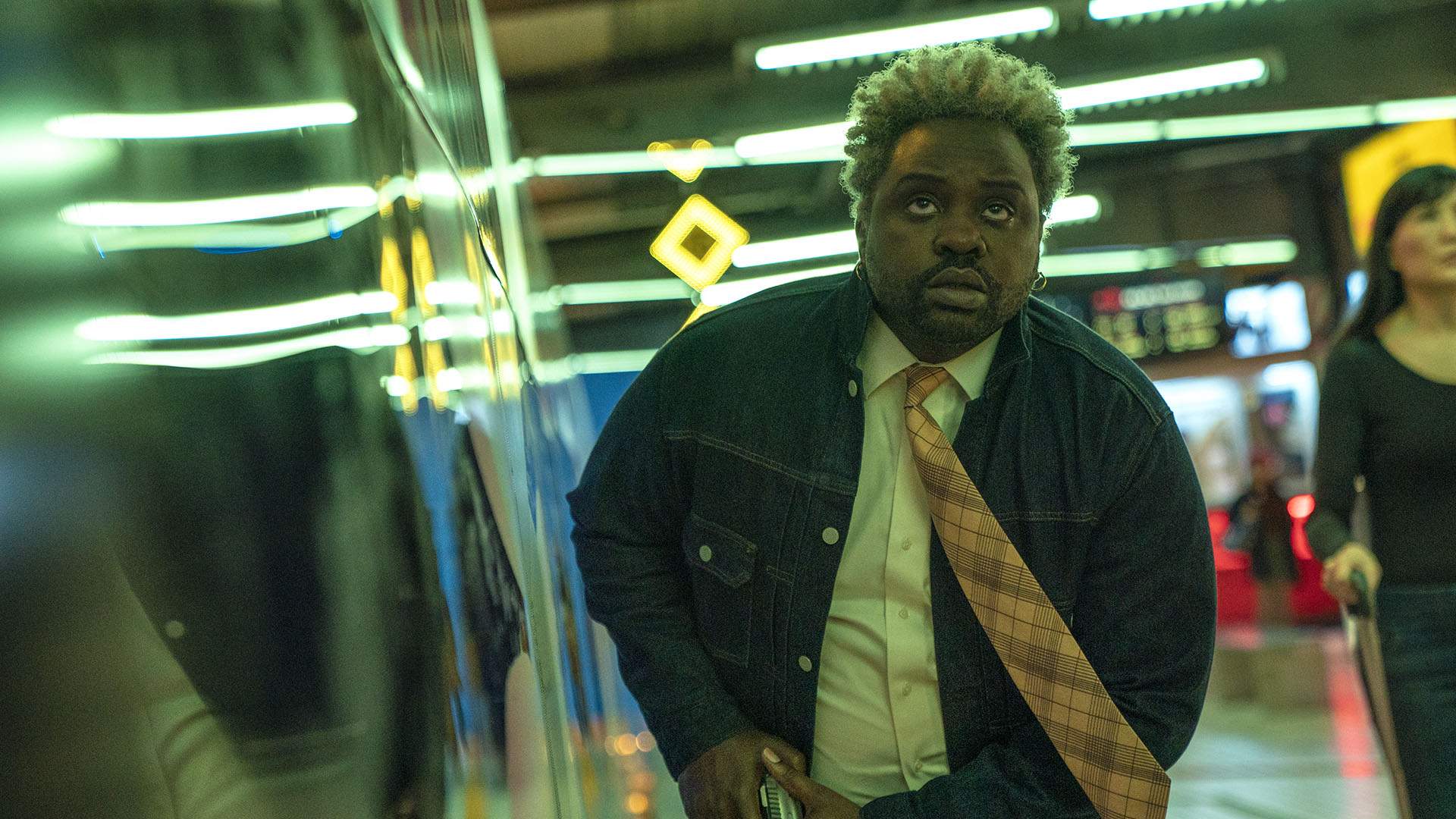 ON 'THOMAS THE TANK ENGINE' AND CHILDHOOD FAVOURITES
"Is anyone really a fan of Thomas the Tank Engine? It has always been a part of our childhood, right? He's just always been there… I think what's really great is that with this movie, we get to really go into the characters' details, because Lemon truly studied and loves Thomas the Tank Engine. And he's right about it. Every time that he says that somebody is a Percy or an Edward or a Diesel, he's right. So there is a little truth to the characters of Thomas the Tank Engine, for you to tell if somebody is trustworthy or not.
But, when I was a kid, it came on after the good stuff. Like Thomas the Tank Engine kind of wrapped your day, and you were like 'where are the explosions? I want to see more stuff with candy.'
I didn't do an in-depth Thomas the Tank Engine study when I got this part, but I did play the theme song on set though to really piss everybody off. I was like 'come on guys, we need this levity, let's listen to Thomas the Tank Engine'.
Care Bears was my thing. Fraggle Rock, anything Muppet-related, I was all about it. I was a huge Jim Henson head, I mean anything that had Jim Henson on it, I was there for it. And I'm not going to lie, I still do, I still care a lot about anything Jim Henson-related."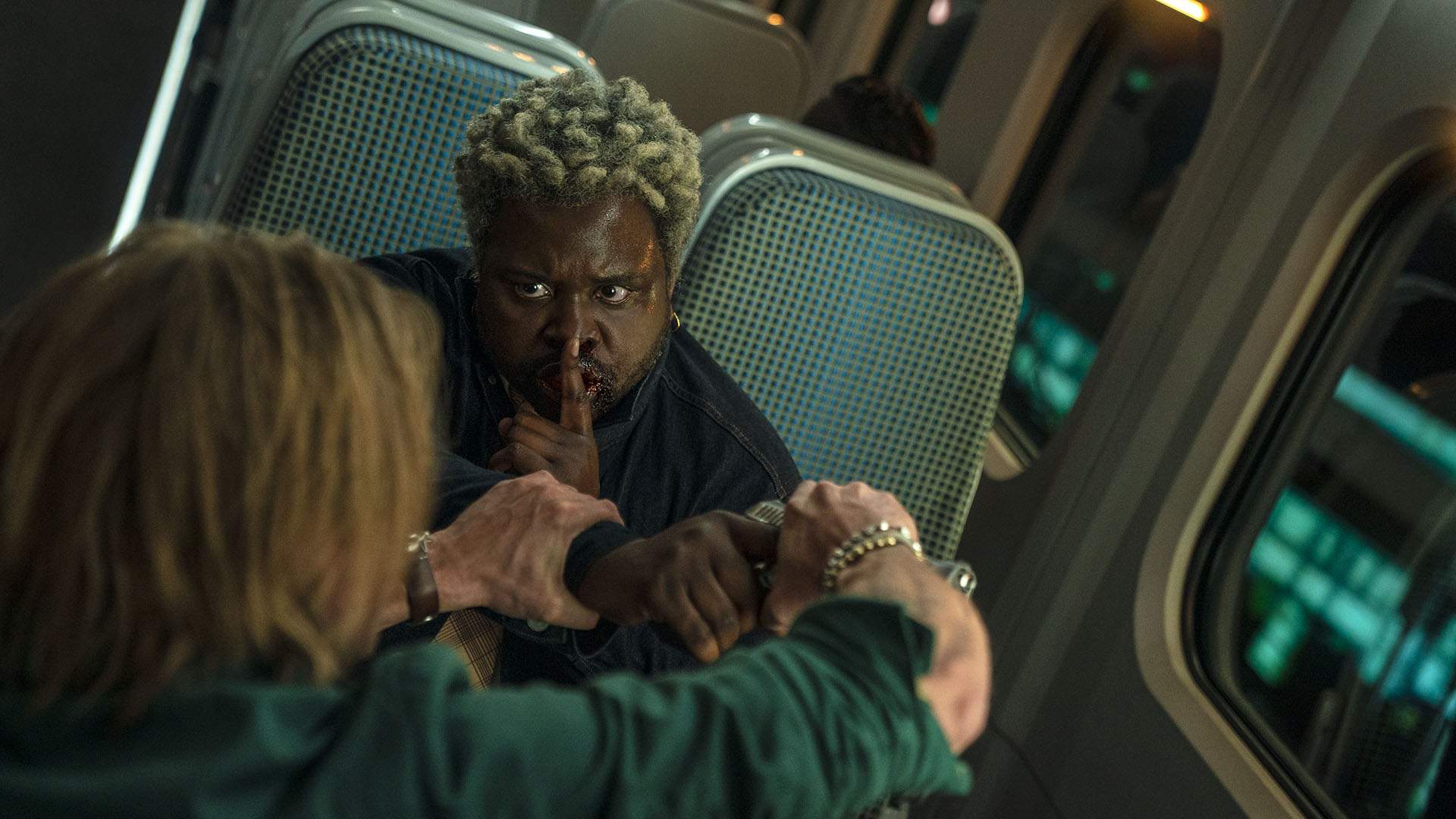 ON GOING BEYOND THE COMEDIC BLACK GUY TROPE
"I got a call from David Leitch who said that he was making this movie, and my jaw kind of fell on the floor because I know David Leitch's repertoire and I was really excited — and I was also very suspicious. I loved Deadpool 2. I know he produced all the John Wicks which I love as well. I remember loving Atomic Blonde and these universes he created, but I was very much like 'where am I going to fit in this?'. And then he told me that there was a character named Lemon that was one half of a duo called Lemon and Tangerine.
I read the script, and I did love it, but there were some parts that I really wanted to delve a little deeper into — because the first draft kind of seemed like Lemon was there to just be there for laughs, and I didn't want him to just be the comic foil. I wanted him to be cared about. There's usually a trap that happens sometimes when you're Black and doing action movies or any kind of certain genre, that you're the funny person and usually the first person that dies — you know all these weird, terrible, microaggressive tropes that are put on Black people. 
I didn't want that for this movie, and I pled this to him. I was like, 'look, if you are putting me in this atmosphere, being on Japan on a bullet train, I want people to care that I'm there — it's not like I can hide anywhere, it's not like people won't notice when I'm there'.
This is also during 2020 when shit was hard. It was really hard in America, it was really difficult. We didn't know what this virus was, there was social injustice going on outside of our door, we were dealing with an election that would change our fate, and I was angry — and I hate saying that I was an angry man, but I was. And I was also very fearful of what was going on, and I had to find some trust to take this movie, and David reassured me, he was like 'we really want your voice in this'."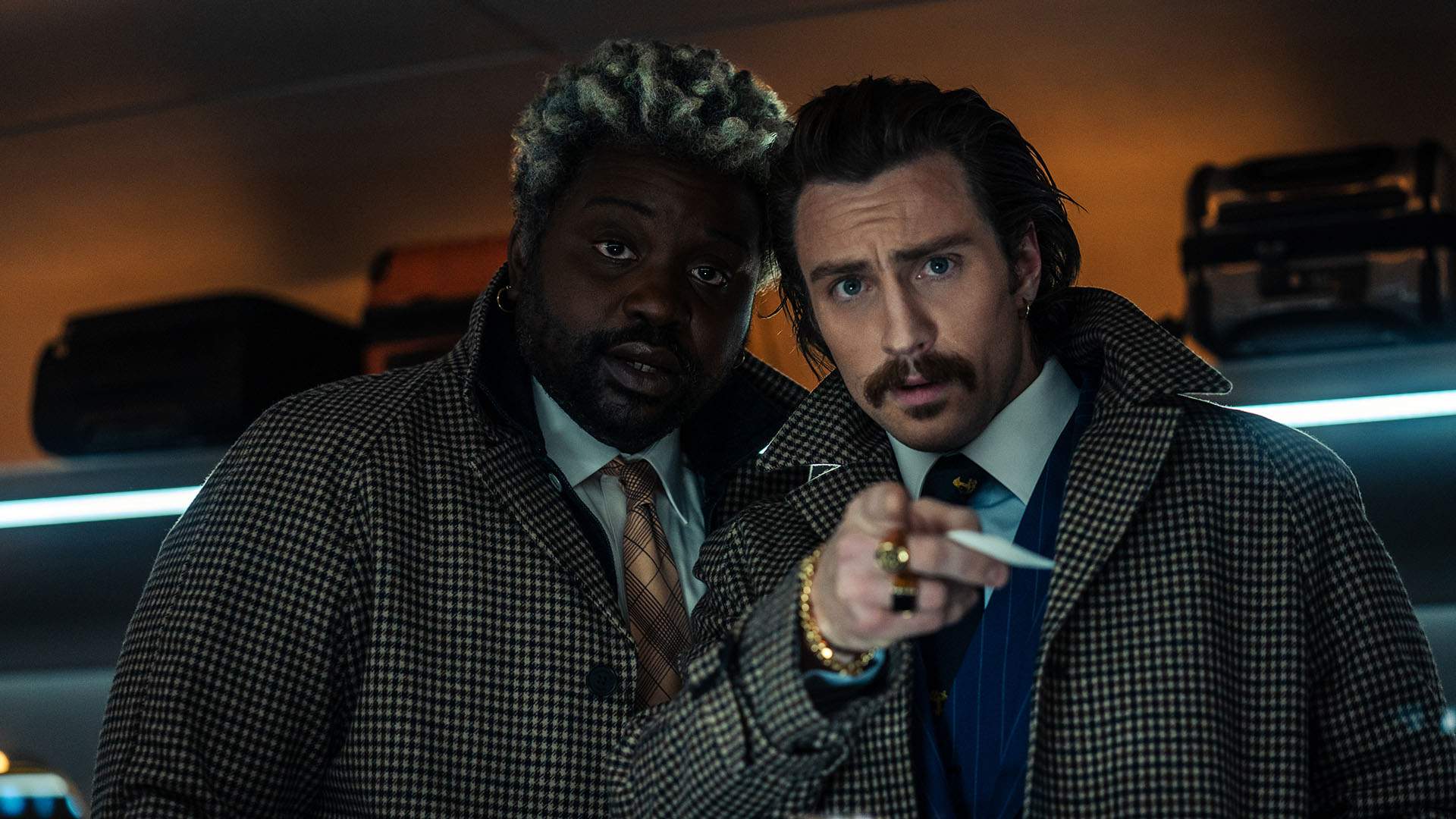 ON PLAYING A KILLER PEOPLE WOULD CARE ABOUT
"When I was paired with Aaron Taylor-Johnson, I was like 'this can play a few ways', because it says we're twins and we're clearly not. A sense of brotherhood can be there and that can be authentic, and I let David know that. Aaron and I both wanted to find the heart of who both of these characters are. Whenever we see these movies, where the tropes are a black man and a white guy coming together, it's all different kind of hijinks — and look these tropes have a place, and I admire them and the actors who played them, they have their own place in history. But if we were going to add to that, we wanted it to come from a different place. 
With most of these duos, you see these men coming from two different sides of the world, or two different walks of life, they come together and they form a partnership. But with our duo, we literally grew up together. And part of me was like 'maybe we were passed around in the foster care system together, maybe we were used to having each other to protect each other, to care about each other, and that just went on until we grew up?'. So that brotherhood was what was really important, because we wanted the audience to really believe that there was a brotherhood between the two of us.
David heard that, and really allowed us to play with that — because I wanted the audience to care, I really did. I know that we're sociopathic killers, and yes we're funny and we have this banter that goes back and forth, but I wanted you all to care if we got separated. I wanted you all to care if one made it and one didn't. I wanted the audience to really care about these brothers, because they're the only assassins on the train that are a duo, that's a partnership — and I wanted people to care because I needed to figure out how to care again. 
I needed to figure out what a brotherhood meant with someone who didn't look like me, someone who wasn't from where I was. I needed to really find a way to feel a connection with somebody, and Aaron just brought his heart and brought his soul to this thing' and we instantly hit it off. And we gave David Leitch no choice but to kind of like accept that. Most of the things that we were doing were improv. Most of the things that we said, that we volleyed off one another were just off the top of our heads, and David Leitch was like, 'yeah, let's keep going with that' because he saw how close we were. It restored a kind of faith in me again when playing this role because I cared about Lemon so much, and I wanted people who were watching Lemon so much… I owe a huge thanks to David Leitch for hearing me out, hearing me say that I wanted these things and I wanted to play with Lemon this way, because he let me."

ON ALL OF THOSE STUNTS — AND A SHOOT THAT FELT LIKE "A BLOODY SUMMER CAMP"
"I remember going to Dick's Sporting Goods, and I was like 'kneepads, gloves, shorts, everything, because I'm going to do it all'. I was so ready to get ready for this movie. I really wanted to do all these crazy stunts that I'd seen David Leitch choreograph throughout his career. I really wanted to do wire work. I wanted to find different ways to kill somebody with a tray table. I wanted to really get in there.
We couldn't go to studios like you would if you were trying to learn fight choreography, so they had to improvise and made this makeshift fight playground, basically, on the rooftop of a parking deck on Sony's lot. And it was the coolest thing I've ever seen. So you've got padded floors, boxes are that are the walls of the train, tables, fold-up chairs — and with the help of Greg Rementer, who is the stunt coordinator for 87 North [David Leitch's production company], we had the time of our lives. 
The collaboration that David Leitch has in his work is really fun. Especially, I think about the fight between Brad and I that is taking place on a quiet car. My character tells him that he needs to keep his voice low because it's the quiet car, and all the while I'm going to do what I can to kill him on this quiet car. So doing the fight choreography, to map out how we're going to do that, was like taking me to like a bloody summer camp. You're signing up to just go bash each other's faces in, but how how many different ways can we do that on a quiet car?
How many ways are Brad and I going to be in a headlock and punching each other in the nuts? How many ways are you going to avoid a snake that's now loose on this train? It was some of the most therapeutic scene work I've ever done in my life, and it was incredibly fun." 
Bullet Train screens in Australian and New Zealand cinemas from August 4. Read our full review.
Concrete Playground Trips
Book unique getaways and adventures dreamed up by our editors