How Jackie van Beek and Madeleine Sami from 'The Breaker Upperers' Made This Year's Funniest Comedy
We chat to the film's two directors, writers and stars, about real-life break ups, smashing rom-com conventions and Celine Dion singalongs.
Next time you have a great idea while making a cup of coffee, it could spark a hit comedy flick. That's what happened to Jackie van Beek, New Zealand comedian and one half of the writing/directing/acting duo behind The Breaker Upperers. "I was literally just wandering aimlessly around my kitchen, and I was just thinking about all those conversations that we've all had with friends about that horrible moment when you realise that you have to break up with your partner, and that feeling of dread," she explains. "And I just thought, "gosh, how much money would somebody pay to not have to do that themselves?". And I thought it'd be quite a lot of money, and I know a lot of people that would pay to get out of that responsibility."
To answer the obvious question, van Beek never considered setting up a business to end other people's relationships for cash. Instead, she called fellow NZ comedian and actress Madeline Sami, and they started working on what would become 2018's best comedy. That was back in 2013. The script took years to perfect between other jobs, and the film shot across 22 days in 2017, with a cast that included Boy's James Rolleston and Rosehaven's Celia Pacquola. This year, The Breaker Upperers premiered its tale of best friends Jen (van Beek) and Mel (Sami), their love-busting business, their various life woes and their Celine Dion karaoke singalong at SXSW, and then opened the Sydney Film Festival.
"It has been a whirlwind few months," Sami observes. "I didn't really have any expectations on how it would do. You spend so long editing the film, making it, and then you're just kind of relieved to have finished it. Then it comes out, and then all of these other people see it and take it into their hearts, and it's just overwhelmingly lovely."
Indeed, while The Breaker Upperers is all about helping others when love has faded, there's plenty of love blossoming for this smart, funny film, with audiences both overseas, in New Zealand and in Australia reacting warmly. With the movie now releasing around Australia, we sat down with van Beek and Sami to chat about real-life break-ups, smashing rom-com conventions and working collaboratively in a Kiwi comedy scene that also includes the film's executive producer, Taika Waititi.
ON CREATING ROLES FOR THEMSELVES THAT DIDN'T EXIST OTHERWISE
Sami: "We wanted to write characters that were fucked up women in their thirties, and that didn't have to settle down. That was the big, big point for us. Otherwise it's so unrealistic and so much pressure for women, and I hate that."
van Beek: "And so exclusive. We've of course got so many friends that are single, in their early forties and are not going to have a baby now. What about happy endings for those guys? So it was very important that — we love rom-coms, but it was very important for us that we buck the convention and that we didn't end with a double church wedding with two women and two men tying the knot and talking about children."
Sami: "We definitely thought about it in drafts and played with the idea, and it just never sat right. And we were just like, this is really a story about being okay with who they are, and accepting that and not having to bow to society's expectations — and the movies' expectations — of what your life should be like. It's really the movies. The movies tell us that we need to have all this shit together, especially for women. I think the pressure on women in movies — just the damsel in distress thing, it goes right back to Snow White. Or in all the Disney stuff. There's a princess who's stuck in a tower or she's in a coma, which is fucking dark, and she needs to be saved. And that same thing is in rom-coms today — a woman who's…"
van Beek: "All befuddled."
Sami: "And needs to be saved. And it's like, no we don't. We're cool. Just chill."
van Beek: "We can figure out our own mess. It doesn't have to involve a man."
Sami: "And also, a happy ending doesn't have to be what we've always been told what a happy ending is. It doesn't always have to be that conventional, settle down thing. It can just be 'well you're just not as dark and fucked up as you were at the beginning of the movie'."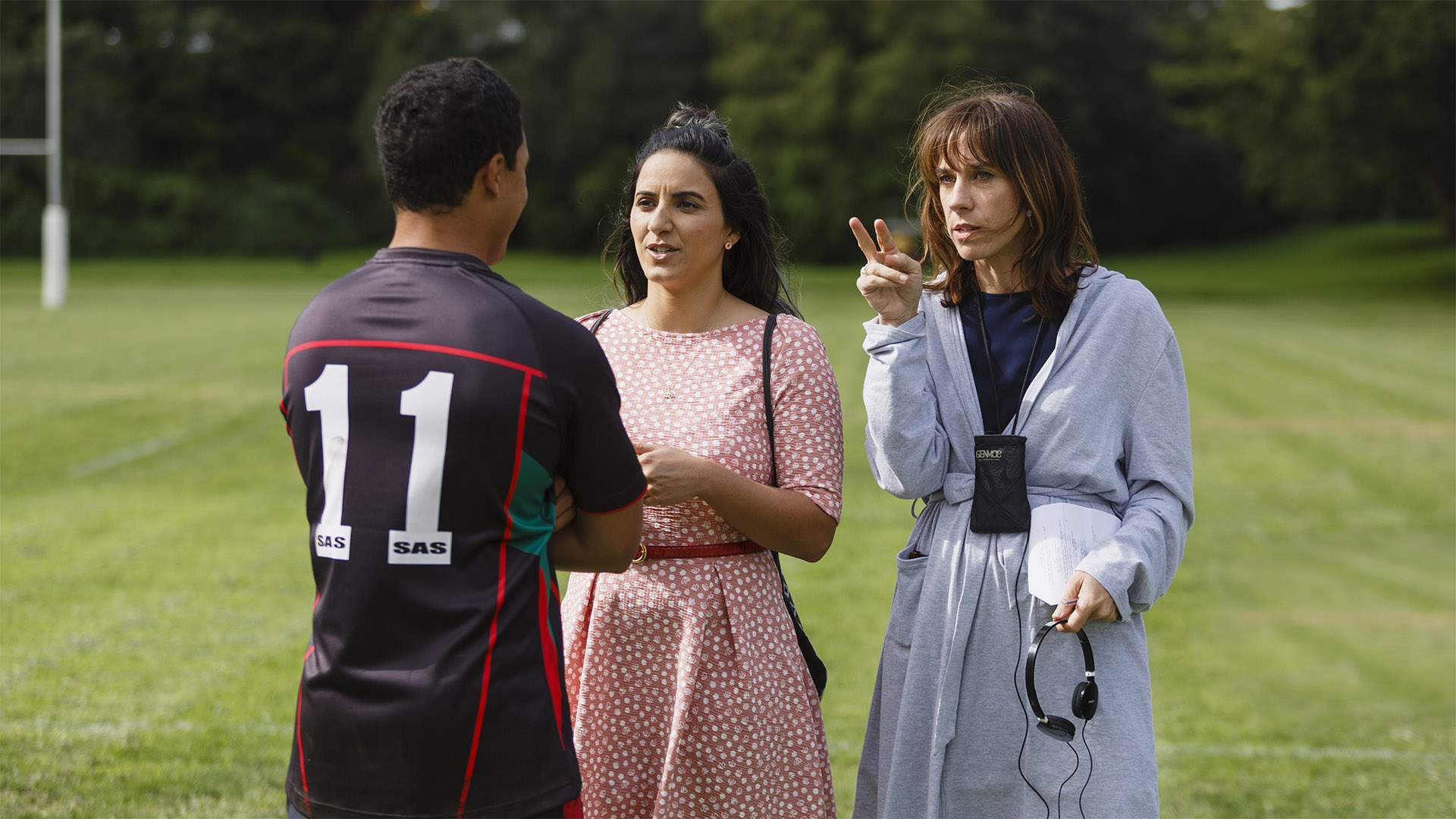 ON DECIDING TO NOT ONLY WRITE AND STAR IN THE BREAKER UPPERERS, BUT TO DIRECT IT, TOO
van Beek: "It was always on the table."
Sami: "We were scared."
van Beek: "Were we scared? I wasn't scared."
Sami: "There was a fear that it would take the fun away from the acting, which is what the whole reason we wanted to do it. It wasn't like scared to do it — it was just whether we were going to give ourselves too much of a workload."
van Beek: "Yeah that's right. We knew that if we got too stressed, and we're on screen doing improvised comedy, it's just not going to be fun for us or the audience — so the stakes were quite high in making that decision."
Sami: "And then we just like, we can't think of anyone who could fulfil this vision for us that we are planning in our own heads, so why don't we just do it? Take the gamble, and make sure we surround ourselves with really talented, experienced people so that we're supported. And that's what we did."
van Beek: "People who are confident at improvisation, so we could all get there. And Taika was helpful."
Sami: "Taika, we've worked with a lot — and he would've been a wonderful director for this film. But we knew that we were never going to get Taika because he was on Thor and was committed to that for years. But he shares our sensibility, we've worked with him — he directed the first series of a TV show that I'd made in New Zealand called Super City, and we had a lovely time when we worked together in that way. And he'd definitely get it. But he wasn't available, so we were the ones."
van Beek: "But we got Jemaine Clement, who is an old friend of ours as well, he came up for three or four days of pre-production when we wanted to stand up and start exploring the characters ourselves. He'd come into the rehearsal room, and we'd do rewrites with him, and so it was all really..."
Sami: "Collaborative."
van Beek: "Supportive."
Sami: "We've got so much amazing talent around us in New Zealand. There's so many amazing comedians coming up, and writers, that it was just really important for us to be energised by them. So we'd just keep them around us all the time, just everyone 'come in, add a joke in here if you want, yeah that's a good idea.' Just keep it fresh for ourselves, especially because we'd been writing for four-five years, so at a lot of points in that time, when you're right in it — especially towards the end, towards pre-production — you can't see. You're really close to it."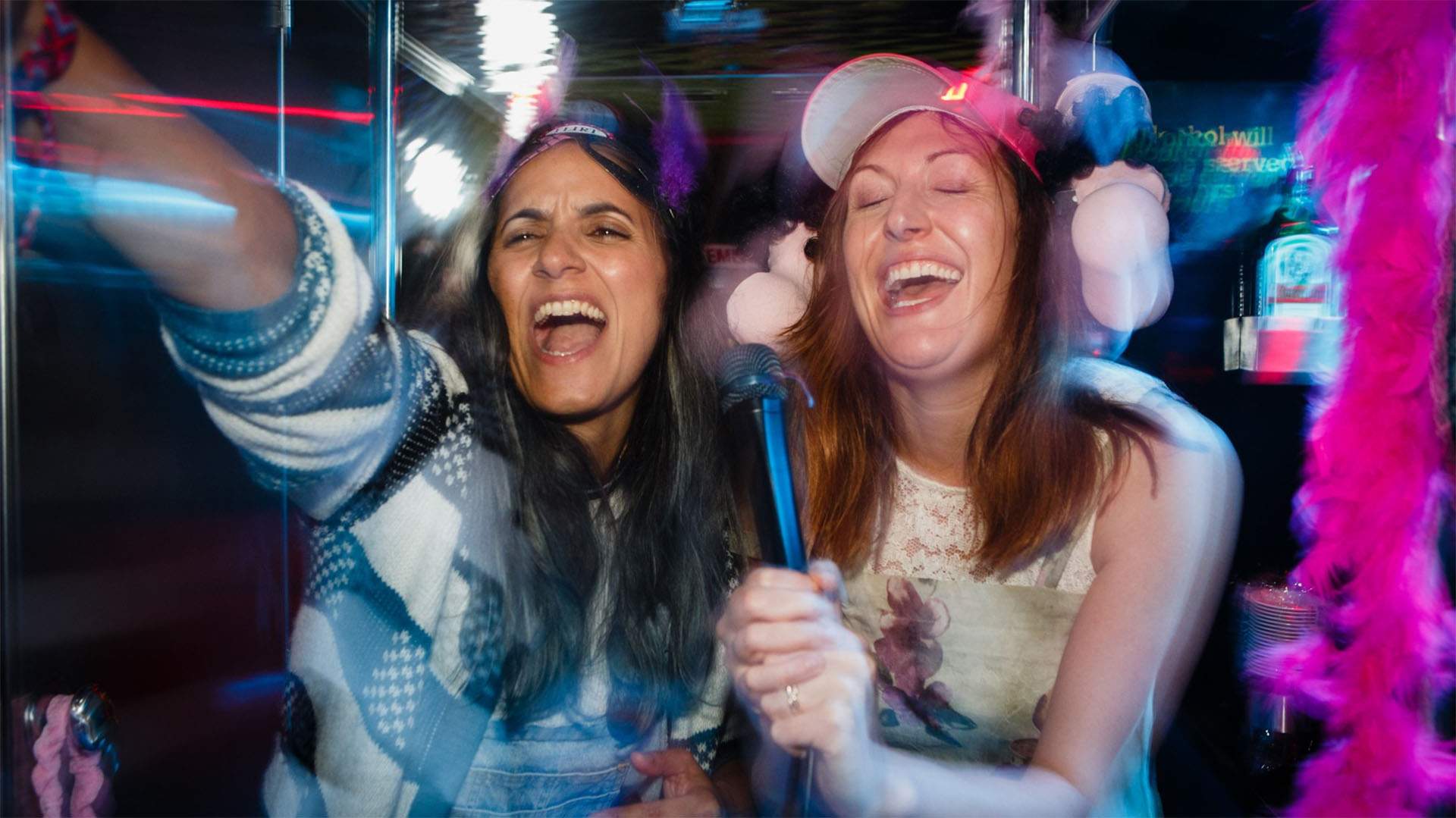 ON SEEING NEW ZEALAND COMEDY FINALLY GET RECOGNITION OVERSEAS
van Beek: "With Taika's films, and Flight of the Conchords and Rhys Darby having done so well internationally — we were over at SXSW with our film, and people were saying after the screening 'that's New Zealand' humour. They were identifying it. 'We love New Zealand humour! We love you guys.' It was quite exciting that people identify it, and many thanks to Taika who brought that New Zealand comedy voice into the mainstream with Thor."
Sami: "When there's a bunch of people, and when there's support — the New Zealand Film Commission have really made an effort to get in behind New Zealand comedy over the last ten years probably. And because we've had success internationally, then there's more support back home. And it's kind of like with the Danish thrillers. All of a sudden the world loves Danish thrillers, and it's just the people making them are making them really well. I guess coming out of New Zealand right now, we've got a lot of great comedy, and it's just a time where it's just being recognised for what it is."
van Beek: "Long may it last."
Sami: "It's exciting. It's really just, I think, the world getting to know that New Zealand comedy a bit — and it started with Flight of the Conchords. There's an awkwardness to the comedy we make. So yeah, who knows how long that will last. But it's exciting that we don't have to explain our accent any more. People can start to tell the difference a little bit [between Australian and New Zealand accents]. We'll see Americanss try to do a Kiwi accent rather than just going 'oh, I can do a Kiwi accent — g'day mate'."
van Beek: "Now they do Flight of the Conchords."
Sami: "Yeah, 'Brett'. Or they do, 'oh hi, I'm Korg,' [from Thor: Ragnarok] or stuff like that. They're showing that they know the difference."
van Beek: "By mocking us in a different way."
Sami: "I loved being mocked."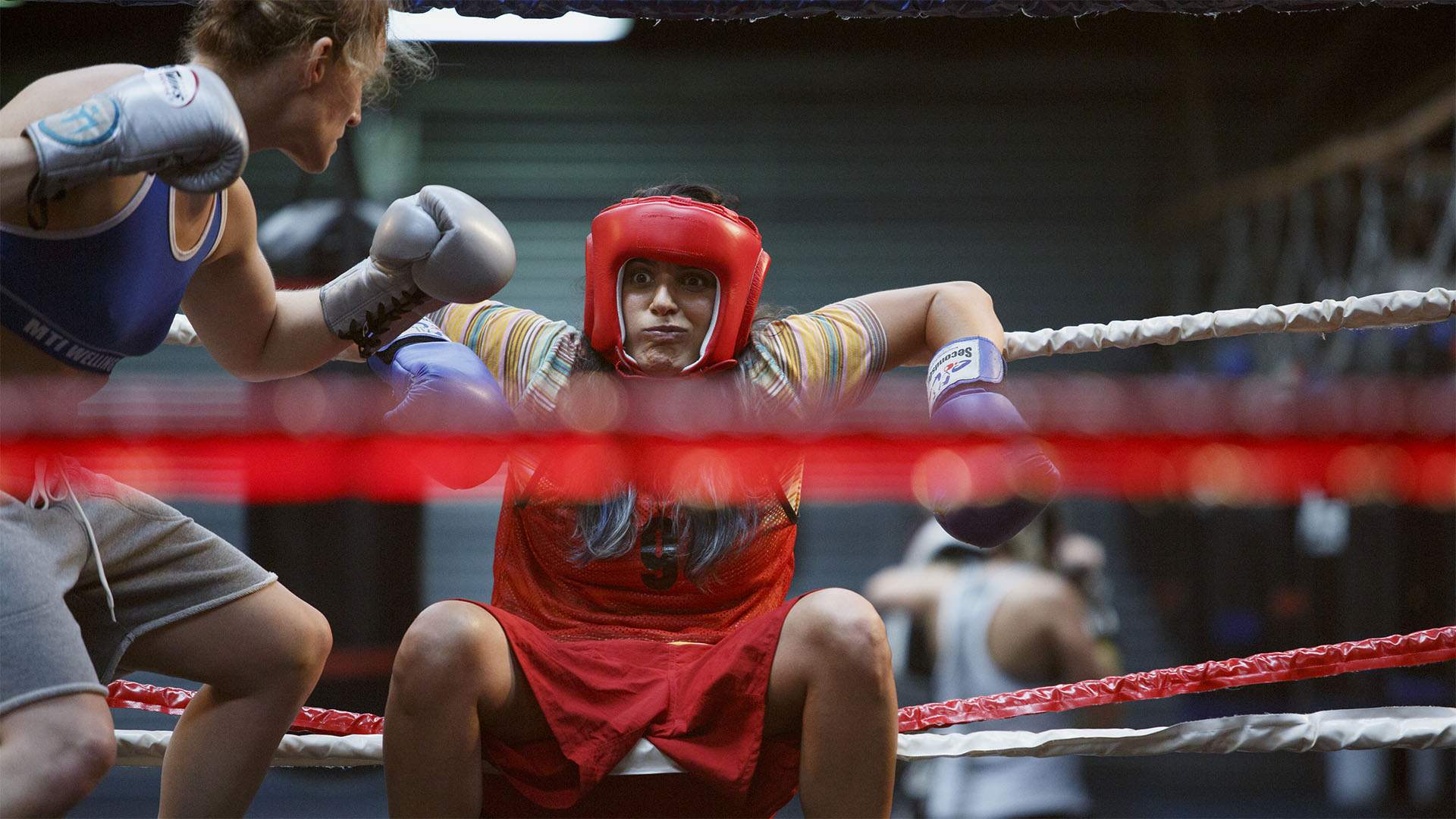 ON FINDING INSPIRATION FOR THE FILM'S MANY BREAK-UP SCENES
Sami: "I've never been two-timed by someone, and then found out that... aah, I think I have."
van Beek: "You have?"
Sami: "Maybe I have."
van Beek: "There's always going to be a bit of crossover."
Sami: "There's just a bit of subconscious stuff — for me, the break up scenarios, everything you see in the film, nothing is specific to anything but everything is influenced by stories we've heard or things we've experienced. But there's no one like, 'yeah, I had this terrible breakup and this is exactly how the story went'."
van Beek: "Or 'yeah, my boyfriend pretended to be in a coma and then died.' That all came from our imagination, but it was more like — definitely I've been through phases in my life when I've been a bit more like Jen, and just been in denial. I've been heartbroken and not wanting to grow up."
Sami: "We did have a lot more scenarios and they got a lot more extreme. Obviously some were cut for time, and we didn't shoot all of them — a lot of them we just weren't going to be able to. To shoot someone falling off a speedboat in the middle of Auckland of harbour and taking an underwater scuba to an island and then sailing off, that would've been the whole budget of our film probably, just for that one day."
van Beek: "We spent a bit of time writing it though."
Sami: "It was a lot of fun writing and thinking out the ways people might choose to break up with each other."
The Breaker Upperers is now screening in Australian cinemas.
Concrete Playground Trips
Book unique getaways and adventures dreamed up by our editors