Disney+'s 'Ms Marvel' Loves the MCU More Than You — and It's a Whole Lot of Infectiously Joyous Fun
Marvel's first Muslim superhero headlines an engaging and entertaining coming-of-age streaming series — the MCU's seventh in 18 months — that's steeped in fandom.
Now a decade and a half in — and 28 films, too, plus seven new TV series that've hit queues in the last 18 months — the Marvel Cinematic Universe is an ever-expanding pop-culture behemoth. Sometimes it can be spectacular, as with Black Panther and Thor: Ragnarok. Sometimes it's dispiritingly routine, as seen in Doctor Strange in the Multiverse of Madness. The MCU keeps shining bright popularity-wise, though, so much so that it's now telling its own tales about how it's so popular. In Ms Marvel, it even focuses on a Marvel superfan, heads to a Marvel fan convention and revels in worshipping at its own altar.
Yes, we've reached the point in the biggest current franchise there is where the MCU is overtly and openly celebrating itself within its own on-screen stories — and celebrating the people who celebrate the MCU. Here, Marvel also shows its characters frothing over the very saga they're appearing in, homemade costumes whipped up for cosplay contests and all. That sounds like something out of the supremely non-Marvel superhero satire The Boys, but it's now an IRL status quo. And yet, with new streaming series Ms Marvel — which started its six-episode run on Disney+ on Wednesday, June 8 — all this Marvel self-fandom thankfully doesn't just feel like a massive corporation patting itself on the back in an expensive splash of self-congratulations. 
One of the reasons that Ms Marvel works: it's a series about a Marvel devotee because it's a coming-of-age series. Today's teens have grown up with the MCU, so a show about a 16-year-old finding her place in the world — with and without powers — can easily acknowledge that fact. The comic-book company isn't being meta or reflective. Rather, as non-Marvel fellow Disney+ release Turning Red was, Ms Marvel is about a teenage girl working out who she is and what she wants to be, and also how that process is shaped by what she loves. Pakistani American Kamala Khan (debutant Iman Vellani) happens to be obsessed with Marvel, and with Captain Marvel (Brie Larson, Just Mercy).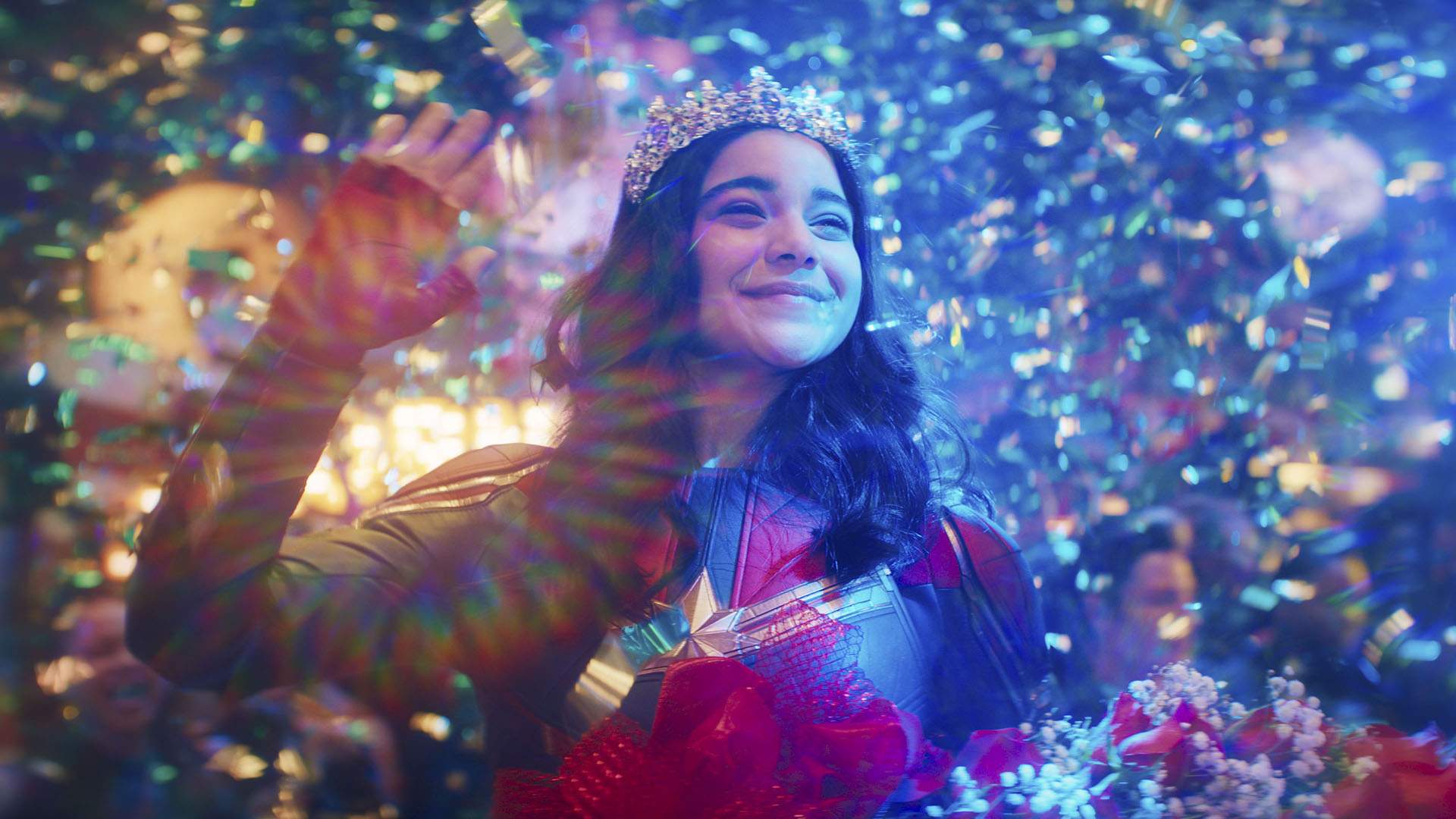 Ms Marvel's first two episodes largely set the scene, establishing the MCU's second new-to-screens character in as many Disney+ programs after Moon Knight. Kamala lives in Jersey City with her parents Yusuf (Mohan Kapur, Bullets) and Muneeba (Zenobia Shroff, The Affair) — one friendly, the other strict — plus her elder brother Aamir (Saagar Shaikh, Unfair & Ugly). As well as palling around with her mates Bruno (Matt Lintz, The Walking Dead) and Nakia (Yasmeen Fletcher, Let Us In), often while talking about the Avengers, Kamala makes stop-motion videos fuelled by her Marvel mania. She also wants to do more than her mother allows, such as attending an Avengers convention dressed up as her hero, which Muneeba deems inappropriate.
Deepening this tale about a teen desperate to follow her heart — a story that's hardly unique — is how wonderfully culturally specific Ms Marvel proves. The titular character is Marvel's first Muslim superhero, and this TV series embraces Kamala's heritage, as well as the stresses that come with being the American-born child of immigrant parents who want her to take advantage of their adopted home while remaining steadfastly true to their culture. Yes, Bend It Like Beckham did something similar first, just with soccer in Britain rather than superhero devotion in the US. That doesn't make Ms Marvel any less astute and affecting, however, including when it examines Kamala's layered relationship with her family and their expectations, and balancing caped-crusader fandom with tradition, religion and Pakistani pop culture.
Of course, if Kamala's on-screen debut was only about a Marvel-loving high schooler with recognisable adolescent woes — even welcomely culturally apt ones — it wouldn't exist. Amid the yearning and rebellion, and just being a Pakistani American teen, arrives superpowers that are a literal dream come true for such a MCU stan. But Kamala doesn't know why she can suddenly create floating energy fields, shooting them a bit like Spider-Man slings webs, or where her abilities stem from. While that setup isn't unique either, creator and head writer Bisha K Ali (Loki, Four Weddings and a Funeral) ties Kamala's tussle with her new skills to everything that makes her who she is. The broader embrace and exploration of her culture doesn't subside; indeed, thanks to family whisperings about the perils of indulging in fantasies, her heritage might be linked to her future path.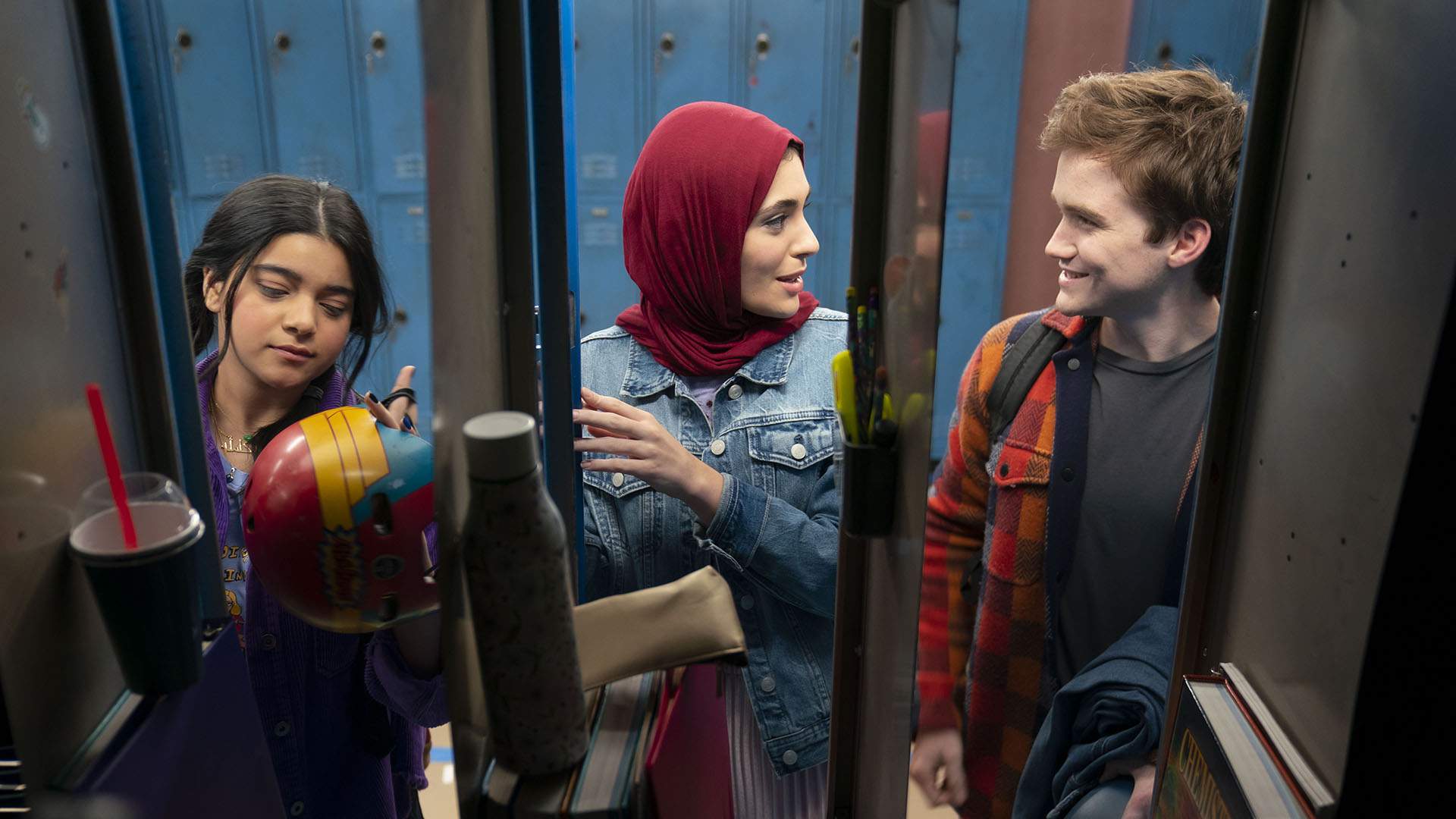 The MCU has spun coming-of-age tales before, with not one, not two, but three Tom Holland-starring Spider-Man movies within the franchise. There's a touch of the animated Spider-Man: Into the Spider-Verse to Ms Marvel, though, in its infectiously joyous vibe. If the series wasn't as sincere as it is — and as charming, warm and fun as well — it could've easily felt too calculating. Marvel does like to try other genres on for size, often moulding them to fit the house style, and Ms Marvel might've done the same with teen dreams and high-school hijinks. Indeed, it still may have played out that way if its lead casting wasn't so spot-on.
Surprisingly given how much of a natural she is in front of the camera, and in the role, Vellani is an on-screen newcomer — and an utter delight. Just as the unrelated Conversations with Friends benefited from casting a new talent without any past credits, Ms Marvel is all the better for having its lead come to the part without any film and TV baggage. But being a fresh face navigating such a sprawling realm isn't why Vellani is so engaging. She's at home selling the show's comedy and drama alike, and its diehard Marvel devotion and adolescent angst as well, and making it all feel as lived in and genuine as the MCU has ever managed. 
That this miniseries is a lead up to 2023 big-screen release The Marvels, where Vellani will return as Kamala, is gloriously great news as a result. It'll team her up with Larson as Carol Danvers, plus WandaVision's Teyonah Parris as Monica Rambeau — and, if Ms Marvel is any indication, it's hopefully poised to be much better than the lacklustre Captain Marvel.
Check out the trailer for Ms Marvel below:
Ms Marvel streams via Disney+ from Wednesday, June 8, with episodes dropping weekly.
Images: ©Marvel Studios 2022. All Rights Reserved.
Concrete Playground Trips
Book unique getaways and adventures dreamed up by our editors