Jamie Dornan-Starring Outback Thriller 'The Tourist' Is Your First Must-Binge Series of 2022
'Memento' meets 'The Flight Attendant' in this six-part miniseries, which has plenty of fun with its many twists.
If making TV shows and movies bubbles down to a formula, it's simple to see how The Tourist came about. Starring Jamie Dornan as a man caught up in a mystery in Australia's sprawling outback, this six-part series jumps on several popular trends — saddling a famous face with battling the Aussie elements chief among them (see also: the upcoming film Gold, which plonks Zac Efron amid the nation's dusty, yellow-hued expanse). Dornan's trip Down Under also plunges into a familiar thriller setup, with memory loss playing a key role. Memento famously did it. The Flight Attendant did as well. Combine the two, throw in all that striking scenery that constantly defines Australia on-screen, and that's the template beneath this easy-to-binge newcomer.
Every thriller that hits a streaming platform and drops all of its episodes in one go wants you to keep watching until you've watched the whole thing at once, of course. That's television 101 in the online age. The Tourist fits the bill perfectly again, but also because it has fun with its premise — and its onslaught of twists. Dornan isn't in goofy, silly territory here, as he was so gloriously in 2021 standout Barb and Star Go to Vista Del Mar. The Tourist doesn't satirise any of its underlying components, either. Nonetheless, it knows that zigzagging thrillers that work from a clearcut roadmap should make their familiar pieces feel anything but. They should take their audience along for a wild ride and ensure they enjoy the many sights, even if they're largely driving down a recognisable road.
Adding another TV role to his resume alongside The Fall, Death and Nightingales, New Worlds and Once Upon a Time — and another part to his eclectic filmography, given that he's been in the vastly dissimilar Synchronic and Wild Mountain Thyme in the past year, and looks set to get an Oscar nomination this year for nostalgic drama Belfast — Dornan plays an Irish traveller in Australia. The character's name doesn't matter at first, when he's using the bathroom at a petrol station in the middle of nowhere. But after he's run off the road by a steamrolling long-haul truck shortly afterwards, he desperately wishes he could remember his own moniker, plus everything else about his past. Local Constable Helen Chalmers (Danielle Macdonald, French Exit) takes a shine to him anyway; however, piecing together his history is far from straightforward. His other immediate questions: why is he in the middle of Australia, why does a bomb go off in his vicinity and why is he getting calls from a man trapped in an underground barrel?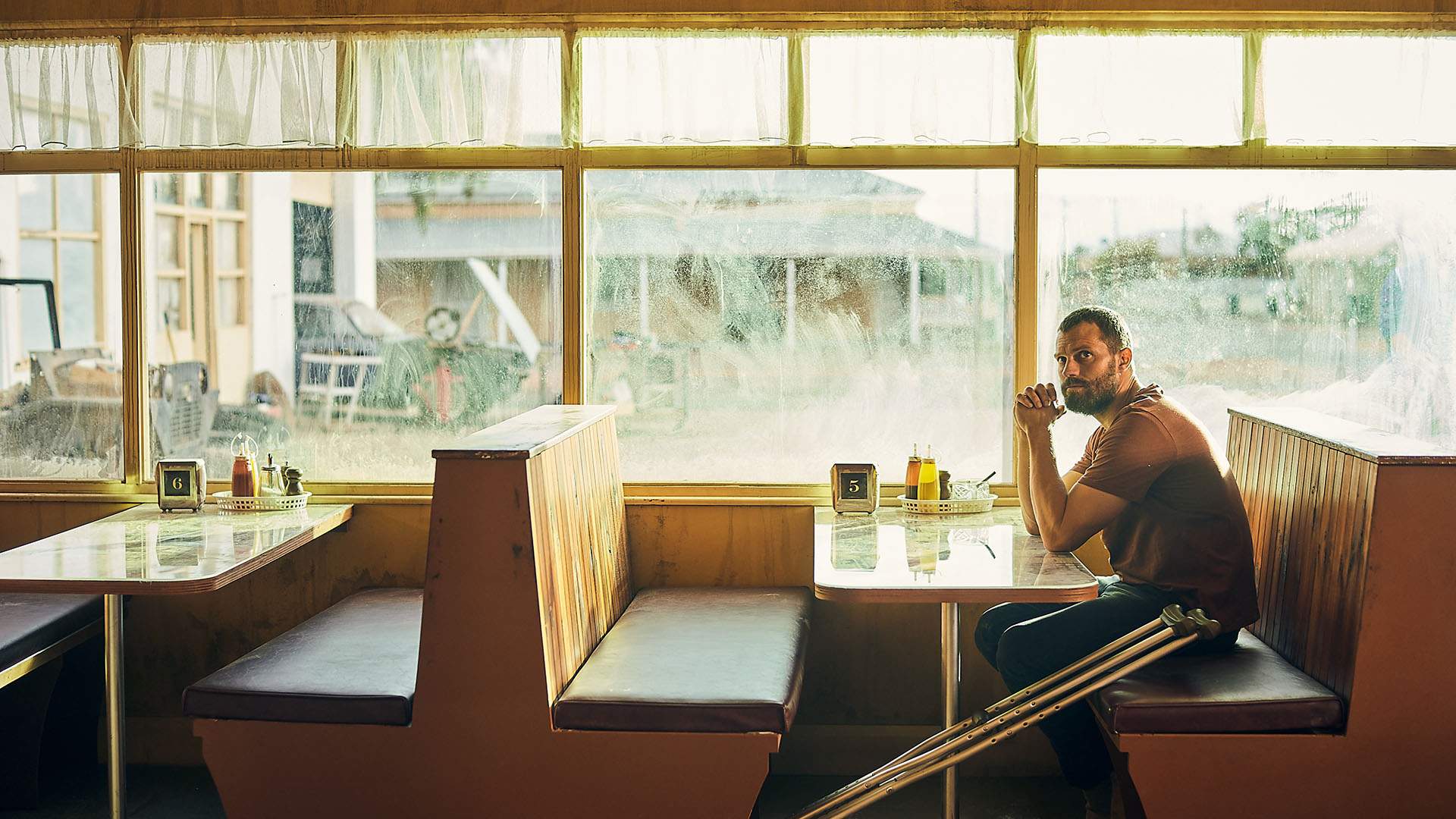 A diner waitress called Luci (Shalom Brune-Franklin, Line of Duty), the American-accented Billy (Ólafur Darri Ólafsson, Trapped), city-based Detective Inspector Lachlan Rogers (Damon Herriman, Mindhunter) and the determined Kostas (Alex Dimitriades, Total Control), who flies in from Greece and won't stop sipping from his water bottle: they all factor into The Man's fish-out-of-water, stranger-in-an unforgiving-land tale, too, and they all inspire plenty of questions as well. Why does that aforementioned bomb go off just as The Man and Luci step out of the diner? What does Billy want at the hospital? Why does Rogers take the case when he could easily leave it with junior officers? And what's motivating Kostas' trip to the outback?
Written by brothers Harry and Jack Williams (Angela Black), and hailing from the Emmy-winning production company behind The Missing and Fleabag, The Tourist enjoys teasing out those queries — and diving headfirst into its slickly uneasy air. It expectedly draws tension from its setting, but also benefits from a visual palette that bleaches every image of its cooler hues, and from framing that repeatedly dwarfs The Man against his surroundings. They're smart touches in a show that has its protagonist take in his life with fresh eyes, hardly relish what he spots and understandably feel overwhelmed by all the chaos that keeps speeding his way. The Tourist rarely dwells on The Man's inner turmoil — it isn't a character study, and doesn't pretend to be — but it still savvily expresses his emotional state in every shot.
Pushing 50 Shades of Grey and its sequels further into the past with every new role, Dornan slips into The Tourist like someone rediscovering their comfort zone — and he's in excellent company. Macdonald has been impressing on-screen since 2017's Patti Cake$, and ensures that The Tourist is as much Helen's story as it is The Man's. It's as much about the ambitious-but-constantly-underestimated rookie cop finding herself as her new pal is doing, too. Fresh from playing Charles Manson not once but twice thanks to Mindhunter and Once Upon a Time in Hollywood, Herriman also turns what might've been a stock-standard part into something far more complex. The Williams siblings deserve plenty of credit for baking many of their twists into their characters, but there's an almost-comic air to Herriman's determined detective that's all the Aussie talent's own.
A well-greased concept, a confident approach, clever plotting, a fabulous cast: they're all on offer here, and they hit their marks. Add the script's smattering of memorable, nearly Coen brothers-esque lines and, whether it's hurtling in a straight line or zipping quickly around unexpected corners, The Tourist couldn't be more watchable — or bingeable.
Check out the trailer for The Tourist below:
The Tourist is available to stream via Stan in Australia and TVNZ On Demand in New Zealand.
Concrete Playground Trips
Book unique getaways and adventures dreamed up by our editors