'What We Do in the Shadows' Season Four Is As Bloody Fantastic As the Vampire Comedy Has Ever Been
This movie-to-TV undead comedy definitely doesn't suck.
Live life long enough and anything can happen. Enjoy an undead existence for hundreds of years and that feeling only multiplies, or so the wealth of movies and TV shows that've let vampires stalk through their frames frequently remind viewers. A sharehouse-set mockumentary focused on bloodsucking roommates who've seen more than a few centuries between them, What We Do in the Shadows embraces that idea like little else, though — as a Jemaine Clement and Taika Waititi-starring movie, aka one of the funniest New Zealand comedies of this century, and then as a hilarious American TV spinoff. 
The premise has always been ridiculously straightforward, and always reliably entertaining. That dates back to Clement and Waititi's short film days, which is where this franchise began as 2005's What We Do in the Shadows: Interviews with Some Vampires — and continues right through to the TV iteration's now-airing fourth season, which screens in Australia via Binge and in New Zealand via Neon. A camera crew captures the lives of the fanged and not-at-all furious, squabbles about chores, a rising body count and avoiding sunlight all included. Their domesticity may involve sinking their teeth into necks, blood splatters aplenty, sleeping in coffins and shapeshifting into bats, but it also covers arguing about paying bills, keeping the house clean and dealing with the neighbours.
For fans of the film, the stakes were high with this leap to television. What We Do in the Shadows, the movie, had already given rise to a homegrown offshoot courtesy of Wellington Paranormal — the NZ TV show that trailed the movie's cops (Mike Minogue and Karen O'Leary) as they kept investigating the otherworldly — which first arrived in 2018. But the small-screen version of What We Do in the Shadows has a few crucial and important things going for it: another killer cast, this time inhabiting a ramshackle, gothic-style abode in Staten Island; the same glorious sense of silliness, including everything from blood sprinklers and undead labour disputes to getting a genie to magic up a giant penis in the latest season alone; an eagerness to gleefully skewer the entire vampire genre; and well and truly letting anything happen within its frames.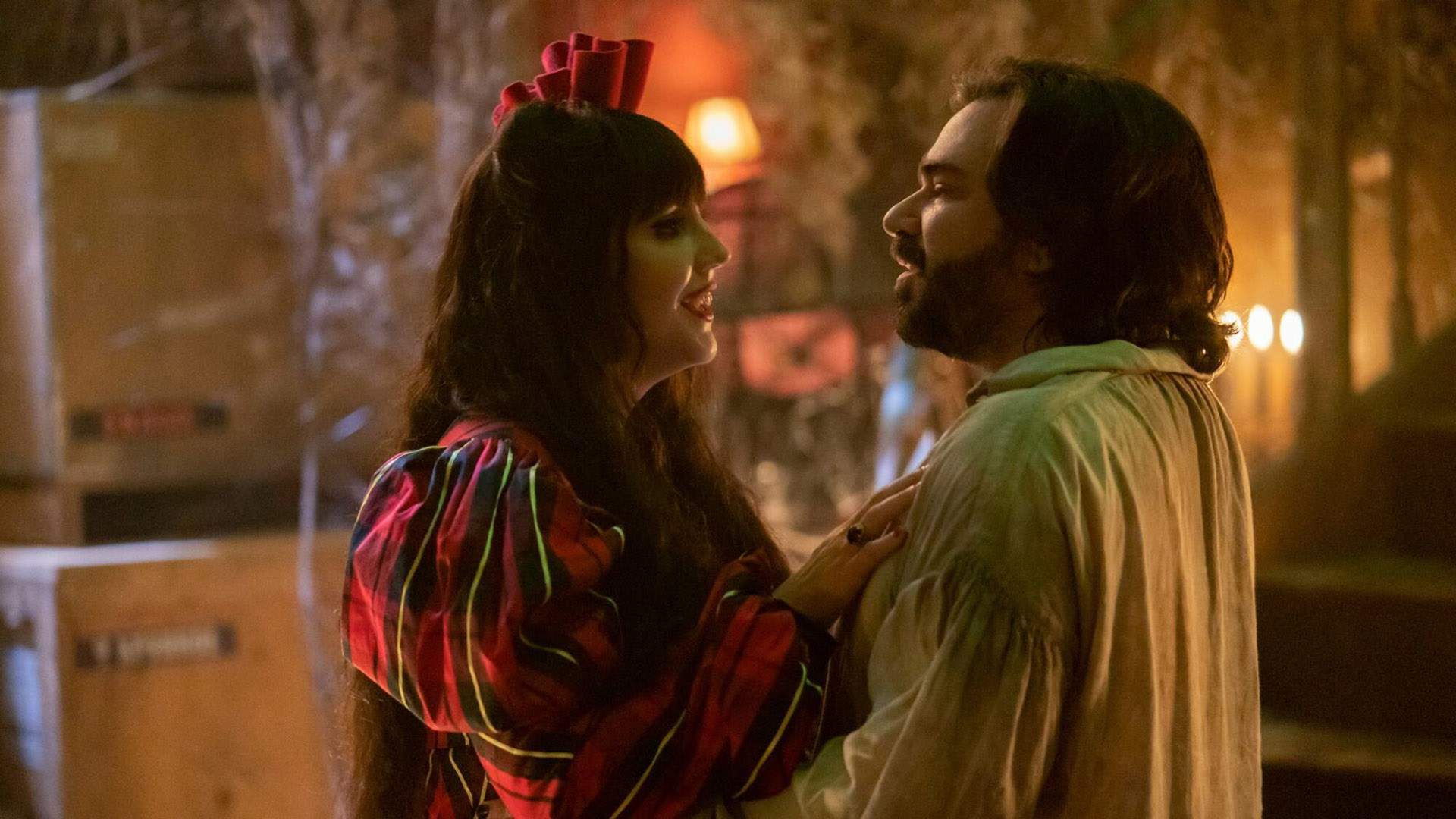 Season four picks up after a climactic end to the show's prior batch of episodes, which only finished airing back in October 2021. Its bloodsucking roommates were all set for their own adventures, after Nandor (Kayvan Novak, Cruella) decided to explore his roots in his ancestral homeland in what's now Iran, and Nadja (Natasia Demetriou, Eurovision Song Contest: The Story of Fire Saga) took up a prestigious job in London with the Supreme Vampiric Council, who oversee the vampire world order. Her beloved Laszlo (Matt Berry, Toast of London and Toast of Tinseltown) stayed behind at the last minute to take care of the baby that burst its way out of energy vampire Colin Robinson's (Mark Proksch, The Office) body. To accompany Nadja, in his place he sent Nandor's familiar Guillermo (Harvey Guillen, Werewolves Within), who has also discovered throughout the first three seasons that he's a Van Helsing — yes, a vampire hunter.
What We Do in the Shadows wouldn't be What We Do in the Shadows if its central quintet were scattered around the world, rather than bantering together, so homecomings are swiftly in order. A year has passed in the show, old grounds have been stomped, new jobs trialled and that infant is now a young boy — who, eerily, still looks like Colin. Nandor returns more determined than ever to find a wife, and thinks that one of his many from the Middle Ages could be the one again; bringing back a Djinn (Anoop Desai, Russian Doll) to grant his wishes helps. Nadja has big ambitions, too, but of the professional rather than personal kind. Taking over the local Vampiric Council again, she sets her sights on turning it into a vampire nightclub. Its custodian The Guide (Kristen Schaal, The Bob's Burgers Movie) is unsurprisingly far from thrilled.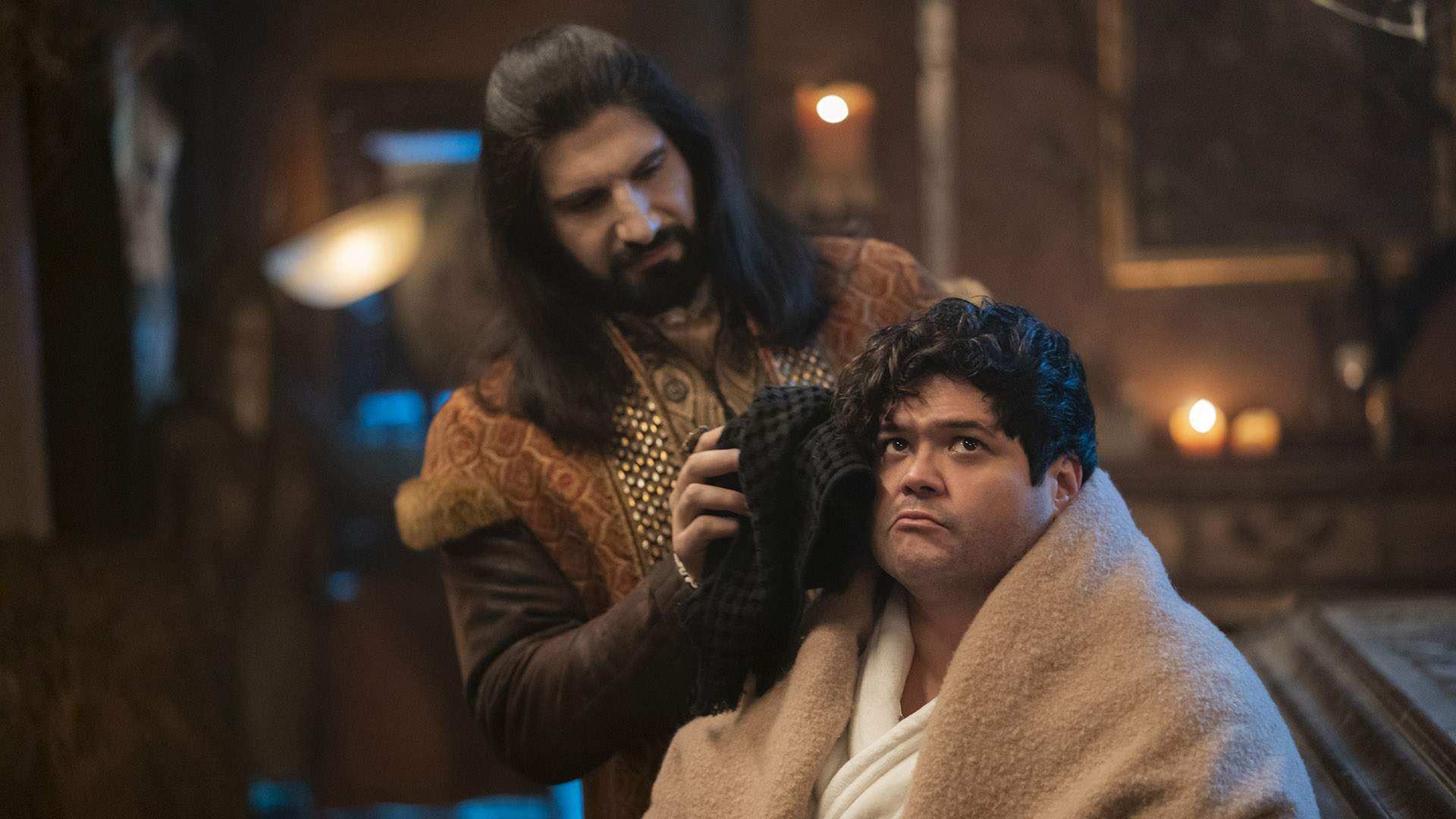 If vampire nightclubs and blood sprinklers sound familiar, that's because back in 1998, Blade got there first. That's the type of winking and parodying that What We Do in the Shadows loves — and keeps finding ways to turn into comedy gold. It'll always be difficult to beat the show's exceptional first-season episode that featured Wesley Snipes as a half-vampire version of himself, alongside everyone from Tilda Swinton to Paul Reubens referencing their own past undead film roles (Only Lovers Left Alive and Buffy the Vampire Slayer, respectively), but this series never stops trying. It's just as devoted to fleshing out the demonic world that exists beyond human eyes, with a new episode set at an anything-goes night market where the supernaturally inclined trade for everything they can a particular treasure.
That nodding and nudging will never grow old, thanks to the stellar writing behind it, as well as the fantastic cast bringing it to the screen. Matt Berry should star in all comedies always (see also: the aforementioned Toast franchise, Year of the Rabbit, The IT Crowd, Snuff Box, The Mighty Boosh and Garth Marenghi's Darkplace), and his pronunciation, the way that Laszlo yells "bat!" when he turns into a bat and the character's general buffoonery will always be among What We Do in the Shadows' biggest weapons. Hearing him read In Cold Blood to the young Colin, as a bedtime story, is a scene for the ages alone. He's ably matched by always riotous Demetriou and the equally amusing Novak, who lean into their vamps' eccentricity-laced personalities with as much gusto. Nadja's unapologetic passion, pursuing whatever she wants whenever she wants, always feels fleshed out, as does Nandor's awkwardness despite a past as a bloodthirsty warrior. 
It was always going to take something special to match the big-screen What We Do in the Shadows. That's a task that its TV spinoff has always managed, however, and as enchantingly as the immediately catchy strains of theme song 'You're Dead' by Norma Tanega — a tune the two versions share. Nothing about this delight sucks, not for a second, and season four is as ace as ever.
Check out the trailer for What We Do in the Shadows season four below:
What We Do in the Shadows' fourth season streams in Australia via Binge and in New Zealand via Neon.
Images: Russ Martin/FX.
Introducing Concrete Playground Trips
Book unique getaways and adventures dreamed up by our editors